We all face situations where we need to send an urgent WhatsApp message but are not in the condition to type. Now, you don't need to worry. You can order WhatsApp to send messages without typing. If you don't know how to send WhatsApp message without typing, by the end of this article you will know this cool trick. It will help you operating WhatsApp in various circumstances when your touchpad is not working or you're not in the position to type.
We often hear about virtual assistant apps like Google Assistant, Siri, Alexa, Cortana, etc. I am sure you must've used any of these apps for fun, playing music, or searching on the Internet, right? These Apps are not only limited to fun, they are really productivity boosters in our daily lives. Using these Virtual Assistant Apps, we can send WhatsApp Messages to anyone without typing.
On Android Smartphones, Google Assistant can help you in operating touch-free WhatsApp. Siri can help you out to achieve the same thing on Apple devices. Let's have a look at detailed steps to know How to Send WhatsApp Messages Without Typing.
How To Send WhatsApp Messages Without Typing on Android – Step By Step Guide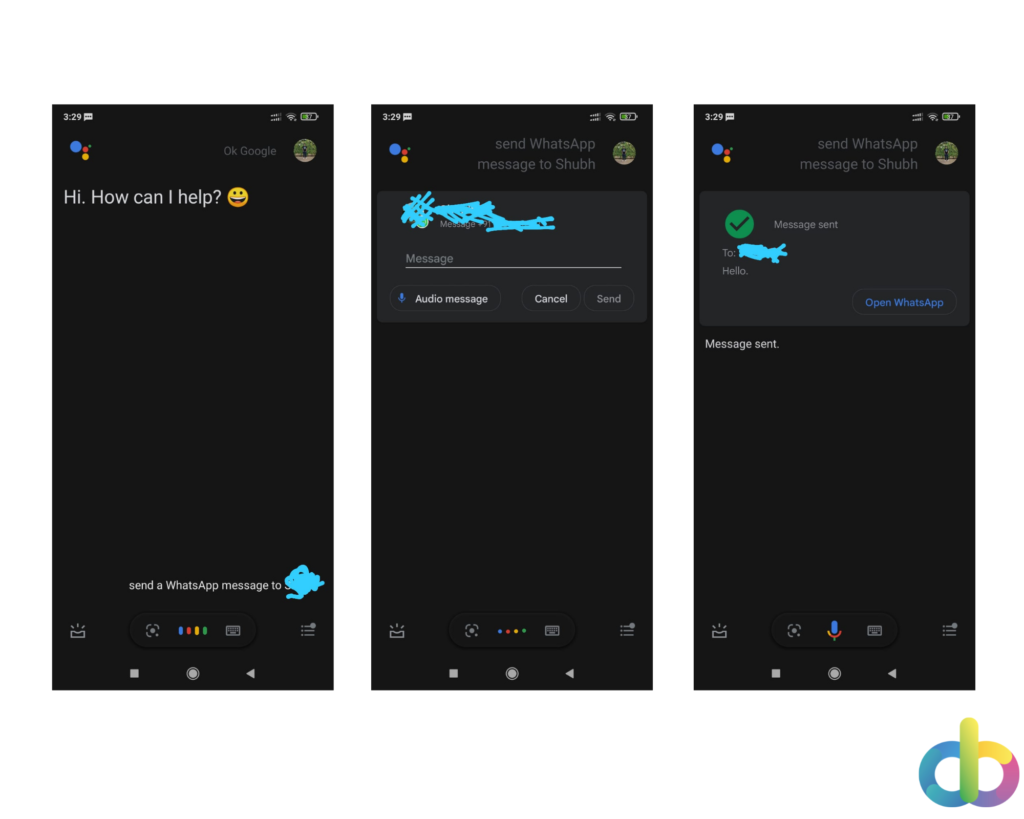 Launch the Google Assistant App on your Android smartphone. If your phone doesn't have Google Assistant App then install it from

Google Play Store

.
Launch the App saying 'Hey Google', or 'Okay Google'. You can also touch and hold Home Button to activate Google Assistant App.
As you open Google Assistant App, the App will respond to you. Once the App responds, you just need to say "Send a WhatsApp message to XXXX (contact name)".
Google Assistant will select the contact name you spoke. If there are multiple contacts saved for the similar name, you will get an option to choose.
After that, Google Assistant will ask you to speak the content you want to send in the message.
Once you speak the content, Google Assistant will type the message and show it to you. This way, the message will be ready to send. You will need to confirm the sending of a message by saying "Okay, Send It".
Your message will be delivered to the recipient on WhatsApp. This way you can send WhatsApp message on WhatsApp without typing.
Conclusion
Technology is enhancing day by day and bringing so much ease and comfort in our daily lives. Team DiGiTAL BiRYANi is determined to serve you such latest and useful technology tricks to make your digital life smooth. If you need any specific article from our end, please feel free to contact us. Please share your valuable feedback with us or comment below to share your experience with this trick.