Have you ever realized how many times you open WhatsApp every day? It is beyond your imagination. We are not addicted to WhatsApp but it has become a part of our life. WhatsApp has almost taken the place of SMS. Gone are the days when we used to check SMS for some important messages. Instead, we check WhatsApp. From friends and families to businesses and communities, everyone prefers WhatsApp over other communication mediums.
The best part of using WhatsApp is there are no special requirements apart from a mobile phone with a mobile number and an internet connection. However, today we are going to help our esteemed readers to eliminate one such requirement of using WhatsApp. At the end of this blog, you will not require a mobile number to use WhatsApp as we will learn How To Use WhatsApp Using a Landline Number in this blog.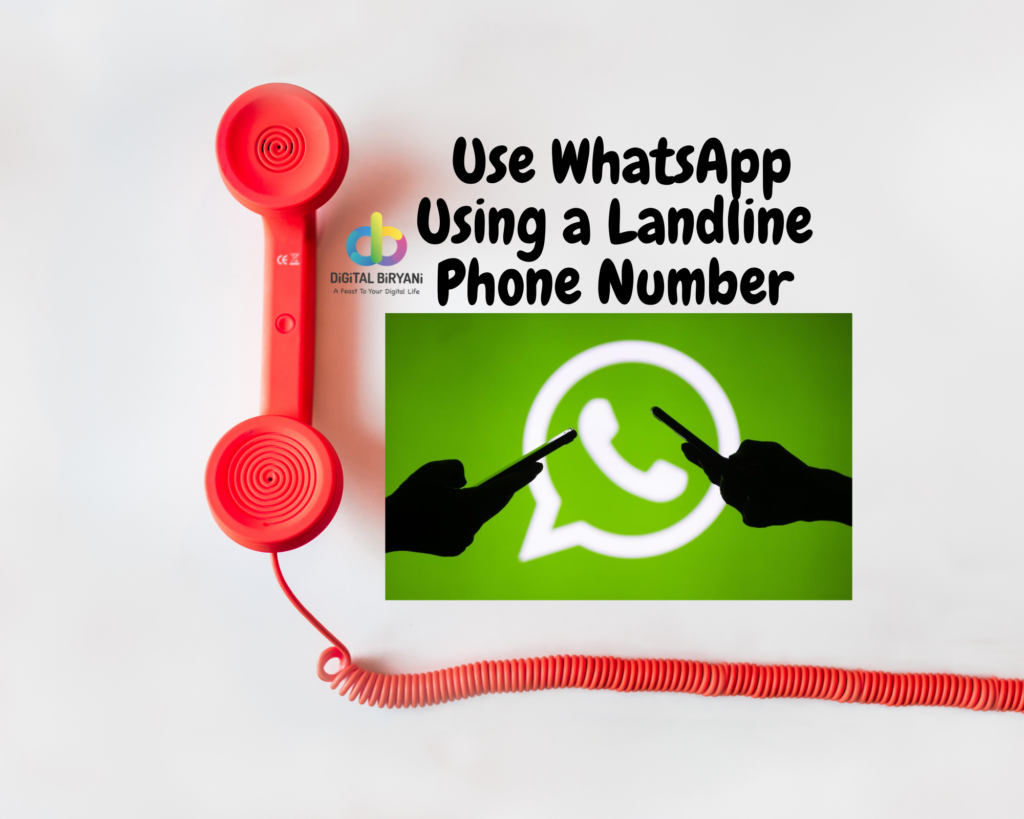 Benefits of Using WhatsApp With a Landline Number
People believe that Landline Phones are dead. But, that's not true. There are many people in small towns and villages who actively use Landline Phones. Many small business owners are only active using Landline Phones. As WhatsApp has reached every corner of the world, these people can get the great benefit of using WhatsApp with a Landline Number.
Small Business Owners can use WhatsApp Business With Landline Phone Number
Villages and Small Town People can stay connected with their distant relatives by using WhatsApp with a Landline Number.
If you're concerned about privacy, you can avoid exposing your mobile number to WhatsApp.
If you've been using a Landline Number for your business for many years, using WhatsApp from the same number will be very beneficial for you.
Nowadays, many times you receive advertisement messages on WhatsApp. That means your WhatsApp number is shared by someone to advertisers. You can save your mobile number from being shared with advertisers.
Steps to use WhatsApp Using a Landline Number
Follow the below-mentioned simple steps to learn How To Use WhatsApp Using a Landline Number? The trick works for both applications – WhatsApp Personal and WhatsApp Business.
Download and Install the WhatsApp App on your smartphone. Be it a WhatsApp Business App or WhatsApp Personal App.
Open the WhatsApp Application on your phone and agree to all terms and conditions and tap on Continue.
The next step will ask you to enter the Contact Number. In this step enter your landline phone number. Please make sure to omit the 0 from the front of your landline number.
In the next step, the WhatsApp App will try to verify the number by sending an OTP to your Contact Number. Since you've given a landline number, you won't get any SMS. So, please wait till the SMS verification fails.
Now WhatsApp will ask you if you want to get a call to verify the number. Choose the Call Me option for verification.
Upon choosing this option, you'll get a call from WhatsApp on your landline number. In that call, an automated Voice Call will tell the 6 digit verification code. Listen to that code carefully and note it down.
Enter that 6 digit verification code (OTP) in your WhatsApp App. That will verify your landline number on WhatsApp.
Bingo! You've successfully registered your number on WhatsApp using Landline Number. Now you can proceed with further setup like Display Picture, Profile Name, Status, etc.
Frequently Asked Questions (FAQs)
Will it make any issue if I use WhatsApp from my landline number?
No. As you can register your landline number on WhatsApp. It won't cause any issue while using WhatsApp from the landline number.
I don't have a smartphone. Can I use it with my landline phone?
No. To use WhatsApp, you must have a phone that supports WhatsApp App.
If I register on WhatsApp with a Landline Phone Number. Can I use WhatsApp Web?
Yes, you can. You can use WhatsApp Web the same way you use other accounts by scanning a QR Code.
Can I register my Landline Number for WhatsApp on multiple devices?
No. You can only register on a single device using a Landline Number.
Conclusion
That's how you can use WhatsApp using a Landline Number. It will help you to keep your mobile number private and secure. Do try the trick mentioned here and share your valuable feedback with us. If you want a specific blog from us, share your favorite Blog Topics with us now.