In today's world when we talk about digital presence, the term "Internet" is mandatory. The Internet is an ocean of information. One needs some filter to get valuable and useful information from the Internet. Search Engines provide this filter. The main goal of the search engine is to quickly and easily provide relevant search results to the user. There are multiple search engines available on the internet like Google, Yahoo, Bing, DuckDuckGo, etc. According to StatCounter Global Stats, Google owns 93.37% of the global Search Engine market share. That means without utilizing Google; it is tough to sustain as an internet user. The more efficiently you use google, the more valuable information you can get in the least possible time. Here we serve the Best Google Search Tricks and Tips to understand and use the maximum functionalities provided by Google.
List of Best Google Search Tricks and Tips
Here are some of the Best Google Search Tricks and Tips that will increase your efficiency and productivity while using Google.
Search news archives worth over 100 years
Google has a repository of newspapers archived worth over 100 years. You can visit Google News and access 100 years old newspapers. There are various newspaper options available across the world. If you're a researcher, journalist, or you require any information from old newspapers, then this feature is a boon for you.
Google Safe Search
We always take extra care while we're searching for something on Google to avoid opening explicit content from our workstation or university device. We're always worried that our children don't get exposed to some explicit content while searching on Google. Google has this facility, where you can enable SafeSearch and hide sexually explicit content from your search result. To enable this feature, Go to the Google Search Settings and click on the checkbox near Turn on the SafeSearch and make it enabled. This will prevent explicit content like pornography content to appear in your search results.
Google Voice Search
Google provides a facility that allows its users to search for anything via voice. This facility is only available on the Chrome browser or Google Application for Android or iOS. On these mentioned platforms there is a microphone button available next to the search bar. Anyone can click on the Microphone button and speak for what they're looking for, Google will show the results according to the input received from the user in form of voice.
Use the hyphen (-) symbol to eliminate search results having certain words
Sometimes while searching particular terms you will find numerous unwanted search results as that term has an ambiguous meaning, hyphen symbol (-) will help you to eliminate unwanted search results.
Above term search for all the results for duster but removes all the results having word "car" within it.
Use Google Scholar
This is one of the best Google Search Tricks and Tips for researchers and students. If you're a researcher, then you know the pain of finding the proper piece of information and literature. Google understands your pain. That's why it has come up with pain relief too. Google Scholar is your pain relief. It is a place where you can search scholarly literature from various publishers, online repositories, professional societies, universities, and different websites. Google search provides you with different articles, books, theses, court opinions, books, etc. With the help of Google Scholar, you can keep yourself updated with recent developments in any area of research.
Google Advanced Search
The tool which provides better and advanced search functionalities always catches the user's eyes. Google Advanced Search is a tool that helps you to filter your search result. While searching for a specific search result, Google Advanced Search helps you to narrow down your search results. On the Google Advanced Search page, there are a number of search parameters available, e.g, include some specific word, exclude some specific word, numbers range, exact matching word, etc. Different options like language, region, website, last updated, etc. are available to narrow down search results.
Use site: to get search results specific to the website
When a certain search result from a specific site is required at that time this syntax is really useful. By simply using this syntax we can search for our query on a specific site.
WhatsApp site:digitalbiriyani.com
This will search for all the pages/articles containing the word WhatsApp on the DiGiTAL BiRYANi website.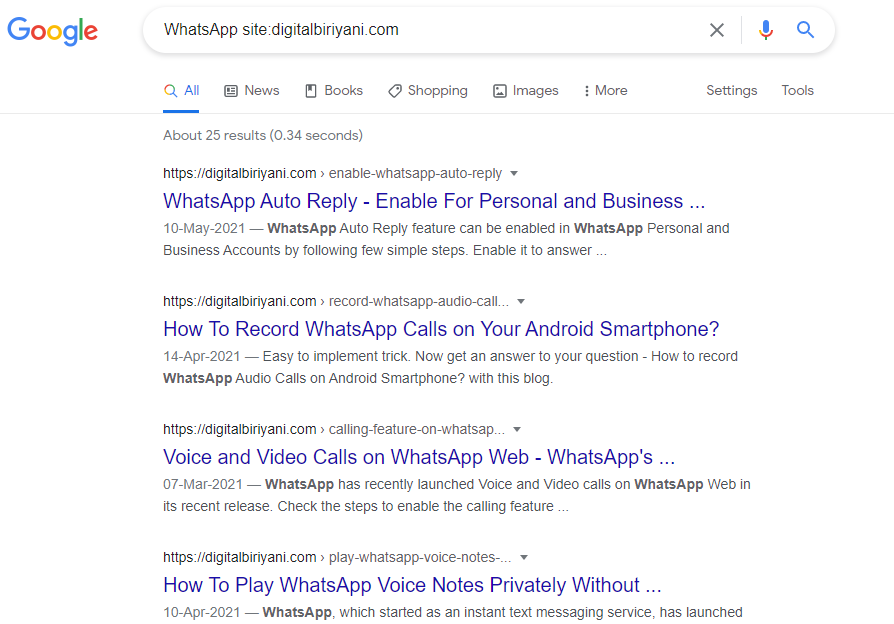 Use quotes (" ") to search for something specific
This is a widely known and widely used google trick. Quotes are used to refine search results for ambiguous searches. While searching on google if a quote (" ") is used then the search result will contain only those results which are having all the words mentioned in the quotes in the same order. Generally, quotes are used to search or filter for a specific phrase/word/sentence. Using quotes while searching on Google makes your number of search results smaller compared to when quotes are not used.
If you search for titan watch showroom then search results will show all the results having the words titan, watch, and showroom in any order and if you search "titan watch showroom" the result will contain only those pages having the whole phrase "titan watch showroom" in the same order.
You can see the search result difference for "with quotes" and "without quotes" for the same search query in the example below.
Without Quotes

With Quotes

Google Advanced Image Search
If you ever want to find any image on the Internet, the first thing you will be doing is to search it directly on Google. Google will provide plenty of images, out of which many results might not be useful for you. If you have a very specific requirement for images, you can surely hit Google's Advanced Image Search feature.
Using the Advanced Image Search feature, you can filter and narrow down your search results using different parameters. You can search images of a specific size, type of image(Face, Clip Art, Animated, etc.), site, region, color in the image, and type of file(png, jpg, etc.).
Search using Images on Google
Images have become one of the most useful sources of information. There are a plethora of images being circulated every day on the internet. Sometimes the user needs to search for the corresponding information based on the image and this feature of Google Search provides them ease. Google search allows users to search by images. The user just needs to click on the camera button in the search bar of Google Images, It will give the option either to paste the URL of the image or to upload the image from the system to search the context related to that image. This feature can be very useful to check if someone is using your image content without your permission.
Search a webpage that links to another webpage
This google search trick is not a frequently used search trick. This trick helps you to find all the web pages that link to a specific webpage. If you're a website owner or a blogger, then this trick is handy for you.
This will show all the web pages that link to Digital Biryani website.
The majority of the users will not use this trick, but this is really useful for a specific bunch of users. The more specific the link on the right side, the fewer results search will show.
Use Google Alert and Google will search for you
Using this tool, you can set alerts for specific keywords. Whenever there is an update regarding that keyword, Google will send you an alert email. If you want to keep yourself updated regarding specific topics, you can set Google Alert for that topic. Google will send you an email alert whenever a new webpage, blog, newspaper article, or any content is available regarding that topic.
Search Movie shows' timings based on location
We all love to watch movies. Instead of finding and Downloading from Youtube or other platforms, we always love to enjoy in the movie theatres. We prefer to book them from the Best Apps To Book Movie Tickets Online. Sometimes finding movie showtimes becomes a very troublesome task. If you just want to check the movie show timings, then this simple Google Trick will help. You just need to type the Movie name followed by the postal code or name of the city and google will give you the list of the movie shows near that location.
Use tilde (~) to broaden the search result
Tilde is used to search around for synonyms and variations. Sometimes a user is not sure about the word he is searching for. In such cases, using tilde (~) can be really helpful. Using tilde users can force google to search around for synonyms and variations. So, the tilde is usually used to broaden search results.
Search with the Asterisk(*) Wildcard
Asterisk (*) wildcard allows you to widen your search by letting Google choose various topics related to surrounding keywords. Asterisk (*) wildcard is being treated as a placeholder while searching on Google. It represents one word or a combination of multiple words.
In this search query * will represent the single word or combination of multiple words. For the above search query, Google will show the result for the phrase in which "Free" will be followed by one or more words for *, followed by "in Ahmedabad". This will show results for Free Events in Ahmedabad, Free Things in Ahmedabad, Free Ads in Ahmedabad, Free Jobs in Ahmedabad, etc.
Search between 2 periods/numbers
Google Search engine allows its users to search between specific ranges be it a time limit or a price range or something else. Two Periods (..) allows you to search between that range.
Samsung mobile phones 10000..20000
In the above search query, Google will give a list of the web pages that contain information about Samsung mobile phones ranging between 10000 and 20000.
Toss a coin on Google Search
Type "Flip a coin" in a google search and see the result. Google search will flip a coin and give you a random result from Heads or Tails. It is exactly the same as tossing a coin for making a decision. So, next time while playing cricket if you don't have a coin for a toss, just type "Flip a coin" on google from your mobile and choose to bat 😉
Google Search as a Converter
Google search works as an awesome converter. You can convert just anything using Google Search. Want to convert Dollar to Pound or Celsius to Fahrenheit? Just search on Google 34 Celsius in Fahrenheit, or 1900 USD to GBP, and get the result. We can convert many parameters like currency, temperature, height, weight, distance, and many more using Google.
Google Search as a Calculator
Imagine you need to calculate something while working in your browser, there will be a long process you will need to follow starting from opening up your calculator to provide values and operation and again value and then click equal(=) to get the final result. Your favorite Google will eliminate the need for the calculator. You just need to type your query in the search bar and search, bingoooooo, you will instantly get the expected result.
Change the Number of Search Results per page
By default, Google search gives 10 results per page. You can change this number from the Google Search Settings. Open the Google Search Settings page and change the setting for Result per page.
Frequently Asked Questions (FAQs)
Do we need to pay anything to implement these Google Search Tips and Tricks?
No. All these Google Search Tips and Tricks are free of cost.
Are these tricks provided by Google?
Yes, these tips and tricks are provided by Google only. They are not so known tricks so normal Google users are not aware of it.
Conclusion
These are some of the Best Google Tips and Tricks to bring ease to any internet user's daily activities. As internet users, we wish to speed up our daily processes in different ways. We heartily wish that using these Google Search Tricks and Tips you end up surfing some unknown but very useful websites to improve your daily productivity. If you want a blog from our end that helps you in your daily life or you have any feedback for us, then feel free to ask us.