A world leader in instant messaging, WhatsApp is one of the world's most widely used apps. Nowadays, WhatsApp is a synonym for Messaging. People don't say, "Send me a message on WhatsApp," they're just saying "WhatsApp Me". That is the popularity of this hardly a decade-old Application.
Whatsapp has a wide array of features. They continue to expand it in unprecedented ways. It started as an Instant Messaging Application. Now, They offer a plenitude of features, ranging from WhatsApp Status to Voice and Video Calls to even Disappearing Messages. That is why people keep showering their love on this beautiful App.
Many people expect WhatsApp to have some important features that are yet to be implemented. As of now, WhatsApp does not support the Auto-Reply feature for all users. WhatsApp Auto Reply Feature informs your contacts about your unavailability when they try to contact you on WhatsApp in your absence.
WhatsApp provides an Auto-Reply feature for its Business App. But this feature is not available in the Personal Account (Non-Business Account). That makes people curious to learn how to set Auto Reply in WhatsApp Personal with some workaround. There are several tricks that surely help you to enable WhatsApp Auto Reply in Personal Accounts.
This blog will assist you in enabling the WhatsApp Auto Reply feature in both, Business and Personal WhatsApp Accounts.
Benefits of Auto Replies on WhatsApp
Auto replies in WhatsApp are pre-set responses that are automatically sent to incoming messages when the user is unavailable or unable to respond. Here are some of the benefits of auto replies in WhatsApp:
Saves time
WhatsApp Auto Replies save time by sending an immediate response to incoming WhatsApp messages. It eliminates the need to manually respond to every message, especially during busy periods.
Increases productivity
Auto replies in WhatsApp allow users to focus on important tasks without being distracted by incoming messages. It helps to increase productivity and efficiency.
Enhances customer service
WhatsApp Auto Replies can be used to provide customers with a quick response to their queries or complaints. It shows that the user values their customers and is committed to providing quality service.
Improves communication
Auto replies on WhatsApp help to improve communication by providing an immediate response to messages. It also helps to reduce miscommunication or misunderstandings that can occur when messages are not replied to promptly.
Maintains professionalism
Auto replies help to maintain a professional image by ensuring that messages are responded to in a timely and efficient manner. It shows that the user is organized and takes their work seriously.
Provides information
Auto replies in WhatsApp can be used to provide information to users such as business hours, contact information, or frequently asked questions. This helps to reduce the number of inquiries and provides users with the information they need.
Increases engagement
WhatsApp Auto Replies can be used to engage users by providing them with personalized responses. This helps to build a relationship with users and increases their engagement with the brand.
How to Set WhatsApp Auto Reply – Business Account
WhatsApp Business is a separate application launched by Whatsapp, designed specifically for small business owners. That allows small business owners to connect with their customers, highlight services and products, and help them throughout their shopping experience.
WhatsApp Business App has a feature called 'Away Messages'. It allows you to send auto messages when you're not operating. The Auto-Reply feature will inform any sender who sent you a message while you were away that you're not available right now. To enable this feature in your WhatsApp Business Account, please follow the below steps.
Open WhatsApp Business Application.
Now, Click on the three dots in the upper right corner of the App and open Settings.
After that click on Business Tools.
Go to Away Message.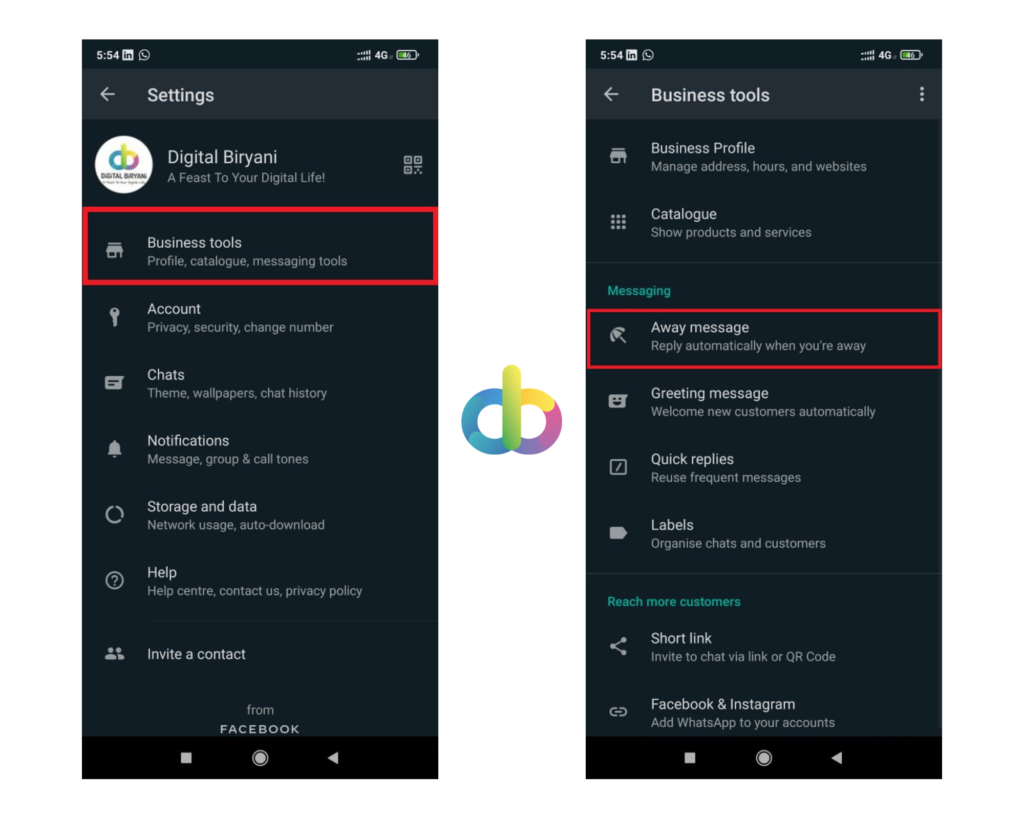 Select Edit the message and enter the message you want to send as Auto Reply.
Now, Schedule your message from the available options.

Always Send: Select this if you're not available for many days.
Custom Schedule: Select this if you will not be available for a specific time.
Outside Business Hours: You need to set business hours, and this option will allow you to send auto-replies outside business hours.

Select the recipient. Check the available options.

Everyone: This option allows you to send the automated message to everyone who pings you in your absence.
Everyone not in the address book: This allows you to send the automated message to only those who are not on your contact list.
Only send to: Only the selected contacts will receive the automated message from you.
Everyone except: This will allow you to send the auto message to everyone except the selected contacts.
How to Set Auto Reply in WhatsApp Personal – Personal Account
WhatsApp, by default, does not provide a WhatsApp Auto Reply option for Non-Business Accounts. Third-party apps are the only options available. We can use them to enable the Auto-Reply feature in Facebook-owned messaging giant, WhatsApp.
Using WhatsAuto – Reply App
We have considered WhatsAuto – Reply App for this Blog. Please follow the below steps to send Automatic Replies on WhatsApp.
Install the

WhatsAuto – Reply App

on the mobile phone which has Whatsapp installed on it.
Open the App and Turn On the Auto-Reply.
Click on the edit symbol of Auto-Reply text and add your personalized message. You can also select your text messages from predefined text messages.
Visit the Contacts Section in the App and select the target contacts who you want to receive Auto Replies.

Everyone: Everyone will receive Auto Replies.
My Contact list: You can select contacts from your contact list who you want to receive Auto Replies.
Except my contact list: You can exclude contacts from your contact list to receive Auto Replies.
Except my phone contacts: This option will allow everyone except your Contact List to receive Auto Replies.
Enable Groups: This option is to allow Group Chats to receive Auto Replies in your absence.

In the Statistics section, you can see the number of times Auto Reply messages are sent and to which users.
By following the above steps WhatsApp Auto Reply feature can be enabled on the WhatsApp Personal Accounts. WhatsAuto – Reply App also supports other different features like Smart Messages, Welcome Messages, Building WhatsApp Bots, etc. There are other Apps such as AutoResponder For WA which also enables the WhatsApp Auto Reply feature along with other useful features.
Auto replies in WhatsApp provide a range of benefits including saving time, increasing productivity, enhancing customer service, improving communication, maintaining professionalism, providing information, and increasing engagement. It is a useful feature for businesses and individuals who receive a high volume of messages and want to provide an efficient and effective response.
For the same reason, DiGiTAL BiRYANi has published a detailed guide on How To Integrate Chat GPT with WhatsApp. This will help users to avail Chat GPT features on WhatsApp.
Frequently Asked Questions (FAQs)
When will WhatsApp Auto Reply For Personal Account be available by default in the WhatsApp App?
There has been no such news as of now. However, as discussed WhatsApp already provides WhatsApp Auto Reply Feature for business accounts. So, if you want to only use WhatsApp Auto Reply Feature provided by WhatsApp then switching to the business account is the only option as of now.
Is it safe to use third-party apps to enable WhatsApp Auto Reply feature in WhatsApp Personal Accounts?
Many people use these apps. However, DiGiTAL BiRYANi always suggests you do some research before installing unknown Apps on your mobile. There are many apps available online, you can have your own analysis and choose the best suitable app for you.
Conclusion
We, at DiGiTAL BiRYANi, shared this blog with many people who need to enable WhatsApp Auto Reply Feature due to their busy schedules. Drop a comment below to let us know about your experience with using DiGiTAL BiRYANi's tricks. Feel free to share your feedback with us. You can also send a list of topics on which you want us to publish a blog. We're always ready to serve you the best information to improve your Digital Experience.