Today's digital world runs on messaging applications, They have become a crucial part of our daily routine. There is an array of messaging apps we use in our daily life. And WhatsApp is leading the list.
WhatsApp, one of the most popular messaging applications, has revolutionized how we communicate with our friends, family, and colleagues. With the introduction of WhatsApp Web, users can now access their messages from their desktops without switching between their phones and computers.
However, WhatsApp Web's default functionality has its limitations, and users often find themselves wanting more features to enhance their messaging experience. This is where Chrome extensions come in handy.
Chrome extensions are small software programs that can modify and enhance the functionality of your browser, allowing users to customize their web experience. There are some amazing productivity booster Chrome Extensions available on Chrome Store for various purposes.
In this blog, we will discuss some of the best WhatsApp Web Chrome extensions available in the market that can enhance your messaging experience on WhatsApp Web.
List of the Best WhatsApp Web Chrome Extensions
These are some of the best WhatsApp Web Chrome Extensions that will improve your messaging experience by making it more productive and exciting.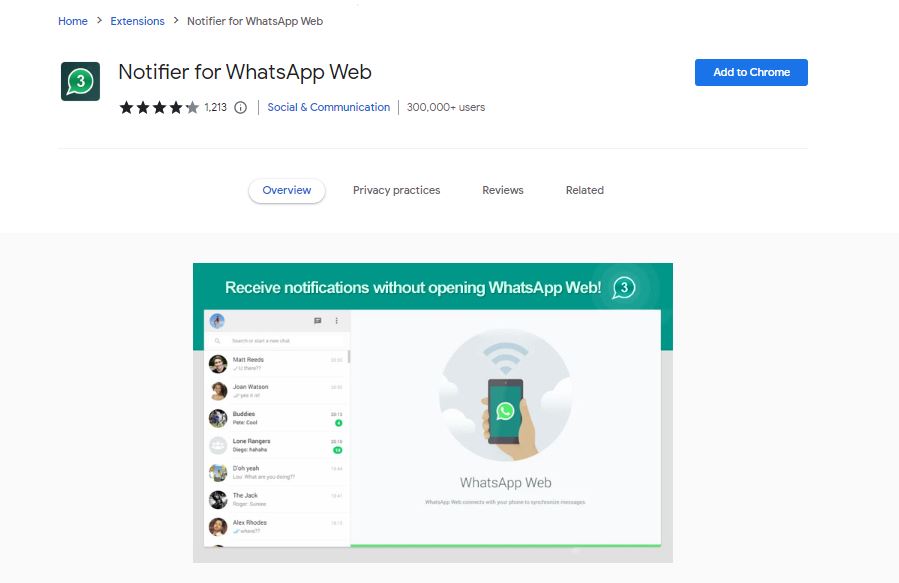 It is the dream of every WhatsApp user to read WhatsApp Messages without the sender knowing that they have read the message. The Notifier for WhatsApp Web lets you do the same. Using this one of the best WhatsApp Web Chrome extensions, users can get notifications of WhatsApp messages on Chrome without opening the WhatsApp Web.
This extension will eliminate the need of keeping WhatsApp Web open in one tab of your web browser. The notifier will notify you whenever you receive a message on WhatsApp.
Many businesses require bulk messaging services from WhatsApp to send messages to their target audience. WA Sender is a free bulk messaging service for WhatsApp Web users. The platform lets you send personalized WhatsApp messages and media files in bulk. You can import names, phone numbers, and messages from Excel as well.
The platform allows users to send 1 to 1 messages to WhatsApp group members. It lets you save your own WhatsApp promotion message template. You can have a customizable sending interval, and pause and resume the sending process as well. WA Sender is a great WhatsApp Web Chrome Extension for marketers and small business owners to spread their business through WhatsApp.
Cooby is one of the most productive WhatsApp Web Chrome Extensions out there. The tiny useful extension lets you group your chats into different tabs. It lets you ensure that you don't miss any important stuff by offering you WhatsApp-based Reminders. The platform also lets you schedule events on WhatsApp.
For users who require to send recurring messages on WhatsApp, it lets you create templates. The best part we experienced with Cooby is that it lets you integrate WhatsApp with CRMs like Salesforce, HubSpot, etc.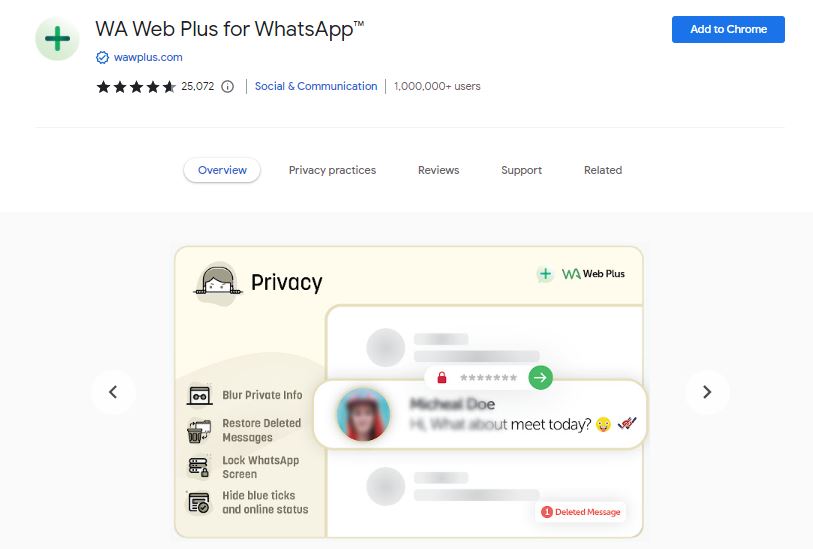 As per our experience, WA Web Plus for WhatsApp is the best WhatsApp Web Chrome Extensions offering a wide range of features. The platform offers you to blur important messages and media while using WhatsApp Web. It also lets you view WhatsApp Status secretly.
There are tricks that let you send WhatsApp messages without saving contact numbers, but this platform offers that feature in-built. You can also restore deleted messages on WhatsApp, and hide online status on WhatsApp without any hassles. 
This amazing WhatsApp Web Chrome Extension has a range of other features such as CRM integration, pinning unlimited chats, and many other Business features.
Using WhatsApp on the web version has one of the major disadvantages and that is privacy. Anyone can take a look at your conversations and media files while you're communicating on WhatsApp. Privacy Extensions for WhatsApp Web eliminate all these privacy threats.
The extensions allow blurring everything on the WhatsApp Web. It only gets visible once you hover over the section. It also lets you blur the specific chat, messages, media, texts, dp, etc.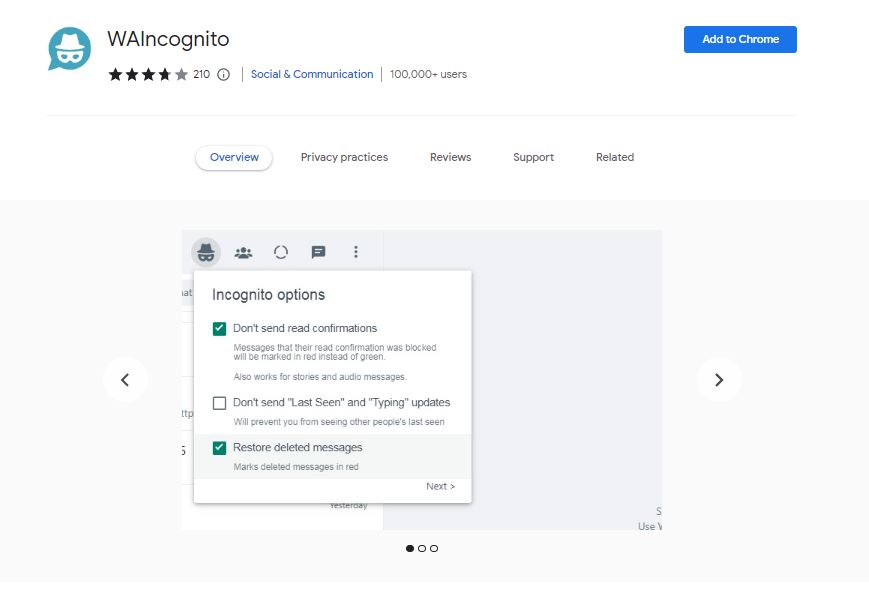 There are a few workarounds that let you read WhatsApp Messages without the sender knowing you've read them. However, there is no direct way for this. WAIncognito offers you to view other people's read receipts and last seen, without giving away yours. That means you can read other people's WhatsApp messages and Last Seen without sharing the same with them.
Eazybe is one of the best WhatsApp  Web Chrome Extensions that make your WhatsApp Web messaging experience filled with Artificial Intelligence (AI). The platform will let you organize chats, send ChatGPT-based replies, CRM integration, and do much other cool stuff. The best thing we discovered about Eazybe is that users can schedule WhatsApp Messages using this cool WhatsApp Chrome  Extension.
If you've WhatsApp contacts from across the globe in your contact list, then language might become a barrier sometimes. You may receive WhatsApp messages in languages that are not known to you. Translator for WhatsApp translates such WhatsApp messages on your WhatsApp Web. 
The platform is extremely easy-to-use. Users just need to hover over any message and tap on Translate. It will translate the selected part into your selected language. WhatsApp Web users can chat with anyone in more than 100 languages without any issues using this one of the best WhatsApp Web Chrome Extensions.
WA Webb Utils is another great WhatsApp Web Chrome Extension that lets users send customized bulk messages to promote their businesses and brands. Users can create and save custom templates and build custom audience lists to attain productivity while promoting their brands through bulk messages.
WA Web Utils is the best platform to run your entire customer support and sales right inside WhatsApp in your browser. If you're a small business owner and looking to channel your sales and customer support work, WA Web Utils is the perfect choice for you.
WhatsApp Audio and Voice Notes are one of the most used WhatsApp features in recent times. If you're one such WhatsApp user who encounters a number of WhatsApp Audio notes then Zapp is perfect for you. 
Zapp offers various audio controls on your WhatsApp Web. You can change the speed and volume of the WhatsApp Audio Notes using Zapp. Zapp will show you the small box that has all the controls needed to tweak the audio recordings in WhatsApp Web.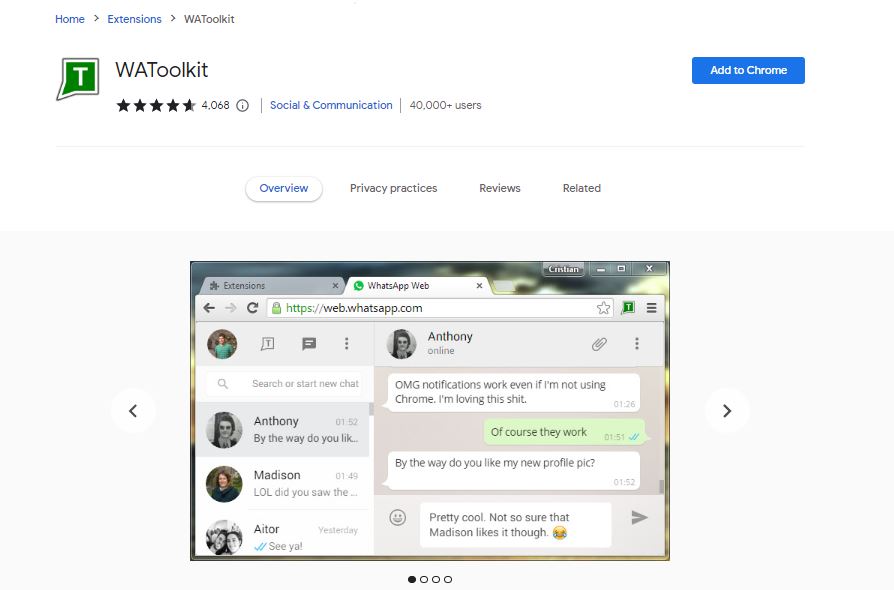 WAtoolKit is a productivity booster WhatsApp Chrome Extension there on the list of the Best WhatsApp Web Chrome Extensions to enhance your messaging experience. The tiny extension will make it possible for you to receive WhatsApp notifications on your desktop even when there is no active WhatsApp tab open on your device.
The best thing we experienced with the WAToolKit is that it adds a convenient WhatsApp button to the toolbar. The button shows the number of unattended notifications and unread messages on WhatsApp. You can also see the summary of your unread WhatsApp conversations. We also felt that this WhatsApp Chrome Extension is extremely lightweight and fast.
'Blueticks' is another great WhatsApp Web Chrome extension for all-in-one engagement. The platform offers all the essential marketing and management features to the users. WhatsApp users can communicate effectively with their audience with increased productivity.
It lets you use WhatsApp as your task manager to manage your tasks directly inside WhatsApp. The best feature we experienced with Blueticks is that it lets you run WhatsApp Campaigns to boost your brand. It offers API to integrate it with any CRM or other automated workflow.
Frequently Asked Questions (FAQs)
Are these WhatsApp Web Chrome Extensions safe to use?
As with any third-party extension, it's important to be cautious and use reputable sources. The extensions mentioned here have been reviewed and vetted by the Chrome Web Store, and have received positive user feedback. However, WhatsApp does not allow such addons officially, so use such services carefully, or else WhatsApp may block your account.
Do these extensions require any special permissions?
Yes, some of these extensions may require permission to access your WhatsApp messages and other data. Before installing any extension, it's important to carefully read and review the permissions it requires to ensure that you're comfortable with the level of access it's requesting.
Can I use these extensions on mobile devices?
No, these extensions are designed specifically for the Chrome browser on desktop and laptop computers. However, there are similar extensions available for mobile browsers, and many of the features offered by these extensions can be found in the official WhatsApp mobile app.
Conclusion
In conclusion, if you're looking to enhance your messaging experience on WhatsApp Web, the above-mentioned are a variety of WhatsApp Chrome extensions available to help you do just that.
From customizing the look and feel of the interface to scheduling messages and downloading status images and videos, these extensions offer a wide range of features to make your WhatsApp experience more enjoyable and productive.
Overall, by taking advantage of these powerful tools, you can unlock new levels of functionality and convenience in your WhatsApp Web experience, making it easier than ever to stay connected with friends, family, and colleagues.