It is believed that English is the International Language and is accepted globally. It is true that English is a widely accepted language, but only 13% of the world's population speaks English. When it comes to languages, the world is culturally diverse. There are approximately 7100+ different languages spoken in the modern world. So, learning new languages is a necessary thing. It requires a lot of effort and perseverance. A language learner has to continuously learn in his daily life. In today's world, the mobile phone is everyone's daily companion. So if a mobile phone can help in learning a new language, the learner can easily maintain continuity. That's why we have prepared a list of the Best Language Learning Apps available for free in 2022. We hope you learn at least one new language using these apps in the upcoming year.
List of Best Language Learning Apps
Here's the list of best language learning apps that will help you in learning and adapting new languages easily and effectively.
Duolingo
Duolingo is a decade-old language learning website with 500 million+ users. The app helps users to speak, write, listen, and read new languages in a fun way. They claim that 34 hours spent on learning a language on Duolingo is equivalent to a semester of university-level education.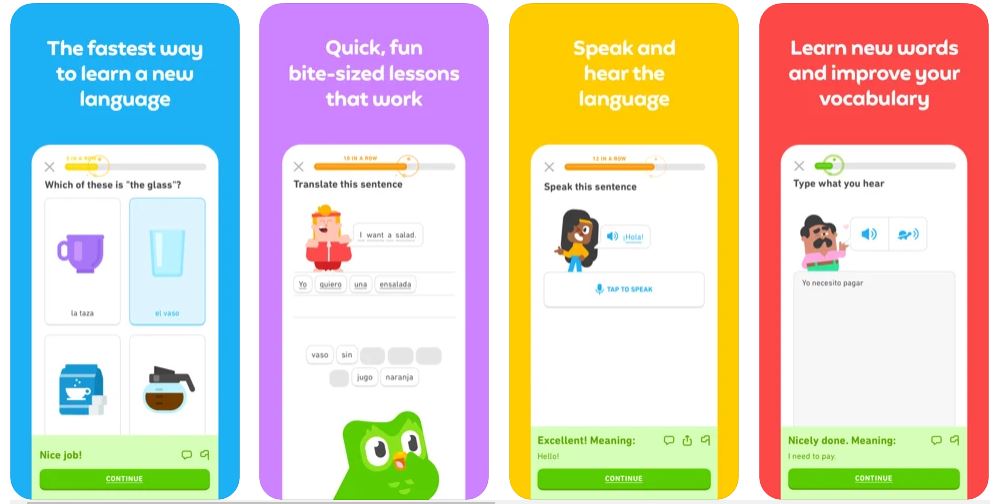 The app allows you to track your learning progress. Learning is categorized into small and meaningful lessons. Duolingo provides you with the option to learn 30+ various languages. The app also offers courses created by native speakers to give a more human touch and a great learning experience.
Busuu
Busuu is an online community that offers a great language learning experience. There are several features that set the app apart from others. The app supports offline mode, grammar lessons, McGraw-Hill education certification, very adaptive Vocabulary Trainer. These features help you in making your learning curve better.
The learner can create his/her own learning goals on Busuu. Topic-based lessons offer maximum learning opportunities. There are various packages available to use the platform. The free version is limited to basic features, while premium and premium plus versions offer more learning features.
Memrise
Memrise enables learning opportunities of 20+ various languages. It is more focused on the real-life learning experience. The app offers short videos of local language speakers. That helps the learner to understand how the locals use their local language, which eventually be a boon in the language learning journey.
If you're planning to learn a new language before relocating to another state/country, Memrise is the best option. You can easily learn and adapt local phrases, tones, words, and many other things.
Mondly
Mondly is one of the best language learning apps as it allows you to learn from your first language. In almost every other language learning app, you're forced to learn a new language in English. The app we're talking about differs. It has free and paid courses for around 33 languages. Mondly has one of the best voice recognition features.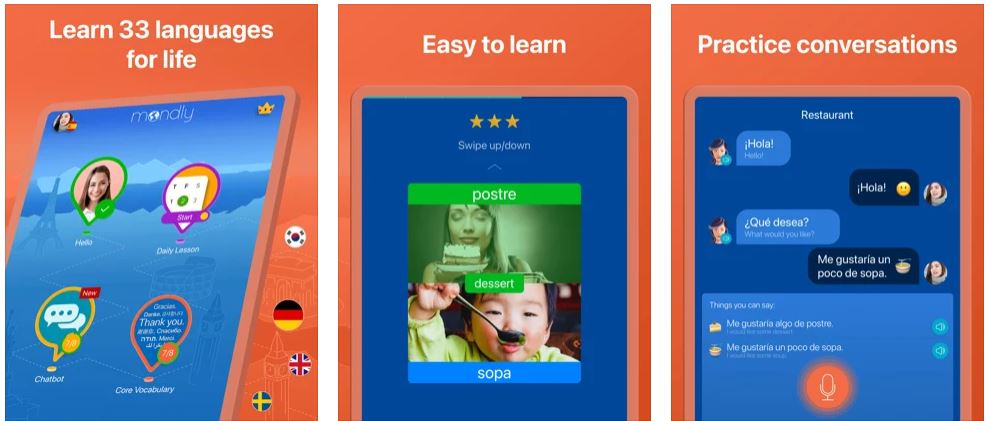 Mondly is believed to be one of the best language learning apps with the best pronunciation feature. You can practice language speaking on the App. The app will examine your voice and will respond positively if you speak correctly. You can download this App now to learn the correct and perfect pronunciation of different languages.
Pimsleur
Pimsleur is one of the oldest language learning platforms available. It is focused on audio format learning. Earlier it used to be available in the form of CDs and cassettes, now it is available on the App. There are courses available for 51 various languages. If you're searching for an app that helps you learn new languages while you're driving or hitting the gym, then Pimsleur is what you need on your phone.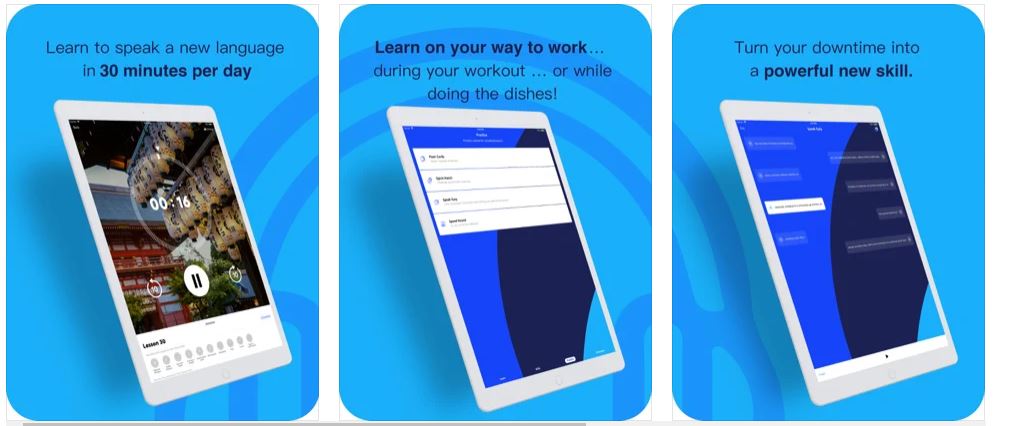 The audio lectures are downloadable and Alexa compatible.
Rosetta Stone
Rosetta Stone is another old platform to learn new languages. The platform offers to learn 24 languages. It allows users to create custom learning plans. That helps learners to learn at their own pace. Learning lessons are of around 5-10 minutes, which enables you to make steady progress. The learner can use his / her spare time from the busy day to complete small duration lessons.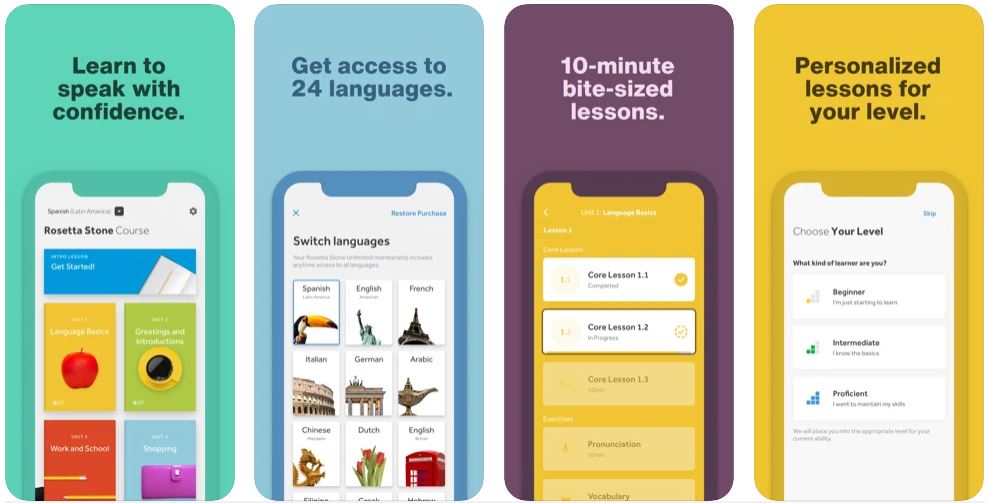 The app has millions of learners worldwide including individual learners, corporates, public & non-profit organizations, etc. It also has an offline mode option for continuous learning.
QLango
If you have a little idea about any language and you want to learn it profoundly, QLango is the app you should be having. It is focused on the fun way of learning. The app offers different game modes to help you learn better. Users can customize his / her own game modes to speed up the learning process at his / her own pace.
You can learn by translating texts from your known language to the new language at any time anywhere. QLango offers 43 various languages as of now. Each language has small learning videos to boost up your learning pace and quality.
Mango
Mango offers fun and efficient way with real-life conversations to learn languages. It also offers native-speaker audio and cultural context to learn new languages. It will help users speak like a local language speaker in a very short span of time. It has over 70 languages to explore. Mango is considered as one of the best language learning apps with an average of 4.8 star ratings.
Frequently Asked Questions (FAQs)
Do Language Learning Apps really work?
Yes. Language Learning Apps do work. Research reveals that 59% of language learning apps users felt that their oral proficiency improved by at least one sub-level on the American Council on the Teaching of Foreign Languages proficiency scale.
Are the above apps mentioned in any particular order?
No. The apps mentioned above are not in any particular order. You can select the apps based on your requirements and convenience.
Conclusion
Languages are one of the best ways to learn and respect any culture. We, at DiGiTAL BiRYANi, have done our small part to help our esteemed readers to meet and greet new cultures from their mobile devices. Please share your valuable feedback with us. If you want a blog post about your favorite topic, contact us directly. We'll try our best to incorporate it within our content planning.