In the last few years, user interest has transferred from texts to images to videos on Social Media. Orkut and Facebook fans have wholeheartedly accepted the TikTok and Instagram era. With the changing user interests, all the social media platforms including Instagram, Facebook, Snapchat, TikTok, and YouTube have largely focused on the Reels / Short Video formats. While a larger audience loves to enjoy reels on Facebook and other platforms, there are many people who prefer avoiding reels.
If you're a part of that group who feels Facebook Reels are Unproductive and eats up your time, hence searching for ways to learn how to disable reels on Facebook, you've landed at the correct place. By the end of this blog, you'll have multiple ways to get rid of Reels on Facebook.
How To Disable Reels on Facebook – 5 Detailed Ways
We're being absolutely frank with you. There's no such "Hide Reels" or "Disable Reels" option on Facebook. The feature is likely to never come from Facebook as Reels is the most used feature on Facebook and Instagram, and the platform would not hurt their primary user base. But, there are a few workarounds that will help you to disable reels on Facebook.
Use an Older Version of the Facebook App
Facebook is an 18 years old platform whereas Facebook Reels are only a few months/years old features. So, the older version of Facebook apps doesn't have the Reels feature on it. So, if you want to get rid of Facebook Reels, downgrade the Facebook App to older versions.
This option will not work on iPhone and iOS devices as Apple does not allow to downgrade of the apps. For Android, you can use online websites to find older versions of the Facebook App. If you find an appropriate older version of the App, uninstall the latest Facebook App from your mobile phone and install the old version.
However, we don't recommend this method to stop reels on Facebook. This may cause a serious security breach to your phone. Hence, use this trick at your own risk. Check the other methods to learn how to disable reels on Facebook using comparatively safe methods.
Facebook Web Version to get rid of reels on Facebook
Use the Facebook Web version instead of the Facebook App to get rid of reels on Facebook. Facebook Web does not show reels on your news feed and home page as frequently as Facebook mobile App.
So, instead of Facebook Mobile App, use Facebook from the Web browser of your phone or laptop to stop reels on Facebook. Even though in the future, the platform introduces reels on Facebook, it is easier to ignore posts on the Facebook web than the mobile app.
Use the 'See fewer posts like this' Option
The Facebook algorithm offers you various posts and reels on your home feed based on the posts you consume on a regular basis. If you watch reels for a longer period of time on a daily basis, the Facebook algorithm will show you more reels. Using this trick, you're informing Facebook Algorithm that you're not interested in Facebook reels. If you'll ignore Facebook Reels for a longer time, the algorithm will automatically reduce the frequency of showing them.
On a Facebook Mobile App, when the reel is visible on your news feed, you'll see three dots right above the reel panel. Tap on those three dots, and then click on Hide (See fewer posts like this) option. Doing this on a regular basis will definitely train Facebook's algorithm not to show reels to your or show fewer reels on your newsfeed.
Third-Party Facebook Apps
There are many third-party Facebook apps available, that offer extra and customized features on top of the features offered by Facebook. These third-party Facebook apps can be really helpful to disable reels on Facebook. However, these third-party apps are not secure and not advisable to use.
How to Disable Auto-Playing Reels on Facebook App?
If you're learning how to disable reels on Facebook, then Instead of fully getting rid of reels on Facebook, you can even disable Auto-Playing Reels on Facebook App. This feature will automatically reduce your Reels' watching time on Facebook.
Follow this step-by-step guide to disable auto-playing reels on Facebook App.
From the Facebook Home Page on your mobile App, click on your Facebook DP with the hamburger menu in the top-right corner of the screen.
Now, click on the Settings symbol, next to the search button.
Tap on the Profile Settings option.
Scroll down to the Media and Contacts section and click on it.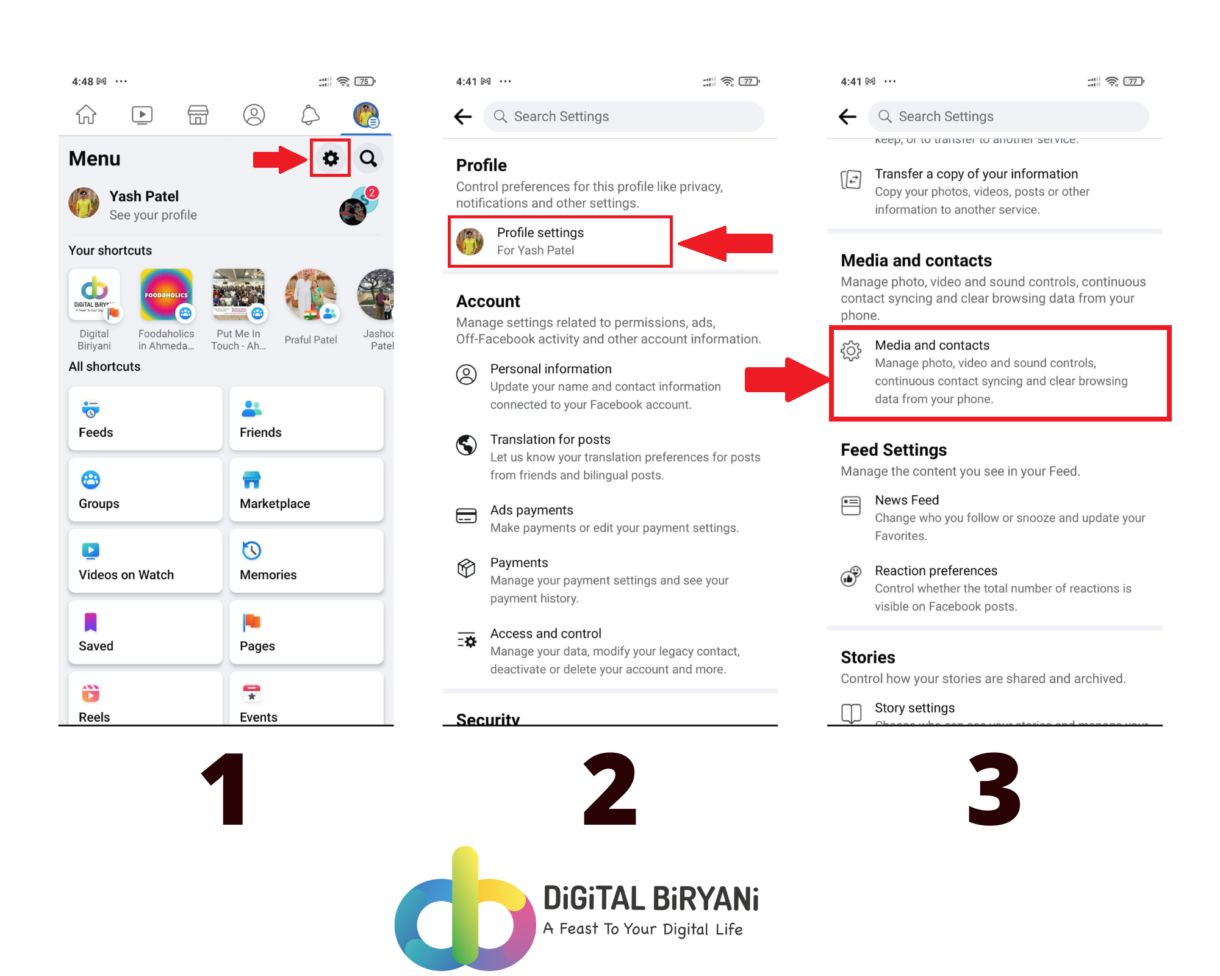 Now, tap on the Autoplay option on the screen.
Select the Never Autoplay Videos to enable that option.
Seeing the popularity of Reels, Facebook Reels and Instagram Reels are going to stay for a very long. The platforms are likely to introduce new features and update them based on user interests and intent. So, the above-mentioned detailed tricks will definitely help you to disable reels on Facebook.
Frequently Asked Questions (FAQs)
Are Instagram reels and Facebook reels the same?
Instagram Reels and Facebook Reels are very much similar but not exactly the same. Both are different platforms hence the algorithm for reels works differently on both platforms. However, as both come under Meta, so you can integrate your accounts and post the same reel on both platforms in one go.
Can you make money from Facebook Reels?
Yes, you can earn money from Facebook Reels using the Reels Play Program. The Reels Play program is an invite-only program. Creators who are invited will be notified in the Facebook app and in Creator Studio and can sign up to learn more here. Reels Play on Facebook will pay a bonus to eligible Facebook creators whose reels get at least 1,000 views over a 30-day period on Facebook.
Conclusion
Get rid of highly addictive Facebook Reels with these amazing tricks. That will help you focus on your important work and increase productivity. Do try these tricks to stop reels on Facebook and share your valuable feedback with us.