When was the last time you didn't open WhatsApp at all for the entire day? You don't remember, right? Obviously! WhatsApp has become a part of our everyday life. People across the globe regularly use WhatsApp for their daily communication – be it with friends, colleagues, customers, or whatnot! The majority of the world's digital population is in a place where they can not stay away from WhatsApp for a longer period.
Imagine adding your boss and clients to your WhatsApp contact list. What to imagine in it, buddy? They are already there, right? Now, what if they both are sending you messages at the same time and asking some important thing. If you are attending one, another one is surely going to rip you off for not attending their emergency, and staying online without knowing that you were involved in another urgent conversation.
Only hiding WhatsApp Last Seen won't work in such cases. In such scenarios, if you know how to hide your online in WhatsApp while chatting, you can save yourself from many difficulties. Let's see what is the main difference between hiding last seen and hiding online status in WhatsApp.
Difference Between WhatsApp Last Seen and Online
Regularly, WhatsApp releases features that enhance the user experience of WhatsApp. A few years back WhatsApp released one such feature that allows users to hide their last seen. This feature allows users to hide their last seen from other users. You need to go to the Settings > Account Settings > Privacy Settings > Last Seen > Nobody in your WhatsApp App to hide your last seen from others. You can also hide Blue Ticks on WhatsApp Chat, which allows users to read WhatsApp messages without the sender knowing you've read it.
In above both cases, if you're online, other users can see your online status of yours on the WhatsApp Chat, irrespective of your Last Seen and Blue Tick status. That means even if your blue ticks are off, the other person will get to know that you're currently online on the WhatsApp App.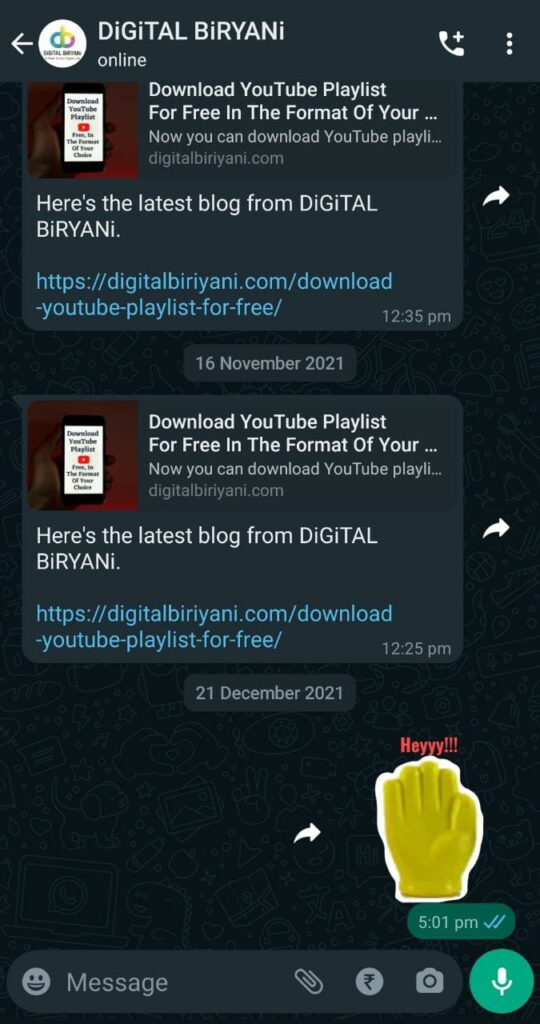 How To Hide Online in WhatsApp? – 5 Working Ways
As you know Last Seen and Blue Ticks won't help you in many cases to keep yourself hidden from the radar of other users. We've compiled a list of a few tricks that will help you to know how to hide your online in WhatsApp while chatting.
Airplane Mode Trick
Airplane Mode is another workaround that helps you hide online status in WhatsApp while chatting. This technique is free to use and does not require any external software to be installed. Every smartphone has this feature called Airplane Mode. We're going to use that in-built smartphone feature in this trick. Follow the below simple steps to know how to hide online in WhatsApp while chatting using Airplane Mode Trick.
When you receive a message from someone on WhatsApp, Go to the settings and turn on Airplane Mode.
After that open the WhatsApp App.
Go to the chat and type your reply.
Click on the send.
Close the WhatsApp App on your phone.
Turn off the Airplane Mode.
That's it. As soon as you turn off the Airplane mode, WhatsApp will send your message without showing you online.
Reply From Notification Window
This is one of the coolest and easiest ways to hide WhatsApp online status. You need to use your phone's notification panel. The trick does not require any extra software to be installed on your phone. Just follow the below steps to successfully hide your online in WhatsApp while chatting.
Make sure that Notifications are enabled for the WhatsApp app. That means you always properly get a notification from WhatsApp when someone messages you on it.
When you receive a WhatsApp message from someone, pull down the top of your screen to open the notification panel.
Along with the WhatsApp message, you'll see two options – Reply and Mark as Read.
If you've received WhatsApp messages from multiple chats, remove the other chats' messages by sliding them from the notification panel. Ensure that the WhatsApp notification you want to reply to is the only WhatsApp notification in the panel.
If you don't see the Reply option, pull down the message notification a bit or tap and hold on to the WhatsApp notification to get that option.
Select the Reply, type your response, and send.
Block Contacts on WhatsApp
This method will help you when your goal is to hide your online status from a specific contact for some time. Follow the below steps to learn how to hide online in WhatsApp while chatting by Blocking someone.
Go to the WhatsApp App on your mobile phone.
Open the chat with the person whom you want to block.
Tap on the person's name on the top bar of your screen.
Select Block and tap on the Block in the next prompt box.
This way you've blocked the person and that person will not be able to see that you're online on WhatsApp. One thing to note when you implement this trick, when you block someone on WhatsApp, that person will not be able to see your display picture, last seen, online status, stories, and every other thing about your WhatsApp account. During the time they are blocked, you will not receive any messages from them.
Third-party Mobile Apps
There are a few mobile apps that let you hide WhatsApp online status without much hassle. You just need to install these Apps on your smartphone and they will guide you and help you to hide online in WhatsApp. These apps have various other features and some of them even support Facebook Messenger. You can even hide blue ticks, and hide last seen from users using these mobile apps. We're mentioning a couple of useful apps for this purpose – Hide Unseen No Last Seen and Unseen status and No Last Seen. These apps are for Android mobile phones. If you're using an iPhone device, you can try WhatsApp++ to hide your online status.
Extensions For WhatsApp Web
WhatsApp's Web Version has now become a very useful tool among many users. WhatsApp has also actively launched many features for its Web Version including Voice & Video Calling, Desktop Application, Making Customized Stickers, and many more.
When there are so many users using the WhatsApp Web version, it is important for them to know how to hide online in WhatsApp while chatting on Web Version. Thus we have come up with a special technique for them that enable them to hide online in WhatsApp Web.
Google Chrome Extensions are the best ways to extend some functionality to the existing platform. For this purpose also, there are some amazing extensions that help achieve our target, i.e., hiding online status on WhatsApp Web.
Here are a couple of such amazing Google Chrome Extensions that will help you hide WhatsApp online and last seen while chatting on WhatsApp's web version. One of them is WAIncognito. This is really amazing extension that let you see others' last seen while at the same time you can hide yours from others. You can even hide your WhatsApp Online Status.
Another extension is WA Web Plus for WhatsApp. This extension has some extraordinary features. It offers you a special App Lock kind of feature for WhatsApp Web. Whenever you open web WhatsApp on your chrome, you need to provide a security password to access it. Thus it makes your WhatsApp Web usage more secure. Apart from that it also fulfills our requirement that is hiding online status on WhatsApp Web.
Frequently Asked Questions (FAQs)
How to hide Online in WhatsApp from a specific person?
To hide Online in WhatsApp from a specific person, you need to block that person from your WhatsApp App. That way only you can achieve this.
What is the best way to hide WhatsApp's online status?
If you don't want to install third-party apps and you only intend to give a reply to a couple of WhatsApp messages then replying from the notification panel is the best way to hide WhatsApp online status.
Conclusion
We know that WhatsApp is one of the most used mobile apps by our esteemed readers. Hence, we have always tried to cover WhatsApp Tricks and Tricks by publishing various blogs since our inception.
We wish that you, as our readers, don't face difficulty in hiding your WhatsApp online status after reading this blog. We also request you to share your valuable feedback about this blog with us. Your feedback is very important for us to serve you the best Digital Productivity Booster content. If you want a specific blog from our end, feel free to share your favorite Blog Topics with us.