A PDF file is considered one of the most convenient and secure methods of storing and sharing data. Banks, Corporates, and many organizations have gone digital in the last few years. Bank passbooks, corporate documents, letters, and many physical documents are now on the verge of becoming 100% paper-less. They all are now available in PDF formats. Hence we all actively need PDF Editing Tools that allow various PDF Editing Functionalities.
To provide security to these documents, the source system encrypts these PDF files with passwords. However, when you save these documents to your personal space, these passwords consume too much effort and time while accessing the content. Hence, it is always a good idea to unlock PDF files using online or offline PDF password remover software.
In this blog post, we'll explore the best PDF password remover online tools that are available today. We'll discuss the features and benefits of each tool. Whether you're a student, professional, or just someone who needs to access a password-protected PDF, we've got you covered.
Let's first start with the types of PDF Passwords.
Types of PDF Passwords
To protect PDF files from being misused, there are two types of PDF Passwords are available. These passwords protect PDFs from unauthorized and illegal access. Let's understand these two types in detail.
Owner Passwords
The owner password is also known as PDF Permission Passwords. This type of password restricts users to change the PDF file without passwords. However, anyone can open and read PDF files without passwords. But to print, copy, change, extract, edit the content users need to have a password with them.
User Password / Open Password
PDF User Password or Open Password is a password that is essential to open the PDF file. When a file is protected with User Password / Open Password, without applying a password no one can access the file.
There are various PDF password remover tools that are available in the market. Some of these need you to apply a password in the first place to remove the password from the encrypted files. However, there are a few tools that don't require a password in the first place to make the PDF files password-free.
Best PDF Password Remover Online Tools To Unlock Password Protected PDF
SodaPDF is a well-known online tool that offers various functionalities with regard to PDF.
It is an easy-to-use online tool.
You just need to upload the password-protected PDF file, enter the existing password, click on the Unlock button, and within a few seconds, you can download the unlocked PDF file.
You can view the file before downloading it.
You need to know and provide the password to make the PDF file Password-Free.
This tool offers you to upload multiple PDF files to make them password-free.
It supports up to 20 files, where a combined size should not exceed 150MB.
The maximum file size is 100 MB.
You need to enter the existing password to unlock the PDF file.
The platform offers you to convert PDF files to other file types, and a few other PDF-related features as well.
Small PDF is a very well-known PDF editing tool. It is one of the best PDF Password remover online tools available on the Internet.
You can upload or drag-and-drop the PDF file on the Small PDF platform.
The platform will ask you to enter a password.
Once you enter the password and click on the Unlock. You'll get the unlocked pdf.
Users can view the password-free PDF file before downloading.
There are other PDF Editing options also available on the Small PDF.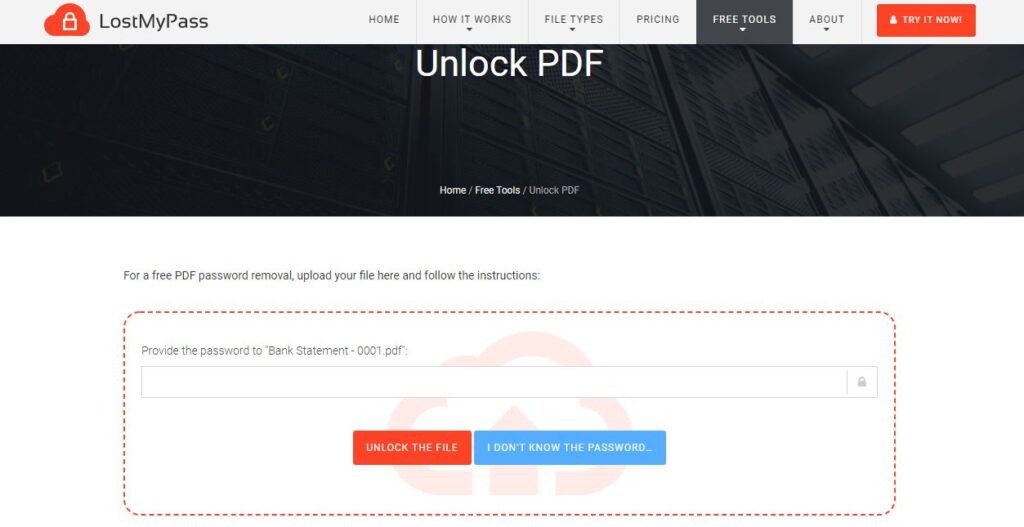 You may unlock the password-protected PDF file even if you don't know the password. Yes, You read it right!
When you upload the PDF file on the platform, they will ask you for a password.
But, if you don't have the correct password, you can select the I Don't Know The Password option.
The platform will try to crack the password using its algorithm. It does not guarantee cracking the password. But, during the trial, we could crack the password.
Once you get the password you can provide that password to make the PDF file password-free.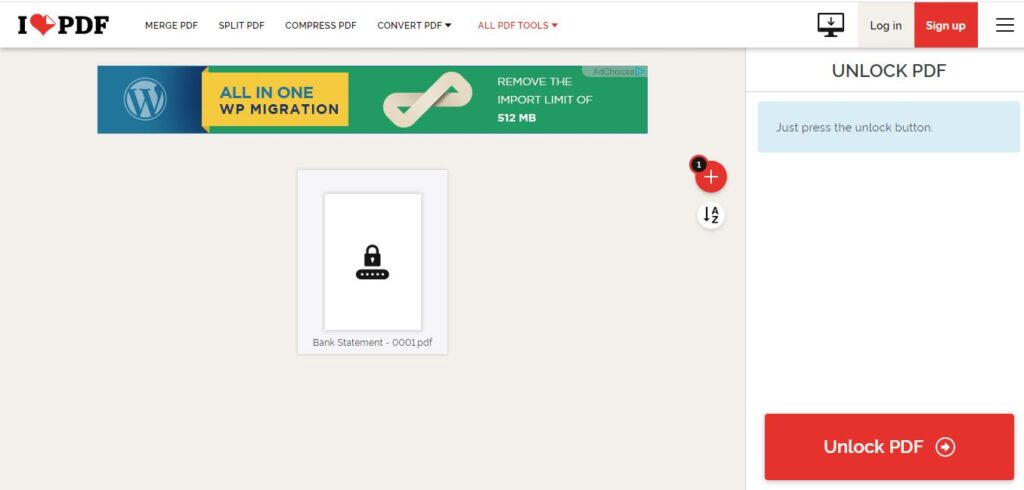 iLovePDF is an amazing online PDF password unlocker tool that removes passwords even if you don't know the password of the original file.
It is one of the best PDF password remover online tools, that is very seamless to use. Open the platform on your web browser.
Drag and Drop / Upload the password-protected PDF file to the platform.
Click on the Unlock PDF option.
You'll get an option to download the Unlocked PDF. You can even share a download link or QR Code with others.
It is an easy-to-use pdf password remover online tool.
You can unlock the PDF file in a simple three-step process.
Upload a protected PDF file.
Enter the current password.
Download the unprotected PDF file.
Frequently Asked Questions (FAQs)
Desktop Software or Online Tools – Which method is more suitable for the PDF Password Removing process?
If the requirement is not too frequent, online tools are a better option as you don't need to install third-party apps on your machine that may cause security trouble sometimes. If you need to unlock highly secure and large size PDF files then you should opt for Desktop Software.
Will removing passwords from PDFs cause any legal trouble?
If you're an owner of the PDF file and the file belongs to you, then it will not cause any trouble. However, tampering with someone's password-protected PDF file without their consent may cause you legal trouble.
Conclusion
These are some of the best PDF Password Remover Online Tools. As PDFs are now a part of our daily lives, this blog was our little contribution to our esteemed readers to help them deal with PDF files. Try these amazing tools and share your valuable feedback with us to help us serve you better. If you want a specific blog from our end, share your favorite blog topics with us. We will surely consider that in our Content Planning Activity.