In the digital age, PDFs have become the go-to format for sharing and preserving important documents. Whether it's contracts, reports, or academic papers, PDFs offer a convenient way to ensure your content remains intact across different devices and platforms. However, working with PDFs often requires the ability to make edits and annotations, which can sometimes pose a challenge without the right tools at hand.
Fortunately, in 2023 we have a plethora of Free PDF Editor Tools Online that offer a wide range of features to enhance your document management experience. Whether you're a student, professional, or simply someone looking to streamline their workflow, these cutting-edge PDF editors are poised to revolutionize the way you interact with your PDF files.
In this blog post, we will explore some of the best free PDF editor tools available online in 2023. From powerful editing capabilities to collaborative features and intuitive interfaces, these tools are designed to simplify the process of working with PDFs, offering a seamless and efficient experience. Whether you need to merge multiple PDFs, add or remove pages, annotate, or sign documents digitally, these tools have got you covered.
Benefits of Online PDF Editor Tools
Online PDF editor tools offer numerous benefits that enhance the efficiency and convenience of managing PDF documents. Let's explore some of the key advantages that these Free PDF Editor Tools possess to offer the users.
Accessibility: One of the significant benefits of online PDF editor tools is their accessibility. As long as you have an internet connection, you can access these tools from any device, including laptops, tablets, and smartphones. This flexibility allows you to edit, annotate, or sign PDFs on the go, without the need for specialized software installations.
Cost-effectiveness: Online PDF editor tools often come in free versions or offer a range of free features, making them an affordable choice for individuals and businesses alike. You can perform essential editing tasks without investing in expensive software licenses or subscriptions, saving you money while maintaining the quality of your document management.
Editing Capabilities: Online PDF editors provide a wide range of editing features, empowering you to modify your PDF documents with ease. You can add, delete, or rearrange pages, edit text, adjust images, and even merge multiple PDF files into a single document. These tools enable you to tailor your PDFs to suit your specific requirements, whether it's polishing a report, modifying a contract, or making updates to educational materials.
Annotation and Collaboration: Collaboration is made seamless with online PDF editor tools. You can annotate PDFs by adding comments, highlights, and sticky notes to provide feedback or mark important sections. This feature proves invaluable for collaborative projects, where multiple individuals can review and make suggestions on the same document. With real-time syncing and version tracking, you can ensure everyone is on the same page, streamlining the review process.
Digital Signatures: Gone are the days of printing, signing, and scanning documents. Online PDF editors offer the convenience of adding digital signatures to your PDFs, saving you time and effort. You can create personalized signatures, securely sign documents, and even request signatures from others. This feature is particularly useful for contracts, agreements, and other legally binding documents, as it allows you to streamline the signing process and maintain the integrity of your files.
Security: Online PDF editor tools prioritize the security of your documents. They employ encryption measures to protect your files from unauthorized access and ensure your data remains confidential. Many platforms also offer options to password-protect your PDFs, adding an extra layer of security when sharing sensitive information.
User-friendly Interfaces: Most online PDF editors are designed with intuitive and user-friendly interfaces, making them accessible to individuals with varying levels of technical expertise. You don't need to be a tech-savvy professional to navigate and utilize these tools effectively. With their straightforward layouts and clear instructions, you can quickly grasp the functionalities and start editing your PDFs without hassle.
In this blog, we will discuss the best free PDF editor tools online that let you edit PDF files effortlessly without installing any software on your device.
List of the Best Online Free PDF Editor Tools
whether you're a student working on your thesis, a professional managing contracts and proposals, or someone who simply wants to streamline their document management, join us on this journey as we explore the best free PDF editor tools online that will redefine the way you interact with your PDF files in 2023.
Editing a PDF with Soda PDF is a very easy task. Open Soda PDF Online Editor and upload your pdf file to the platform. The platform will automatically open the PDF editor. It allows you to edit the existing text and add new text. Adding various page marks is also an effortless task on this one of the best online free PDF editor tools. There is an option to remove the page mark also.
The platform also allows integration with various third-party apps like Google Drive, Dropbox, etc. You can easily embed digital signatures using Soda PDF. Users can annotate PDF files using Soda PDF. It is one of the best and most widely used Free PDF Editor Tools in 2023.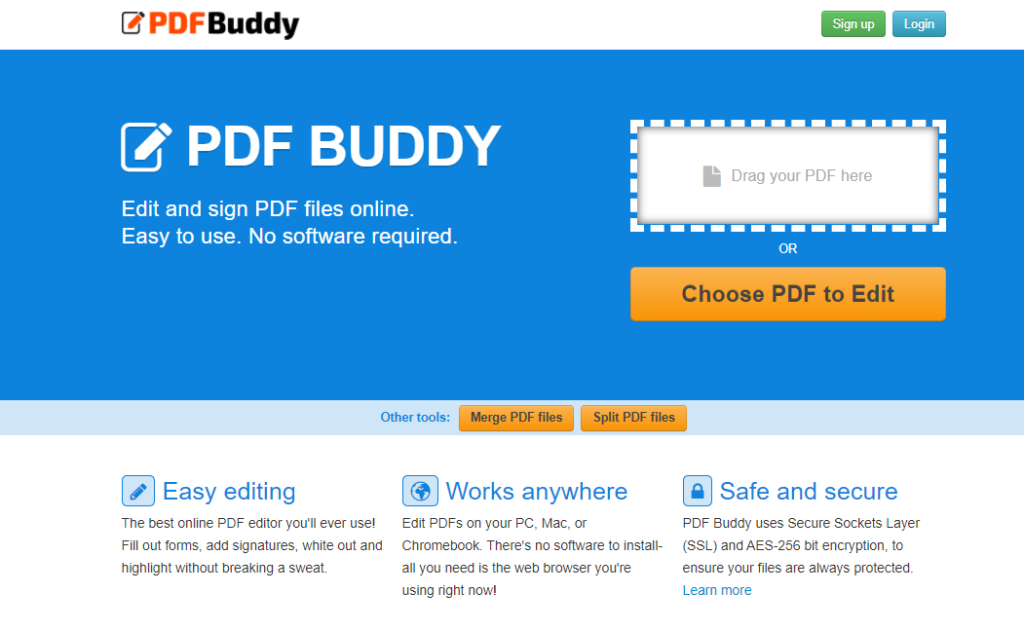 PDF Buddy allows you to edit PDFs online with safety and security. It uses Secure Socket Layer (SSL) and AES-256 bit encryption to ensure the safety of your files. You can embed images, and digital signatures into your PDF files without much hassle. PDF Buddy has free as well as paid services available. The free option allows users to edit up to 3 PDFs/month. It is easy to use by following these basic steps – Upload, Edit, and Download.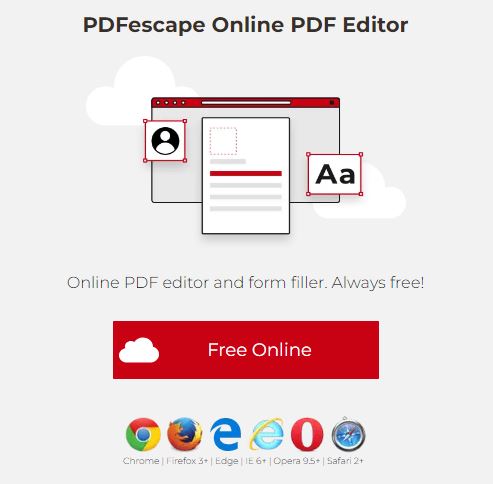 PDFescape is one of the best free pdf editor tools available online. This PDF Editor Tool lets you view and edit PDF files seamlessly. PDFEscape even allows users to annotate their PDF files online. It supports all popular browsers such as Chrome, Firefox, IE, Opera, and Safari. Users can fill out PDF forms, edit PDF files, and create basic PDF forms through this online PDF editor tool. If you're looking for a basic PDF Editor Tool with a clean UI and fast experience, PDFEscape is the best choice for you.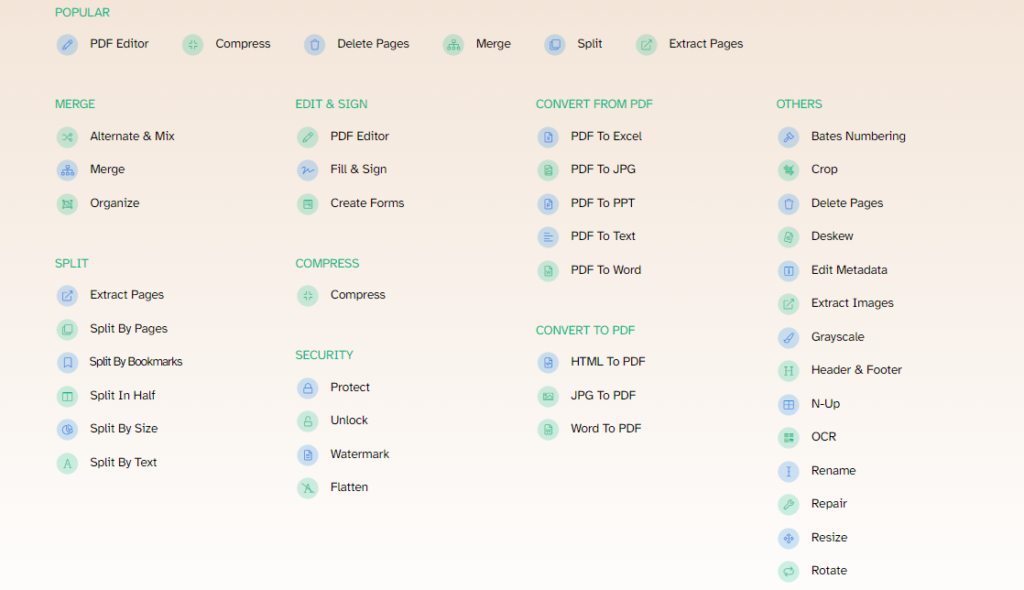 Edit PDF Documents with Sejda. It also allows you to annotate PDF documents. There are various shapes available on the platform which you can add to your PDF file while editing. It supports very easy drag and drops editing. The best part about Sejda is that you have the flexibility to whiteout certain parts of PDF to keep up the confidentiality of the files. Sejda provides a lot of services related to PDFs. You can have a bit of an idea from the above image.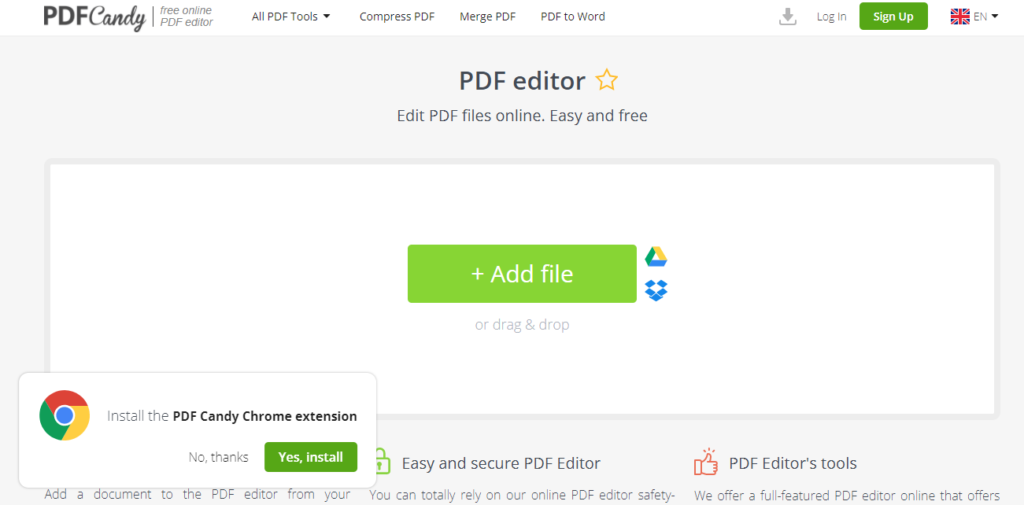 PDF Candy has offline and online versions available for PDF editing. The platform even has a Chrome Extension to provide direct PDF editing from Google Chrome. You can directly drag and drop the pdf file on the PDF Candy website to edit. There are various editing options available on the platform like hand tools, select tools, text tools, pencils, etc. Using the whiteout option, anyone can whiteout the unwanted things from confidential documents.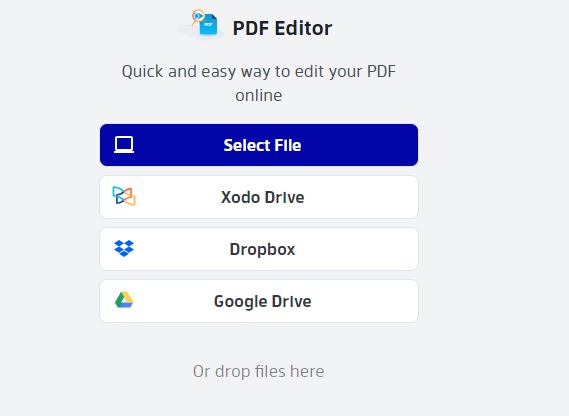 Xodo is one of the best online free PDF editors that offer a quick and easy way to edit PDF files online. You just need to open the PDF file on Xodo's pdf editor, and the platform will let you edit your file. You can effortlessly edit, annotate, and view your PDF files on Xodo. You can add text, modify content, and add comments directly on the PDF pages. Once the editing is completed, you can easily download the file for your use.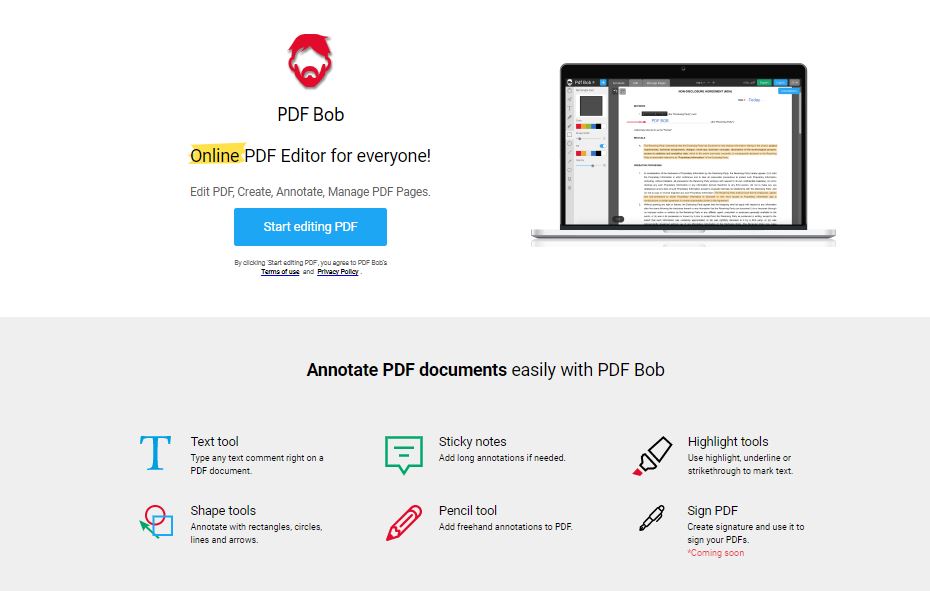 PDF Bob makes annotations on PDFs effortlessly. You can add sticky notes to the PDFs to add long annotations. The highlight tool allows you to highlight the important parts of PDF files very easily. A variety of shape tools are available to embed in PDF documents. The platform is constantly being upgraded, which means new features are being added frequently. Hyperlink feature, and Redact tool features are in their buckets, which they will introduce very soon.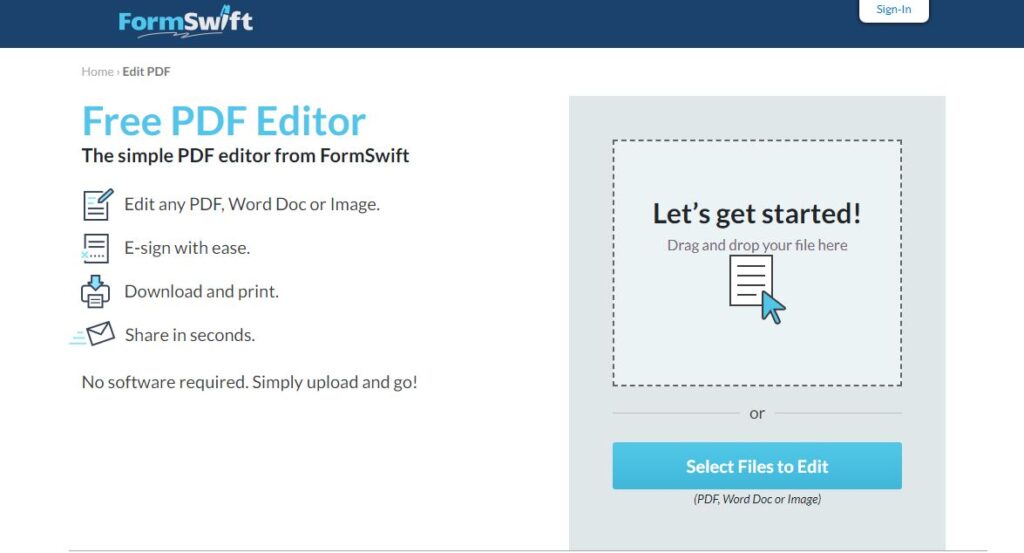 Form Swift is one such online PDF editor tool which has been used to edit millions of documents by millions of various users. Along with PDFs, you can also edit word docs and images. Adding an E-signature to the documents is also very easy using Form Swift. You don't need to install any software on your machine. The platform is totally online, you just need to upload the document to edit. Once done with editing, you can download, print, and share with others. It, indeed, is one of the best free online PDF editor tools.
Millions of people trust this platform, PDF Filler, to edit PDF files online. It is an award-winning online free PDF editor tool that lets you edit, manage, and share PDF files online. The platform has got everything that you need to manage your PDF files. The cloud-based PDF editor is definitely a step ahead of its competitors. You can edit, annotate, and e-sign your PDF files using this one of the best online free PDF editors in 2023.
Small PDF lets you edit PDFs on the online platform. You can fill the PDF forms on the Small PDF platform. The platform enables the PDF form and allows you to add text to the PDF. Small PDF – The online tool – is compatible with all devices since it is a browser-based platform. You can secure with SSL encryption. The word to PDF converter feature is also available in the Small PDF platform. You can also import the files from dropbox, google drive, etc.
Frequently Asked Questions (FAQs)
Is it legal to edit the PDF using these Free PDF Editor Tools Online without the original owner's consent?
If you're not asked to edit the PDF by the PDF owner, it is always advisable to seek the permission of the original owner of the PDF file before editing and sharing it with others. If used without the consent of the document owner, you could be in legal trouble.
Are online PDF editor tools completely free to use?
Many online PDF editor tools offer free versions with limited features, while some provide a comprehensive set of features for free. However, certain advanced functionalities may be available only in paid or premium versions of the tools.
Can I edit PDFs without an internet connection?
Online PDF editor tools require an internet connection to access and use their features. However, some tools may offer offline capabilities through desktop or mobile applications, allowing you to edit PDFs without being connected to the internet.
Online platform or Offline Software – Which is a good choice for PDF Editing?
For the majority of users, PDF editing is not a regular task. To edit the PDF once in a while, we do not recommend installing the separate software. However, if you want to use offline software to edit PDF files, it is completely alright.
Can I collaborate with others using online PDF editor tools?
Yes, many online PDF editor tools provide collaboration features that enable you to work with others on the same document. You can share PDFs with colleagues or team members, add comments, track changes, and engage in real-time collaboration to streamline the review and editing process.
How can I sign documents digitally using online PDF editor tools?
Online PDF editor tools often include digital signature capabilities. You can create a digital signature, add it to your PDFs, and securely sign documents electronically. Some tools also support requesting signatures from others and offer verification options to ensure the authenticity of the signatures.
Can I access online PDF editor tools on different devices?
Yes, online PDF editor tools are designed to be accessible from various devices, including desktops, laptops, tablets, and smartphones. As long as you have an internet connection and a compatible web browser, you can access these tools and work on your PDFs seamlessly.
Can I undo or revert changes made in online PDF editor tools?
Yes, online PDF editor tools typically include undo and redo functionalities, allowing you to revert any changes made during the editing process. These features ensure that you can easily correct mistakes or backtrack if needed, providing a flexible editing experience. However, this feature is different on various PDF editor tools.
Conclusion
The blog eliminates all your worries about editing PDF files. Based on your requirements you can visit any of the above platforms. We, DiGiTAL BiRYANi, do not advise/support tampering with important documents using these tools. These are for educational purposes only. We request you to share your valuable feedback with us. Feel free to drop a comment below or contact us to share your feedback.