In this blog, we'll discuss an amazing trick to learn how to take passport size photo in mobile phone.
Passport-size photographs are essential things to carry for various purposes. Even though the world has gone digitalized, passport-size photographs are still the need for an hour. From passport & visa applications to the plenitude of physical forms, you frequently encounter the process where Passport Size Photos are a required entity.
In this fast-forward life, visiting the photo studio just for the sake of taking passport size photographs is not feasible. You just ask us how to take passport size photos in mobile, and we'll give you a detailed solution. Learn how to click passport size photo from mobile in this blog, and be worry-free whenever you need to provide passport size photo.
We've evolved a lot in terms of capturing and editing photos and videos. Then let's utilize the latest technology to take a passport size photo directly from your mobile phone.
This will save you a lot of time and effort. And in a time like pandemics, such short and useful tricks are a real boon. This blog is a step-by-step guide for taking passport-size photos on your own.
How to take Passport Size Photo in Mobile – Detailed Guide
There are a few amazing tools available on the Internet that helps you capture passport-size photographs with your mobile phones. In this blog, we are going to utilize one such useful platform 123passportphoto.com.
Capture a front-facing photo from your mobile phone. Follow the country's official guidelines for passport photos. Some of the general guidelines may be as below.

Neutral face expression.
Do not open your mouth.
Keep your eyes open.
Do not wear specs.
Don't wear a hat.
Do not cover your eyebrows with hair.

Open 123passportphoto in any web browser from your phone or laptop.
Select the country and the required photo type size from the screen.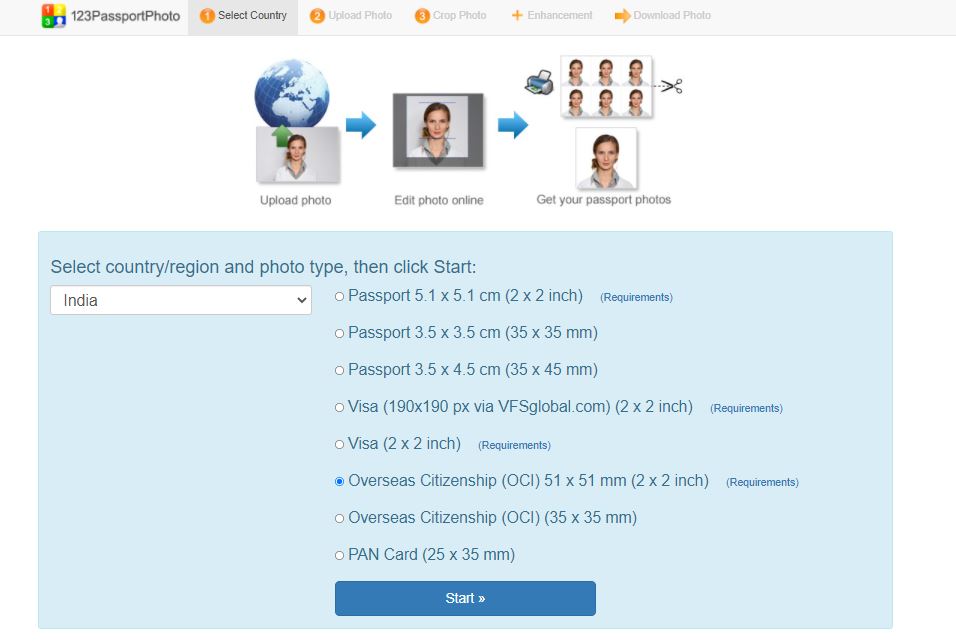 Upload the front-facing photo on the platform. The image size should be less than 10MB, and the image type should be either '.JPG' or '.JPEG'. The picture dimension should be smaller than 4000X3000 pixels. You can use online image compressors to reduce the image size.
When the photo is uploaded correctly, the crop page will open. Based on the required size, crop the image correctly.
Select the enhancement option. As most of the time white background is required, an enhancement option will change the background to white color.
Click on the Next button to see your printable passport photo. This should be printed on 4R photo paper.
Save the 4R sheet on your machine and print it using a photo printer or any equivalent printer.
Frequently Asked Questions (FAQs)
How can we print passport photos on a color printer?
You need to use the correct 4R photographic paper (matte, glossy, or semi-matt). Now, print the 4R sheet without keeping any margin. Please make sure that the 4R sheet is actually fitting on the 4R paper you are using.
From where can I get the correct passport photo guidelines?
Such information is usually available on the official passport registration website or government website. You can check it with your travel agent or search for it over the internet as well. That will help you capture passport size photo online.
Are there any other platforms than the one mentioned in this blog?
Yes. There are many amazing platforms available on the Internet to capture passport size photo online. Some are even available as mobile apps while some as PC Software. You can search on the Internet.
Conclusion
We generally spend 100 INR for 10-15 passport-size photos, which too we get after a day or two. If we opt for an emergency plan, the price goes much higher. But, why pay when you can get that at home? By implementing the trick in this blog, our readers don't need to worry about how to take a passport size photo on a mobile phone. We've got your back. You can try this amazing trick and share your valuable feedback with us.
Are you looking for a place where you can contribute your knowledge of the technology domain? We're now open for Tech Guest Blog Writers.