The power of a video exceeds every other form of data. Video, combined with audio and visuals, adds emotion to any message. In today's world, everyone is going online. All they want is videos as a primary form of data. Statistics prove that people like videos more than any other form of information.
Videos are everywhere, from Social Media to Content Marketing. As video demand increases, so does the demand for video editing software. People want easy-to-use tools to create and edit their videos. Now mobile phones have cameras that are on par with a DSLR. That's why people tend to edit videos on their mobile phones themselves.
Here we've listed down some of the Best Free Video Editing Apps for Android. They will simplify your video editing process. Please note that the below list is not in order of any preference. You are free to select the Best Free Video Editing Apps For Android based on your requirement.
Adobe is a well-known brand for photo and video editing software. Premiere Rush is its power-packed, cross-device video editor. It is an attractive App with all the features you would expect in a video editor.
Adobe Premiere Rush is easy to use video editor bundled with many amazing features. These features include customized animated titles, multi-track timelines to edit videos, advanced audio tools, etc. You can use Adobe Premiere Rush's free version as long as you want. There is no compulsion to pay if your requirement is being fulfilled by the free version.
Using Premiere Rush, you can add music and titles to your videos. Seamlessly applying video effects to clips in the multi-track timeline is also possible with this wonderful tool. It has built-in high-quality camera functionality. That allows you to capture high-quality videos directly through the App.
Adobe Premiere Rush supports video, photo, audio, graphic editing with easy drag-and-drop functionality. Trimming and Cropping the videos along with flipping and mirroring is an effortless task using Premiere Rush. You can color-correct your videos, add images, stickers, and overlays to your videos.
Adobe Premiere Rush has thousands of royalty-free original soundtracks, sound effects, and loops to give a voice to your video. Multiple Video Tracks is one of the best features. It supports impressive effects like split-view and picture-in-picture. Advanced Audio tools are supported in the Premiere Rush. They are powered by Adobe Sensei AI, which provides sound balancing and auto-ducking.
It supports easy to switch aspect ratios features which makes it best suitable for social media sharing. You can export 4K videos and share it on different Social Media platforms directly from the App. Videos are totally watermark free.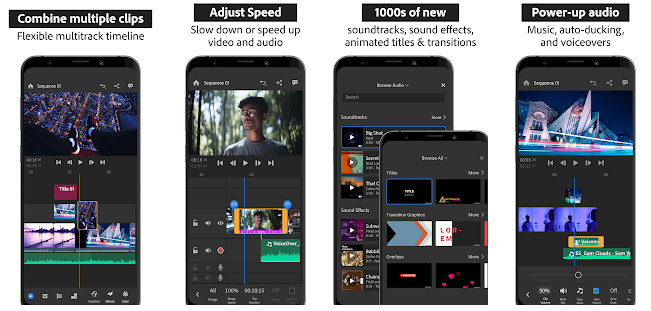 Price: Free / $4.99-$34.99
System Requirement: Android 9.0+
Play Store Ratings: 4.1
Play Store Downloads: 1,000,000+
PowerDirector is a perfect place to create cinematic style videos, travel videos, social media videos, etc. Once you learn how to use it, it is a very simple and straightforward video editor app. Moreover, PowerDirector comes with a tutorial to teach you the functionality of the Application.
PowerDirector comes with some extraordinary features like Video Stabilizer, Speed Adjustment, Chroma-Key, Voice Changer, Animated Titles, etc. These all combined make PowerDirector a one place solution for your Video Creation/Editing.
Using Power Director, you can do the speed adjustment in your video. Change the video speed to slow or fast based on your requirement. It comes with a powerful video stabilizer to fix shaky camera footage. Transparency, rotation, position, and scale adjustment are also supported.
One of the best and rare in the segment, it supports chroma-key, which replaces the background with a green screen editor. Video overlays and blending modes should also be the reason why PowerDirector is a must-have video editor in your Mobile.
Multi-timeline functionality provides functionality to combine pictures and video in one clip. You can also add voiceovers to the videos. PowerDirector supports up to 4K resolution to edit and export videos. You can directly share videos to Social Media platforms from PowerDirector. The majority of the features are supported in the free version but the paid version will help you to eliminate ads, watermarks.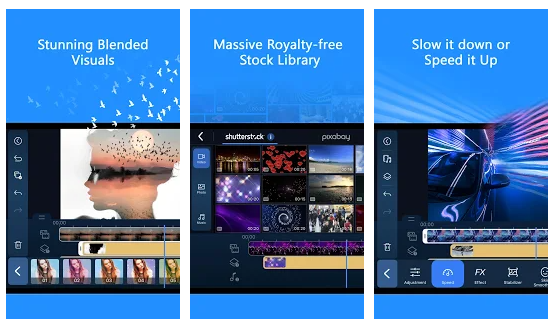 Price: Free / $0.99 – $39.99
System Requirement: Android 5.0+
Play Store Ratings: 4.5
Play Store Downloads: 100,000,000+
As the name suggests, it is the perfect app for creating fun videos on your mobile. When you want to capture moments from your everyday life and create a video of them, Funimate is the app you need.
Funimate is more suitable for daily short video creation. If you're very actively sharing short videos on Social Media then Funimate can surely provide ease. You can make PRO edits very quickly using Funimate.
Trending things on Social Media like Lip Sync, dance videos, freestyle videos, text effects, AI effects, etc. can be done easily on this app. Besides trendy video effects features, it also has classic video editor features like cropping, trimming, merging, and editing of videos.
Funimate has its wide video editing community. It gives you a platform to showcase your creativity by shooting and sharing videos. You can grow your fan base using Funimate Community. You can also share videos directly to your Social Media accounts from Funimate.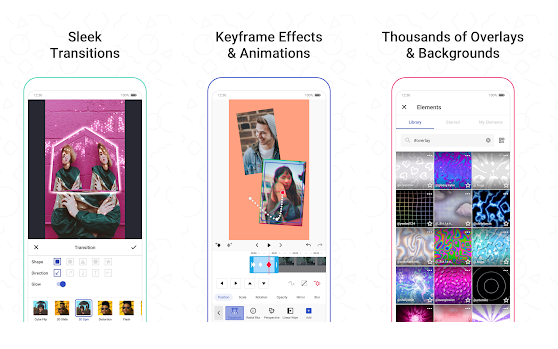 Price: Free / $1.49 – $69.99
System Requirement: Android 5.0+
Play Store Ratings: 4.3
Play Store Downloads: 10,000,000+
It is a product from GoPro that creates wonderful videos on your mobile phones. It is a totally free app without any paid version. This app comes with an automatic video creation facility. You can add multiple photos and videos to the app. All the other things will be done by the App itself. The app will do further analysis to provide the best video out of it.
Apart from this, it also supports video editing, adding special effects to it, audio syncing. It has royalty-free music tracks to use with any video. This ad-free app helps you edit videos as quickly as possible.
Quik possesses an amazing latest speed tool that helps you to control the speed of the video ranging from super slow motion to super fast. You can give the reverse effect to your video to play in the opposite direction. Add stickers to your videos using the Quik to give your video next-level edits.
You can directly export your video with 4K resolutions to various social media platforms directly from the App. The free version of the App has ads and videos will have watermarks. However, you can eliminate both with the paid version.
Price: Free / $1.49 – $49.99
System Requirement: Varies with device
Play Store Ratings: 4.4
Play Store Downloads: 10,000,000+
InShots is considered a professional video maker and video editor app with powerful features. You can create videos, edit videos, create photo collages, edit photos using InShots.
It is a very easy to use App that helps to create professional video switch various features. You can trim, merge, and flip the videos and clips. It has a speed adjustment feature that lets you increase or decrease the video playback speed. You can easily crop unwanted parts of the videos to make them more contextual.
InShots supports adding and editing audios with the videos. It has a 100% free music library with a variety of audio tracks to add to the video. This music library is getting updated very frequently. You can also add audio from your phone's music library to give your video a voice of your wish.
You can give special effects and filters to the videos and photos. There are various special effects and filters available to choose from. It also supports Video Frame functionality. Variety of stickers & text available to add to your video. Using these functionalities you can create unlimited video memes to share on Social Media.
This app requires a paid version to remove in-app ads. Your videos will be watermarked in the free version, however, a paid subscription will remove the watermarks. All these features, combined, make InShots, one of the best free video editing apps for android.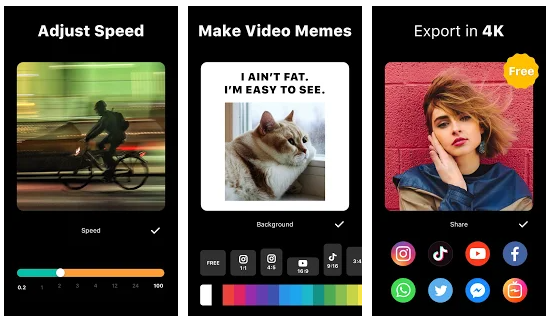 Price: Free / $0.99 – $29.99
System Requirement: Android 5.0 and up
Play Store Ratings: 4.8
Play Store Downloads: 100,000,000+
Also Read
These all were some of the Best Free Video Editing Apps for Android. They make your Video Editing an easy and fun task. Please share your feedback regarding this blog post with us in the comment section. Feel free to reach us for any requests, queries, or feedback.