In today's digital age, unwanted spam calls have become an annoyance for iPhone users worldwide. These unsolicited calls can disrupt our daily lives, waste our time, and even put us at risk of scams and fraud. Thankfully, the App Store offers a variety of spam call blocker apps designed to tackle this issue head-on.
In this blog post, we will explore some of the best spam call blocker apps available for iPhone users. Whether you're tired of constant interruptions or concerned about your privacy and security, these apps can help you regain control over your phone and protect yourself from unwanted callers. Join us as we dive into the top spam call blocker apps, their features, and how they can enhance your iPhone experience by eliminating pesky spam calls once and for all.
List of the Best Spam Call Blocker iOS Apps For iPhone
These are the best Spam Call Blocker iOS Apps for iPhones to stay away from unwanted and unnecessary spam calls.
Hiya: Spam Blocker & Caller ID is one of the best spam call blocker apps for iPhones with its latest technology.
The underrated app, Hiya, is used by leading brands like AT&T and T-Mobile to implement built-in spam identification features. Even Samsung is a leading business partner of Hiya where they use Hiya's functionalities in Samsung Smart Cell Feature.
The app lets you create a custom block list, where you can enable auto-reject that automatically rejects the call from your custom block lists.
Hiya's basic features are completely free for everyone, whereas a premium option is also reasonable, priced at $2.99.
Nomorobo is one of the best spam call blocker apps for iPhone that blocks annoying telemarketing calls, robo calls, spam calls, and messages.
The app has stopped over 3.2 billion robocalls and spam calls in the last decade.
The best part about the Nomorobo app is that it never accesses your call logs ultimately offering you the best privacy.
All plans of Nomorobo come with a 14-day free trial and cost $1.99/month or $19.99/year after that.
Overall, it is one of the most secure Spam Call Blocker iOS Apps for iPhone users.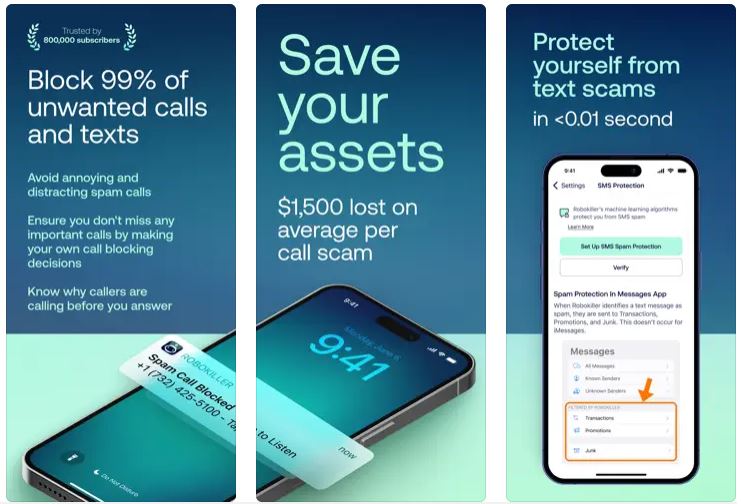 Robocaller has a huge database of 1.4 billion analyzed calls to help you save from robocalls and spam calls.
It has a great feature of the customized call-blocking feature that allows you to control how aggressive Robokiller should be when blocking your unwanted or unknown phone calls.
As per their claim, Robokiller can kill up to 99% of spam calls and robo calls coming to your phone.
You can even track emerging scam trends and Robokiller's efforts to stop them in your area with Robokiller's NEW Radar feature.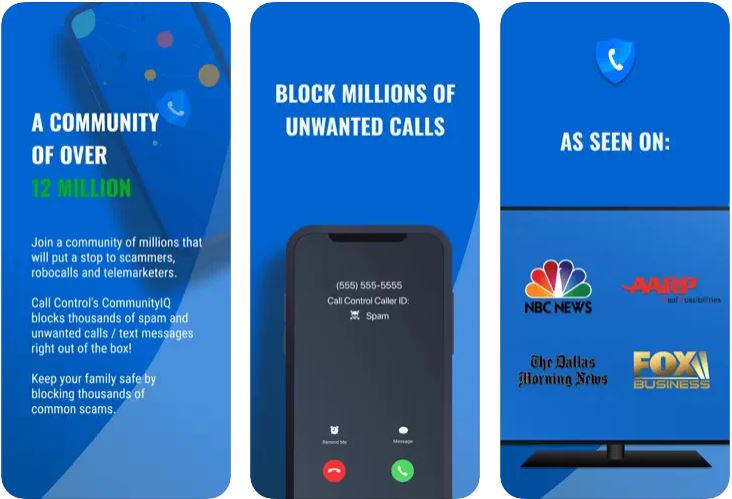 With a community of over 12 million people, Call Control is one of the best spam call blocker apps for iPhone.
The platform lets you create a personal blacklist to block all unwanted phone numbers.
There is a Smart Blocking Feature as well which automatically blocks unwanted robocalls and spam calls on your iPhone.
It has one of the best UI among the list of the Best Spam Call Blocker iOS Apps, offering the best user experience to users.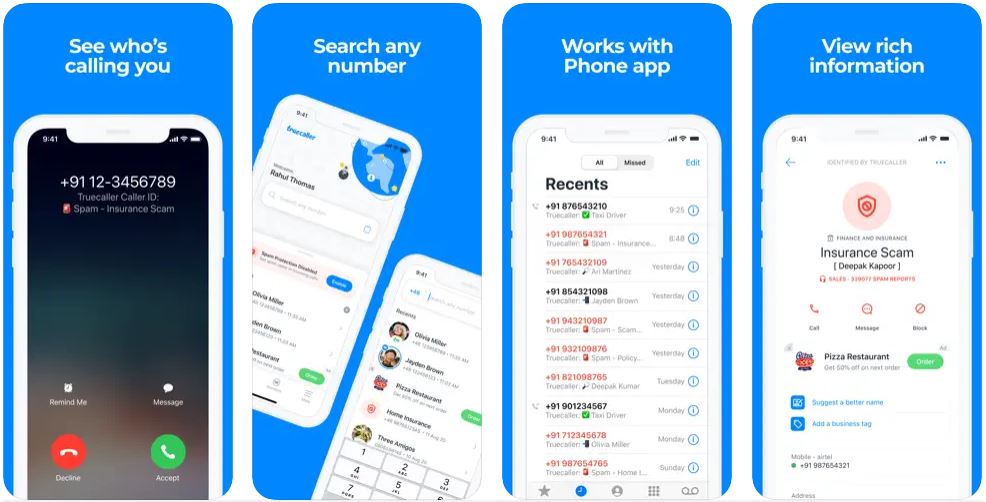 TrueCaller is the highest used Spam Call Blocker App across the globe.
The app is 100% free if you're using it for caller id and spam call-blocking purposes.
From the list of the Best Spam Call Blocker Apps for iPhone, TrueCaller has the highest number of features and users. It is the most effective Spam Call Blocker iOS app for iPhone users.
We recommend this app over any other for Spam Call Blocking purposes.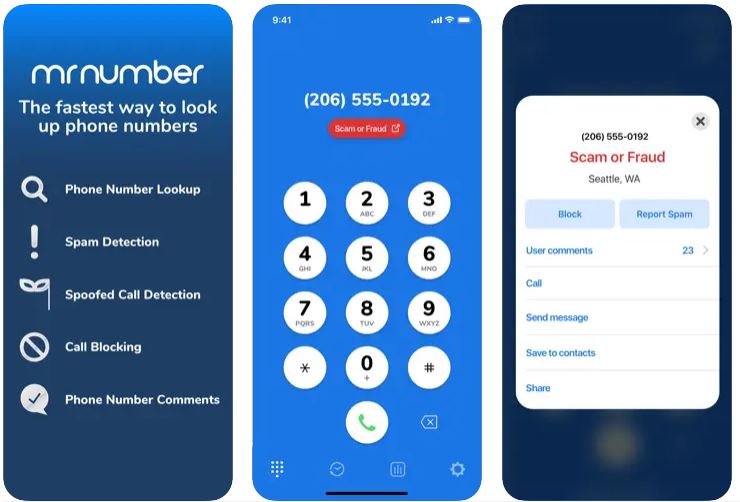 Mr. Number Lookup & Call Block is one of the best spam call blocker apps for iPhone offering you benefits from industry-leading spam detection technology that is always working in the background to keep you free of robocalls.
The app is a community-driven app known for its fast reverse lookup technology.
Mr. Number Lookup lets you create a personal blacklist to create unwanted spam calls.
The more people in the community use this app, the more the database expands, ultimately helping community members in detecting spam calls.
CallerSmart is a reverse lookup phone number app that lets you investigate mystery phone numbers, and avoid unwanted calls and texts.
The app also blocks annoying bill collectors, telemarketers, scammers, prank callers, etc. to keep you spam call-free.
CallerSmart is completely free to use. However, there are premium paid versions as well.
It is one of the best spam call blocker apps for iPhone having 4.6+ average ratings from users on the Apple App Store.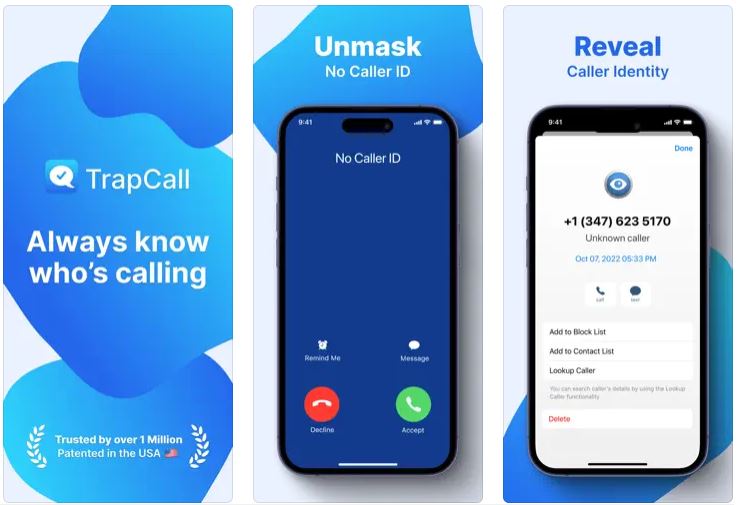 TrapCall, which is originally a caller identification app, also works as a call-blocking app.
The best part about the TrapCall App is that it even reveals the Caller ID of the people who choose to hide their caller identity.
It also blocks over 200,000 known spam callers and telemarketers and continuously updates its spam call protection methods.
With this App, you can even record your incoming phone calls.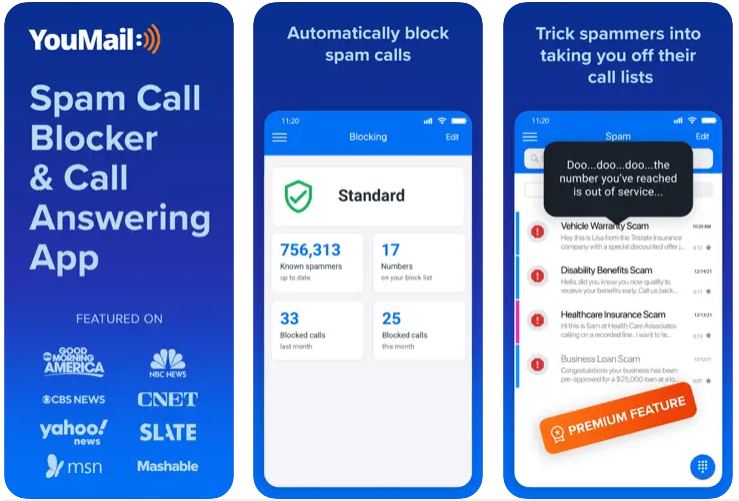 YouMail is a top-rated and one of the best spam call blocker apps for iPhone to prevent incoming robocalls, spam calls, etc.
YouMail is an award-winning spam call blocker iOS app that has stopped over 1 billion robocalls.
The app automatically blocks the spammers by informing them with a 'Number out of service'.
The app is free of cost, however, there is a premium version that even protects your privacy with a virtual number as well.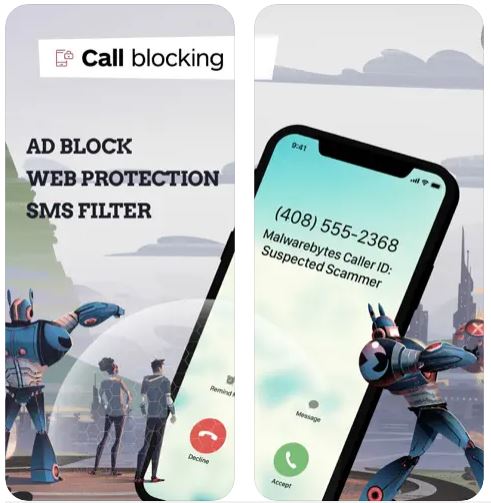 Malwarebytes is typically known for its anti-virus software and mobile security app.
The mobile security app is capable of blocking spam calls offering users a secure mobile experience.
It is one of the best Spam Call Blocker Apps for iPhone that even blocks ads and suspicious websites while browsing the internet. Thus it is a one-stop solution for your mobile security.
Spam Call Blocking and Fraud Message Filters are premium features, which is not available in the free version. However, if you are looking for an all-in-one app, Malwarebytes is definitely a good option for you.
Frequently Asked Questions (FAQs)
What are spam call blocker apps for iPhone?
Spam call blocker apps are mobile applications designed to identify and block unwanted and unsolicited calls, specifically those classified as spam, telemarketing, or fraudulent. These apps help iPhone users avoid nuisance calls and protect themselves from potential scams.
How do spam call blocker apps work?
Spam call blocker apps typically utilize a combination of methods to identify and block spam calls. They may employ crowdsourced data from users reporting spam numbers, use machine learning algorithms to analyze call patterns and identify suspicious calls, maintain updated databases of known spam numbers, and employ caller ID features to display caller information in real-time.
Can spam call blocker apps block all types of spam calls?
While spam calls blocker apps can effectively identify and block a significant portion of spam calls, it is important to note that some spam callers constantly change their tactics and phone numbers. Consequently, no app can guarantee to block 100% of spam calls, but they can greatly reduce the number of such calls you receive.
Do I have to pay for spam call blocker apps?
Many spam call blocker apps offer both free and paid versions. The free versions usually provide basic call-blocking functionality, while the premium versions often offer additional features such as advanced call filtering, custom blocking lists, and real-time spam call updates. The availability of free and paid options may vary depending on the app you choose.
Are there any recommended spam call blocker apps for iPhone?
Yes, several popular spam call blocker apps are available for iPhone users. Some of the highly recommended apps include Truecaller, Hiya, RoboKiller, Nomorobo, and CallProtect. It is advisable to research and read user reviews to find an app that suits your specific needs and preferences.
Can spam call blocker apps interfere with legitimate calls?
While spam call blocker apps strive to accurately identify and block spam calls, there is a possibility that some legitimate calls may be mistaken as spam and blocked. Most apps provide options to whitelist specific numbers or create personalized blocking rules to ensure important calls are not affected. It is recommended to review the app's settings and adjust them as needed.
Can I report spam calls with these apps?
Yes, many spam call blocker apps allow users to report spam calls they receive. Reporting these calls helps improve the app's spam detection capabilities and contributes to the collective effort in reducing spam calls. The process for reporting calls may vary depending on the app, but it is generally straightforward and can be done within the app itself.
Can I use multiple spam call blocker apps simultaneously?
While it is technically possible to use multiple spam call blocker apps on your iPhone, it is generally not recommended. Running multiple apps simultaneously may cause conflicts and unexpected behavior, potentially affecting the overall performance of your device and the effectiveness of the spam call-blocking functionality. It is generally best to choose one reputable app and use it as your primary spam call blocker.
Are spam call blocker apps available in all countries?
Spam call blocker apps vary in availability based on the country or region. While many popular apps have a global presence, some features, such as real-time spam call identification, may be limited to specific countries or regions. It is advisable to check the app's documentation or consult the App Store to confirm availability in your country.
Can spam call blocker apps protect against other types of unwanted communication?
While the primary focus of spam call blocker apps is to identify and block unwanted phone calls, some apps may offer additional features to combat other forms of unwanted communication. These features may include blocking spam text messages (SMS), identifying and filtering phishing emails, or providing enhanced privacy settings. Checking the specific features of the app you choose will help you determine its capabilities beyond call blocking.
Conclusion
It is obvious that as an iPhone user, you're a step ahead in mobile security and privacy. These best spam call blocker apps for iPhone will offer you an extra layer of security by protecting you from spam calls, telemarketing calls, robocalls, etc. Try these best spam call blocker iOS apps on your iPhone and share your feedback with us.