Irrespective of owning a smartphone or a normal mobile phone, you're bound to receive Spam SMSes on your mobile phone on a regular basis. Through SMS, brands can target more people than any other mode of communication.
We all know Spam SMS is the most annoying drawback of having a mobile phone. You can receive it anytime from anyone, and you can not probably do anything without ignoring them and cursing the senders, in some cases 😛
Sometimes hackers and other unethical entities use spam messages for data theft and similar harmful activities. Hence, it becomes necessary for users to handle these spam messages carefully before they do any actual harm.
Therefore, to save you from the torture of spam messages, we've developed a list of the Best SMS Blocker Apps for Android. These SMS Blocker Apps will be the perfect solution for Android users to stop receiving unwanted text messages.
Best SMS Blocker Apps for Android
List of the best SMS Blocker Apps for Android users. Check the detailed features of these Best SMS Blocker Apps for Android.
Key Messages – Spam blocker, Text blocker is the top SMS blocker app for Android that lets you block text messages, and email messages.
The platform uses AI-based technology and Machine Learning Technology to block spam sms senders.
Users can back up their text messages online. The app uses unique de-duplication technology to avoid message duplication during the backup process.
The app works seamlessly with dual SIM technology.
With 10 Million+ downloads on Google Play Store, Chomp SMS is one of the popular SMS Blocker Apps for Android.
Chomp is basically a Stock SMS/MMS replacement app available for Android.
It offers a variety of privacy features including a passcode lock, scheduled SMS sender, etc.
The app offers to create a custom blocklist to block spam messages.
SpamHound is a complete messenger app for android that lets you block spam and unwanted messages.
Users can create Spam Filtering Rules in the blacklist to block messages from certain senders or based on certain keywords and phrases.
They can apply Contains, Starts with, Ends with, and Equals modes to the sender, and body of messages.
Along with that filtering can also be done using regular expressions and wildcards.
One of the best SMS Blocker Apps for Android with over 10 Million+ downloads on Google Play Store.
They have a database having millions of contact details, that can suggest spam numbers easily.
A perfect app to block spam messages, calls, and unknown numbers.
The advanced phone spam protection engine easily identifies and blocks robocalls, telemarketers, debt collectors, and similar fraud calls.
The 'neighbor spoofing' feature blocks numbers looking similar to yours.
With 1 Billion+ download globally on Google Play Store, Messages by Google (Google Messages) is a popular messaging app on Android.
It is considered the only Android app to function with the RCS messaging feature.
Users can block unwanted and spammy senders by blocking them from the app itself.
Truecaller is one of the highest used and unique caller identifier apps available on the Internet.
With 330 Million+ Active users and 1 Billion+ App installs, it is one of the most popular apps used globally.
Along with caller identity services, Truecaller also offers features to block spam sms and calls.
TrueCaller has a large database of contact details of those users as well who have never installed or registered TrueCaller on their devices.
Simple SMS Messenger is a messenger app available for Android users with a variety of features.
SMS Blocking is one of the prime features that Simple SMS Messenger is offering to its users.
There is an option to block all messages from not stored contacts.
You can export and import blocked numbers for easy backup.
Along with that one important feature is that you can manage which part of the SMS should be visible on the lock screen of your mobile.
The SMS Organizer is a full-fledged SMS Organizing app that automatically organizes your inbox.
The app has a feature that can let you create a custom blocklist to block spam sms.
Users can manually block the spammers as well.
Along with that, it has automatic backup and other features as well that a complete Messanger App should have.
Call & SMS Blocker – Blocklist offers you to block various phone numbers.
The App allows you to block all phone numbers except a few selected contacts.
You can also block incoming calls and sms using the Blocklist feature.
One of the very few apps from the list of the Best SMS Blocker Apps for Android that allows you to block spam based on specific keywords.
It even allows you to block numbers based on area code, prefix, postfix, etc.
You can also create a whitelist for phone numbers that should never be blocked.
The Call Blacklist – Call Blocker is a one-step solution to block unwanted calls and messages.
The app allows you to block calls and messages from unwanted, private(hidden, anonymous), and unknown numbers.
It is a lightweight and easy-to-use Call & SMS Blocker App for Android.
You can even save blacklisted numbers to the file and import them on another device.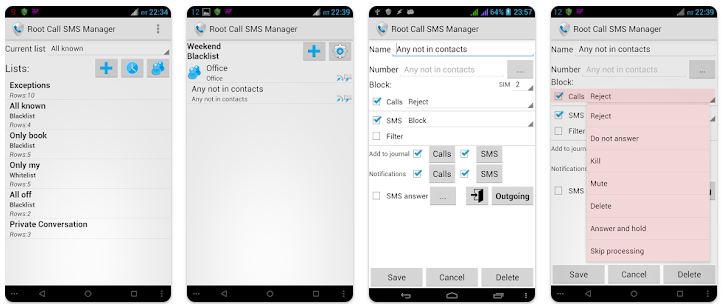 The Root Call SMS Manager offers to block undesirable incoming and outgoing calls and SMS.
Blocking is carried out at the system level, the program doesn't miss the first call, the screen isn't lit and there is no window of a dialer.
The App supports Dual SIM Phones as well.
In order to block SMS, users can set filters to block the SMS. If no filter is set, all SMS from the given number will be blocked.
Call Control Call Blocker is one of the popular SMS Blocker Apps for Android and other platforms with over 12 Million global users.
It has advanced call blocker technology with an enhanced caller ID and a smart dialer.
The single app offers call blocker, SMS blocker, do not disturb mode, and backup contacts all within the app.
Whether it's a robocall, an annoying telemarketer, a scam, a bully, or just any person you wouldn't like to talk with, you can easily block them using this app.
Pulse is a next-gen fully-featured text messenger that offers syncing of messages between various devices.
The app offers to block and blacklist pesky spammers.
Along with that it also has automatic replies feature and a driving/vacation mode feature.
Though it is not a typical SMS Blocker App for Android, it is one of the best SMS Blocker Apps for Android along with other features that best-in-class messenger possess.
Call Blocker – Bblacklist, SMS is one of the best SMS blocker apps for android that blocks spam messages silently without showing any signal.
The platform can auto-eliminate unwanted spam calls and messages from your blacklist.
You can easily track the blocked calls and sms using blocked logs.
The app is lightweight and does not occupy much weight on your mobile phone CPU.
These are the best SMS Blocker Apps for Android. Android users can use any of these apps to get rid of the Spammers.
Frequently Asked Questions (FAQs)
Which are the Best SMS Blocker Apps for Android that can we use along with the default SMS App of the device?
TrueCaller is a good option to use as an SMS Blocker App along with your existing Messenger App.
Conclusion
That's how you can block unwanted SMS on your Android Phones and beat telemarketers and spammers using these best SMS Blocker Apps for Android. Try any of these best SMS Blocker Apps for Android and share your valuable feedback with us.