What is the need for the best personal finance apps in 2021?
The COVID-19 pandemic taught many of us that "It's not how much you make each month that matters — it's how much you save that matters." The pandemic caused millions of people out of work. From people earning a few 1000s to people earning millions lost their income sources. There have been cases where people earning a few thousand happily fed their families with their structured spending habits and channelized savings. Whereas people earning in lakhs struggled for bread and butter due to their uncontrollable spending habits.
A person who keeps a record of "From where the money is coming and where it is going" has the power to change the lifestyle of his and his coming generations. Our parents used to keep their earnings and spendings in old diaries, papers, and notebooks. It is hard to maintain expenses and financial details in the traditional manner. It requires a lot of effort and takes time to maintain. All the calculations, data entries, data update, deletion, everything needs to be done manually. The digital era has digital options to replace and enhance these traditional methods. With these Best Personal Finance Apps tracking personal finance is effortless.
These are highly advanced applications that bring ease to your personal finance management task. There is a long list of tasks that we can manage using these Applications. Maintenance of your daily budget, tracking your daily expenses, monitoring your investments, and many activities related to your finance management can be easily done using these applications.
However, finding such applications that fulfill your requirement is a vexatious task. To eliminate this trouble from your life, DiGiTAL BiRYANi serves you the list of Best Personal Finance Apps in 2021.
Mint: Budget, Bills, & Finance Tracker
Mint is one of the most loved and Best Personal Finance Apps available on the Play Store. It is a free budget, bills, & finance tracker app. It offers you to bring all your financial platforms like bank accounts, credit cards, bills, investments together on one platform. Access everything from credit score health to account balance, debt management to spending, bill reminders, net worth in one place. You can create a budget to plan your finance more clearly and to build your personal wealth. It has multi-factor authentication to make your account safe against any kind of unauthorized and illegal access. Mint is currently not available in India.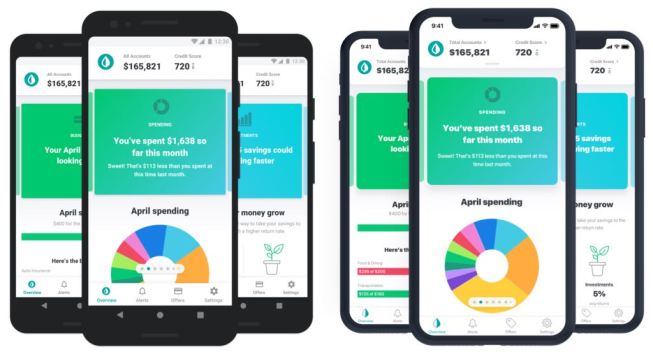 Ratings on Play Store:

4.5
Downloads from Play Store:

10M+
App Features
Manage all personal finance essentials in one place
Monthly bill reminders and management
Mint Web-based App also available
Plan and maintain your financial budget with Mint
Extra security with multi-factor authentication
Splitwise
On a trip with friends and want to divide your bills based on spending? Or want to split regular snack bills with your colleagues/roommates based on spending? Splitwise is what you need to install. Splitwise is a bill-splitting Application. It is the most versatile bill-splitting Application, available on Android, iOS, and Web. You can create a group and add expenses and split it with all/selected members of the group. You can split the bills as a non-group expense as well. Splitwise gives an option to split the amount equally, or unequally by shares, percentage, or even with the exact amount.
Application dashboard shows "Who owes Who with the amount". These expenses are backed up online, so it can be accessed from any device, any place. Splitwise, every month, sends reminders for your outstandings, so it helps to clear out your debts and get the outstanding payments without asking the parties involved. It has integrated payment services; Venmo, PayPal (the US only), Paytm (India only); to settle up expenses and bills. Once you settle up using either of the mentioned methods or any other method, you can settle up the expenses with the concerned person.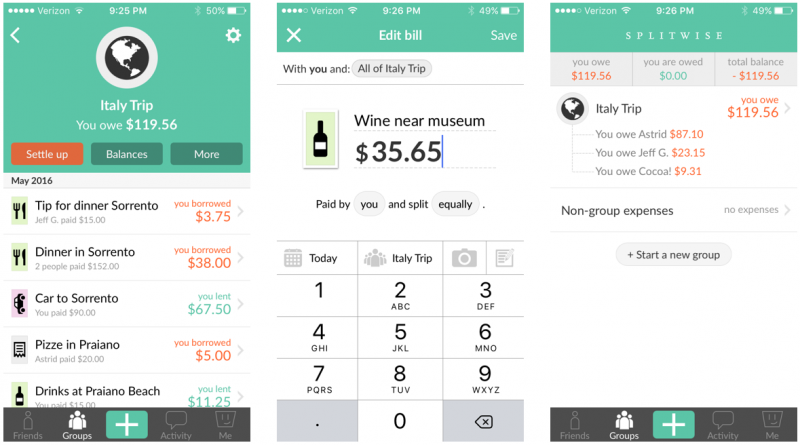 Ratings on Play Store:

4.4
Downloads from Play Store:

10M+
App Features
Split your bills equally or unequally with the exact amount, share, percentage.
Split your bills as group expenses as well as non-group expenses.
Comment directly on expense.
Monthly reminder to settle up your dues.
Android, iOS, and Web App available.
100+ currencies supported.
Show total balance with a person across multiple group expenses and private expenses.
Pocket Expense with Sync
Pocket Expense with Sync is a very well-developed and easy-to-use full-featured personal finance application. I, personally, have used this Application for a very long period. You can enter your expenses and earnings, and track them to make better financial decisions. Plan your budget and saving goals with Pocket Expense with Sync. Enter all your accounts and manage the expenses from single or multiple accounts. You can categorize your expenses, like groceries, insurance, shopping, fuel, etc. This feature gives you an idea in which area you need to take extra care to save more.
Pocket Expenses with Sync has one of the best and easy-to-use UI. It gives a calendrical view to track everyday expenses. It helps you track your bills. You can set customized reminder alerts for different bills. Password protection facility makes your financial management more secure. This Application is only available for Android Phones.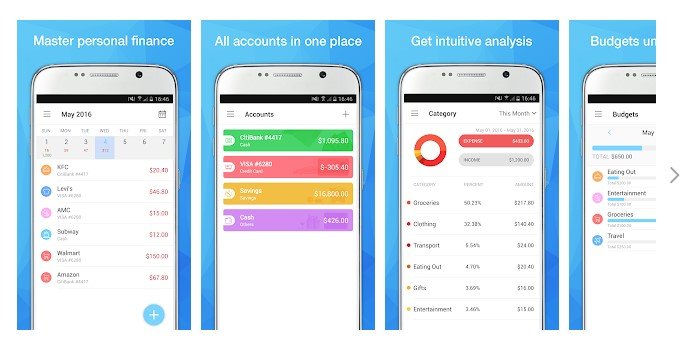 Ratings on Play Store:

4.0
Downloads from Play Store:

50K+
App Features
Easy to use UI.
Password Protection
Payers & Payee management
Calendar View
Expense Category management
World Currency list
Expense Manager
Expense Manager is a 100% free expense tracking tool with no hidden charges. You can manage your money with your fingertips with this fully featured Application. This fully-featured app supports tracking expenses and incomes, splitting transactions with different categories and amounts, managing checkbooks and budgets, and many more functionalities to make your financial journey well managed. You can search by category, subcategory, payee/payer, payment method status, etc. It has the functionality to get reports in HTML, CSV, Excel, and PDF format.
Ratings on Play Store:

4.4
Downloads from Play Store:

5M+
App Features
No registration and internet access required
Easily customizable
Various calculator tools – Credit card pay off, Tip, Loan, Interest
Currency Conversion Tool
Import/Export account activities
PIN Protection
Payment Alert
Calendar View
Money Control
Manage your stock market investment and mutual funds investment using Money Control. Money Control is the Application that is used by a large number of investors and traders to track the market. It helps you to track Indian and Global financial markets on your palm with your fingertips. You can create your portfolio on the Money Control App based on your stock market or mutual funds investment, and get the latest updates about the same. Money Control has its own very active forum, where people discuss and share their sell/buy ideas and investment viewpoints about the particular stock. It shows Corporate Actions, Financial Details and Ratios, Balance Sheets, Peer Comparisons, Shareholdings, and many other important details about different stocks – which helps investors/traders to take firm and precise financial decisions. Its Android, iOS and Web versions are available.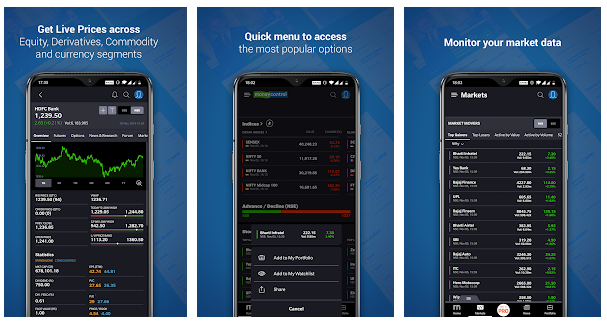 Ratings on Play Store:

4.0
Downloads from Play Store:

10M+
App Features
Latest and Live market data
Personalized and Customized watch-list
Forum for discussion
Latest news
'Text to Speech' feature for news articles
Voice-Enabled Search
ET Markets : NSE & BSE India
ET Markets is a platform from the Times of India group that covers stock/indices available on the BSE and NSE. It offers free share market tips, business, and finance news. ET Markets is available in 8 Indian languages, which helps regional users to get the stock market details and news with few clicks. You can create your portfolio on the ET Markets app to track and get the latest updates and details about it. Different tools like Income Tax Calculator, Loan Calculators, NPS, HRA calculators are available on the App, which makes your financial decisions hassle-free. Android, iOS, and Web versions are available for ET Markets App.
Ratings on Play Store:

4.7
Downloads from Play Store:

1M+
App Features
Interactive technical charting tool
Access ETNOW TV and audio streaming live
Smart Voice Search
Share market news via SMS and Social Media
Track your portfolio
Latest financial tools and calculators
Available in different Indian languages
Walnut
Walnut automatically and securely tracks all your expenses. You can track expenses based on category, this lets you help to get the idea of where you can save more. Walnut has an instant personal loans option that lends you money as a loan whenever needed. It helps you to find an ATM with cash nearby you. Walnut supports 50+ Indian banks and cards. Exporting data and generating expense reports in PDF & CSV format is also possible with Walnut App.
Ratings on Play Store:

4.3
Downloads from Play Store:

10M+
App Features
Transfer money using BHIM UPI
Find ATMs with cash near you
Instant loan for personal use
Track your earnings and spendings
Supports 50+ Indian banks and cards
Frequently Asked Questions (FAQs)
What is Credit Score?
A Credit Score is a numerical representation of a person's creditworthiness. It is calculated by the credit bureaus in the country based on several factors like credit history, repayment history, credit inquires, etc. A good credit score helps you getting loan, credit card, etc easily.
What is a budget?
A budget is a basic understanding of a how much money you're spending versus how much money you're earning. The budget provides people with a sense of control over their finances.
Conclusion
These are some of the best apps we found to be the most useful to fulfill your personal finance management requirements. We, at DiGiTAL BiRYANi, firmly believe that everyone should have some sort of Personal Finance management, and we encourage you to keep track of your money to achieve your financial goal. Feel free to share your feedback with us.