Are you determined to stay fit and healthy? Congratulations, you're far better than many people around you. As you've made up your mind to stay healthy, fit, and start working out devotedly, and that makes you far ahead of others.
In today's fast-paced world, finding the time and motivation to prioritize your fitness goals can be a daunting task. We get it, life can be busy, and the gym might not always be an option. But what if I told you that the key to unlocking your fitness potential might just be a few taps away on your smartphone? Welcome to the world of free workout apps!
In this blog, we're about to embark on a journey to discover the best free workout apps available at your fingertips. These digital fitness companions have the power to revolutionize your exercise routine, whether you're a seasoned athlete, a beginner, or someone simply seeking a healthier lifestyle.
From personalized workout plans to real-time coaching, nutritional guidance, and progress tracking, these apps offer a treasure trove of features designed to keep you motivated, engaged, and, most importantly, committed to your fitness objectives.
Join us as we explore the top free workout apps that cater to a wide range of preferences, fitness levels, and goals. Get ready to break a sweat, track your progress, and achieve the results you've been dreaming of, all without breaking the bank.
Whether you're working out at home, in the great outdoors, or just need a nudge to hit the gym, these apps will be your go-to partners in your fitness journey. Let's get started on the path to a healthier, stronger, and happier you, with the best free workout apps leading the way.
Here are some of the Best Free Fitness and Workout Apps to help you believe staying fit does not have to be expensive.
Home Workout – No Equipment (One of the Best Free Workout Apps)
The exercises and routines in Home Workout cover all your major muscle groups. It has workouts for your abs, chest, legs, arms, and butt. It also provides full-body workouts. The App is developed in such a way that you don't need a single piece of equipment or coach for your workout. You can perform all exercises with your body weight.
The App is designed with quality animation and graphics to easily teach you the correct way of doing every workout. It also offers videos by the experts to double make sure that you're doing your exercise in a scientific way.
Home Workout has categorized the workouts very well. You'll find various categories like Abs, Chest, Arms, Legs, etc at different levels like Beginners, Intermediate, and Advanced. It also has categories like Immunity Booster, Stay in shape, Athlete's Choice, etc. If you own a pair of dumbbells, then you can find a Dumbbell Workout category as well.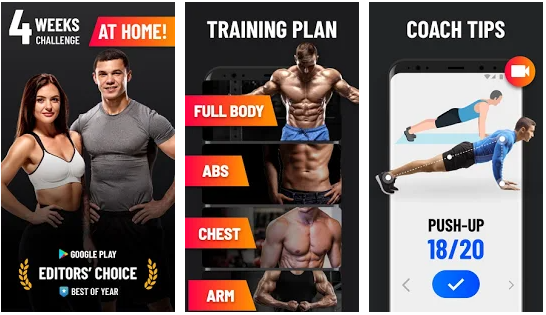 Key Features
Video Tutorials and Animation Guide
Routine Exercise
Categorized exercise
Records Training Progress Automatically
Tracker for your weight
Simply Yoga – Home Instructor
Yoga is a very old, effective, and proven technique to be in Shape. The Indian-origin workout technique is adopted globally. Centenarians (people who have crossed 100 years in their lives) and Supercentenarians (people who have crossed 110 years in their lives) from Okinawa and other places in Japan, where the world's most numbers of centenarians live, endorses and advises people to practice Yoga every day.
Simply Yoga is a very good platform to learn and practice yoga regularly. Yoga videos by Certified Trainers teach you various poses (Aasans) very efficiently. You can choose the length for your Yoga session and based on that, an appropriate workout schedule (Aasan schedule) will be provided to you.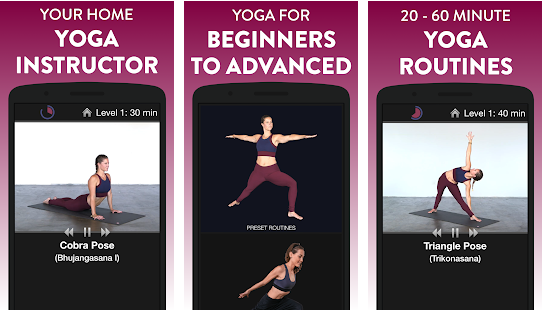 Key Features
Video Tutorials
Certified Yoga Trainers
Selection of workout length for your comfort
Workout Trainer – Home Fitness Coach
As the name suggests, Workout Trainer is your personal home fitness coach. The App contains thousands of free workouts and customized training programs. All these workouts are led by certified trainers and expert coaches. There are various difficulty level workouts for all stages of your fitness journey. It makes the app – "A One-Step Fitness Station" from beginning to advanced level.
Key Features
Training classified according to difficulty levels.
Certified Trainers.
No or minimal equipment needed.
Workout For Women
Hey, Beautiful Girl reading this, this app is for you. This App is solely developed for women. All workouts and exercises are female-centric. They can be a boon for your fitness journey. Just one 7 minute workout on a daily basis can make you fit and healthy. Workout For Women includes exercises for all the important body parts for women. This includes butt, glutes, abs, core, legs, arms, belly fat, booty, back, fat loss, weight loss, bbg, thigh gap.
This App is awarded as Google #1 Free Female Fitness and Exercise App 2020. It caters to the fitness needs of women of all ages.
Key Features
Specifically tailored for women, ladies, and girls of all ages.
Scientifically proven workouts and training.
Personal trainer with voice and video instructions
WORKIT – Gym Log, Workout Tracker, Fitness Trainer
WORKIT is another free workout and fitness app with extraordinary visuals and features. What is your goal: gaining muscle mass or gaining a perfect body shape? WORKIT is what you need. It is developed with the features like Workout Trackers, Workout Logs, Various Fitness Statistics, etc. It also supports Workout Training by videos. Various workout programs are included for beginners, intermediates, and advanced bodybuilders. You can create your own workout program as well.
Key Features
Customized Workout Programs.
More focused on muscle building and bodybuilding.
Very good tracking feature for your fitness journey.
Adidas Runtastic
Runtastic is an App from one of the largest sportswear manufacturers in the world, Adidas. Runtastic has many short home workout training sessions. They cover all parts of your body. These training session videos are from trained coaches. Over 180 exercises include basics and advanced levels of training. The App includes special Tabata and HIIT workouts to burn calories efficiently. There are special challenges in the App that helps you push more in your fitness journey.
Key Features
HD training videos with detailed explanations.
Various types of exercise – Tabata, HIIT, Yoga, and many more.
Dance Workout to have fun along with fitness.
Nike Training Club
Nike Training Club is specially designed to reach your fitness goals with proper training, motivation, and guidance. Workout Videos ranges from 5 minutes to 60 minutes offer the best training from world class trainers. Yoga, Bodybuilding, HIT, Boxing everything is covered on the Nike Training Club. There are more than 185+ free videos to achieve your Fitness Goals faster.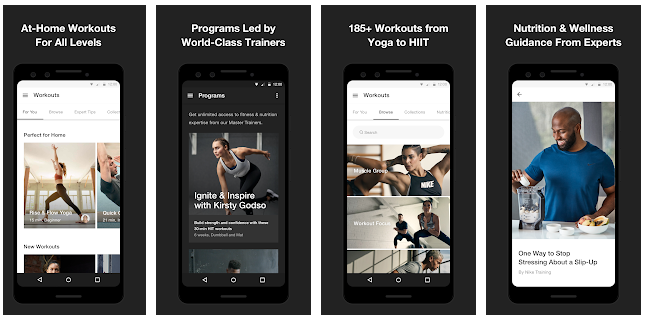 Key Features
Low, moderate, and High intensity workouts.
Body Parts focused workouts.
Time based and Rep based options.
Nike Run Club
Do you love running? If yes, then you must install Nike Run Club on your mobile. It is your perfect running partner. This App supports almost all devices. There are audio-guided runs, GPS run tracking, and many other features for runners. Global and Custom challenges help you enjoy your fitness journey in a more exciting way. You can customize your running plans to proceed in your fitness journey at your own pace.
Key Features
Fully supports Android wear devices.
Personalized and Customized coaching plans.
In-Run cheers from friends.
Trophies and Achievements to celebrate your success.
Frequently Asked Questions (FAQs)
How much workout / exercise is recommended?
The World Health Organization (WHO) recommends weekly 150-300 minutes of moderate-intensity aerobic physical activity. Or at least weekly 75–150 minutes of vigorous-intensity aerobic physical activity. An equivalent combination of moderate and vigorous-intensity activity throughout the week is also good.
Are free workout apps suitable for all fitness levels?
Yes, many free workout apps cater to various fitness levels, from beginners to advanced athletes. You can often find workouts that match your fitness level and goals, whether you're looking to start a new exercise routine or take your workouts to the next level.
Are free workout apps effective for weight loss and muscle building?
Yes, free workout apps can be effective for weight loss and muscle building when used consistently and in conjunction with a balanced diet. They provide structured workouts and guidance that can help you achieve your fitness goals.
Any special equipment required to use the above mentioned Apps?
These Best Free Workout Apps can be used without any extra equipment. If you have types of equipment with you, you can use the related training sessions provided in the Apps.
Conclusion
Physical and Mental Health plays an important role in your life. If you want to be productive in your work, good health is a must. As our main goal on DiGiTAL BiRYANi is to boost Digital Productivity, good health is a prerequisite. We can use Digital Platforms to maintain our Good Health. That is the reason Team DiGiTAL BiRYANi has published this compiled list of Best Free Workout Apps. As our esteemed reader, we request you to share your valuable feedback with us. That will help us to serve you in a better way.