In today's fast-paced digital world, instant messaging has become an integral part of our daily lives. WhatsApp has long been a dominant player in this field, connecting billions of people worldwide. However, concerns about privacy, data security, and ownership have led many users to seek alternative messaging platforms that prioritize their personal information and offer enhanced security features.
If you find yourself in search of a secure and reliable WhatsApp Alternative, you've come to the right place. In this blog post, we will dive into the realm of secure communication and explore the best WhatsApp alternatives available today.
What is the need for WhatsApp Alternatives in 2023?
There are several compelling reasons why individuals and organizations should consider using WhatsApp alternatives for secure communication in 2023. Here are a few key points:
Enhanced Privacy and Data Security
WhatsApp has faced scrutiny regarding its data privacy practices and its association with its parent company, Facebook. In 2021, the company updated its privacy policy to allow it to share more data with its parent company, Facebook. Since then, many users are concerned about the collection and sharing of their personal information. By opting for WhatsApp Alternatives, you can prioritize your privacy and choose services that are committed to protecting your data.
End-to-End Encryption
While WhatsApp offers end-to-end encryption for its messages, some alternative messaging platforms provide even stronger encryption protocols. End-to-end encryption ensures that only the sender and intended recipient can access the content of the messages, minimizing the risk of interception or unauthorized access.
Diverse Security Features
WhatsApp alternatives often provide additional security features beyond basic encryption. These features may include self-destructing messages, two-factor authentication, password-protected conversations, and more. By utilizing such platforms, you can have greater control over your communication and strengthen the security of your conversations. Hence you can use WhatsApp Alternatives for secure communication and data safety.
Independence from Large Tech Companies
WhatsApp is owned by Facebook, a tech giant that has faced criticism for its handling of user data and privacy issues. By choosing alternative messaging platforms, you can reduce your reliance on these large corporations and support more independent and privacy-focused services.
Variety of Features and Customization Options
WhatsApp alternatives often offer a wide range of features and customization options to cater to diverse user preferences. These can include group chat capabilities, voice and video calling, file sharing, integration with other apps and services, community features, and more. Exploring different alternatives allows you to find a platform that best suits your specific communication needs.
Cross-Platform Compatibility
Many WhatsApp alternatives are available across various operating systems and devices, making it easier to communicate seamlessly with others regardless of their preferred platform. This flexibility allows you to connect with a broader network of contacts without compromising on security.
While WhatsApp continues to be a popular messaging app, the availability of WhatsApp alternatives provides users with more choices for secure and private communication. By considering these alternatives, you can take control of your privacy, protect your sensitive conversations, and choose a platform that aligns with your values and security requirements.
Best WhatsApp Alternatives For Security in 2023
With the growing awareness of data breaches, surveillance, and privacy infringement, users are increasingly demanding messaging apps that prioritize end-to-end encryption, protect their personal information, and offer enhanced security features. Fortunately, several messaging platforms have emerged to cater to these needs, offering robust security measures and innovative features that prioritize user privacy. Here are the best WhatsApp Alternatives for security and privacy in focus in 2023.
Telegram
Telegram has emerged as one of the best alternatives to WhatsApp in the past few years. It possesses the majority of WhatsApp features. Along with the usual features, Telegram supports group chats for up to 2,00,000 users. There is no limit on the type and size of the files,i.e. It supports unlimited and uninterrupted file and media sharing.
Telegram has this amazing feature called Telegram Bots, where AI-enabled technology can help you to learn new things with fun. Anyone can create bots for personal brands. Telegram has wonderful Sync functionality. You can start typing messages on your phone and finish that on your laptop or tablet.
Coming to security, Telegram chats are not end-to-end encrypted by default. However, it does provide an option to make chats end-to-end encrypted. Moreover, Telegram offers Secret Chats that are programmed to self-destruct messages from the sender and receiver's device.
Wickr Me
Wickr Me is all about Privacy. It is a free and open-source Application. Wickr Me provides fully encrypted voice calling, voice memos, and trusted end-to-end secure sharing of files, images, and videos. While using Wicker Me, users can have complete control of who has access to their content and how long it can be accessible.
You don't need any phone number or email id to register on Wicker Me. So, your phone book is all safe and remains private with Wicker Me. And also it is not stored on the servers. No metadata associated with your communication is stored on Wicker Me.
People who are required to communicate very private messages usually use Wicker Me. Highly important and confidential messages are sent with robust privacy and security.
Bridgefy
Bridgey eliminates the biggest dependency the other instant messaging application has – Internet Connection and Mobile Network. Yes, you read it right!! Bridgefy does not require an internet connection or mobile network. You only need an Internet connection to register on Bridgefy. Once you have registered on Bridgefy, you can turn off the internet/wifi on your mobile phone and enjoy chatting on Bridgefy.
During the time of natural disasters, political campaigns, music concerts, sports events, traveling abroad, when internet connectivity is not available at that time Bridgefy can be a boon.
Bridgey has different types of communication modes.
Private Communication, which allows you to communicate with other Bridgefy users available within 330 feet (100 meters / 120 yards) distance using Bluetooth. This mode allows you to communicate directly with the other user.
Broadcast Communication, which allows you to communicate with many devices at the same time. This automatically detects available users around you and allows you to group chat with them. You can use this feature in natural disaster alerts or similar usages.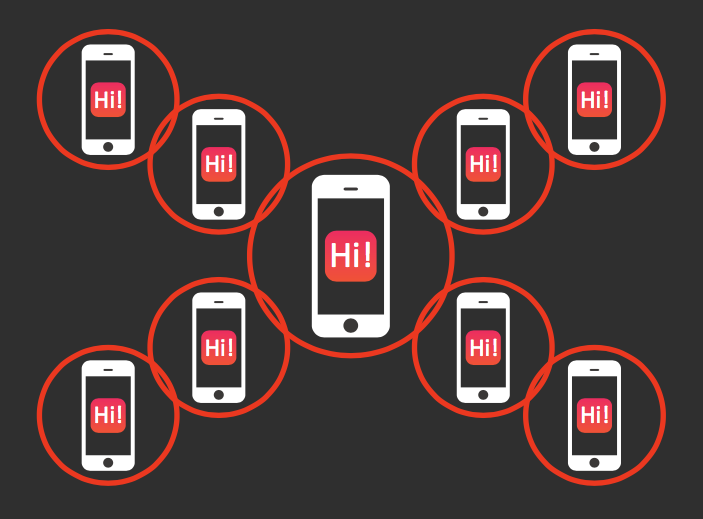 Mesh Network, which lets you allow communication networks like human chains. You connect with the Bridgefy user available in your available range, that user connects with some other user in his range and this chain helps you to connect that other person.
In a recent update, Bridgefy has introduced an end-to-end encryption feature. This feature helps to keep your communication more secure. With offline messaging services, Bridgefy has its own unique place among its peers.
Element – Secure Messenger
Element is one of the best WhatsApp Alternatives developed for team communication. The app is generally used by tech-savvy government employees concerned with privacy and security. It is an open-source application, you can host it on your servers and can take full control of your data.
It is not required to download it from the Google Play Store. The privacy conscious people can download it directly through the F-Droid to avoid all google services. It is definitely one of the best WhatsApp Alternatives in 2023 in terms of security.
Viber
Viber is one of the biggest and oldest horses in this race. In a decade, over 1 billion users have put their trust in this power pack messaging App. It has all the required features one would want in the instant messaging application.
Just like WhatsApp, it is clubbed with text messages, voice calling, video calling, group chats, and many more features. In addition, Viber supports the self-destruction of secret chats. All the information shared over Viber is end-to-end encrypted, which ensures security.
Viber has this Viber Out platform, which lets you call any non-Viber user or landline user with very nominal charges. This Japanese Application supports syncing with desktop and tablet versions of the App.
Skype
Skype must be a WhatsApp of your professional messaging activity, right? You can completely replace WhatsApp with Skype. It has got almost everything that you need in a perfect Messaging Application. You can do chatting, video calls, voice calls, group calls, and do almost everything that you do on WhatsApp.
The video calling feature of Skype is exceptional compared to WhatsApp and other WhatsApp Alternatives for secure communication. The app is free to use and supports emojis as well. With all these features, Skype is one of the best Whatsapp Alternatives in 2023.
Kik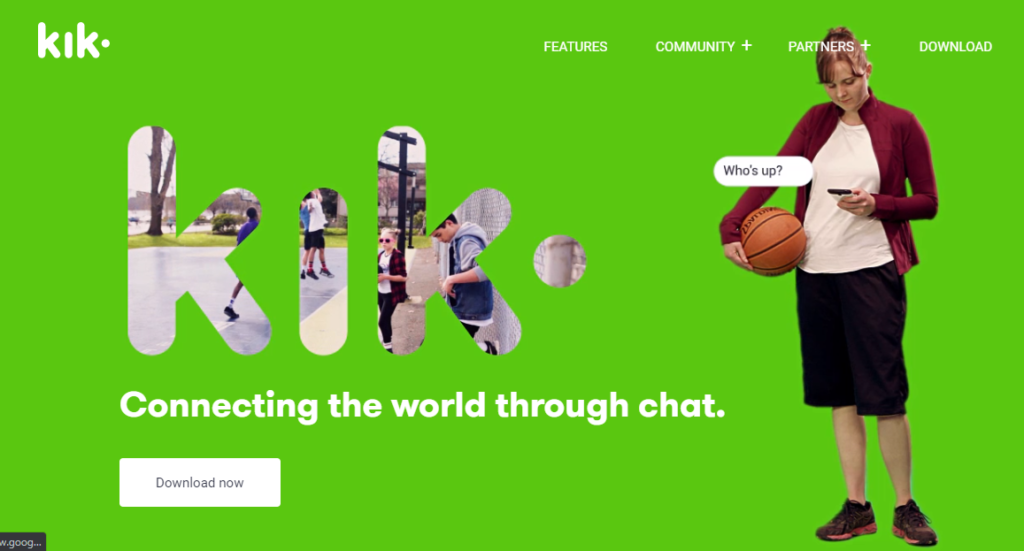 Coming to instant messaging chat applications, the majority of the apps require mobile numbers for registration. There are a bunch of people who are always hesitant to share the mobile number for third-party apps registrations. Kik negates the registrations using a mobile number. However, the user needs to provide an email id for registration.
It has all the required features that one good instant messaging application should have – text messages, emojis, photo sharing, media sharing, video chats, Gifs, stickers, group chats, and many more. Kik, too, supports Bots. These bots help you be social. Play quizzes, get fashion tips, news, advice, tech tips, updates, and many more.
Kik has the option to explore public groups, where you can chat with strangers based on your interest. This feature is really good if used in the correct way, where one can connect with like-minded people and empower the knowledge and network. For the same feature, this Canadian App has a relatively bad reputation for child exploitation. It is considered not so safe for teens, as they can easily expose themselves to explicit content.
Signal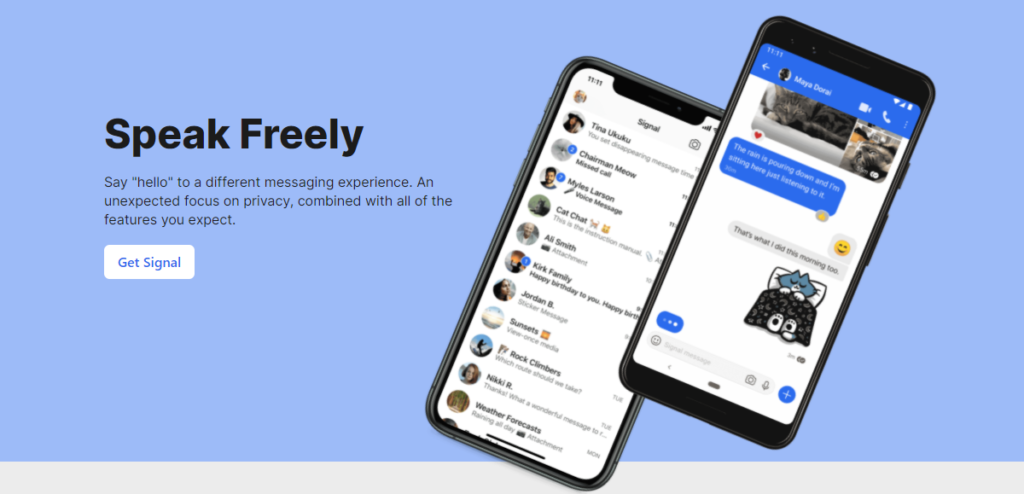 As one of the best WhatsApp alternatives, Signal is a highly downloaded application in the last few years. People have shown great interest in downloading the Signal App. Unfortunately, they are not able to abandon WhatsApp so easily, and because of that Signal App is becoming like a Gym membership – Everyone has it but very few are using it.
The Signal is a fully-featured messaging app with a wide range of features – text messages, photo sharing, video sharing, voice calls, video calls, emojis, stickers, and many more. Just like WhatsApp, It has all those features that any messaging app requires.
Moreover, as the Signal's tagline, 'Say Hello to Privacy', suggests, it mainly revolves around privacy and security. Signal provides end-to-end encryption for all messages and calls. It provides a disappearing message feature for time ranges from 5 seconds to 1 week. This feature is conversation-specific, messages sent and received for selected conversations will disappear after a defined time.
Discord
Gamers are very well aware of this platform called Discord. But, Discord is not limited to the chatting platform for gamers. Though Discord's servers are extremely popular to connect with people having specific interests and discussions, it has a DM (Direct Message) feature as well. Discord's DM feature is very underrated, but it is definitely a good competitor to WhatsApp.
You can integrate various platforms with Discord. These platforms include major names like Spotify, Twitch, YouTube, Facebook, Xbox Live, Github, and many more. Such exceptional features make Discord a better WhatsApp Alternative than other apps.
The platform definitely has a good future ahead as its popularity is increasing exceptionally well. It is definitely one of the best WhatsApp Alternatives in 2023.
Keybase
If you want to use an Application that does not ask your mobile number and email address to register then Keybase is what you need to install. It is a fully open-source application. It ensures secure and private communication. All messages are secure and end-to-end encrypted.
Keybase is a multi-platform application. Its Android, iOS, Windows, and Linux version is available. It is one such rare platform that provides native Linux Applications. To ensure the privacy and security of the chat, Keybase does not allow its users to take a screenshot of the chat.
Being an open-source platform, and eliminating the need of providing email IDs and phone numbers, Keybase can be one of the best WhatsApp alternatives with robust privacy and security.
Frequently Asked Questions (FAQs)
Why do people feel WhatsApp is not so secure?
WhatsApp shares user's transactional data and metadata with its parent organization Facebook. WhatsApp shares information like device ID, IP address, operating system, mobile network information, and many more. Such incidents lead people to feel insecure about WhatsApp.
What is end-to-end encryption in WhatsApp?
End-to-end encryption means every conversation and call on WhatsApp is accessible only to both parties involved. Nobody else, including WhatsApp, can read or listen to the conversations between two contacts.
Conclusion
You can secure your conversations using any of these WhatsApp Alternatives if you are not comfortable communicating over WhatsApp. Please feel free to share your feedback with us. Your feedback helps us to push for an extra mile to serve you more.