WhatsApp has changed the messaging industry completely. With around 2 billion users, it dominates the messaging industry far ahead of so-called competitors. WhatsApp claims to provide a secure messaging and calling service with end-to-end encryption. However, soon after the tech giant Facebook, known for its so-called privacy, acquired WhatsApp, Users have started losing trust in WhatsApp Privacy and started searching for WhatsApp Alternatives. In the name of "analytical data", WhatsApp has significantly degraded its privacy over the period time.
Recently, WhatsApp announced a new privacy policy to link the user data with the other products of the parent company, Facebook, without any option to opt out. This made huge ruckus all over the internet. WhatsApp had planned to force the updated user policy by 8th February 2021. However, all this ruckus forced WhatsApp to extend the deadline till 15th May 2021. It didn't stop there, the controversy continued and WhatsApp again extended the deadline. This controversy led people to start searching for the best WhatsApp alternatives.
WhatsApp, being the sole leader of the instant messaging industry, provides the cleanest chat experience. It is bundled with various features and a very robust UI. It is very difficult to find an alternative that provides the same features and ease as WhatsApp does. However, there are few options that definitely can give you some relief if you've already made up your mind to switch from WhatsApp.
Here we have listed down the best WhatsApp alternatives. So, You can give it a try which suits the best to your usage and requirements.
Telegram
Telegram has emerged as one of the best alternatives of WhatsApp in the past few years. It possesses the majority of WhatsApp features. Along with the usual features, Telegram supports group chats for up to 2,00,000 users. There is no limit on the type and size of the files,i.e. It supports unlimited and uninterrupted file and media sharing.
Telegram has this amazing feature called Telegram Bots, where AI-enabled technology can help you to learn new things with fun. Anyone can create bots for personal brands. Telegram has wonderful Sync functionality. You can start typing messages on your phone and finish that on your laptop or tablet.
Coming to security, Telegram chats are not end-to-end encrypted by default. However, it does provide an option to make chats end-to-end encrypted. Moreover, Telegram offers Secret Chats that are programmed to self-destruct messages from the sender and receiver's device.
Wickr Me
Wickr Me is all about Privacy. It is a free and open-source Application. Wickr Me provides fully encrypted voice calling, voice memos, and trusted end-to-end secure sharing of files, images, and videos. While using Wicker Me, users can have complete control of who has access to their content and how long it can be accessible.
You don't need any phone number or email id to register on Wicker Me. So, your phone book is all safe and remains private with Wicker Me. And also it is not stored on the servers. No metadata associated with your communication is stored on Wicker Me.
People who are required to communicate very private messages usually use Wicker Me. Highly important and confidential messages are sent with robust privacy and security.
Bridgefy
Bridgey eliminates the biggest dependency the other instant messaging application has – Internet Connection and Mobile Network. Yes, you read it right!! Bridgefy does not require an internet connection or mobile network. You only need an Internet connection to register on the Bridgefy. Once you have registered on Bridgefy, you can turn off the internet/wifi on the mobile phone and enjoy chatting on Bridgefy.
During the time of natural disasters, political campaigns, music concerts, sports events, travelling abroad, when internet connectivity is not available at that time Bridgefy can be a boon.
Bridgey has different types of communication modes.
Private Communication, which allows you to communicate with other Bridgefy users available within 330 feet (100 meters / 120 yards) distance using Bluetooth. This mode allows you to communicate directly with the other user.
Broadcast Communication, which allows you to communicate with many devices at the same time. This automatically detects available users around you and allows you to group chat with them. You can use this feature in natural disaster alerts or similar usages.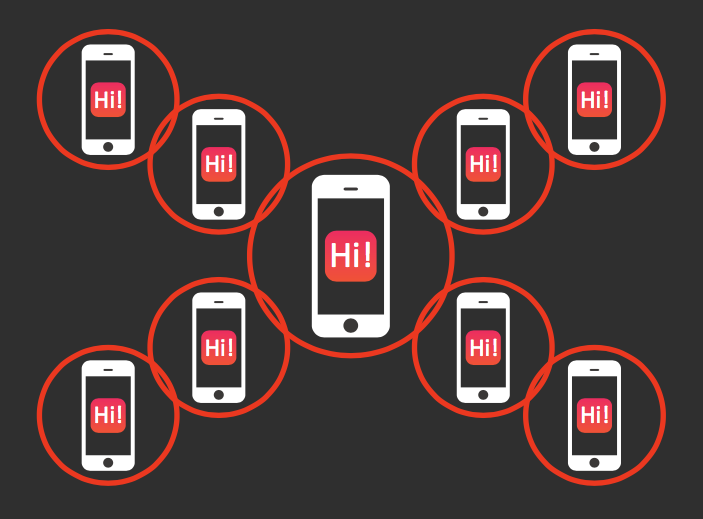 Mesh Network, which lets you allow communication networks like human chains. You connect with the Bridgefy user available in your available range, that user connects with some other user in his range and this chain helps you to connect that other person.
In a recent update, Bridgefy has introduced an end-to-end encryption feature. This feature helps to keep your communication more secure. With offline messaging services, Bridgefy has its own unique place among its peers.
Viber
Viber is one of the biggest and oldest horses in this race. In a decade, over 1 billion users have put their trust in this power pack messaging App. It has all the required features one would want in the instant messaging application.
Just like WhatsApp, it is clubbed with text messages, voice calling, video calling, group chats, and many more features. In addition, Viber supports the self-destruction of secret chats. All the information shared over Viber is end-to-end encrypted, which ensures security.
Viber has this Viber Out platform, which lets you call any non-Viber user or landline user with very nominal charges. This Japanese Application supports the syncing with desktop and tablet versions of the App.
Kik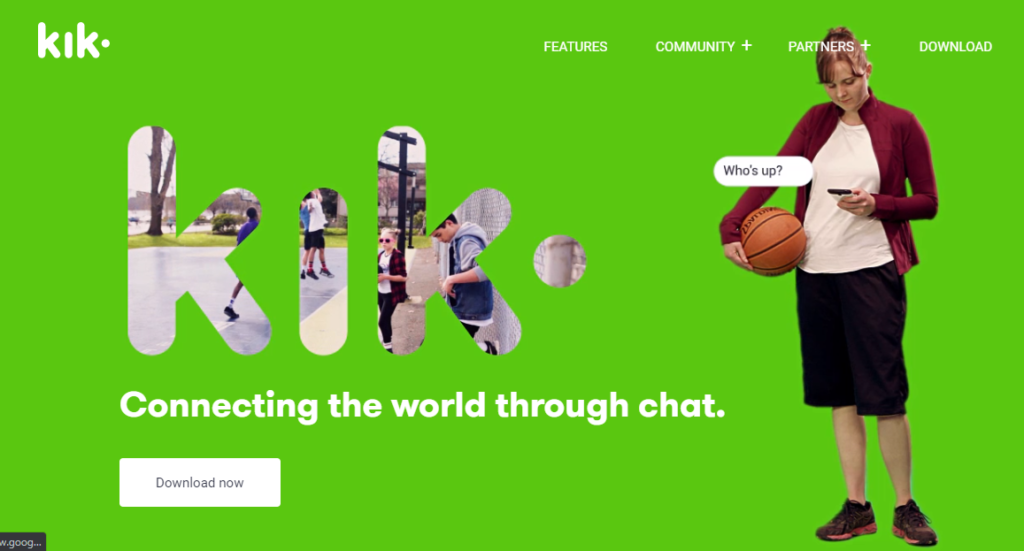 Coming to instant messaging chat applications, the majority of the apps require mobile numbers for registration. There are a bunch of people who are always hesitant to share the mobile number for third-party apps registrations. Kik negates the registrations using a mobile number. However, the user needs to provide an email id for registration.
It has all the required features which one good instant messaging application should have – text messages, emojis, photo sharing, media sharing, video chats, Gifs, stickers, group chats, and many more. Kik, too, supports Bots. These bots help you be social. Play quizzes, get fashion tips, news, advice, tech tips, updates, and many more.
Kik has an option to explore public groups, where you can chat with strangers based on your interest. This feature is really good if used in the correct way, where one can connect with like-minded people and empower the knowledge and network. For the same feature, this Canadian App has a relatively bad reputation for child exploitation. It is considered not so safe for teens, as they can easily expose themselves to explicit content.
Signal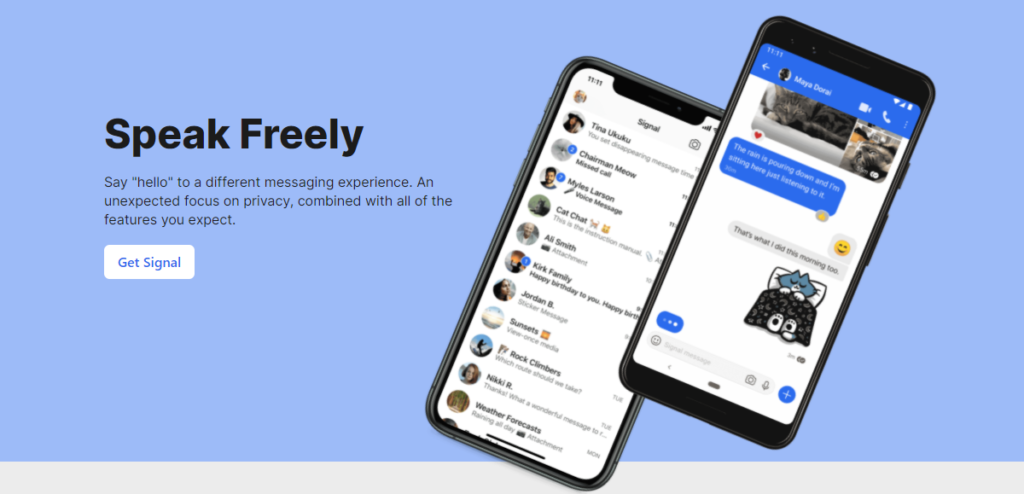 As the best WhatsApp alternatives, Signal is one of the most downloaded applications in the last few weeks. People have shown great interest in downloading the Signal App. Unfortunately, they are not able to abandon WhatsApp so easily, and because of that Signal App is becoming like a Gym membership – Everyone has it but very few are using it.
The signal is a fully-featured messaging app with a wide range of features – text messages, photo sharing, video sharing, voice calls, video calls, emojis, stickers, and many more. Just like WhatsApp, It has all those features that any messaging app requires.
Moreover, as the Signal's tagline, 'Say Hello to Privacy', suggests, it mainly revolves around privacy and security. Signal provides end-to-end encryption for all messages and calls. It provides a disappearing message feature for time ranges from 5 seconds to 1 week. This feature is conversation-specific, messages sent and received for selected conversations will disappear after a defined time.
Keybase
If you want to use an Application which does not ask your mobile number and email address to register then Keybase is what you need to install. It is a full open-source application. It ensures secure and private communication. All messages are secure and end-to-end encrypted.
Keybase is a multi-platform application. Its Android, iOS, Windows, and Linux version is available. It is one such rare platform which provides native Linux Application. To ensure the privacy and security of the chat, Keybase does not allow its users to take a screenshot of the chat.
Being an open-source platform, and eliminating the need of providing email id and phone numbers, Keybase can be one of the best WhatsApp alternatives with robust privacy and security.
Frequently Asked Questions (FAQs)
Why do people feel WhatsApp is not so secure?
WhatsApp shares user's transactional data and metadata with its parent organization Facebook. WhatsApp shares information like device ID, IP address, operating system, mobile network information, and many more. Such incidents lead people to feel insecure about WhatsApp.
What is end-to-end encryption in WhatsApp?
End-to-end encryption means every conversation and call on WhatsApp is accessible only to both parties involved. Nobody else, including WhatsApp, can read or listen to the conversations between two contacts.
Conclusion
You can secure your conversations using any of these WhatsApp Alternatives if you are not comfortable communicating over WhatsApp. Please feel free to share your feedback with us. Your feedback helps us to push for an extra mile to serve you more.