Connect your Gaming Console to your TV, put a Super Mario cassette in the Console, and start collecting coins. Feeling nostalgic about those summer vacations, right?
You might be at the age to deal with paychecks, equities, and cryptocurrencies – but you still miss collecting coins in Mario. You actually do, right? Your childhood's best companion – that old Gaming Console – is still with you. But unfortunately, while taking care of your new friends – the latest PlayStations and Xboxes – you have completely ignored your childhood's best companion. The device is no longer functional, dead, and you are regretting your (in)actions.
As our esteemed reader, if you are eager to play your childhood's favorite game, Super Mario, How can we stay quiet? DiGiTAL BiRYANi has come up with exciting information that will drive you directly to those childhood summer vacations. Now, You can play the Super Mario game online and offline for free, we will help you to play this.
Play Super Mario Bros Online For Free
Now, when the world is online, there is no need of having a separate Gaming Console for playing your favorite game. You can enjoy Super Mario online without any separate gaming console. You don't even need to download or install anything to play Super Mario online. Follow these simple steps to play Super Mario online.
You can select any stage by hovering on the Map Select option. There's even an option of Map Generator, which will generate a World Random Map.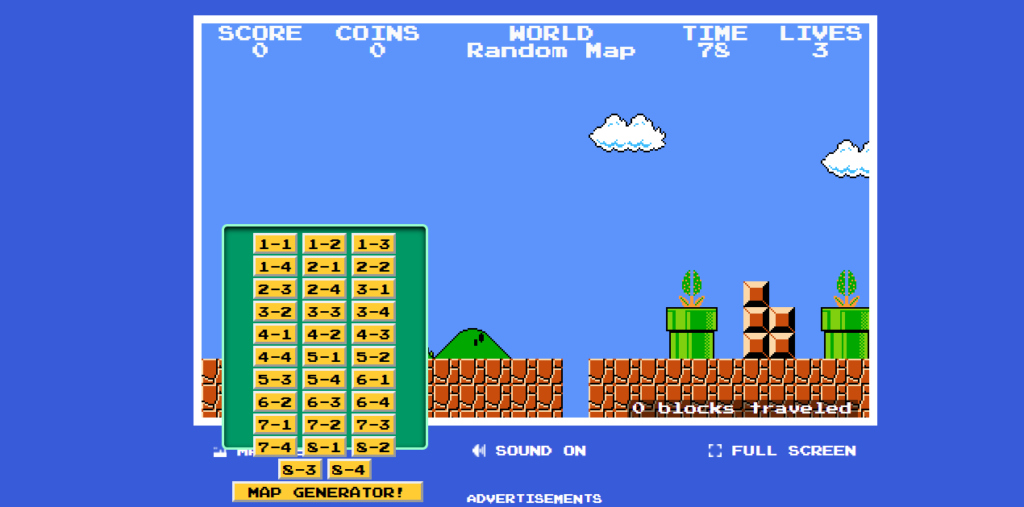 User Control in Playing Super Mario Bros Online
Use arrows [↑→↓←] or W-A-S-D keys to move Mario, to jump higher hold the button.
Use Shift/CTRL to Fire/Sprint. P to pause and M to mute.

Play Super Mario Bros Offline For Free
If you're not interested in spending data every time on playing a game, you can do it one time as well. Download and Install it onto your device and Play Super Mario on your device without internet.
Play Super Mario Bros For Free on Your Android Smartphone
Today, everyone and everything is on smartphones. You can play your favorite childhood game, Super Mario, on your smartphone as well. Follow the below information to install Super Mario Bros on your Android Smartphone.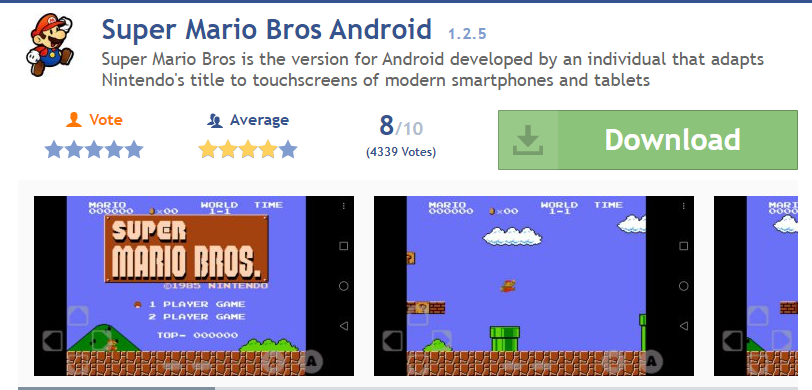 Download and Install Super Mario Bros on your Android Smartphone. This App is developed by an anonymous developer to help millennials to relive their childhood on the smartphone. This is a completely free installation. As mentioned this is not an official development, but the game and feel are the same as you had in your childhood.
Play Super Mario Bros For Free on Your Computer
Download and Install the iconic Super Mario on your computer. Play the same Super Mario Bros game on your laptop or computer. Download and Install Super Mario For PC and enjoy the game on your computer.
You can play the game in full-screen mode without any further disturbance. There are various checkpoints to save the game to resume at a later point in time. The game has a graphical representation identical to the original game. This way the game will make you remember your childhood and keep you engaged.
Frequently Asked Questions (FAQs)
Who is Mario?
Mario is a fictional character created by Japanese video game designer Shigeru Miyamoto. Mario first appeared in the Donkey Kong game in 1981. After that, the character has appeared in over 200 games.
What is Super Mario?
Super Mario is a game series created based on the character Mario. The first game was Super Mario Bros released in 1985.
Conclusion
This is just a small effort by the team DiGiTAL BiRYANi to help our esteemed readers relive their childhood. The information shared here is for educational purposes only. You can implement it at your own risk. DiGiTAL BiRYANi never supports any illegal use of content. It is advisable to consider the local laws of the land before implementing this. Please share your feedback in the comment or directly share with us through website contact.
Share this with your friends and tag those friends with whom you played Super Mario Bros a lot!