In this blog, we're going to discuss how to save WhatsApp Status Videos and Photos of your contacts that you see in the App's Status section. You can save the WhatsApp Status Videos and Photos offline to use later.
WhatsApp started as a simple messaging Application in 2009, which has now become a part of almost every smartphone available out there. With around 2 billion users, WhatsApp is one of the most used messaging applications across the globe. In the journey of more than 11 years, WhatsApp has launched various features to make the product more and more worthwhile.
What is WhatsApp Status?
WhatsApp introduced the WhatsApp Status feature a few years back, which has completely changed everyone's user experience. Snapchat and Instagram already had this feature called Stories, where you can post something, and the post remains visible for 24 hours. Your friends and followers can engage with the post for 24 hours.
WhatsApp Status is very similar to this feature of other platforms. You can upload any video or photo as WhatsApp Status, and your contacts or people whom you allow from your contact list can see your status for 24 hours. However, after 24 hours, it gets automatically removed. You can view other people's WhatsApp Statuses from the Status tab in WhatsApp.
Have you ever wished to save that funny or informational video or image from someone's WhatsApp status? To be honest – We all have wished so. If you own an Android phone, then it's easy for you to save someone's WhatsApp status on your Android device. We'll help you to learn how you can save WhatsApp status videos or photos on your Android device.
The trick we're going to share is for information and educational purpose only. It is always advisable to take prior permission from the person before saving his/her WhatsApp status on your device.
How to Save WhatsApp Status Videos / Images on your Android phone – Detailed Guide
A prerequisite for this trick is an Android smartphone with WhatsApp installed on it. Your Android phone should have File Manager, as it is required for this trick. Any File Manager will work, steps may vary according to the File Manager. For instance, In this blog, we have used Mi File Manager. You can use any File Manager app that your Android Phone supports.
Firstly, open the File Manager App on your Android Phone and open Settings. For MI File Manager you can open it by going to the App drawer on the top left corner of the File Manager screen.
After that, from the Settings menu, enable the Show hidden files feature.
Now, Go back to the file manager and open the Internal Storage tab.
Now go to the WhatsApp > Media > '.Statuses'
You can see the videos and photos available there, to save the video or photo, long-press it and copy/move to your desired location on your device.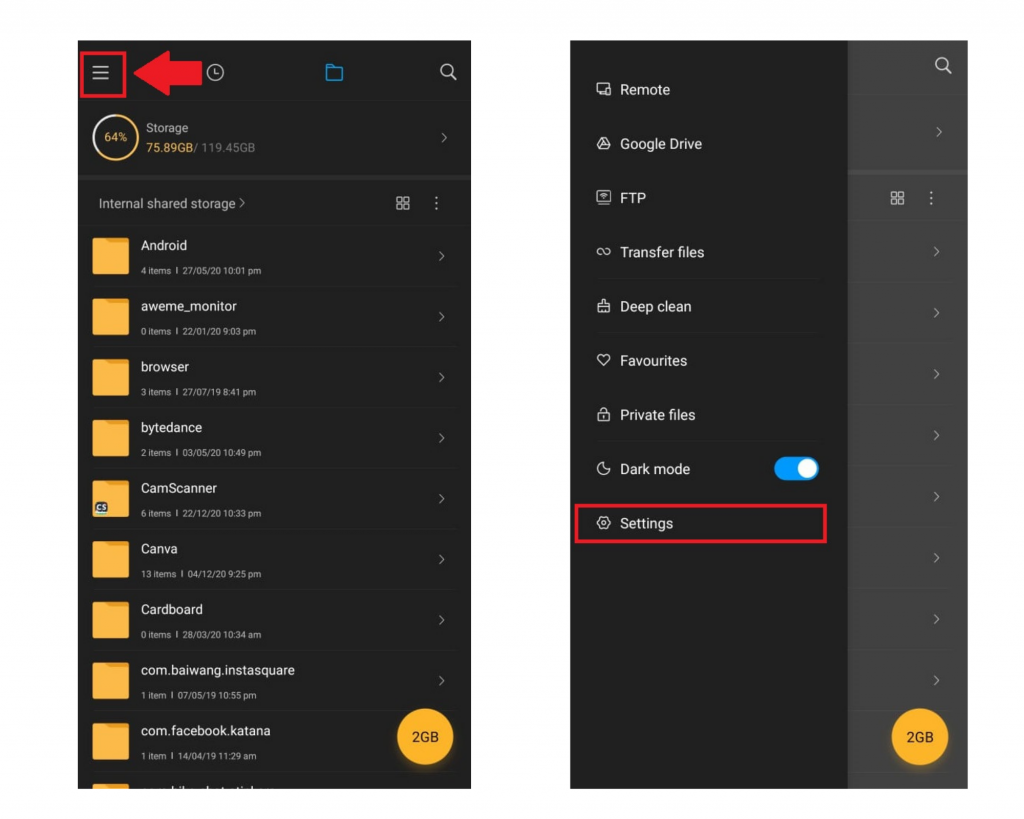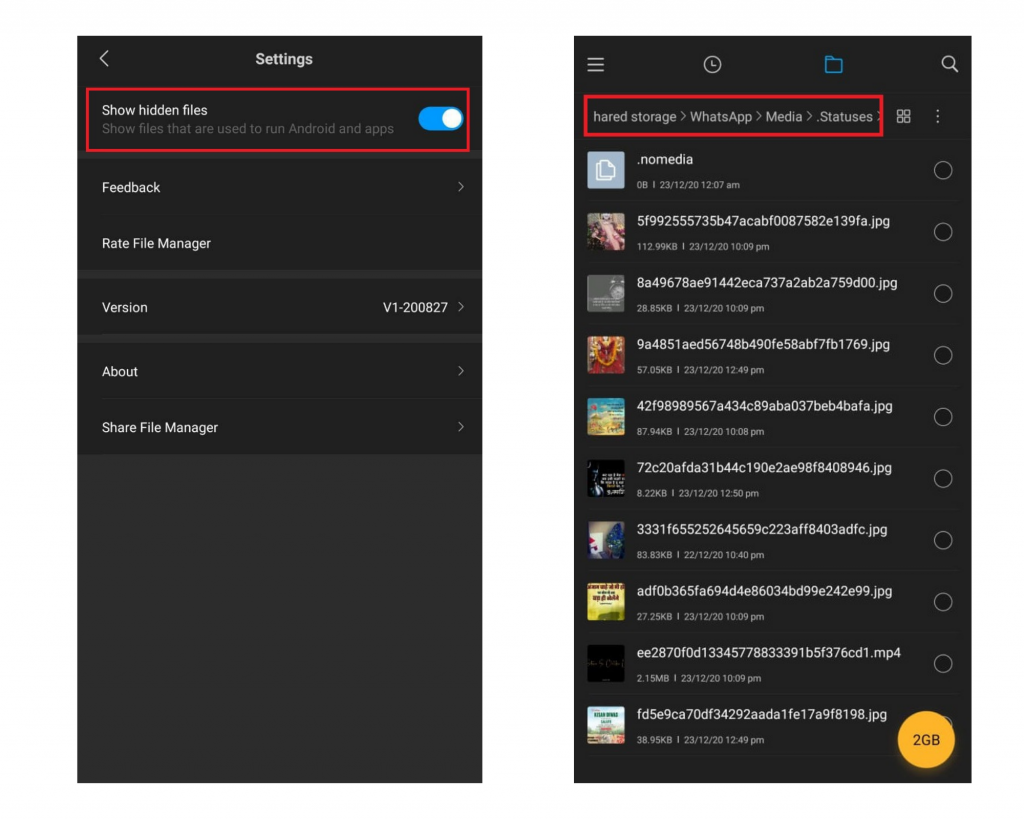 These steps can help you to save someone's WhatsApp status video or photo on your Android Phone. However, consider this trick for educational purposes only. Please seek another person's permission before saving his/her WhatsApp status photo or video.
Frequently Asked Questions (FAQs)
Can we add Location Stickers in WhatsApp status just like we can on Instagram?
Yes, You can. Here's a step-by-step guide to add Location Sticker in WhatsApp Status.
Can we save WhatsApp Status Video or Photo if the user has deleted it before 24 hours?
If you have already shown the WhatsApp status before getting deleted, you can save WhatsApp status video or photo even if the owner has deleted it before 24 hours.
Conclusion
That's how you can save WhatsApp status videos and photos on your device without using any external tools. Can be able to do any digital task without using any external tool is a really good thing in your digital journey, and it is one step ahead toward higher digital productivity. Do try this trick and share your valuable feedback with us.