In today's hyper-connected world, where distances seem to shrink and borders blur, the desire to forge new connections and broaden our social horizons has never been stronger. Whether you're looking for a friendly chat, seeking to learn about different cultures, or simply craving an exciting encounter with someone unknown, random video chat apps offer an exhilarating opportunity to connect with strangers from all corners of the globe. In this digital era, these innovative platforms serve as gateways to virtual adventures, enabling us to build relationships, share experiences, and create lasting memories, all with the swipe of a finger.
In this blog, we embark on a journey to explore the best apps for random video chat with strangers, delving into their features, user experiences, and the unique aspects that set them apart. Whether you're a social butterfly eager to meet new people or an introvert seeking to step out of your comfort zone, these apps present an exciting avenue to engage in spontaneous conversations and form connections that transcend geographical boundaries.
Why choose Random Video Call Apps?
The answer lies in their ability to foster genuine interactions and break down barriers that separate us. On these Random Video Call Apps, with a simple tap, you can be connected with individuals from diverse backgrounds, cultures, and perspectives, allowing you to broaden your worldview and gain insights into the lives of people you may never have met otherwise. These apps offer a refreshing departure from the curated online experiences we often encounter, embracing serendipity and the magic of unexpected encounters.
Through the seamless integration of video, audio, and messaging features, these apps bring the excitement of face-to-face conversations right to your smartphone or computer screen. You can engage in conversations that range from lighthearted small talk to thought-provoking discussions, all while establishing meaningful connections with individuals who might become lifelong friends or even life-changing mentors.
In the following sections, we'll dive into a selection of the best apps for random video chat with strangers. Whether you're an avid traveler, a language enthusiast, or someone simply curious about the vast tapestry of humanity, we're here to guide you through this thrilling world of virtual connections.
List of the Best Apps for Random Video Chat with Strangers
So, grab your smartphone, find a cozy spot, and join us as we venture into the realm of random video chat apps, where chance encounters can transform into profound connections that span continents and cultures. Let's embrace the magic of the unknown and unlock the potential of human connection like never before.
Honeycam Chat
HoneyCam is an excellent multiplayer online video chat platform with strangers. Honeycam lets you connect and communicate with anyone across the globe.  The App offers one of the best functionality, which is the Translation Feature. As per our experience, this is the best feature of Honeycam Chat. This feature eliminates the language barrier while connecting with people from different cultures. The real-time translation feature helps you during calling and chatting. The App is available on Android and iOS.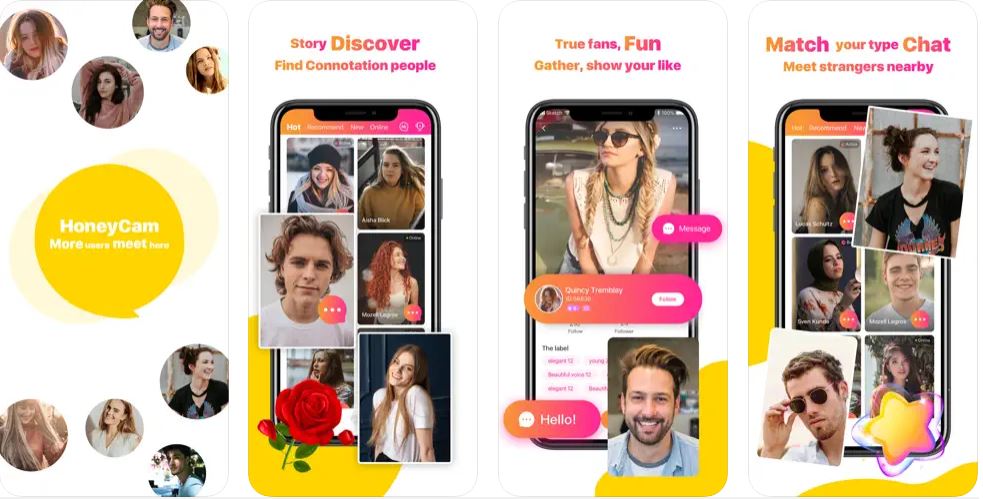 Holla
Holla is a live Random Video Chat App available in more than 190 countries across the globe. With more than 30 million users, it is one of the most used apps for Random Video Chat with Strangers. There are various filters and editing options available while doing a live video chat with strangers.
Heyy – Live Video Chat
Heyy – Live Video Chat App offers maximum privacy while allowing you to make new connections via Random Video Chat with Strangers. The App allows you to hide your real face while video chatting using AR Face Mask. We experienced that AR Face Mask is an exceptional feature for random video call apps where you can hide your real face using technology. The app also offers a real-time language translation feature, making language no barrier. The platform is always under surveillance, thus no one can send offensive messages.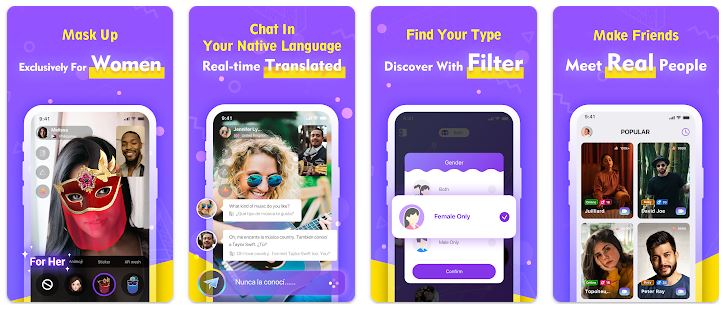 Ablo – Nice to meet you!
Ablo is one of the best apps for random video chat with strangers with a pretty decent UI. It lets you broadcast yourself along with live streaming options. You can join anyone's Live Stream on Ablo. The app has both types of connectivity options – Text Chats and Video Calls. It offers a quick search option to connect with anyone across the globe.
Twoo – Meet New People
As the name suggests, it helps people find new people across the globe. The app lets you know if someone checks your profile, which gives confirmation that someone has crossed your path. You can keep yourself engaged with others by live streaming and random video chat with strangers. It also lets you connect with new people based on location.
Live Chat Video Call-Whatslive
Whatslive lets you make one-to-one direct video calls with strangers from all over the world. You can also have a text chat with various emojis and stickers to add an additional fun and emotion that eliminates the shyness of meeting new people. The platform is known to ban offensive and unethical users. 10 Million+ downloads with 4.5 ratings shout the popularity and safety of the Live Chat Video Call-Whatslive.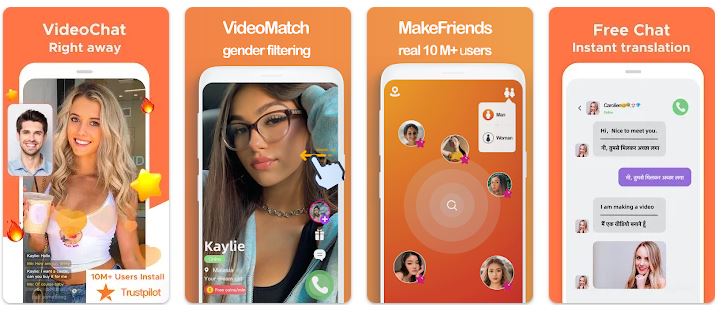 Omega
Omega will allow you to connect with strangers from around 100+ countries. That will extend your social circle and network. You can meet new people from different social circles and cultures. It is one of the best apps for Random Video Chat with strangers. Apart from Video Chats, it also allows users to do voice calls and text messages.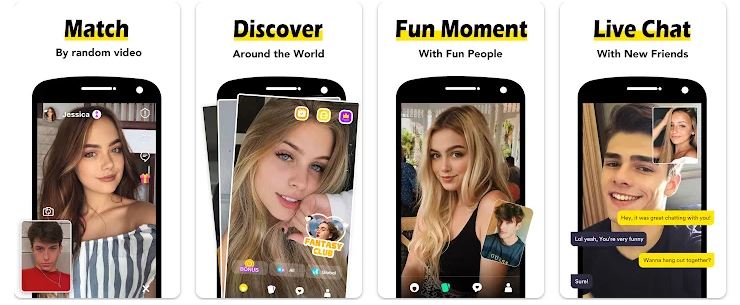 Chatrandom
Chatrandom is one of the best apps for random video chat with strangers that is available on Android as well as iOS. The App is in place since 2011, over the period of time, many features have been added and updated for the best random video chat experience for the users. You can report any kind of nuisance happening on the App, the App will take appropriate action against that.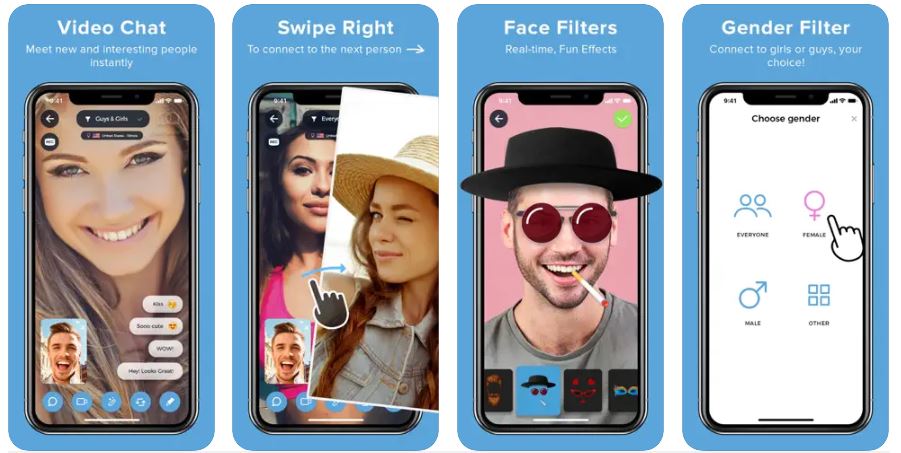 Tumile – Free Stranger Video Chat App
Tumile is a totally free app for random video chat with strangers. You can connect with people from any corner of the world from your fingertip. The app has crafted some community guidelines to maintain respect and a safe environment on the platform. It also has a real-time translation option. The platform also offers beauty filters and some amazing stickers.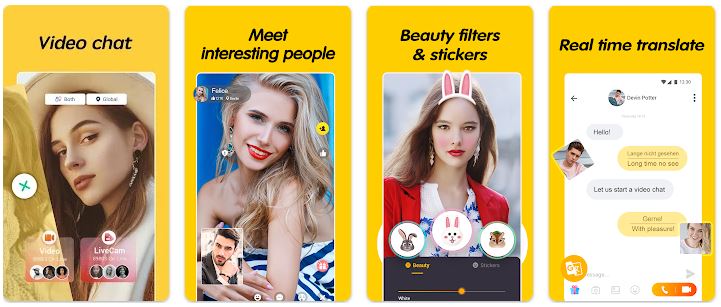 JustTalk
JustTalk is a free, simple, reliable, secure, private, and fun app that allows you to do random video chat with strangers. You can even connect with a group of people as well as a single person. With 10 Million+ downloads on Play Store and 4.4 ratings, it is one of the best apps for random video chat with Strangers.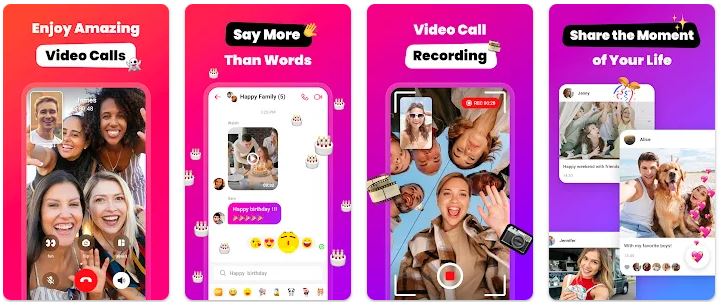 Mamba
Mamba is more of a dating site that offers random video chat functionality. With more than 60 Million users, Mamba is one of the best apps for random video chat with strangers. It is popular in more than 50 countries in the world. Mamba is a safe place, where the support team is available 24/7. You can find people nearby as well as from any corner of the world. Mamba also offers a live-streaming option to reach a wider audience. As per our experience, Live Streaming is an exceptional feature that Live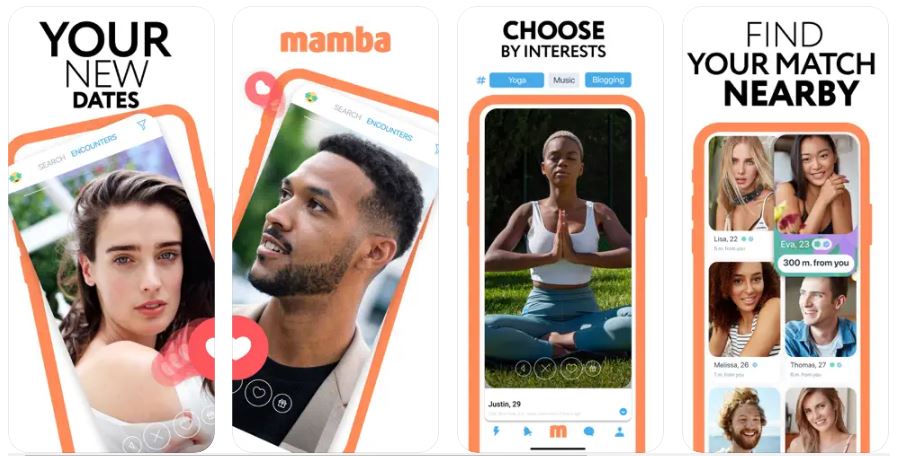 CamSurf
If you're looking for an app that can help you connect with people from more than 200 countries, CamSurf is a good app for you. CamSurf lets you do random video chat with strangers anonymously without logging in. Our experience with CamSurf have been amazing. It offers a simple and intuitive design that delivers a seamless experience to users. You can select a country of your preference,  filter the gender, and enjoy talking with a complete stranger person.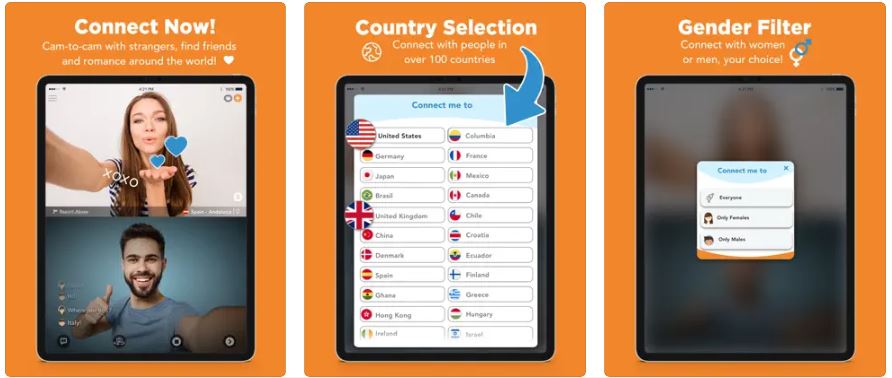 Frequently Asked Questions (FAQs)
How do random video chat apps work?
These apps typically use algorithms to match users based on common interests, location, or simply at random. Once a connection is established, you can engage in a live video conversation with the matched stranger.
Are these Best Apps For Random Video Call Apps Free?
Yes, the majority of random video chat apps offer free services, but they often have premium features or ad-supported versions. You can usually access basic video chat features for free, but there may be in-app purchases or subscription options for enhanced experiences.
How can I find people with similar interests on these random video chat apps?
Some random video chat apps allow you to add tags or interests to your profile, which can help match you with people who share common hobbies or topics of interest. These tags can be used to filter and find like-minded individuals.
Are these apps for Random Video Chat with Strangers safe?
You need to be cautious while chatting with strangers on a video call. The majority of these best apps for Random Video Chat with Strangers offer safe and secure platforms. Some of the apps have 24/7 support executives available as well.
What should I do if I encounter inappropriate behavior on these random video call apps?
If you encounter inappropriate behavior or feel uncomfortable during a chat, you can usually report or block the user. Most apps have mechanisms in place to address such issues and ensure user safety.
Can I use random video chat apps for dating or making friends?
Yes, many users on these apps are open to dating or making new friends. Some apps are explicitly designed for dating, while others focus on connecting users for various purposes.
Conclusion
Make some new connections and learn new cultures with new people with these best apps for random video chat with strangers. Do try these apps if you're looking for new connections and share your feedback with us 🙂