Devices have become smart over time, and these Smart Home Devices are becoming the need of an hour. Digitalization and the new-age internet revolution have worked as a catalyst in booming the Smart Home Device usage in daily life. The trend of having more and more smart home devices to automate our daily routine is setting the robust base for a technology-based future.
Smart Home Devices are one of the best choices when planning for Tech Gifts. There're many types of Smart Home Devices available in the market that helps you build your dream home and ease your daily life by integrating automation into your life. We've listed down some of the best and most affordable smart home devices that you can use to automate your daily life and convert your home and lifestyle into a smart home and lifestyle.
List of Best Affordable Smart Home Devices
Here's a list of smart home devices that converts your ordinary home into a smart home and don't hurt much to the pocket.
Amazon Echo Dot With Clock
Amazon Echo Dot is considered the best smart home device that every household should possess.
The 4th Gen Amazon Echo Dot comes with the Clock and is considered smarter than the 3rd Gen Amazon Echo Dot.
It also shows the current temperature along with the time. Thus, it eliminates the task of asking for time and temperature to Alexa.
It also has an ambient sensor that automatically adjusts the brightness of the display based on the lightning of its surrounding environment.
The 4th Gen Amazon Echo Dot costs around 4099INR, only a few bucks more compared to the 3rd Gen Amazon Echo Dot which costs around 2399INR.
Wipro WiFi Enabled Smart LED Bulb
This Smart Bulb from Wipro is Amazon Alexa and Google Home compatible that helps you control it from your voice.
The bulb comes with the Music Sync option that let your bulb dance to the rhythm of your favorite music.
You can control this light from anywhere using Wipro Smart Home App.
You can explore endless lighting possibilities with 16mn Colour Options to create the perfect space for enjoying parties, festivals, or a movie night.
The light is dimmable and allows you to change the brightness from 10% to 100% based on your requirement.
This bulb is WiFi-enabled and it requires a 2.4 GHz WiFi network connection.
The 12W bulb costs only around 769INR.
Qubo Smart WiFi Video Door Bell
Smart Home requires a smart entrance with a smart doorbell system, and this WiFi-Enabled system from Qubo is the best choice.
It secures the entrance of your House with a 1080P Full HD Camera.
It also has an advanced Built-In Intruder Alarm System – Advanced AI capabilities that can smartly detect & notify whenever a person is detected. You can also ring a siren in case of an intrusion.
You can stay connected with your door at any time with the Instant Visitor Video Call Feature of the doorbell.
The smart doorbell has a 2-way talk system to have a conversation with your visitor. It even has a feature to respond to a pre-recorded message when you're busy.
It successfully works with Amazon Alexa and Google Assistant.
You can also watch what has been happening on your Front door throughout the day with a special video collage at the end of each day.
This stunning smart home device is available at a 30% discount costing it 6990INR only.
Mi Air Purifier 3 with True HEPA Filter and Smart App Connectivity
Having a smart home requires fresh and pure air to breathe and keep the vibrations fresh and live. This Air Purifier from the Mi is a perfect choice for that.
It has a HEPA filter with a filtration capacity of 99.97% for particle sizes up to 0.3 microns.
The OLED touch display of this smart home device shows real-time PM2.5 concentration, Temperature and humidity, Wi-Fi connection, and Working mode.
It has 360 Degree of Air intake with 3 Layer Filtration.
The device is having Smart App Control feature and also works with Amazon Alexa and Google Assistant.
Its effective coverage area is up to 484 sq ft.
With a 23% discount, it costs around 9999INR.
Honeywell WiFi Connected Smart Smoke Detector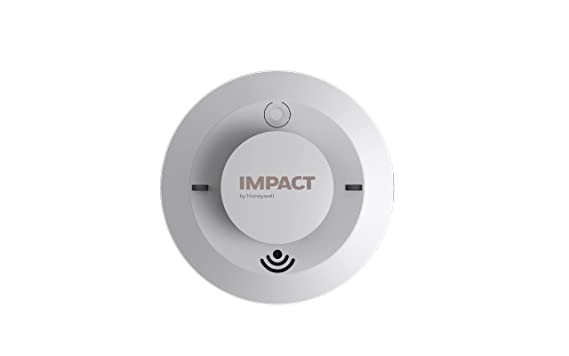 Safeguarding your smart home from the fire should be one of the top most priority, and this smart smoke detector from Honeywell does it very well.
The device works on WiFi. It can be connected to iOS and Android smartphones.
In the case of smoke detection, you can get the notification using various ways such as instant app notification, an incoming call on the mobile phone, led lights notification, and audio notification.
You can control it from the Impact Mobile App.
The smart smoke detector costs around 2375INR.
Tata Power EZ Home WiFi Smart Switch
This smart switch from Tata Power has an in-built energy management system to automate from anywhere while safeguarding them from overload – smartly reducing your power bills.
By using the performance tracking feature, you can set a limit on your monthly energy consumption and understand potential power savings for each month.
The switch can be easily operated from anywhere with a smartphone.
It also works with Amazon Alexa and Google Assistant by simply giving commands like "Alexa turn on bedroom A/C".
You can switch to control 2 electrical points such as fans, lights, plug points, or other appliances with minimal effort using our EZ Home App.
It is available at a 50% discount on Amazon at the price of 2000INR.
QUBO Smart Door Lock with 5-Way Unlocking
This Smart Lock provides smart security to your smart home.
The lock has a 5-Way Unlocking feature that includes Fingerprint, Passcode, Bluetooth Mobile APP, RFID Access card, or Emergency keys.
You can register up to 50 fingerprints and can get 2 RFID cards.
It is possible to keep an eye on the activity logs using the Mobile App.
You can share OTP via WhatsApp, SMS, or email for guests or housekeepers for permanent or one-time access.
The smart lock comes with Voice Guidance for convenient access along with a Silent mode option.
You can also use a Two-Layer Authentication to add Double Security that requires a combination of 2 access methods to unlock your door.
Available at a 50% discount, it costs only 14990INR.
Google Nest Smart Thermostat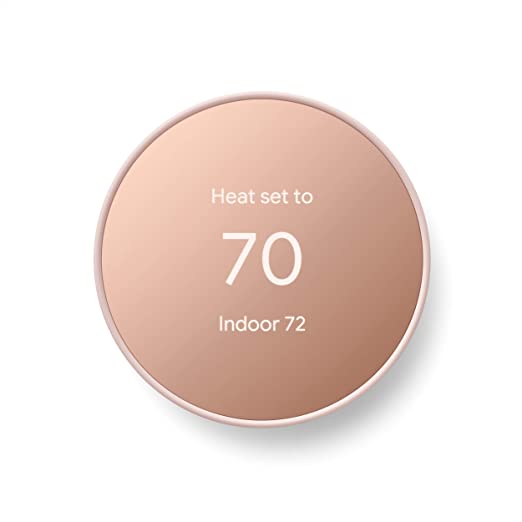 It is an energy star-certified smart thermostat for a home that helps you save energy and stay comfortable.
Nest Thermostat turns itself down when you leave, so you don't waste energy heating or cooling an empty home.
The smart home device is programmable and lets you create an energy-efficient schedule in the Google Home app on your Android or iPhone.
You can change the temperature on the thermostat from anywhere using a phone, laptop, or tablet.
It sends an alert if something doesn't seem right, along with helpful reminders to make maintenance easier.
Saving Finder functionality looks for more ways your thermostat can help you save.
The device is available at 19890INR.
Mi 360° AI-Powered Home Security Camera
This smart home device has an AI Motion erection alert for better security using the latest technology.
The 1080P Full HD camera has a very good night vision quality too.
The camera angle is 110 degrees and the connectivity is Wi-Fi IEEE 802.11 b/g/n 2.4 GHz.
For storage, it supports MicroSD Card from 16 to 64 GB. (Class 10 and above storage card)
It has a talk-back feature for 2-Way communication.
You can check on your family back home from anywhere and also fast forward through the recorded video at 2x/4x/16x speed.
The picture-in-picture mode allows you to monitor your home while doing other stuff too.
You can have multiple views on a single screen to monitor all at one time.
With a 30% discount, it is priced only at 2799INR.
ILIFE Smart 2-in-1 Robotic Vacuum Cleaner and Water Mopping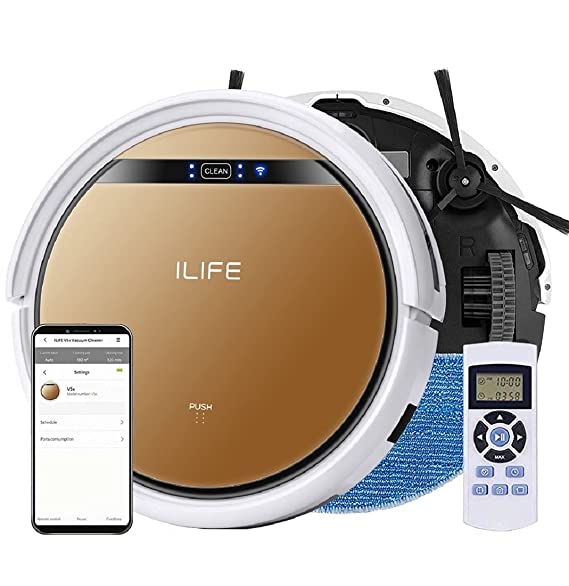 Keep your smart home clean using a smart home device. This device is a 2-in-1 Smart Home Cleaner that can be used as a smart vacuum cleaner as well as a smart mop.
The device is quiet but still powerful. It can easily and efficiently collect debris, hair, and dirt.
It has a long-lasting battery that lasts up to 120 minutes of work and automatically searches for a dock when the power is low.
There're multiple cleaning modes such as Auto Mode, Spot Mode, Max Mode, Edge Mode, etc.
The smart home device is compatible with Amazon Alexa, Google Assistant, smartphones, etc.
The device is available at a 41% discount, costing 15900INR.
Smart Washing Machine
Smart Washing Machine should be your choice if you're planning to automate your cloth washing process.
Many of these Smart Washing Machines are AI (Alexa) Enabled.
You can access these Smart Washing Machines from your mobile app and instruct them to wash according to your convenience.
Smart Washing Machines are one of the must-haves in your Smart Home.
Smart Fans
Smart fans are the next-generation of ceiling fans that come with advanced features such as Wi-Fi connectivity, voice control, and mobile app integration.
These fans can be controlled remotely from anywhere using a smartphone or a smart home device, making them highly convenient and energy-efficient.
Smart fans are designed to automatically adjust their speed based on the temperature, humidity, and occupancy levels of the room.
One of the most significant advantages of smart fans is their ability to integrate with popular smart home systems, such as Amazon Alexa, Google Assistant, allowing users to control their fans using voice commands
Smart Pet Feeder
A smart pet feeder is a device that allows pet owners to schedule and control their pet's feeding schedule remotely.
These feeders typically have a mobile app that can be accessed from a smartphone or tablet, enabling pet owners to program feeding times and portion sizes for their furry friends.
Some models have built-in cameras that allow owners to check on their pets and monitor their eating habits remotely, while others have the ability to dispense treats on demand.
Smart pet feeders are a great option for pet owners who are frequently away from home or have busy schedules.
All in One Smart Universal Remote
Smart Remote is an all-in-one remote to control various home appliances.
It works on various gadgets like TV, Air Conditioner, Speakers, Home Theater, and DTH Set Up Box.
The device is also compatible with Amazon Alexa and similar devices.
Conclusion
That's how you can convert your home into a smart and technologically advanced home that reduces human efforts by providing maximum comfort and ease. Do try any of these affordable smart home devices and share your valuable feedback with us.
We, at DiGiTAL BiRYANi, would like to inform our esteemed readers that, some of the links in this blog are affiliate links. We may earn a little commission from those links. However, you don't need to pay anything extra. For further information check this page.