Hey! What's your WiFi password? Whenever someone comes to your house, this is how the conversation begins. Alternatively, you can type your password into their device or tell them your password instantly. It is more feasible and accurate to choose the former option. It is advisable to not share your wifi password with others, it may invite unauthorized access to your home network. In this case, the problem is not with trusting your guests, but rather with protecting your network.
Disclosing your WiFi passwords to your guests may cause trouble to your home network. On the other hand, Every time a guest asks for a WiFi password, taking their device into your hands and typing a password looks very insulting. For this scenario, DIGITAL BiRYANi has come up with a compelling solution.
Generate QR Code For WiFi Password
QR Codes are being used at many places nowadays. Tickets for movies and events, menus at restaurants, and at many other places, QR codes can be seen. QR Codes store information secretly. QR Codes are secure and very easy to use.
You can create a QR Code for your home WiFi password and post it around your house. Any family member or guest who needs to connect to WiFi can scan the QR code from the mobile device and connect. By using this cool trick, you'll avoid giving out your password to others and putting your home network at risk.
There are many QR Code generators available like QR-Code-Generator, QiFi, wifiqrcode, etc. We can use any of these to generate QR Codes for WiFi passwords.
Enter the details asked on the platform. Network Name is the name of your WiFi network, and the password will be the password that you use to connect to Wifi. For Hidden WiFi tick near the hidden mark. Once you give all the details click on the Generate QR Code.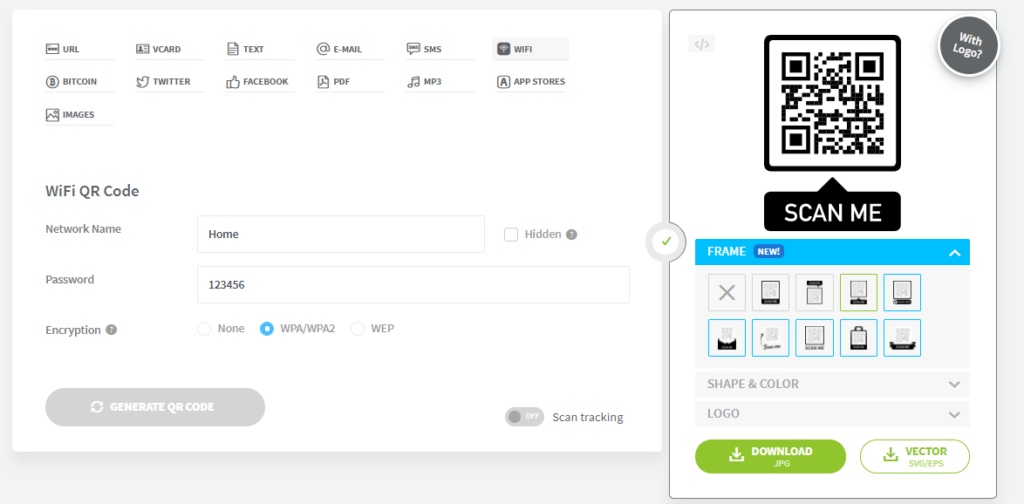 Download the QR Code, take a print out and post it in your house.
Scan the QR Code using inbuilt QR Code Scanner of your mobile phone. You can also use various QR Code scanner apps to scan this QR Code to connect with your WiFi. You can even use apps like Google Lens. It will scan the QR Code and connect to the wifi network immediately.
Frequently Asked Questions (FAQs)
What is QR-Code?
QR- Code stands for Quick Response Code. It was invented in 1994. It stores the information within it as a series of pixels in a square-shaped grid.
What will happen if the wifi password is changed after generating the QR-Code?
In that case, you need to generate a new QR-Code using the latest WiFi password. QR-Code stores the WiFi password, whenever someone scans the QR Code, the device gets the details of the network name and password. Any change in WiFi name or password will require the generation of a new QR Code with the latest information.
Conclusion
So, next time when someone asks for a WiFi Password, just ask them to scan the QR Code. Bingooo! You can securely share your WiFi without sharing your WiFi password. We'd love to hear your feedback on this trick if you liked it. Stay connected with DiGiTAL BiRYANi for such cool and productive tricks to boost your Digital Productivity.