"Mobile Radiation causes cancer!"
"You must stay cautious while using mobile phones."
"Don't use your mobile phones 24/7, it's dangerous."
You must have received this advice at some point of time in your life, right? So, how much these sayings are true, we don't know. But, the World Health Organization has reported on the adverse effects of mobile phone radiation on human health in this blog. These effects may not trouble much in the shorter run, but when we think of the longer run – a few years or decades – they may be dangerous.
We're in an era when we can not completely discard mobile phone usage. But, we can surely take a few necessary steps to safeguard our mobile phone radiation and usage. The first step in this process is to understand how can we do and understand the Mobile Radiation Check.
To proceed with the cell phone radiation check, first, let's understand the SAR Value.
What is SAR Value?
SAR Value stands for Specific Absorption Rate Value for wireless devices. Statistical Absorption Rate (SAR) measures how much RF (radiofrequency) energy is absorbed by the body as a result of exposure to the source of the measurement. Using SAR, cell phone RF exposure characteristics are easily measured to ensure they comply with the FCC's safety guidelines. So, to check the radiation level of the phone, we need to do the SAR value check of the mobile phone.
How To Do Mobile Radiation Check? [Step-by-Step Guide To Check SAR Value]
Open Your Mobile Phone.
Go to the Dialer.
Type the code *#07# on the dialer.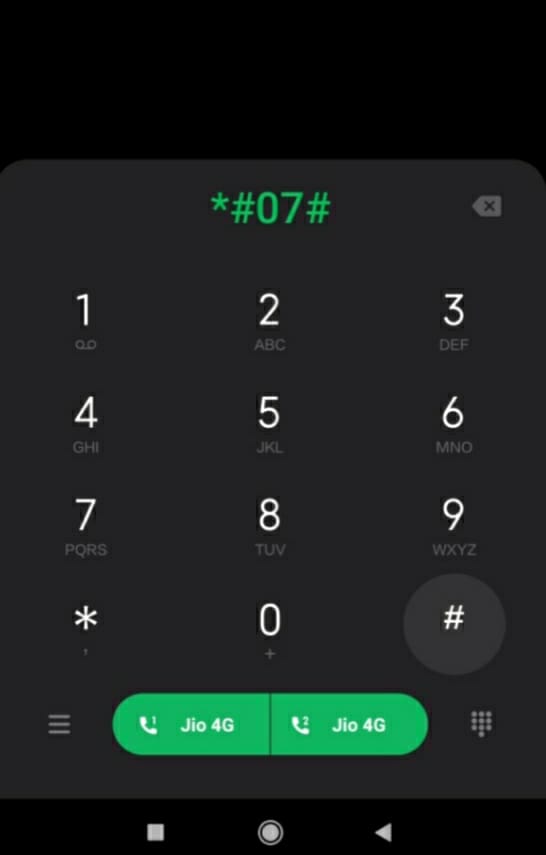 As soon as you type the above code (mobile radiation check number), your smartphone will instantly show you the SAR rating of your mobile phone.
That's how you can do Mobile Radiation Check within 2 minutes using a mobile radiation check number from your mobile phone.
What should be the next step once you check the radiation level of your phone? So after SAR Value Check, you should understand the steps or points that are useful to safeguard yourself from cell phone radiation. We've listed down a few such tips that would help you understand a few precautionary steps against mobile phone radiation.
Steps To Consider To Stay Safe From Mobile Phone Radiation
Always use earphones/headphones while talking on a call from the mobile phone.
Try to use a speaker mode whenever it is possible.
Do not use a single ear for every call. Use both ears simultaneously.
If you're planning for a long call, try to use the Landline Phone.
Try not to talk on the mobile phone for more than 30 minutes in a row.
Do not put your mobile phone in your shirt/pant pocket. Keep it in a bag or on a desk.
Put your phone on Airplane Mode or Switch it off while sleeping.
Don't place your mobile phone near your bed while sleeping.
Try not to use it while the battery level is low.
Avoid using your mobile phone while charging.
Consider SAR level as one of the important factors while purchasing a new mobile phone.
Frequently Asked Questions (FAQs)
Do 5G phones emit more radiation?
5G is simply a data communication protocol, not a frequency. Cellular companies may use any protocol on any frequency they have licensed. The SAR rating has to do with the phone model only.
What is the safe SAR value?
According to US Federal Communications Commission (FCC), phones with a SAR level of 1.6 W/Kg for body or below are deemed safe. However, it is always advisable to use a phone with as low a SAR value as possible.
Conclusion
In this mobile-centric era, for our own health, it is good to limit our exposure to cell phone radiation. We have shared this blog to educate our esteemed readers about mobile phone radiation and SAR checking. Do try the SAR value check on your phone and take necessary precautions to reduce your exposure to harmful cell phone radiation.