UPI (Unified Payment Interface) has made India the leader in digital payments. The service has enabled digital payment options for the smallest business owners such as vegetable & fruit sellers on karts to pan-masala shops. No one hesitates in accepting and making payments in digital form. All the leading fintech startups in India like Paytm, PhonePe, GPay, and all others rely on UPI service. You only need an active internet connection to make a payment. In today's post, we will show you a simple trick to make UPI payments without the Internet, so you won't need an active Internet connection to make a UPI payment.
What is the need of Offline UPI Payment?
Gone are the days when we had to take toffees for not having a cash change. We now scan the code and do the payments. You must have heard or used the below lines in your daily lives.
'Bro, I'll paytm you my share!'
'Listen, I'm not carrying any cash. Will scan the QR-Code and make the payment.'
'Don't worry mom. We can even buy 250 grams of Potatoes by paying through Paytm.'
India's fintech revolution has given rise to a generation that keeps no cash or very little cash at any given time. They prefer to rely on digital platforms to make and accept payments. They are educated, have a good smartphone, and have an active Internet connection with them. We, all, are this generation. Being this generation is super easy and super cool. It eliminates a lot of hassles. However, there's another side to the coin.
Imagine, you're on a date. You enjoy a romantic candle-light dinner. After enjoying the whole date, you go on to pay the bill. You try to scan the QR-Code. Boom! There's no internet connection on your phone. You check your pockets. No Cash. You're scared as hell. You feel that you're gonna remember this date forever. Scary, right? This can happen to anyone.
Don't worry. We're discussing detailed steps to make offline UPI Payments. This will save you from such scary dates.
How To Make Offline UPI Payment? – Step by Step Guide
Here, we're sharing a trick that enables you to make UPI payments when the Internet is not available. Anyone can use UPI services offline by using USSD code through the mobile phone. Even non-smartphone users can use this trick to make UPI payments from a normal phone. For offline UPI payments, *99# USSD code is assigned. You only need to register for UPI using your mobile number. After that, you can use the service offline.
Open the keypad of your mobile phone.
Type *99# and make a call from the sim which is registered on UPI.
You'll get various options to choose from. These options are Send Money, Request Money, Check Balance, My Profile, Pending Requests, Transactions, UPI PIN. All these options have a number associated with them. Select the appropriate option that you want to select. Select 1 for sending money.
Check the options you get on screen. Depending on the payment information you have for the receiver, choose the appropriate option. If you've got the UPI Id of the receiver, select option 3.
Enter the UPI Id of the receiver on the screen.
Now enter the amount you intend to send.
Enter the remark note want to add along with the payment. If you want to skip, enter the 1.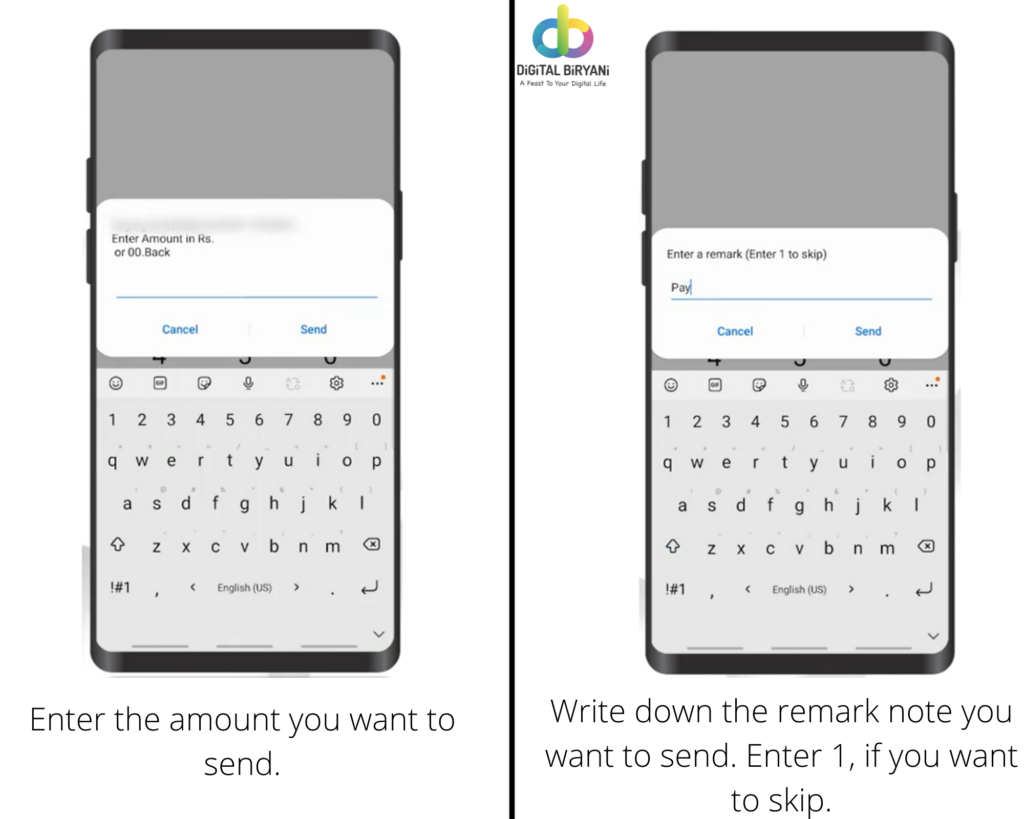 Enter your UPI ID pin to confirm the payment. If you want to change anything, select the 1.
Enter 1 to save the contact. Enter 2 to exit.
That's how you can make UPI payment without Internet. The UPI without Internet makes a big deal when you're out of mobile data as well as cash, and required to pay via UPI. In such scenarios offline UPI payment saves you from embarrassments and difficulties.
Frequently Asked Questions (FAQs)
What is UPI?
UPI (Unified Payment Service) is a system developed by the National Payments Corporation of India. It facilitates inter-bank peer-to-peer and person-to-merchant transactions.
On what platforms can I use UPI services?
There are many apps that allow you to use UPI services. Almost all major fintech apps provide this service. Some of them are PhonePe, Paytm, BHIM, GPay, Mobikwik, etc. Major banking applications also allow you to use UPI services. Some of the examples from that sector are iMobile, BOB, etc.
Conclusion
When everyone's going online. We also encourage you to go online. But, we also believe to have a sustainable backup that can help you if you're stuck while doing something online. That's why we chose this interesting trick to share with you all. Share your valuable feedback with us. If you want any specific blog from our end, share your blog topic suggestion with us. We would love to consider them in our content planning calendar.