Email addresses are a ubiquitous aspect of our daily digital lives. From signing up for social media accounts to online banking, email addresses are required for nearly every online activity. However, with the rise of cybercrime and online privacy concerns, many people are becoming increasingly cautious about giving out their personal email addresses online.
Fortunately, there are ways to create fake email addresses within seconds that can help protect your privacy and avoid unwanted spam. In this blog, we will discuss the various methods and tools available to create a fake email address quickly and easily.
Let's go through the importance of Fake Email Addresses.
Why Should We Use Fake Email Generators?
Fake email generators are really useful for a variety of reasons. Here are a few practical reasons why you should use fake email addresses for temporary use.
Protecting your privacy
By creating a fake email address, you can protect your real email address from spam, phishing, and other malicious activities. You can use a fake email address for online registrations, subscriptions, and other activities that require an email address, without having to give out your real email.
Avoiding unwanted emails
If you're someone who receives a lot of unwanted emails or newsletters, using fake email address generators can help you avoid cluttering your inbox with unwanted messages by creating a temporary email address.
Testing
If you're a developer or someone who needs to test an application's email functionality, a fake email address can help you avoid spamming real users with test emails.
Anonymity
If you want to remain anonymous online, using a fake email address can help you do so. You can use fake email address generators to create temporary email ids for online activities that you don't want to be associated with your real identity.
It's important to note, however, that while fake email generator platforms can be useful, they should be used responsibly and ethically. Using a fake email address to commit fraud or engage in other illegal activities is not only unethical, but it's also illegal.
How To Create A Fake Email Address?
One of the most popular ways to create a fake email address is by using a temporary fake email generator. Let's discuss how to create a fake email address using these fake email address generator platforms. We will use one Fake Email Address Generator Platform to go through this detailed guide to create a fake email address for temporary use.
Open the web browser on your laptop or mobile.
Redirect to the Fake Email Generator Platform. In this case, we have taken, 10 Minute Mail.
You will see the fake email generated for you on the screen. You can use that temporary email for your use.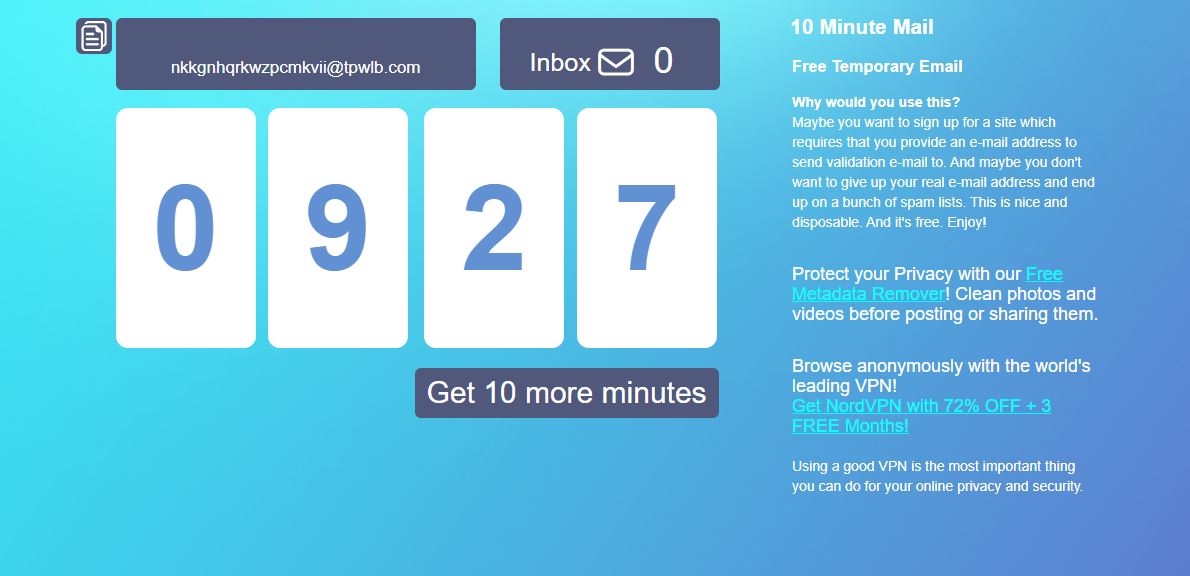 There will be an option for inbox, in case you need to get authentication mail, OTP mail, or any other email communication, you can check those emails in the Inbox section.
The particular platform has a time frame of 10 minutes, meaning your temporary email id stays active for 10 minutes. After that, you can create a new temporary email address following the same method.
Various Fake Email Address Generators have different time limits and other features. You can choose the platform based on the requirements and functionalities of these platforms.
Best Fake Email Address Generators
These Best Fake Email Address Generator platforms allow you to generate a fake email address that is valid for a limited amount of time, usually ranging from a few minutes to a few hours. Let's dive deeper to take a close look at the features and the functionalities these Best Fake Email Address Generators possess to serve you.
MailDrop is a free fake email address generator to create temporary email ids. You can create customized temporary email IDs of your own choice. The platform also offers a temporary inbox as well. Along with that, there is an automatic temporary email id generator along with an inbox for quick usage.
It does not require any signup or login. You can directly use the platform without providing your real details. Maildrop is powered by some of the spam filters created by Heluna. The Heluna filters block almost all spam attempts before they even get to your Maildrop inbox.
Nada is a 100% free and completely anonymous fake email address generator to keep your real email id away from spam and threats.
Nada offers you a temporary email address with a virtual inbox that you can use on any platform. It serves a pretty decent UI and inbox.
GuerrillaMail is one of the most user-friendly fake email address generator apps out there. If you're looking for how to create fake email addresses for temporary users, GuerrillaMail is a perfect choice for you.
Users can even send emails with 150 MB attachments from the temporary email address platform. You can even create customized temporary email ids for you.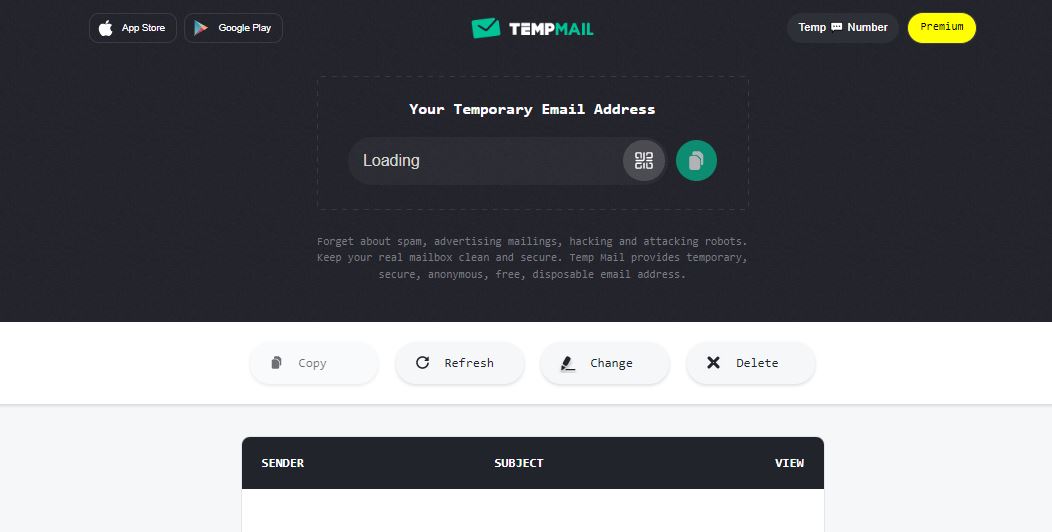 TempMail is a simple and easy-to-use temporary email id generator. The platform is completely free. There is no registration required to use TempMail. The best part about TempMail is its user-friendly interface. Users can choose a random email as well as a custom temporary email id.
The Fake Mail Generator is an absolutely free disposable email system. It is another fake email generator that lets you create customized as well as random temporary email IDs. The platform has a virtual inbox as well, that will show the authentication emails and OTPs that you receive on your temporary email ids.
There are a few other Best Fake Email Address Generators for Temporary Use.
Frequently Asked Questions (FAQs)
What is a fake email address, and why would I need one?
A fake email address is a temporary or disposable email address that you create for the purpose of receiving emails without revealing your real email address. You might need one to sign up for a website or service that you don't trust, or to avoid getting spam or unwanted emails in your primary inbox.
Can I use a fake email address to sign up for services that require email verification?
Yes, in most cases you can use a fake email address to sign up for a service that requires email verification. However, keep in mind that some services may block or flag temporary email addresses, so it's not always a foolproof solution.
How long can I use a fake email address for?
The lifespan of a fake email address varies depending on the service you use. Some temporary email services allow you to use the address for several minutes, while others may let you keep it for a few hours or even days. After that, the email address will typically be deleted or recycled.
Is it legal to use a fake email address?
Yes, it is generally legal to use a fake email address for temporary use. However, if you use a fake email address to commit fraud or other illegal activities, you could face legal consequences. Additionally, some websites and services have terms of service that prohibit the use of fake email addresses, so be sure to check before using one. You can even get a summary of the terms and conditions of various websites using this trick.
Conclusion
Overall, creating a fake email address is a simple and effective way to protect your online privacy and avoid unwanted spam. Whether you choose to use a temporary email generator, a disposable email service, or a pseudonym or alias, there are many options available as mentioned here that can help you create a fake email address within seconds.