In this Internet Centric era, phone verification has become an integral part of online security measures. From creating new accounts to accessing various online services, platforms often require users to verify their identity through SMS or phone calls. While this extra layer of security is crucial, it can sometimes be inconvenient, especially when you don't have access to a phone or prefer to maintain privacy.
Sometimes, through these SMS OTP Verification processes, platforms get access to your mobile numbers which they can distribute to advertisers and spammers in the future to earn money. These malpractices cause your mobile phone to be filled with spam SMS and calls. Also sometimes, if your phone is out of network or the sim card is damaged and you're only relying on the Wifi. In such cases, if you need to register by phone SMS verification, you will feel stuck.
Thankfully, a range of online platforms has emerged to address this challenge by offering phone SMS verification bypass services. These platforms provide users with alternative methods to bypass SMS OTP verification and proceed with their online activities hassle-free. Whether you're seeking to sign up for a new social media account, try out an online service, or engage in anonymous communication, these platforms can save you time and effort.
Benefits of SMS Verification Bypass Platforms
Online platforms that offer phone SMS verification bypass services come with a range of benefits that can greatly simplify and enhance your online experience. Here are some key advantages:
Convenience: By using these SMS OTP Bypass platforms, you can bypass the need for a physical phone or SIM card to receive verification codes. This saves you time and effort, especially when you're unable to access a phone or prefer not to share your personal number.
Privacy Protection: Phone verification often requires sharing personal information, such as your phone number, with third-party services. With Online OTP bypass platforms, you can maintain your privacy by using temporary or virtual phone numbers that don't reveal your real identity.
Anonymity: SMS Verification Bypass platforms allow you to engage in online activities anonymously. Whether you're signing up for a new social media account, joining discussion forums, or using online marketplaces, you can do so without revealing your personal phone number.
Enhanced Security: While phone verification is designed to enhance security, it can also be a vulnerability if your phone number gets compromised. SMS Bypass platforms provide an additional layer of protection by keeping your real phone number separate from your online activities, reducing the risk of identity theft or hacking.
Accessibility: These SMS OTP Bypass platforms offer a global solution, making it easier for individuals in various countries to access services that may be geographically restricted. Virtual phone numbers can give you access to services or websites that are otherwise unavailable in your region. You can easily register on the USA-based platforms through USA number OTP bypass services from India without having a USA mobile number
Simplified Account Management: If you frequently create multiple accounts for various online services, SMS verification bypass platforms can simplify the process by providing a centralized solution. You can manage multiple phone numbers and verification codes from a single platform, reducing confusion and saving time.
Cost-Effective: Some SMS OTP bypass platforms offer free services or affordable subscription plans, allowing you to save money compared to purchasing additional SIM cards or phone plans for verification purposes.
Flexibility: SMS verification Bypass platforms offer a wide range of features, such as disposable numbers, country-specific numbers, and the ability to receive verification codes via email or online dashboards. This flexibility ensures you can adapt to different verification requirements and choose the most convenient method for your needs.
These SMS OTP Bypass platforms provide disposable phone numbers. You need to sign up using the disposable phone number instead of your real phone number. You can temporarily use these phone numbers to get OTPs or PINs. One-time verifications and login can be done using these services.
What are Disposable Phone Numbers Used By Platforms To Bypass SMS Verification?
Disposable Phone numbers are basically temporary phone numbers used to sign up / log in on different websites/portals. These numbers are active for you for a very short duration and are only used to receive OTPs or PINs. There are many websites available that help you generate free disposable phone numbers. They also provide a temporary inbox to receive OTPs and PINs. Some of these platforms also provide a facility to receive calls. Disposable Phone Numbers are the best friends of Privacy Conscious people.
Detailed Guide To Bypass SMS OTP Verification On Any Platform
Go to any of the websites that provide disposable phone numbers. In this example, we'll go with

Receive SMS

.
Go to the

Receive SMS

in your web browser.
Open any of the mobile numbers that are available based on the country. If you need to register with an Indian number, open the Indian number. If you want to register with the US number, then open the US number.
Copy the phone number you have opened. Paste it on the website/portal where you want to register.
You'll receive the OTP / PIN in your virtual inbox on the Receive SMS platform.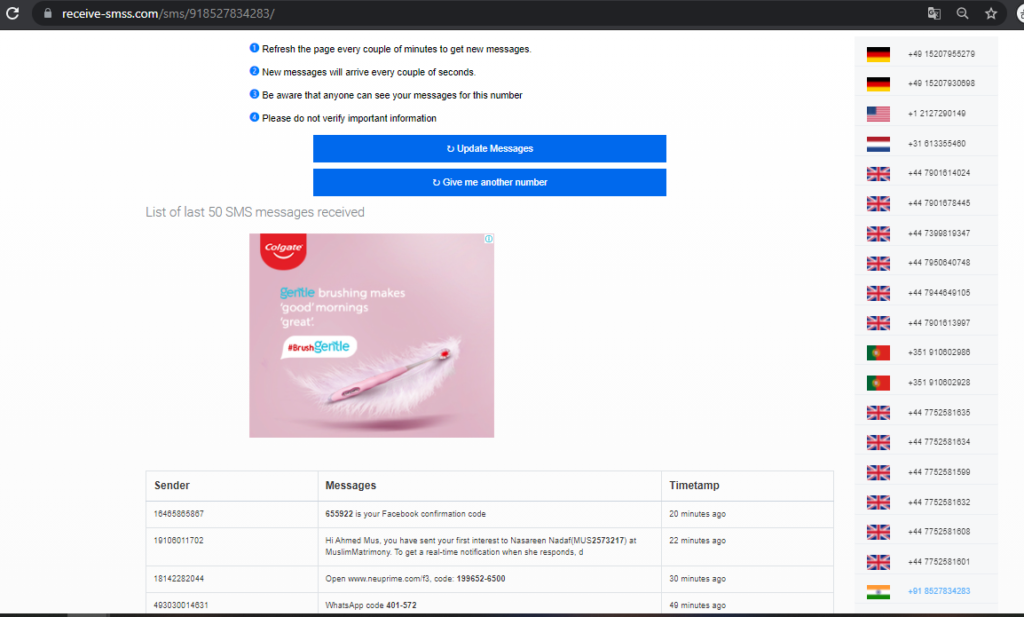 Use the OTP received in the virtual inbox of the Disposable Phone Number to sign up / log in.
Online Platforms For Phone SMS Verification (OTP) Bypass
These are the websites that provide similar services as Receive SMS in the above example. You can select any of these websites to bypass phone verification SMS.
These websites are third-party websites. Some of these might be blocked by popular portals like Google, Facebook, etc. DiGiTAL BiRYANi has shared this information for educational purposes only. We request our esteemed readers to use these portals carefully at their own risk only.
Frequently Asked Questions (FAQs)
Some of the websites are not working for specific platforms like Gmail, Facebook, etc., why?
Large platforms like Gmail, Facebook, etc. might have blocked some of these portals in order to prevent fake account registrations. If any of the above portals is not working, you're advised to try other portals.
Can I use these SMS Verification Bypass platforms internationally?
Yes, many SMS OTP bypass platforms offer phone numbers from multiple countries, allowing you to bypass verification requirements for international services. However, the availability of country-specific numbers may vary across platforms, so it's important to check if the platform supports the country you need.
Are there any limitations to using these SMS Bypass platforms?
Some limitations can vary depending on the platform you choose. These may include restrictions on the number of verification codes you can receive, time limits for using temporary numbers, or limitations on the types of services you can access. It's recommended to review the platform's features and limitations before making a selection.
Are these SMS Verification Bypass Platforms legal to use?
The legality of using these SMS OTP Bypass platforms varies depending on your jurisdiction and the terms of service of the platform you choose. It's important to review the legal implications and adhere to the guidelines provided by the platform and the websites or services you intend to use.
Should I use the above SMS Bypass Online platforms for the registration of important portals like banks, passports, etc.?
DiGiTAL BiRYANi never recommends avoiding such portals for important and private registrations. Phone Number Verifications are for users' safety and security, hence while registering for important and financial portals, avoid these platforms that help us bypass phone verification SMS.
Conclusion
By leveraging the benefits of online platforms to bypass phone verification SMS, you can enjoy a more streamlined, private, and secure online experience. However, it's important to use these services responsibly and comply with the terms of service of the platforms and the websites or services you access.