In our increasingly digital world, privacy and security have become paramount concerns. Whether you're sharing sensitive personal information or confidential work documents, keeping your emails safe from prying eyes is essential. Password protecting your emails is one of the most effective ways to maintain control over your communication and ensure that only the intended recipient can access your message.
In this comprehensive guide, we will delve into the world of email security and show you how to send password protected emails. We'll explore why this extra layer of security is necessary, the various methods and tools available, and step-by-step instructions for implementing this crucial practice. By the end of this blog, you'll be equipped with the knowledge and skills to safeguard your email communication effectively.
Join us as we embark on a journey to fortify your email privacy and ensure that your confidential information remains confidential. Let's get started on the path to sending password protected emails and enjoy a newfound sense of security in your digital communications.
What is Password Protected Email?
Password protected email refers to the practice of adding an additional layer of security to your email messages by requiring the recipient to enter a password or a passphrase to access the content of the email. In essence, it's like putting a digital lock on your email to ensure that only authorized individuals can read the message.
Here's how password protected email typically works:
Sender Sets a Password: The sender, before sending the email, chooses a password or passphrase that they believe is secure. This password is not sent in the email but needs to be shared with the recipient through a different, more secure channel (e.g., a phone call or text message).
Encrypts the Email: The sender may also choose to encrypt the email's content using encryption software, in addition to applying a password. This ensures that even if someone intercepts the email, they can't read it without the password and the decryption key.
Sends the Email: The sender then sends the email to the recipient as they normally would but without including the password in the email itself.
Recipient Enters the Password: When the recipient receives the email, they will see a notification that it's password protected. To access the email, they must enter the correct password or passphrase. If the email is also encrypted, they would need the decryption key.
Access to the Email: Once the recipient enters the correct password, they can access and read the email's content.
Password protected email is useful for situations where you want to send sensitive or confidential information through email but want to add an extra layer of security. It ensures that even if the email is accessed by someone other than the intended recipient, they won't be able to read the content without the password.
Keep in mind that the security of password protected emails depends on the strength of the chosen password or passphrase. It's important to use a strong, unique password and share it securely with the recipient to maintain the privacy and security of your email communication.
Send Password Protected Emails In Gmail
Gmail provides this Confidential Email feature to make your email communication secure and safe. Confidential mode has some great features. It allows the user to send password-protected emails. The receiver receives passwords in the form of SMS. Along with password protection, it permits the sender to set an expiry date for the email while composing.
Let's have a detailed look over this gem feature.
Login to your gmail and select compose an email option.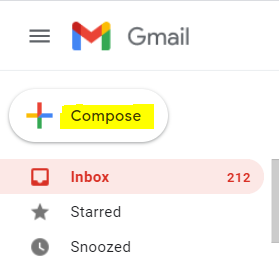 Draft your email and after that click on the clock icon at the bottom-right corner of the message.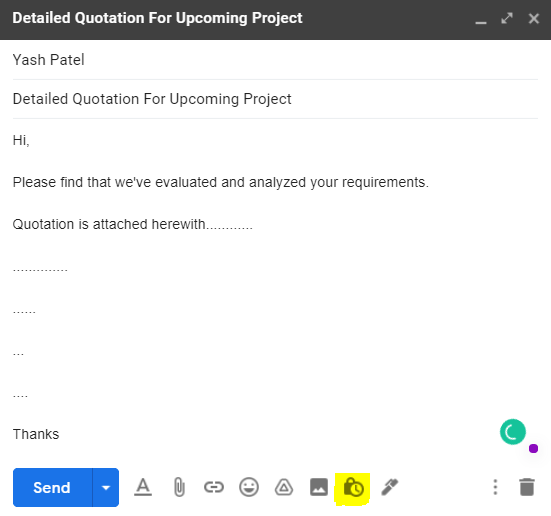 You'll get an option to set the expiry date for your email. Gmail automatically removes the confidential email from the receiver's inbox on the mentioned expiry date. Similarly, there is an option to enable a password-protection feature for confidential email.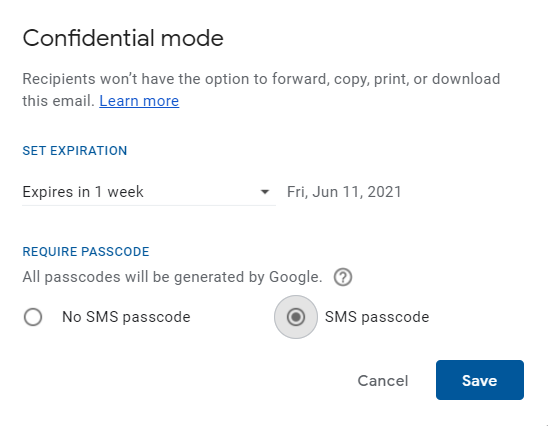 If you select the SMS passcode, you'll get an option to enter the receiver's mobile number. Your receiver will receive the passcode in SMS. It is only possible to open an email using that passcode.
Here is one thing to note: the receiver cannot forward, copy, print, or download Confidential emails.
Send Confidential Emails In Outlook
Microsoft Outlook provides an Encryption Email feature only to its premium users. So, if you're a Microsoft Office365 E3 plan holder, you can use the Outlook Email Encryption feature. After subscribing to the Office365 E3 plan, you just need to follow the below steps to send encrypted emails.
Login to your Outlook account from the desktop app.
Compose new email, select Options, choose Encrypt and select the encryption option you want to follow, Encrypt-Only or Do Not Forward.
Send Password Protected Email Attachments In Outlook and Gmail
Sending password-protected attachments adds an extra layer of security to our email communication. Despite encryption, you can still secure the attachments you are sending along with your email by following the steps below.
Install any File Archiver software like

WinRar

,

7Zip

, etc. Here we'll explain the steps using WinRar.
Right-click on the document you want to send as an attachment and select Add to archive.
You'll get various options to archive the file. Select the Set Password option from the various options. You can select the archive type(rar, zip, etc.) for the file from the drop-down of the Archive name.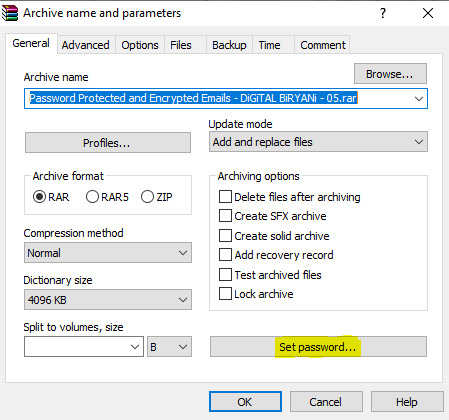 Set password from the next screen and click on Ok. After this, no one can open the file without a password.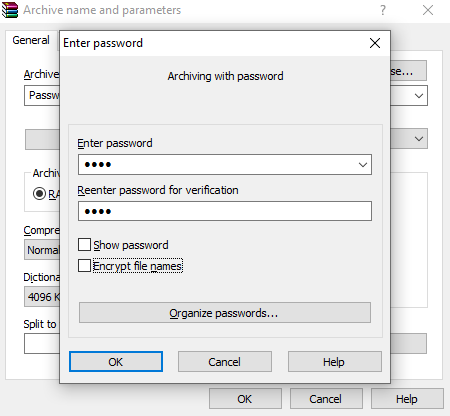 The file you are intending to send as an attachment is password protected. Send it as an attachment on any email platform, regardless of whether you use Outlook, Gmail, or another it will be protected by a password. You need to share the password with the intended audience through any channel like SMS, phone call, or personally.
Frequently Asked Questions (FAQs)
Why should I send password protected emails?
Password protected emails are useful when you need to send sensitive or confidential information via email. It ensures that even if the email is intercepted, the content remains secure, as only the recipient with the password can access it.
Is it safe to send passwords in email messages?
No, it is generally not safe to send passwords in email messages, as emails can be intercepted. When sending a password protected email, you should share the password separately through a more secure channel, such as a phone call or a secure messaging app.
How do recipients access password protected emails?
Recipients of password protected emails receive a notification that the email is password protected. They must enter the provided password or passphrase to access the email's content. If the email is also encrypted, they will need the decryption key.
Are there any downsides to sending password protected emails?
One potential downside is that it adds an extra step for recipients, which may be inconvenient for them. It's essential to choose a strong but memorable password and securely share it with the recipient to avoid access issues.
Can these tricks guarantee email security?
These tricks provide extra layers of security to your email communication. However, it is always advisable to maintain all the security and safety measures while communicating online.
Are algorithmic and coding skills necessary to encrypt email communication using any of the tricks mentioned here?
No. The tricks mentioned here are explained in-depth and do not require any such knowledge. You can easily implement them using the steps mentioned here.
Conclusion
As you know, we aim to help our Digital Community to boost their Digital Productivity, but productivity is nothing without security. We collected some of the most useful and efficient ways to secure your email communication. We wish to help maximum email users by helping them secure their email communication. As a result, we covered Gmail and Outlook, which are two of the most popular Internet service providers.
Please feel free to reach out to us if you need any assistance in your Digital Journey. We are ready to help you. If you want a Blog on any specific topic from us, feel free to drop a comment or contact us. Your feedback is very important to us.