Wordle is the new sensation among Social Media users. It is a real addictive yet powerful and productive game people have come across in recent times. Wordle scorecards are shared every day on social media, attracting even more people to try this new trending gem on the Internet. In spite of Wordle being loved across the globe by a majority of people, there are a few negative aspects of this game that necessitate finding the best Wordle Alternatives for unlimited and unblocked Wordle games.
What is Wordle Game?
Wordle is a viral video game. Recently the US newspaper New York Times acquire this viral video game. Wordle is a daily video game that enhances your word power. This game is simple, fun, and resembles a crossword puzzle. Every day a new word is provided and you get 6 tries to guess that word. Once you complete the day's challenge, you need to wait for the next day for a new challenge. This makes the game less addictive and makes users feel curious about the new puzzle. The disadvantage is that players always want new challenges without delaying too long.
How To Play Wordle Game?
The game has a few simple rules as shown in the below image. Based on that you need to guess the words.
Every player gets six chances to guess the right word 5 letter word. In every guess, if you place any letter at the correct place, the box turns green. Any correct letter in the wrong spot turns yellow. And the wrong guess of letter turns gray. You need to guess the correct words based on these hints. Every day you get one word. Hence, you need to wait for a day to get the new challenge. Go to the Wordle game and play it now!
Isn't it a simple yet exciting game?
Let's see the alternatives of Wordle available on the Internet that lets you play the same game with minor modifications like unlimited words in a day, changing the word length, etc.
List of Best Wordle Alternatives For Unlimited Wordle Games
Have a look at the different games similar to Wordle. These Best Wordle Alternatives for Unlimited Wordle Games will enable various options for you to enjoy your favorite game.
Android App.
Various modes like Daily Mode, Unlimited Mode, Create Mode are available. In Create Mode you can create your own words.
Option to select word length between 5 letters, 6 letters, and 7 letters.
The app lets you track statistics like Win Streak, Win %, etc.
Hard Mode option available.
You can play in Color Blind Mode.
A great UI with Dark Theme and Light Theme options.
You can play the game in 12 different languages.
Android App.
You can play Unlimited Wordle Games.
Create a game and share code with your friends to play with them.
You can play online with others as well.
The play Solo option is also there where you can play all alone and enjoy the game.
The game is similar to the original Wordle Game.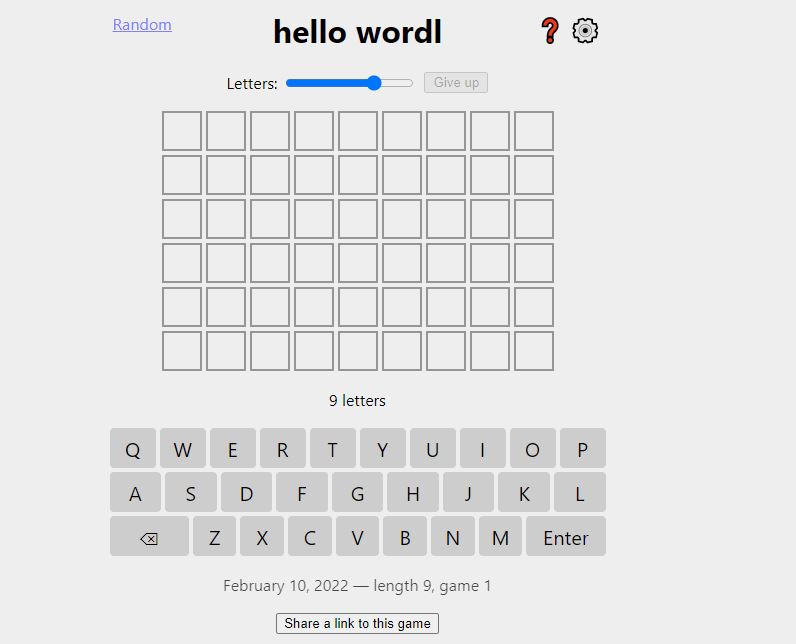 Browser-based game.
Feature-rich ad-free version of Wordle game.
The game allows selecting word length from 4 to 11 letters.
You can share the game link with friends to play along.
It supports a Dark theme and a Color-Blind Theme.
You can set difficulty levels for the game.
Various keyboard layout options are available to choose from.
With a very basic UI, the game offers many user-friendly features.
Android App.
The game rules are similar with the original wordle game.
You can track your win streaks on the game.
Dark Theme and Light Theme options available.
You get unlimited wordle puzzles everyday.
The app has a very good UI.
Android App.
You have an option to select the word length.
Create your own words and share links as a challenge to your friends and play along.
There's an option for Dark Mode.
You can choose Color Blind Mode.
Multiple languages are supported, which enables you to play in your native language.
The app also offers an Auto-Save option.
Frequently Asked Questions (FAQs)
How to Share Wordle Score on Social Media platforms like Twitter, Facebook, etc.?
When you complete the wordle challenge, a screen pops up with statistics. A Share option is available on that screen.
Who invented the Wordle game?
A Software Engineer named Josh Wardle invented the Wordle Game.
Conclusion
Our team, at DiGiTAL BiRYANi, shared this blog to provide our esteemed readers with a variety of alternative options for their favorite game wordle. These are some of the best Wordle alternatives for Unlimited Wordle games. Please share your valuable feedback with us about your experience with these games. We also accept your blog requests. You share your favorite Blog Topics, and we would try to publish a blog about that topic. Share your favorite blog topics with us now.