Today, everything is digital. The digitalization of newspapers and magazines has brought a new digital revolution. Large Scale digitalization in the past few years has caused great trouble to avid Blog and Article readers. These big media houses and platforms feed their online platforms with continuous updates and articles. However, when a user tries to open the article, a popup comes on the screen asking to pay and/or signup to read further. Everyone can not afford to pay such hefty charges to read articles online. This irritating process is a great time waster on the Internet. It would be a real productivity booster for you if you know how to read paid articles for free.
Internet, being an ocean of information, is the first place people visit to get some knowledge or to read about the various topics. It is a new age library. In this modern era library, paywalls on various websites are a real burden. We'll help our readers to be burden-free. This blog will help you all to read full articles without subscription for free.
What is Paywall?
A paywall is a method that restricts users from accessing the content on the online platform. Content can only be accessed by users who fulfill the conditions required to access it, such as paying a subscription fee and/or signing up by providing details to the platform.
Online publishers spend a good amount of money and effort in serving top-quality content to their users. Sometimes it becomes necessary for them to collect subscription fees.
Paywalls are of two types.
Soft Paywalls
Soft Paywall Protected platforms allow users to read a few articles/sessions for free of cost and then restrict them. These Paywalls are comparatively easy to bypass. Medium is one such famous platform that offers three free articles per month.
Hard Paywalls
When you open some online platform and the platform asks you to pay by showing a snippet of the article, they are Hard Paywall protected platform. As a user, you will need to pay to read the full article.
Best Tricks To Read Full Paid Articles Without Subscription
Paywall Removal Extension
Browsers like Mozilla Firefox, Edge, Google Chrome offer extensions to solve daily digital tasks. There are Paywall Removal Extensions available for these web browsers. Paywall Removal Extensions are one of the easiest and the most convenient ways to read full paid articles without subscription for free.
You can search for Bypass Paywall Extensions on Google and choose the best extensions. Some of these are Bypass Paywall, Bypass Paywalls Chrome, Unpaywall, etc.
Stop Loading The Web Page a Halfway
This technique is comparatively easy to implement and does not cost much effort. You need to copy the article link and paste it into the web browser. After that as soon as you see text on the screen press the Esc key or click on the x icon left to the URL bar.
This will only work for the platforms where website content loads before the paywall. Further, there is the possibility that this trick might lose some elements – especially multimedia files, images, videos, etc. – that aren't loaded correctly.
Use Private Window / Incognito Mode
Websites that use Soft Paywalls can be easily tackled with the Incognito Mode trick. Using Incognito Mode will give an indication to the platform that you're a new visitor. Thus, they will allow you to read a few articles/sessions.
Incognito Mode aka Private Window functionality is available in every web browser. It is easy and safe to use. Incognito Mode is not completely Anonymous. There are a few tricks using which you can View and Delete Incognito Mode History.
Utilize VPN Services
Virtual Private Network (VPN) Services are also a useful solution while searching for an answer for how to read paid articles for free. VPN Services creates a private network for you. These private virtual networks automatically change your location and IP address of yours. It will allow you to trick Soft Paywall Protected articles. As your IP and location change frequently, these paywall-protected articles will consider you as a new user. Hence, you can use free services for a longer period.
Third-party Websites
There are a few third-party websites available that help you read full articles without a subscription. You can open 12ft.io on your web browser. Enter the URL of the paywall-protected article in the search bar click on the Remove Paywall button. It will get your work done and you will be able to read paid articles for free.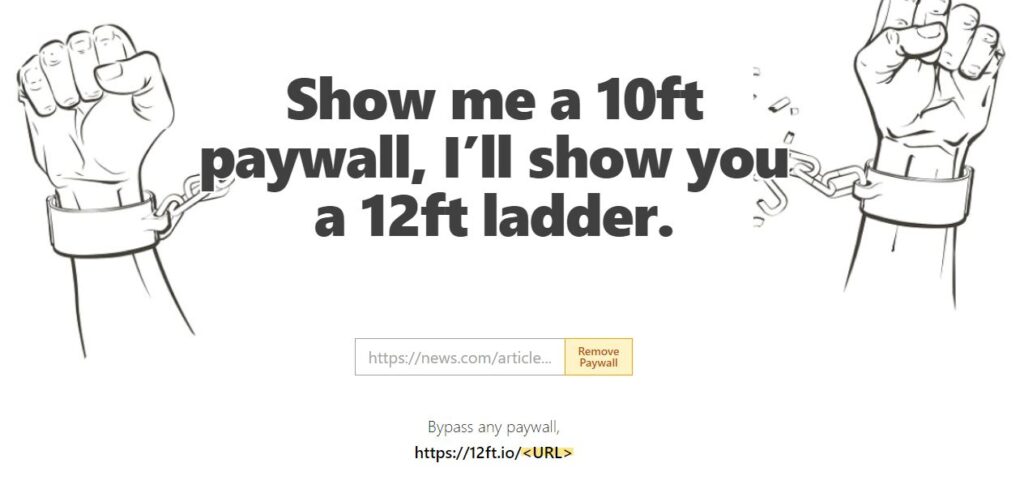 It is a third-party website. Websites with news content want Google to index their content in search results. As a result, they don't show a paywall to Google's crawler. Third-party websites like 12ft.io benefit from this because every time Google crawls the site, a copy of it is cached. These shites show us a cached and unpaywalled version of the site.
Clear Cookies
The articles in some publications are free to read, only for a limited period without setting up an account or trial, then you're asked to pay to read more. They use cookies to track how many articles you read. You can clear cookies from the browser settings. Resetting Cookies will help you portray yourself as a new user of the platform. Hence, you can get an extended free trial.
Use Archive Websites
For reference purposes, web archives save copies of web pages and social media posts. These tools allow you to read paid content for free, read news articles without a subscription. Some of the Web Archive options are 'Archive.is, Archive.today, and Archive.ph'.
Using these tools, you can convert articles into PNG images or text-only formats and read them easily. These may not work for all paid articles but it is worth trying if you want to know how to read paid articles for free.
Frequently Asked Questions (FAQs)
Is it permitted to read paid articles for free?
It is not an ethical and permitted way to read paid articles for free. Sometimes for reference purposes, anyone can use this trick to read for free. But, it is always advised to pay for paid articles.
I tried above mentioned every trick, but why am I not able to read the paid article for free?
It all depends upon how secure and advanced the paywall technique the platform has implemented to restrict the paid articles. Some advanced paywalls are secure enough to sustain again this tricks as well.
Conclusion
Reading is the best way to gain knowledge. In the digital world also, reading helps a lot to improve ourselves. DiGiTAL BiRYANi shared this blog to eliminate the barrier of money in reading and gaining knowledge. Try these amazing tricks today and share your valuable feedback with us.