ChatGPT is a revolutionary benchmark in AI Technology. ChatGPT, AI-Powered Chatbot, that answers every human query is launched by the leading AI Researching Organization – OpenAI. ChatGPT can answer human-like responses to the queries asked.
ChatGPT is an extremely easy-to-use AI Tool, that only requires the Internet and a mobile or laptop device. It is one of those AI Tools that can be easily used without much pre-requisite to boost your daily productivity. Released in November 2022, it has already attracted millions of users to play with the latest AI Technology.
Developed by OpenAI, it requires users to login through their OpenAI credentials. In this blog, we will discuss the possibilities of using ChatGPT without login. If you're one of those who are searching for how to use ChatGPT without Login, this blog is definitely for you.
How to use ChatGPT?
First, let's understand the correct way to use ChatGPT from your laptop or mobile.
Open any web browser on your mobile phone or laptop.
Redirect to the ChatGPT Home Page on your web browser.
Sign Up to OpenAI with the required details, if you don't have an OpenAI account.
Once done, LogIn with the OpenAI account.
Verify your mobile number with OTP.
You can now use ChatGPT – The latest AI-Powered Chatbot.
As you can see there's no way to escape from logging in while using ChatGPT. But as an esteemed reader of DiGiTAL BiRYANi, you don't need to worry about it. We have an alternative option to this, and that can put a full stop to your search for How to use Chat GPT without LogIn. Let's get started.
How to use Chat GPT without Login – Detailed Guide
Let's proceed with our trick to learn how to use ChatGPT without Login. The process will be somewhat similar to the previous section.
Redirect to any web browser on your mobile phone or laptop.
Open the ChatGPT Home Page on your web browser.
Now, OpenAI will ask you to Sign Up using email, Facebook, or Google.
As we don't want to give our personal details to LogIn ChatGPT, we will ignore the Facebook and Google option.
There are various platforms that can provide you with Temporary emails to sign up various platforms. We will use any of those platforms to eliminate the use of your original email id. Sign Up with a Temporary Email Id, and verify it from the temporary email generator platform.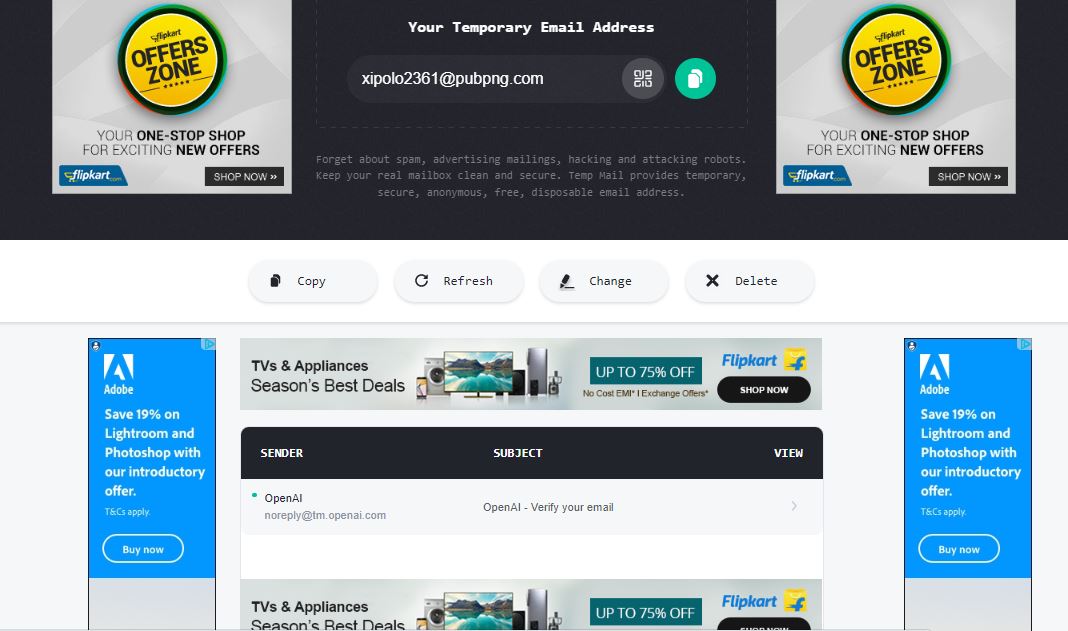 Once you've signed up using the temporary email, it is time to validate your mobile number. For this, we've many platforms to bypass phone SMS verification. We'll use any of these platforms to bypass Phone SMS Verification process using your original mobile number.
There might be a possibility that some of the numbers may not work for ChatGPT stating that "Too many attempts are made to verify using this number". If you get that error, you can try a temporary number from various countries to verify on ChatGPT.
This way anyone can use ChatGPT without Login.
That's how you can learn how to use ChatGPT without login. This trick will save you from exposing your email id and phone numbers to the ChatGPT platform. Without providing your original details, you can seamlessly use ChatGPT.
How To Use ChatGPT Without OpenAI Account?
Using the above-mentioned trick, you can use ChatGPT without LogIn through your real/original id. But, what if you don't want to utilize an OpenAI account to use ChatGPT? The below-mentioned method will explain how to use ChatGPT without an OpenAI account.
Use Twitter Bot
There are Twitter Bots that replies you with ChatGPT responses. You just need to tag them in your tweets when you ask questions. There are a number of bots available on Twitter. You just need to search for ChatGPT Bots and select the best according to your requirements and likings. So, Twitter ChatGPT Bots are a good alternative to using ChatGPT without using an OpenAI account.
Bing AI Search
Tech giant, Microsoft, has integrated ChatGPT with its search engine Bing. You can redirect to the Bing website, and ask your questions there. As Bing is already integrated with ChatGPT, it will reply to your queries through ChatGPT-powered Artificial Intelligence. The web version of Bing will offer a better experience compared to the mobile version of Bing.
Merlin
Merlin is one of the best browser extensions offering ChatGPT features out there. Once you install it on your web browser, it works like your personal virtual assistant. It adds AI replies to your Google Search, it can help you write emails using Artificial Intelligence. It can help you summarize YouTube Videos and text content. There are many cool ChatGPT Chrome Extensions that can help you boost your productivity.
Frequently Asked Questions (FAQs)
Can we completely skip the LogIn process while using ChatGPT?
No, there is no direct option to skip the LogIn process while using ChatGPT. It requires you to authenticate via OpenAI credentials.
How to use Chat GPT without LogIn?
Practically you can't use ChatGPT without LogIn, but you can definitely use temporary email and phone numbers to hide your real details. The whole process is mentioned in this blog.
Conclusion
That's how you can login ChatGPT without Internet. Do try this trick and let us know if you're able to use this amazing AI-Powered Chatbot without providing your real details.