Recently, India's biggest telecom service provider, Reliance Jio, announced launching India's first-ever 'True 5G' service. Reliance Jio 5G will kick start in October 2022 in India. This exceptional move will bring a historical revolution in India's telecom and digital sector. This will help people to be more productive in their digital journey. So, let's understand what exactly this 5G is and how to check if phone is 5g compatible or not.
What is 5G?
5G stands for the 5th generation mobile network. In addition to 1G, 2G, 3G, and 4G networks, 5G is the next generation of wireless technology. As a result of 5G, virtually everyone and everything, including machines, objects, and devices, can be connected to each other.
The purpose of 5G wireless technology is to increase peak data speeds up to multi-Gbps, lower latency, increase reliability, increase network capacity, and increase the availability of improved services to more users. With this 5G technology, users can get a 100 times faster speed than the existing 4G networks.
In order to avail all these 5G features, you need to check if your phone supports 5G or not. Once you check the 5G support of your mobile phone and confirm that the phone is 5G compatible, you can easily start using the 5G services as soon as it is available in your area. So, let's learn various ways to know How to Check if Phone is 5G Compatible or not.
How to Check if Phone is 5G Compatible – Detailed Ways
There're various ways to know how to check if phone supports 5G bands or not. This will help people choose futuristic and best 5G phones for high speed and productive usage. The following are the best ways to check the 5G support of the mobile phone.
Device Specification Page on the company's Website
This is the most trustworthy method to check the 5G support of the mobile phone. The official website of the mobile phone has the device specification page. On this device specification page, everything is mentioned about the particular mobile phone. This page will help you know if the phone supports 5G or not. You can even know exactly what all 5G bands are supported by the mobile phone.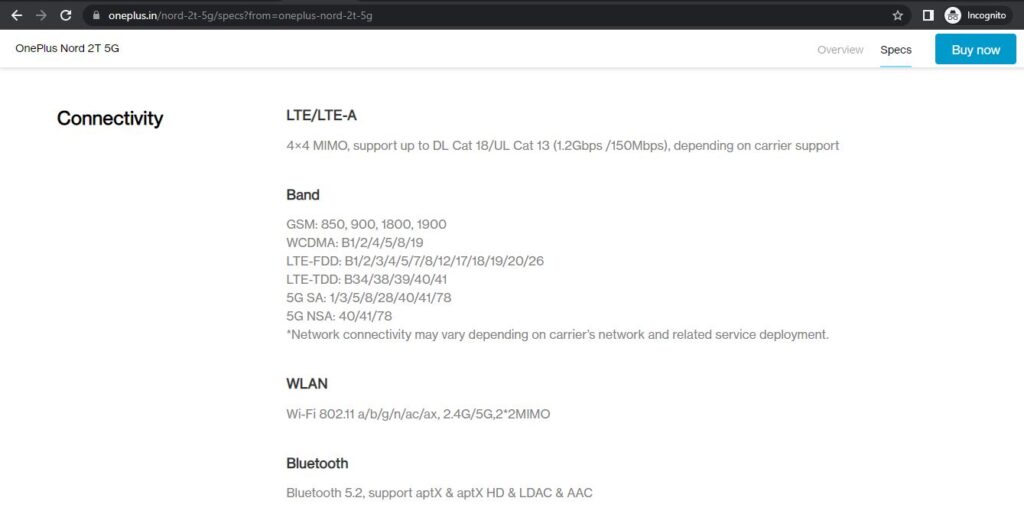 Above is the image of the device specification page of the OnePlus Nord 2T 5G mobile phone. You can see everything about the phone's 5G connectivity. The device specification page can help you to know other hardware and software specifications as well.
Quick Links for Device Specifications of Major Mobile Companies
Check the below links to access the device specifications page for the specific model of the mobile companies. This way you can easily learn how to check if phone is 5G compatible or not.
Check 5G Support from the various Mobile Review and Technology Related Online platforms
There're many online platforms that are solely focused on mobile phones and related technology. Every day they share a wide range of content about the latest mobile phones and technology. These platforms often cover topics like mobile reviews and specifications. From such content, anyone can check if the phone supports 5G or not.
GSMArena, PhoneArena, DeviceSpecifications.Com, Gadgets Now, etc. are some of the most popular websites that post mobile-related content. From these websites, anyone can check 5G support for a specific mobile phone.
These websites even post detailed specifications and comparison posts, that can help you compare the 5G bands, and other aspects of various mobile phones in order to select the best 5G mobile phone.
Check 5G Compatibility of the Phone from Smartphone's Retail Box
The smartphone's retail box generally contains details like model number, IMEI Number, RAM, Memory details, and many other configurations. Not all the brands are active enough to mention the 5G compatibility of the phone on its retail box. However, you can try this method as leading brands like Vivo, Oppo, Realme, iQOO, etc. mention if the phone supports 5G or not on the phone's retail box along with the supported 5G bands. On the other hand, brands like Motorola, Google, Nothing, and a few others are not bothered to mention the 5G compatibility details on their smartphone's retail box.
Third-Party Platforms to check if phone supports 5G
There are a few third-party platforms that include websites as well as mobile apps to check the 5G support of the phone. cacombos.com is one such prominent site that lists out all the 5G bands. You can check 5G bands supported by your phone on this platform. Along with that, you can also check 5G bands support based on your region and carrier.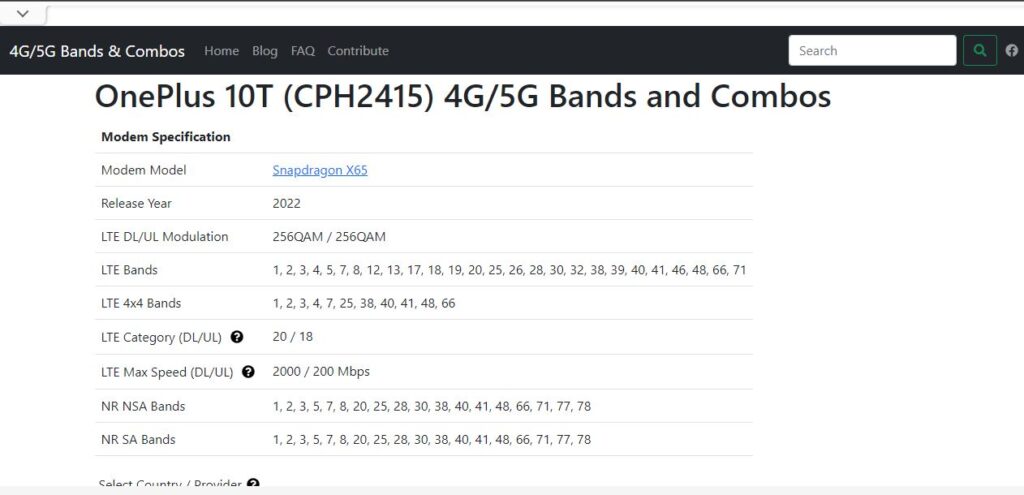 Mobile Apps like Opensignal help you check 5G support on your phone. Once you install the Opensignal app, you need to give the required permission to the app. After that, it can read your phone network, and you can see the result from the stats icon available at the bottom. You can also check the Internet speed using this App.
Apple's Online Platform to Check supported 5G Bands on iPhone
Unlike many other popular brands, Apple does not mention the 5G band support of its models on the retail box. But, Apple does have an online platform that helps you know the 5G bands compatibility of various iPhone models based on the region and location.
You can open the following URL on your mobile or web browser and check out the 5G bands information for all iPhone models that are available in the market right now. All 5G bands are supported in the country wise Apple iPhones are also mentioned in this link.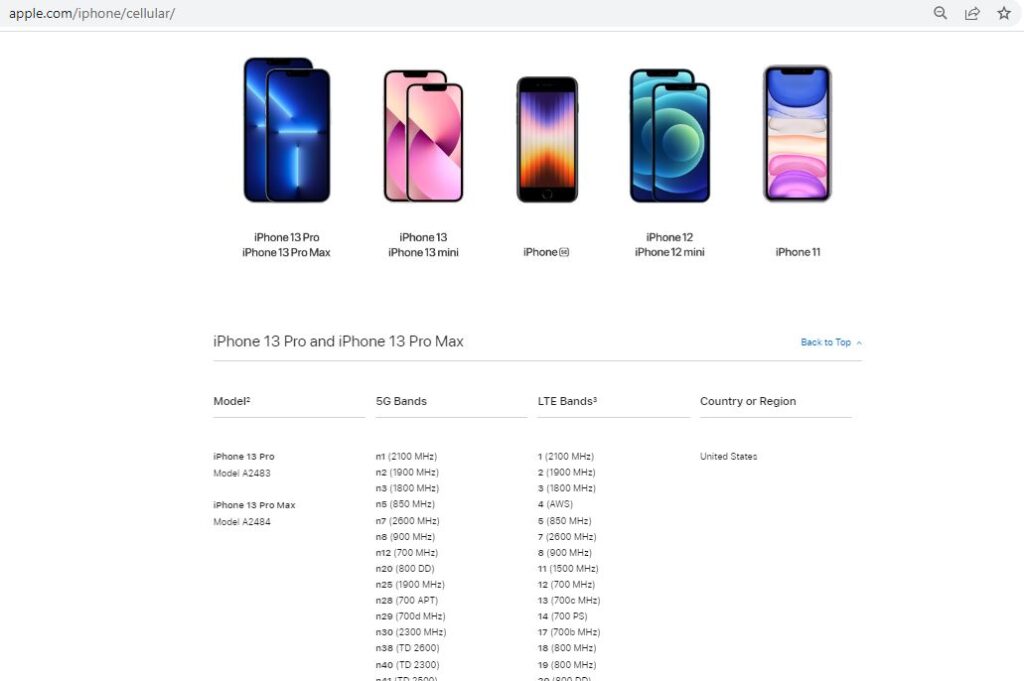 How to Check if Phone is 5G Compatible from Android Settings Section?
Android users can check the network settings section on their phone to learn if Phone supports 5G or not. Here's a step-by-step guide to learning how to check if phone is 5G Compatible or not from the Android Settings section.
Open Settings on your Android phone.
Select Network & internet or WiFi & Network (the display label of this option may vary based on the mobile phone model).
Tap on the "SIM & network" or "Mobile network".
Here, select "Preferred network type".
That's done. You will get all the mobile networks supported as well as available on your phone like 3G, 4G, and 5G. If 5G is mentioned here, then your phone supports 5G otherwise it is not supporting 5G.
Now you have an answer to your question – how do I tell if my phone is 5g capable, right?
Frequently Asked Questions (FAQs)
What is the key difference between 4G and 5G?
The prime difference between 4G and 5G is Speed. 5G has the potential to be 100 times faster than 4G.
Can I use 5G services on my 4G mobile phone?
No, you can't. You need to check 5G support on your mobile phone before using the 5G services on your mobile phone.
Conclusion
That's how you can be a part of the digital revolution. We strongly recommend 5G technology to our esteemed readers. Attaining higher Digital Productivity is our prime aim, and the 5G offers you the best platform and speed that can help you become more productive in your digital journey. Do check if your phone is 5G ready or not using the above-mentioned tricks and share your valuable feedback with us.