This blog will help Instagramers to feel nostalgic. It will help you learn how to see old bios on Instagram account.
Instagram, a decade-old platform, is being loved by billions of users across the globe. The platform has evolved a lot in this journey that started a decade back in 2010. It was started as a photo-sharing application, and now serves multiple purposes including live sessions, calling feature, and many more.
There are many users active for the last 7-8 years or even more. There were no such things as reels or video calling or live sessions at that time. At that time Instagram Bio section was a very charming and important thing for users. Bios were filled with quotes, emoticons, emojis, moods, and whatnot. Currently, the Instagram bio section is still available, but it has become one of the many things that Instagram has to offer. Half a decade back it was an emotion!
Unfortunately, we can't travel in time to relive those old days. But, thanks to Instagram, you can definitely revisit your old Instagram activities. Instagram stores all the history of your past bios and other kinds of stuff. With this trick, you can learn how to see old bios on Instagram.
How to see your old bios on Instagram – Detailed Guide
Open the Instagram mobile app on your smartphone, and tap on your profile pic icon at the right bottom corner of your home page.
Now, select the three horizontal lines (hamburger menu) at the top-right corner of your screen.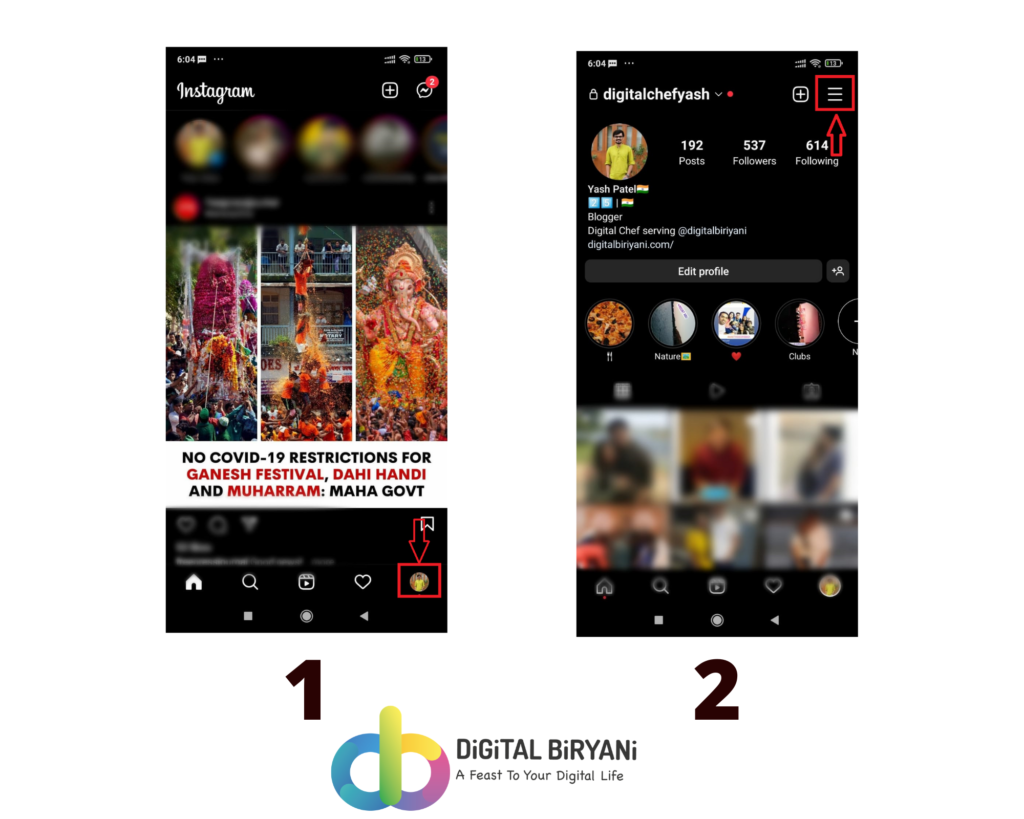 Select the Your Activity option from the popup menu visible on the screen.
Choose Account History from the various options available on the screen.
You'll see all the changes made on your Instagram Account, that includes username, Instagram Bios, and everything since the beginning. You need to scroll down to see all the changes.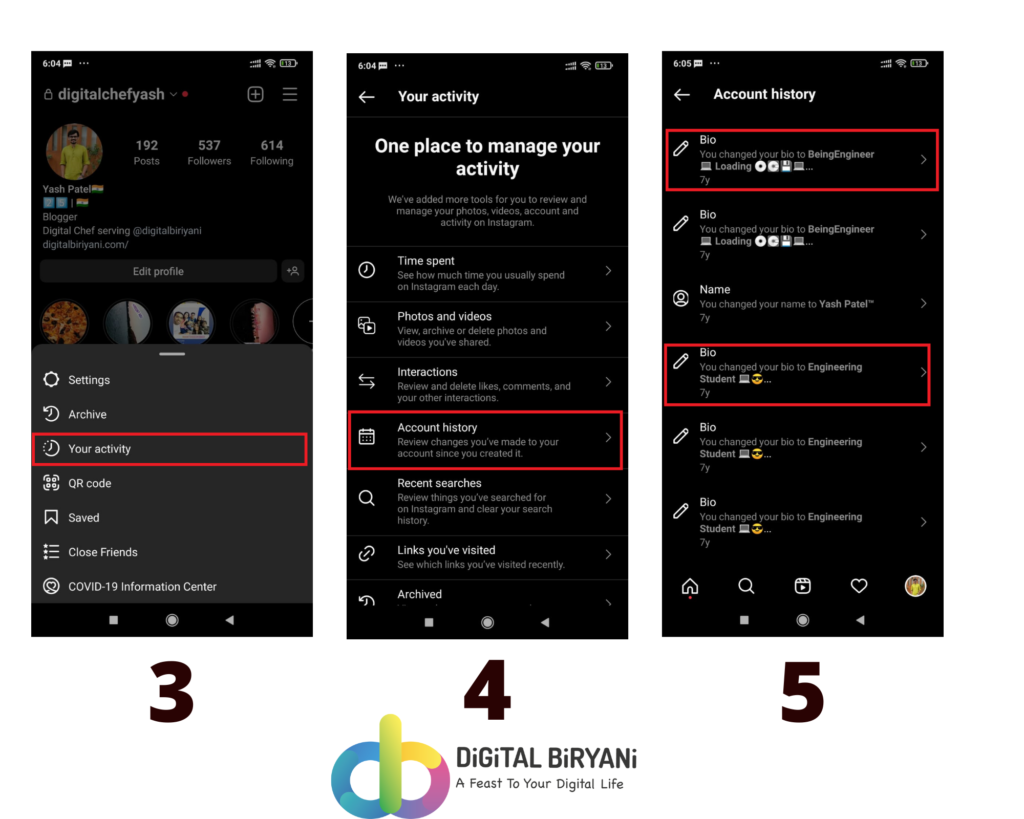 One thing to note here is that Instagram earlier allowed you to view all your old Instagram bios from Settings -> Security -> Access data -> Former bio texts, but it is no longer available. So the answer to your query – how to see your old bios on Instagram – is the above-mentioned detailed steps.
How to copy old bios on Instagram?
If you want to copy these old Instagram bios, there's no direct method you can do. But, as our esteemed reader, you already know how to copy text from images using mobile phones, using that trick you can also copy old bios on Instagram. You just need to take a screenshot of the old bio and use the trick to copy text from images. That will help you to copy that beautiful quote from the decade-back Instagram bio and use that at your desired place.
Frequently Asked Questions (FAQs)
Can I delete Instagram's old bios from the account history?
No, you can't. There is no option available to delete Instagram's old bios from the account history section. You can't change or delete anything from the Instagram Account History section. However, you can change your recent bio to an old bio by copying the old bio using the trick mentioned in this blog.
Is there any limit set to check the Instagram old bios?
No. There is no such limit set to check Instagram old bios. You can check it as and when you prefer.
Can I see old bios on Instagram using the Instagram Web version?
No. This section is only available for Instagram Mobile Apps. So, if you want to see old bios on Instagram, you need to use Instagram Mobile App.
What is the limit to changing the Instagram bio?
There is no limit set to change the Instagram bio. You can change the Instagram bio as and when required.
Conclusion
Instagram is one of the highest used Social Media platforms. Knowing various tricks to use such a platform effectively is surely a great thing in your digital journey. Now when you've learned a new trick – How to see your old bios on Instagram – do try these tricks and share your amazing old Instagram bios with us in the comments. Do share your feedback with us. That would help us to serve you better 🙂