WARNING: The Content shared here is for educational purposes only. It is against the Facebook guidelines to download any Facebook Videos. We respect our creator community and always stand with them to support their hard work. Please do not use this information to make illegal use of content.
Facebook has been the market leader among Social Media platforms for the last many years. The popularity of Facebook among its users has never waned despite many prominent players coming and going. During the last few years, Social Media platforms have focused a lot on videos because of the advancement of High-Speed Internet. We have many platforms that are solely focused on the Videos and Photos only – such as YouTube, Snapchat, Instagram, etc. However, Facebook remains one of the top choices of users when it comes to Video Sharing.
Social media platforms always restrict their users from downloading content from their websites. Instead, they encourage users to share their content with shareable links. It attracts new users to the platforms and increases their revenue. Thus, Your attempts to download Facebook videos and find out How To Download Facebook Private videos & Closed Group Videos must have been futile since the company doesn't allow users to download videos directly.
To solve this problem, DiGiTAL BiRYANi has come up with a solution for you. We're certain you will be adding a few Facebook Videos to your Hard Drive by the end of this article.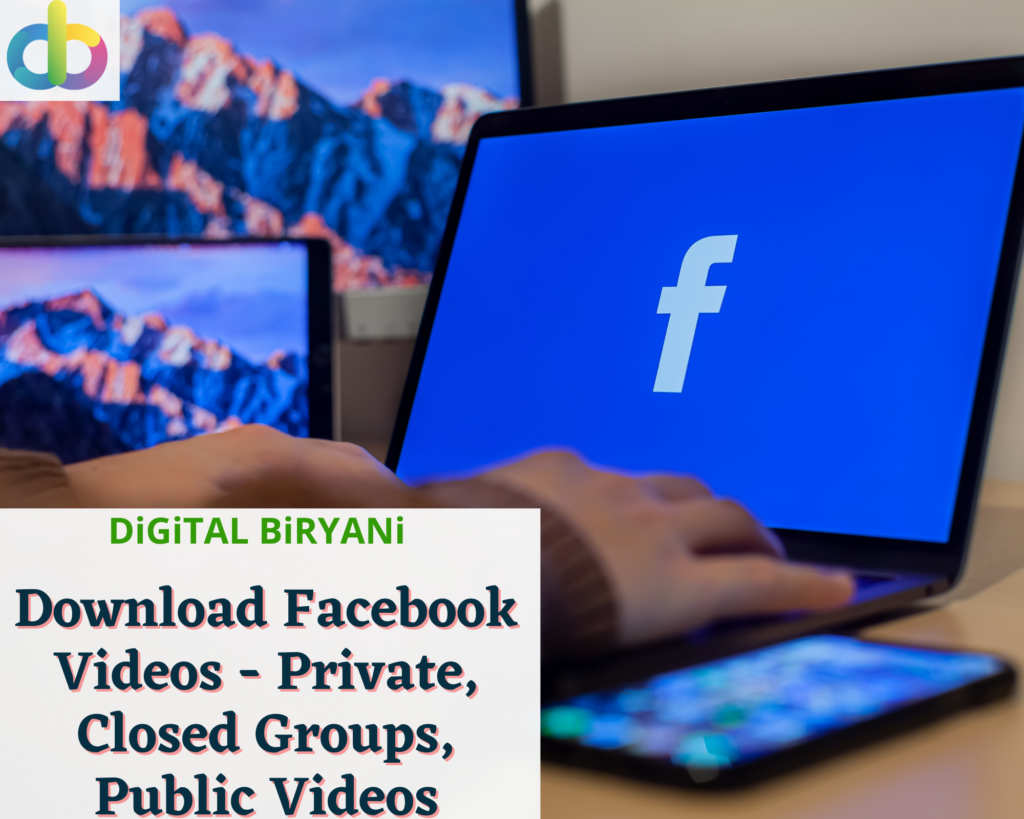 How To Download Facebook Public Videos?
As there's no direct option provided by Facebook that allows users to download videos from the platform, we need to rely on third-party platforms for the same. There are many third-party tools and addons that help answer your question – How To Download Facebook Videos? We're going to discuss a step-by-step guide to download Facebook videos using one such tool.
Open this

Facebook Video Downloader Tool

on your web browser.
Open the Facebook Video on your web browser or on your Facebook App.
Copy the video URL of that video. If a Facebook video is open in your browser then copy the URL from the browser's address bar. If your Facebook video is open in your mobile App, click on the three dots and select the copy link option.
Paste the copied link in the search bar of Facebook Video Downloader Tool open on your browser.
Click on the Download Button next to the Video thumbnail preview, and you'll get that video directly on your hard drive.
This way you can download Facebook videos without installing any external tools, just like you can Download YouTube Videos. However, one thing to note is that using this third-party platform you can only download public videos.
Download Facebook Videos in HD Quality (Easy Solution)
How to download Facebook videos in HD quality? The Snaptube Facebook downloader app is all you need. It's specially designed for downloading videos and music from social platforms like Facebook. You can get the Snaptube app easily from its official website.
Follow these steps for unlimited FB videos downloads:
Open the Snaptube app.
Click the Facebook icon at the top of the interface. Alternatively, you can paste the Facebook video link to the search bar. Both will open the FB site within the app.
A download button will appear next to the video you want to download.
Click the download button and then select the video quality. Snaptube allows video downloading in 1080p/2k/4k HD.
Downloaded videos and photos are the in the Gallery as well as the Snaptube download folder.
This way also works to download Facebook photos, music, etc. even if they are private. Keep in mind that using the Snaptube app is completely free and will not cause any harm to your device.
How To Download Facebook Private Videos / Closed Group Videos? – [Step-by-Step]
Facebook restricts third-party tools and applications from downloading private videos. Among these videos are those shared in closed group discussions and those made by individuals who have not made them public. We are sharing a special technique here that can download Facebook private videos without using any external tools. Follow these steps to download fb private video.
Open Facebook on any web browser. We have used Google Chrome here.
Go to the Facebook private group or user handle where you want to download the video. Please Don't open the Video at this step.
Right-click on the screen and select Inspect.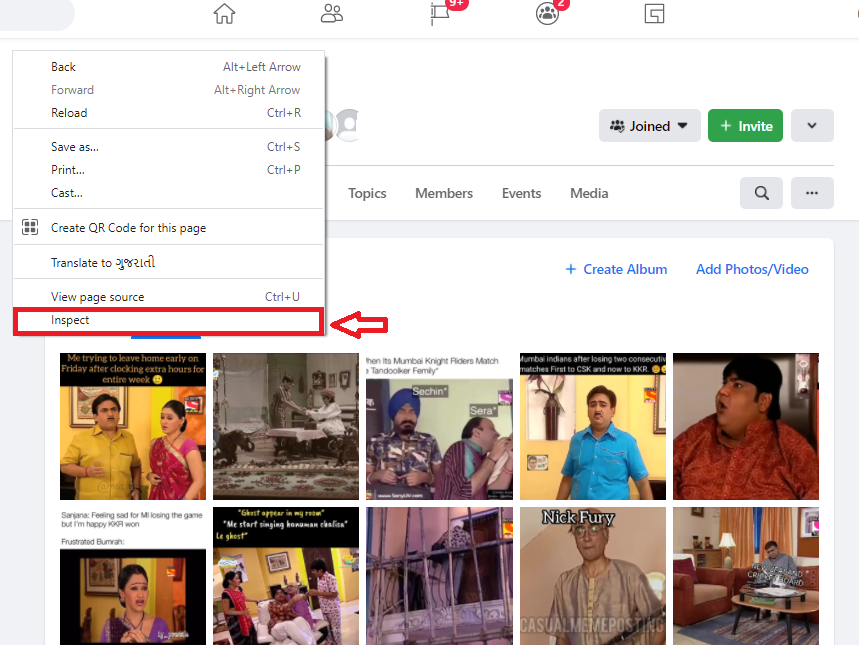 Now, make sure that the Toggle Device Toolbar is active. Just check the option next to the arrow in the uppermost bar (refer the image below), that option should be selected(blue). If that option is selected, you'll get multiple options to select as dropdown left side upper most bar. Make sure that Responsive is selected.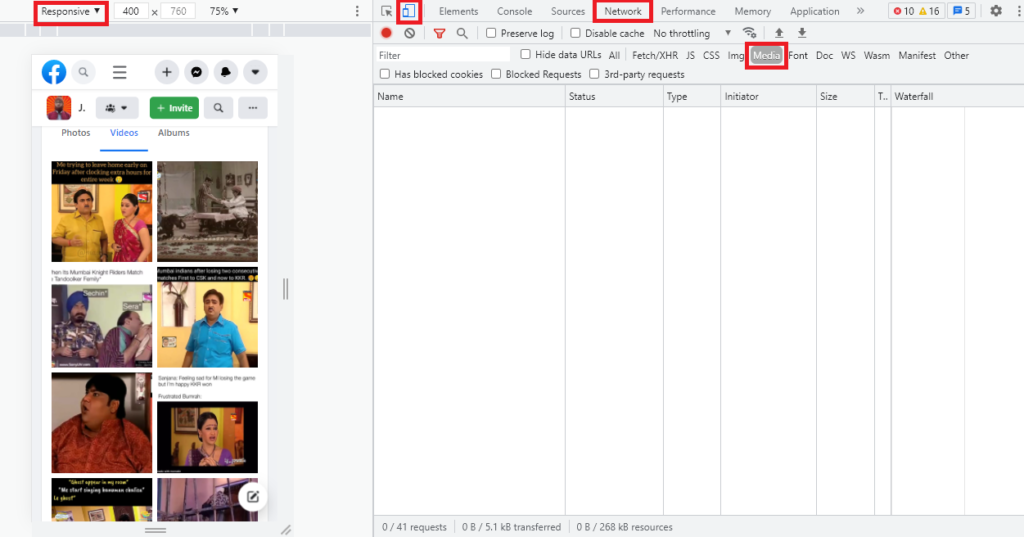 Go to the Network option and select Media. (Check the image in the previous step)
Now select the video and play for a few seconds. You can pause the video after playing for a few seconds (probably 4 You'll see one entry in the Media section.
Right-click on that and select 'Open in new tab'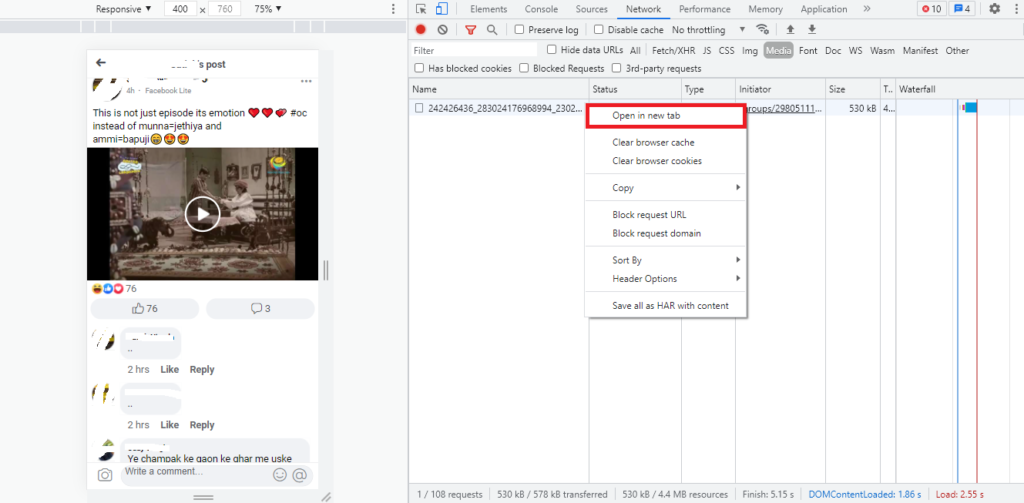 As you click on the 'Open in new tab' option mentioned in the previous step, you'll be redirected to the new tab where the same video will play. You need to right-click on the video and select Save Video As option. You can save the video at any desired location on your PC. This way you can download facebook private group video to use it offline.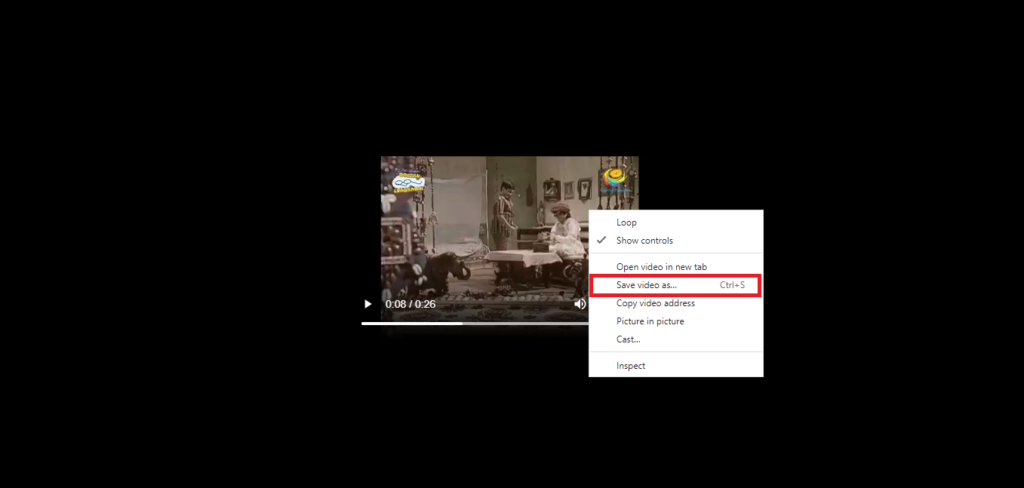 Please follow the above steps strictly in the mentioned order, or else the trick won't work. Kindly note that DiGiTAL BiRYANi never promotes any kind of piracy or illegal use of content. It is always advisable to take permission from the video owner before downloading. So, please do not download fb private video without consent or for any illegal use.
Frequently Asked Questions (FAQs)
Why are there no records coming up in the Media section after playing video for a few seconds?
Please follow all the steps correctly in the exact mentioned order to download fb private video. Do not open and play the video before reaching the Media section. Otherwise, the record will not show up in the Media section.
Is it legal to download and use the videos from Facebook?
You can not use Facebook Videos without taking the owner's permission, especially if it is being used for commercial purposes. Otherwise, you can face copyright issues. The ownership always stays with the original owner. It may not be a big deal if you just want to have a copy for your personal reference.
Conclusion
Collect your favorite videos from Facebook using these tricks. This trick enables you to download Facebook videos directly onto your device. You can even download Facebook closed group video as well. Please share your feedback about both techniques. Drop a comment below or contact us directly.