It is not easy to know how to find if a link is safe to click or not. To eliminate this problem from our readers' life, we've come with a detailed blog to learn how to check if a link is safe to open or not.
The Internet consists of billions of links, which solve our everyday problems and bless us with an ocean of information. There are also many links that lead you to untrustworthy websites, viruses, and unwanted digital junk that may end up inviting data breaches. We encounter many links in different formats every day. Those random buttons, unwanted popups, social media posts, videos, gifs, shortcuts, and many other formats. From advertisements to emails, it is possible to encounter unwanted and unsafe links anywhere on the Internet. Do you know how to check if a link is safe to open or not?
We will discuss it here. You'll get to know how to make your personal data and information more secure by eliminating clicking unnecessary and unsafe links. Before that let's understand a couple of things about how we can get the URL behind different hyperlinks, buttons, etc., and how to expand the short URL and get the original URL.
How To Get The URL Before Clicking?
Sometimes we cannot see the URL directly. It is clubbed with text, buttons, or some graphical representation. To get the URL before clicking, you need to hover over the link. As soon as you hover over the link, you'll see the link in the lower corner of your web browser.
Below are the different types of link that will redirect you to the same destination. That you can't even imagine in the first note.
Click To Boost Digital Productivity
So, this way you can be misguided if you click without checking. However, hovering over it can get you the original link behind the URL. So, first check the URL an image or button is having, and then if you don't know how to check whether a link is safe to open or not, proceed with the blog to know how to find if a link is safe.
How To Get the Original URL from a Short URL?
Every day we see many URLs in the format like – t.co, goo.gl, bit.ly, amzn.to, tinyurl.com, ow.ly, youtu.be and many others! These are shortened forms of the original URL. To get the original URLs from these short URLs, you need to follow some simple steps.
Enter your short URL in the text box and expand it.
Now, you know how to get the original URL from the shortened URLs. So, you only need to learn how to check whether a link is safe to open or not. That you can easily learn from the next section of the blog.
How to Find if a Link is Safe or not – Best Tools
Now, as you have understood how you can get the original URL, you can check if that link is safe to open or not.  DiGiTAL BiRYANi has compiled a list of free tools where you can easily check if a link is safe to open or not. This will save you from many unwanted online headaches.
This tool is provided by the tech giant Google, which dominates the Internet in many segments. Google offers this tool to make your digital journey safe and secure. Approximately two billion devices benefit from this extraordinary tool by Google. To get the benefit of this tool built from the latest technology by Google, you just need to enter the URL into the tool. Within a few seconds, you'll get the safety results of that URL.
Using Google Safe Browsing only, google shows a warning when a user tries to open the unsafe link. When a website that is identified as insecure or harmful appears in the search results, Google shows a warning next to the search result.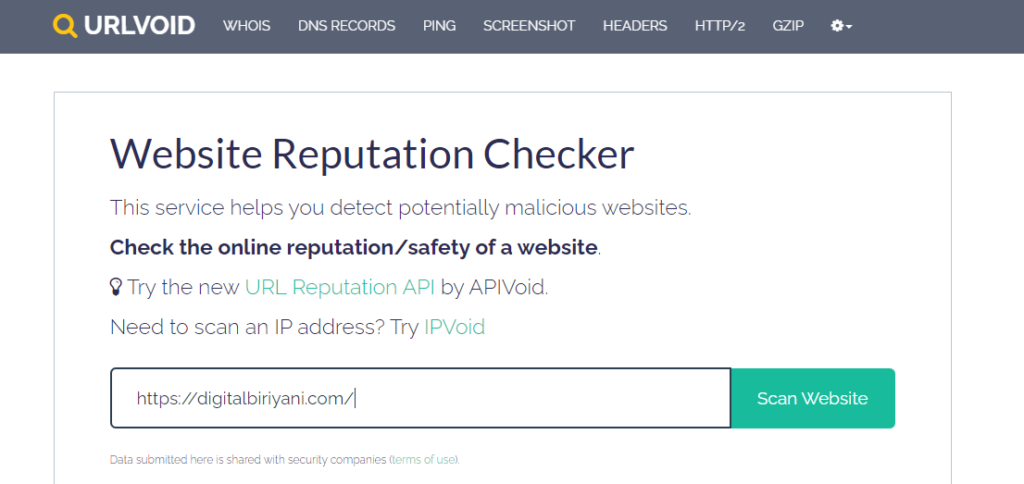 URLVoid analyzes the link from 30+ blacklist engines and other online website reputation services. So, it increases the chances of detection of fraudulent and malicious websites and links. Moreover, it also offers the identification of malware and phishing incidents. Cyber security companies and IT researchers use this tool to enhance the process of cyber threat analysis.
Just open the tool, enter the URL, and click on Scan Website. You will get a list of information about the URL and its history, site hosting details (if available), black tricks against the URL, etc.
If you're a developer and you need APIs to create your own safety checkers or want to use the services of URLVoid in your system, you can use the APIVoid, APIs provided by URLVoid.
How can anyone not know Norton when it comes to cybersecurity? Yes, the Cyber Security Giant – Norton also provides one such platform that lets you check if a link is safe or not. Open the Norton Safe Web tool and enter the URL. You'll get a Safe Web Report within a few seconds. In addition, it shows the Community Rating to give a sense of how other users feel about a link.
Norton offers two web browser extensions to boost your cybersecurity. Norton Safe Search extension provides safe search functionality to your web browser. And second is the Norton Home Page extension, which offers safe search functionality to your search engine results.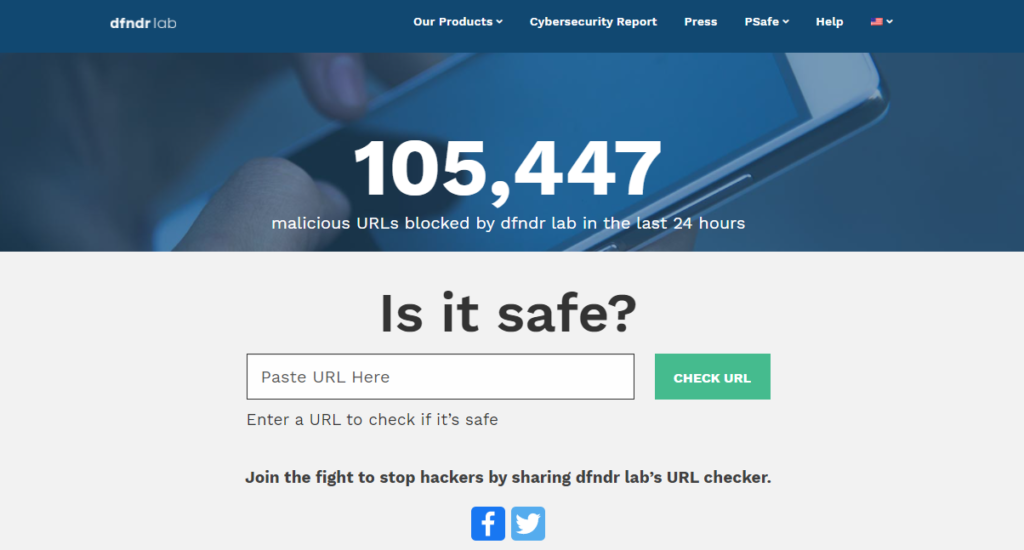 PSafe is a leading provider of mobile privacy, security, and performance apps. They provide a tool called Dfndr Lab to let users check if a link is safe to open or not. They use the latest machine learning techniques to provide the best results. It is very easy to use this tool. Provide the URL in the text bar on the tool and click on the Check URL. The tool will give the result based on its analysis if the link you provided is available in their database. If the link is not available in their database, it warns a user to exercise caution.

Frequently Asked Questions (FAQs)
Are these portals paid portals?
No. All the mentioned portals above are free of cost.
How many websites are available on the Internet?
There are nearly 1.9 billion websites available on the Internet.
What is the most expensive type of Cyber Attack on companies?
Malware is the most expensive type of Cyber Attack on companies, it costs an average of $2.4 million for each attack.
Conclusion
Whatever the goal you have in your Digital Journey, security is the most important and foremost thing. You can compromise with anything except security. So, to boost your Digital Security, we have tried to cover one of the important aspects of the Internet. If you feel this article was informative to you and helped you learn how to find if a link is safe or not, drop a comment to share your feedback. Please feel free to reach out to us if you need any help in your Digital Journey, we would be happy to help you to be Digitally Productive.