Get iPhone 14 Pro-like Dynamic Island feature on Android phones for absolutely free. Stay connected with this blog to know the detailed steps to set up Dynamic Island in Android.
Recently, Apple launched its latest iPhone series – the iPhone 14 series. The iPhone 14 series got very mixed reviews from users across the globe. Apple introduced an amazing feature called Dynamic Island in the iPhone 14 series, which has gained a lot of attraction from tech enthusiasts across the world. People definitely believe that Dynamic Island is really cool and useful addition to the iPhone series.
Dynamic Island works by turning the pill-shaped notch on the display into a notification bar which can be used to control apps and system features. Android Mobile manufacturers like Realme and Xiaomi have already announced that they are already working on a similar feature. It may take a little time for them and other Android smartphone makers to introduce a 'Smart Island' of their own. But if you're an Android user, and you don't want to wait a long time to experience a Dynamic Island on Android smartphones, this blog is for you.
As soon as Dynamic Island become the talk of the town, the App got live on the Google Play Store allowing people to use Dynamic Island-like notch design on their Android smartphones. The app is called DynamicSpot, that is developed by Android developer Jawomo.
With DynamicSpot, a pill-shaped cutout is displayed closer to the front camera on Android devices, similar to Dynamic Island on iPhone 14 Pro. Additionally, the app offers some cool multitasking options and notification management tools. DynamicSpot is also said to work with chat, music, and timer apps on Android. This means you can set notifications and shortcuts on the pill-shaped island.
How to set up Dynamic Island on Android Phone?
Follow this step-by-step guide to set up Dynamic Island on Android phones and experience the iPhone 14 Pro-like Dynamic Island notch design.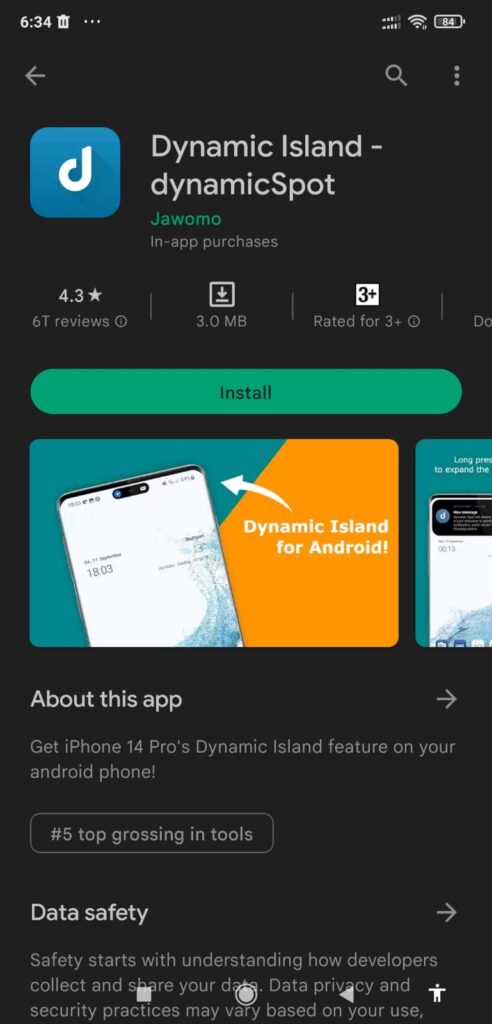 Open the App, and tap on Next to set up all the required permissions.
Select which apps can activate the dynamic island popup.
Now, you need to allow DynamicSpot to access notifications on your Android phone.
Select the 'Notification Access' option and scroll down and turn the toggle bar on for DynamicSpot.
In the end, you also need to allow DynamicSpot to draw over other apps on the screen. Without this step, the DynamicSpot app won't work.
Select 'Draw on screen' and go to Installed apps>dynamicSpot. Turn on the toggle bar.
Select 'Done' and tap on the play icon at the top left corner of the mobile screen to activate the dynamic island feature.
Tap on 'Pop Up Settings' and turn on the toggle bar for 'Allow two popups'.
That's how you can enable iPhone 14 Pro-like Dynamic Island on Android devices. As per the developers of DynamicSpot, they don't collect or share any user data. However, the app certainly reads notifications and other important details like contacts, messages, and photos. The App, DynamicSpot, can also read all content on the screen and track your interactions with an app or a hardware sensor.
It is to note that, DynamicSpot App which is developed to offer iPhone 14 Pro like Dynamic Island features to Android users is still in the very initial phase. The app may not offer all the functionalities up to the mark. In future updates, the app functionalities may enhance and offer a better user experience.
Frequently Asked Questions (FAQs)
Is this a safe and legitimate approach to using Dynamic Island on Android Phones?
This is not an official way to use Dynamic Island from Android OS, but the app seems to be safe and follows all the standards of Android and Google, as it is approved and available on the Google Play Store. The app is already being used by more than millions of Android users.
Is this approach free to use?
Yes, the app – DynamiSpot – is totally free to download and install.
Conclusion
That's what you need to get Dynamic Island on Android Phones, even before the official launch from the OS and the mobile makers. Do try this trick, and let us know how it feels to use Dynamic Island on Android phones. Your feedback helps us serve you better and more.