YouTube is now the go-to destination of every other person who is digitally active. Even if one is not comfortable with English, he easily gets acclimatized with Youtube with the help of YouTube's extraordinary Closed Caption feature. YouTube has played a key role in improving many people's English and other languages. YouTube's Closed Caption feature is a boon for such people. Using this feature anyone can see the subtitles of Youtube videos. This provides ease to most of the users.
What is YouTube Closed Caption?
YouTube Closed Caption is a feature provided by YouTube. It allows users to enable subtitles for videos. Users will also be able to see text on the screen in addition to the audio, which makes understanding easier and more convenient. YouTube expects creators to provide suitable subtitles for every video they create.
How To Enable YouTube Closed Caption / Subtitles?
The majority of YouTube videos provide this Closed Caption option. Whenever you open the video, you will find the CC option in the bottom bar of the video. The CC option stands for Closed Caption. To enable subtitles you need to select the CC option. If the option is selected, there will be a red underline. That red underline indicates that the subtitle option is selected.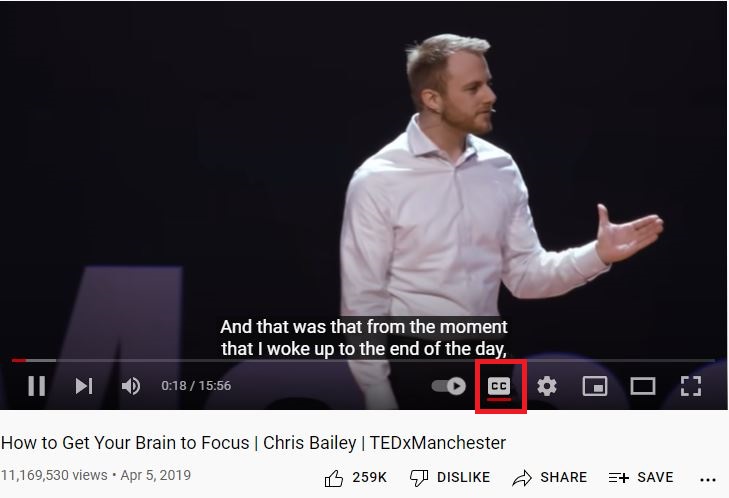 If you want to change the subtitles' language, go to Settings. There's an option for Subtitles/CC, select that option.
Once you select the Subtitles/CC option, you'll see different languages. Select the appropriate language you want for subtitles.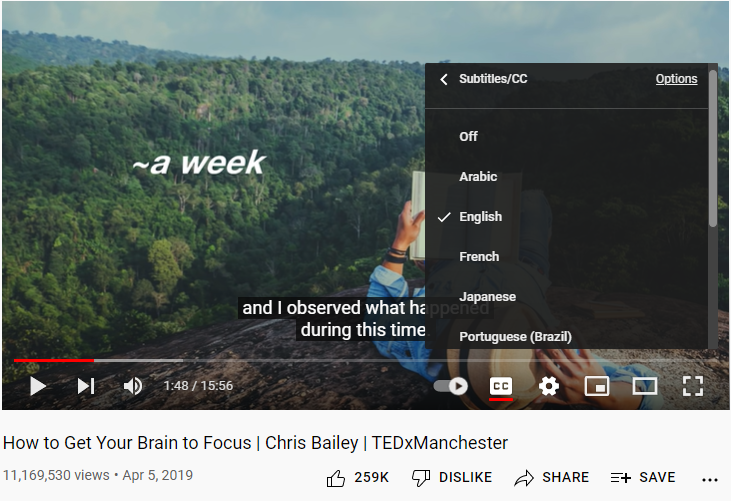 Why some videos don't have a Closed Caption Button?
YouTube is now requesting all creators to provide appropriate subtitles for every video. But there are many videos available on Youtube which don't have proper subtitles attached. While watching such videos, you won't see the CC button on the bottom bar of the video. Even in the settings option, there will not be any Subtitles/CC option available.
Here's an example of one such video which doesn't have a CC button.
Such videos spoil the user experience of many users. To save your experience while watching such videos, we have come up with the workaround/trick that will let you enable Closed Caption for those videos on which the CC button is not available.
How To Enable Subtitles On YouTube When CC (Closed Caption) Button Is Not Available?
Follow these simple steps to enable subtitles on YouTube when the Subtitles/CC button is not available.
Open Google Chrome on your computer.
At the top right, click on the three dots menu and select Settings.
Go to the Advanced Settings option.
Select Accessibility under the Advanced Settings option.
Turn On Live Caption.
Open YouTube on your Chrome and start the video which doesn't have captions attached. You can now see the Live Caption while watching the video.
Please note that this will work for the English language only. Using this trick only those videos which are in the English language will have a proper caption. This is not a default feature of YouTube. As a result, captions will not be as accurate as those that come with YouTube's Subtitle feature. However, it is always good to have something than nothing 🙂
Frequently Asked Questions (FAQs)
Will this trick work for mobile phones?
Yes. This will work for Google Chrome for mobile phones as well.
Why YouTube is more focusing on subtitles?
Subtitles help users in engaging and understand the content more effectively. Hence, YouTube expects creators to add subtitles to every video. It helps creators to grow fast by engaging with more users.
Conclusion
Do try this amazing trick and share your valuable feedback with us. This trick was shared with us by our esteemed reader. We also want you to share your valuable suggestions and blog requests with us. We will try to find the best possible solution for your digital queries. In between, if you find any solution, you can share it with us without any hesitation. Our ultimate goal is to help our Digital Community to boost Digital Productivity.