Over the past few years, the Internet has changed the shopping habit of people. Online shopping has become increasingly popular. Covid-19 pandemic has worked as a catalyst. It is safe, and convenient for both – the buyer and the seller. Online Shopping has its own benefits. You get really good discounts compared to offline shopping. The whole process is time-saving and convenient. Cost on fuel can be saved along with the crowd at malls. Every item you require in your daily life is now available online. You just need to visit the right platform for the right item. Here's the list of the Best Online Shopping Sites that will make your upcoming festive season more bright and joyful.
List of the Best Online Shopping Sites
There are many e-commerce websites available on the Internet. We have compiled a list of websites which we feel are good in every aspect that a person considers while shopping. These are some of the best online shopping sites that will brighten your festive vibes.
Does Amazon require any introduction? It is the most popular site when it comes to online shopping. Its worldwide accessibility makes it the most loved e-commerce website across the globe. It has a special platform for Indian customers – Amazon.in. The mobile App of Amazon is also very easy to use. Amazon offers great sales during festive seasons. Such big sales come almost every quarter. Discounts and cashback are always available on the platform. While these are constantly changing, you can always find some offers. Amazon has a Prime Membership Program, that grants users some extra benefits like early access to big sales, speedy delivery, etc.
Flipkart is an India-based online shopping platform that gives really a tough fight to the giant Amazon. Founded by two ex-Amazon employees, it was started as an online book-selling shop. Now, Flipkart covers almost every category you can think of. Flipkart's Loyalty Benefit Programs and Big Festival Sales make it one of the most loved Indian products available on the internet. Online Payments and Cash on Delivery make the platform more convenient.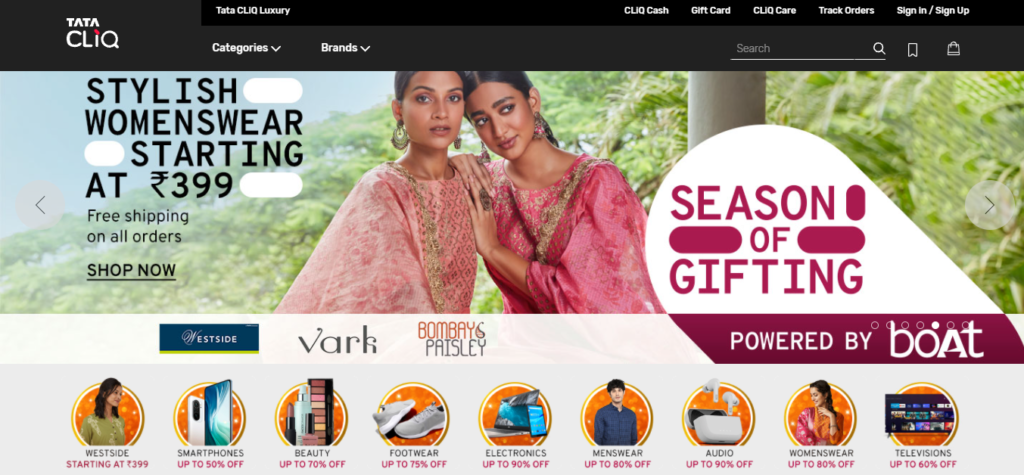 Tata CLiQ is an online shopping platform from India's most trusted brand Tata. It operates in various categories such as fashion, footwear, electronics, and accessories. Tata CLiQ is promoted by the Tatas. They also own brands like Crome, Tanishq, Fastrack, Voltas, etc. You can imagine the variety of products from this thing only. People are still not used to shopping with Tata CLiQ and that makes it one of the most underrated online shopping platforms in India.
AJIO is a fashion and lifestyle brand from India's largest multinational company, Reliance. It is one of the largest online fashion stores born in India in the last 5 years. The platform offers a collection of over 200 national and international brands. Clothes, footwear, accessories, jewelry, and all other types of apparel you can find on the AJIO platform.
Myntra was founded in 2007 to sell personalized gift items. Later in 2014, Indian e-commerce giant Flipkart acquired Myntra. Currently, Myntra is India's leading fashion e-commerce company. Myntra has a wide range of varieties for clothing and apparel. People love clothing wear, footwear, accessories, and other varieties of products. Check the item, place the order, if you don't like the item after delivery, you can return it for up to 30 days from the date of delivery. Easy return policy makes it the most loved fashion store of Indian youth.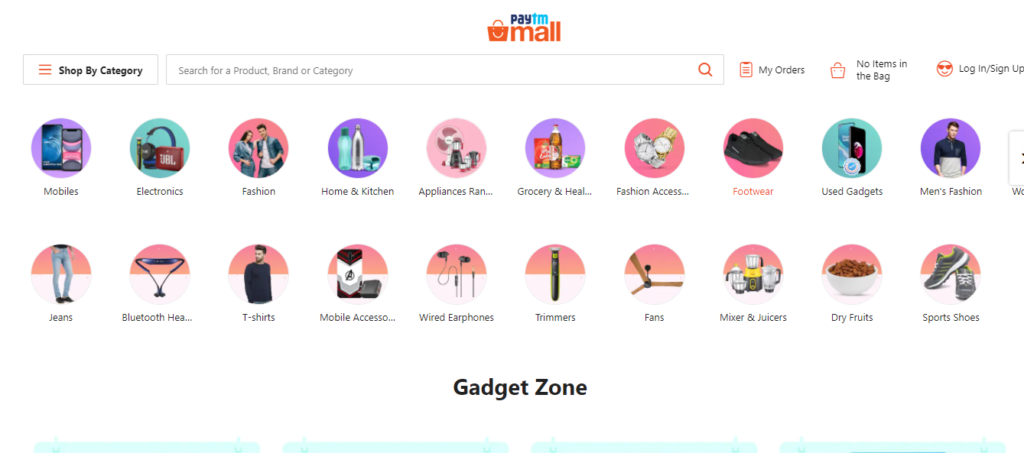 Paytm has brought a revolution to India's digital payment industry. Paytm Mall is a venture from Paytm that allows consumers to buy anything they want from the digital platform called Paytm Mall. Just like a mall, you can find everything you can think of on Paytm Mall. Electronics, clothing, fashion, footwear, furniture, and many more types of stuff are available on the Paytm Mall. This digital mall offers many great discounts and cashback opportunities to save money.
Bewakoof is one of the most popular online shopping sites among youth. The platform has a wide range of fashionable and trendy t-shirts, mobile covers, and many more things to offer. They offer clothing wear, footwear, notebooks, bags, mobile covers, and a few other categories. Bewakoof offers a very attractive discount on its products. Moreover, they also offer TriBe membership to provide. TriBe members get more discounts, priority customer support, exclusive collections, and early access to exclusive products.
Firstcry is an online shopping platform for kids and baby products. Make your little one's childhood comfy, trendy, fashionable, and memorable. Kids' Fashion, footwear, gears, toys, and many other types of shopping can be done on the FirstCry. Moreover, the platform also offers diapering, feeding, bath&skin, and other stuffs also. Even for nursing mothers, there's altogether a special category available on the platform. So next time when you need something for your little one, don't forget to visit firstcry.
A decade-old online shopping platform has many things to offer you. They offer Home appliances, electronic items, apparel, personal care products, and many more. You can get many more deals where you can grab your cart at a very low rate. Various sales and markets like Diwali Flea Market, Sunday Flea Market, Month End Sale, Shopclues Maha Sale offer great discounts on many products.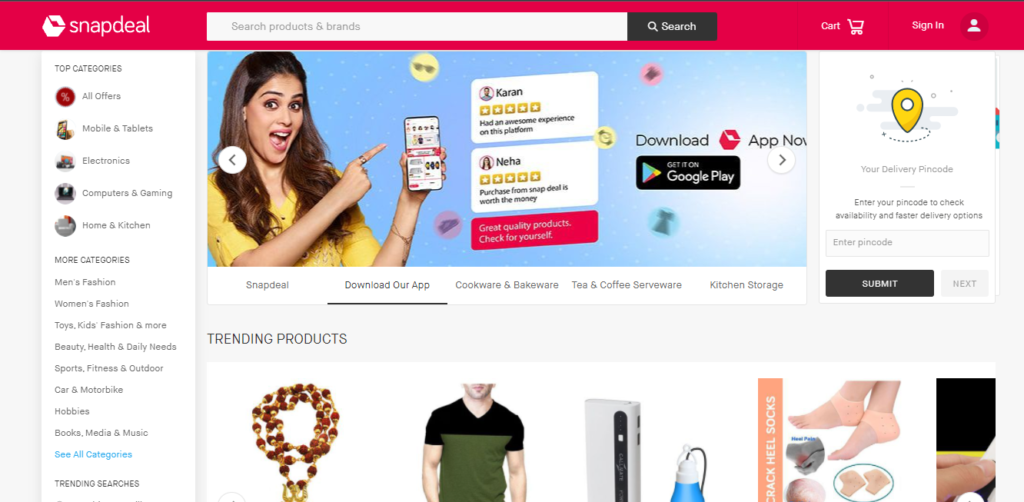 Snapdeal is another Indian e-commerce platform that has been around for over a decade. The platform offers some cool Snapdeal exclusive products. You can find much affordable stuff on the platform compared to offline shopping. Snapdeal also offers Cash on delivery option, which makes it more consumer-friendly. Even though it has been around for more than 10 years, the platform is still not as famous as its peers and giants – Amazon and Flipkart. But, to sustain in such a segment for more than 10 years itself says that Snapdeal is one of the best online shopping sites in India.
Meesho
It was founded in 2015. Meesho is a platform that allows anyone to start their business with zero investment. People earn by reselling products from Meesho. Women, Men, and Kids have wide ranges of products to shop for. Ethnic wear, western wear, health products, beauty products, jewelry, accessories, etc available at very good prices. Electronics, home, and kitchen appliances are also offered by Meesho.
Frequently Asked Questions (FAQs)
What are the benefits of Online Shopping compared to Offline Shopping?
There are many benefits like you can shop at your convenience, it is cost-effective, you get a variety of products at the same place. These are some of the common benefits of online shopping compared to offline shopping.
Conclusion
To make your digital shopping more effective and easy, team DiGiTAL BiRYANi has shared this blog with you. Please share your valuable feedback with us. You can drop a comment below or contact us directly to share your feedback.