When we discuss Google and its applications. We only discuss Google, Gmail, YouTube, Google Maps, and a few others. But Google is not limited to these few apps. Google has a wide range of applications. You can get all the applications on the Google LLC page on the Play Store. In this blog, we're going to discuss some of the best and lesser-known apps from Google. Here are some of those gems from Google which will make your Digital Journey more productive and easy.
List of Best and Lesser-Known Google Apps
We, at DiGiTAL BiRYANi, have complied a list of some of the best Google Apps that are not known to many people. These Apps are solving many day-to-day problems and works really well but are somehow not known to many people. Please have a look at the list of Best Google Apps by DiGiTAL BiRYANi.
Digital Wellbeing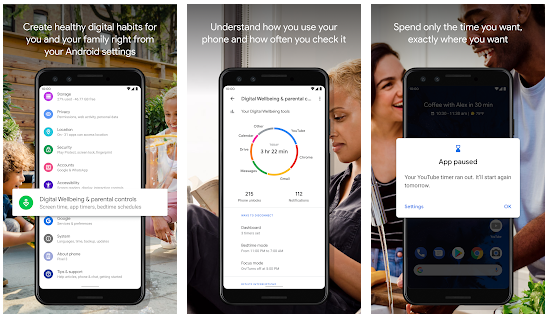 Digital Wellbeing gives you a daily view of your mobile activity. This includes how often you lock and unlock your mobile phone, how often you use different mobile applications, how many notifications you receive, etc. These stats help you to control your digital activity.
The app also offers an option to set daily timers to use specific apps. Digital Wellbeing also offers Bedtime mode, which reminds you to switch off your phone at night. Focus Mode feature on the App lets you focus on your important work by pausing distracting Apps with a single tap.
An average person spends around 3 hours and 15 minutes on the mobile screen. So, it has to be productive and not time-wasting. Digital Wellbeing helps you understand your daily usage of digital activity. That eventually helps you in taking better decisions about the digital activity. Hence, Digital Wellbeing is one of the must-have gems from Google.
Google Tasks
Google Tasks is a task manager and to-do list app. It helps you to keep track of your routine tasks. The App is integrated with Google Calendar and Gmail, which makes your task management more easy and robust. You can create, view, edit, and manage tasks from any device. It will automatically sync with other devices.
Google Tasks allows you to break down your tasks into subtasks. You can set a due date and reminder notifications to complete the tasks within a time limit. It is a gem from Google that helps you to boost your productivity.
Google Arts and Culture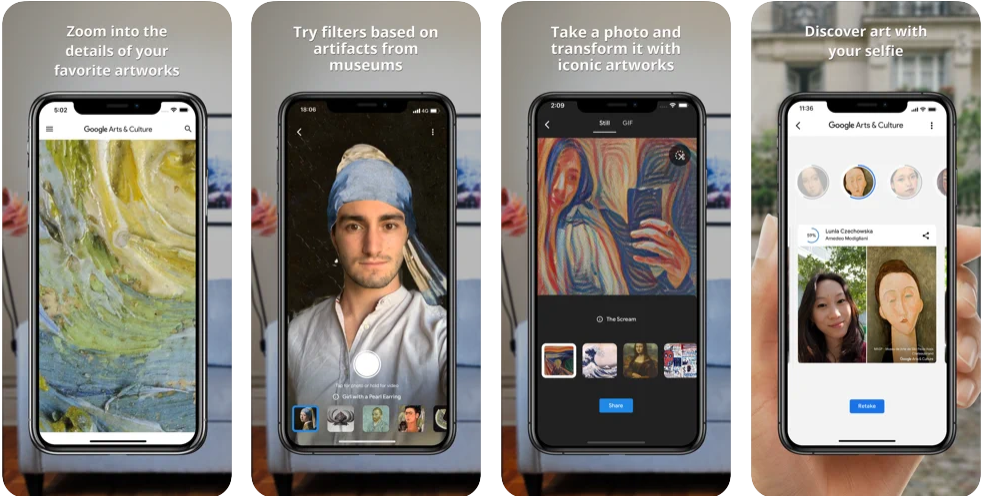 If you have a little interest in Arts and Culture, then don't wait for a second. Go and grab this App on your mobile phone, install it now. Google Arts and Culture is an App that allows you to visit 2000 cultural institutions from 80 countries with your fingertips.
The App helps you to discover portraits that look like you. With the Art Projector on the app, you can see how the artwork looks in real size. You can get HD artworks on Art camera and 360° videos to experience the culture of 80 countries. It also helps you to find museums and art exhibitions near you.
Don't wait for relaxation in travel restrictions to enjoy your favorite artworks across the globe. Just install this amazing app from Google and enjoy the combination of tech and art.
Photo Scan
Photo Scan is a simple scanning app with an extraordinary result. You can scan your old photos into digital form by just scanning them through the App. The app makes your old photos glare-free with a perfect auto-cropping feature. The auto-crop feature works based on edge detection.
The App is easy to use. You just need to place your camera over the photo to scan, follow instructions given by the app. You'll get a great and enhanced digital copy of your physical photo. You can take a backup of your scans with Google Photos.
Grasshopper: Learn To Code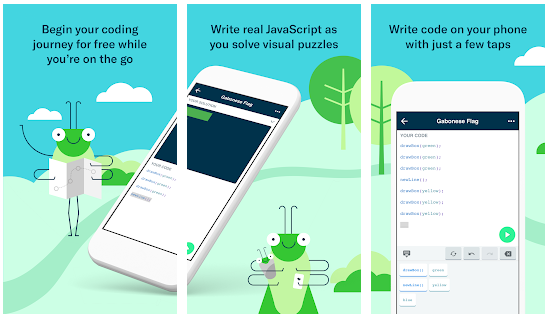 Coding has become an essential part of today's world. Grasshopper: Learn To Code is a wonderful app from Google that helps you learn to code on an enjoyable and straightforward basis. It offers quick fun games that teach you Javascript with ease. Visual Puzzles enhance your problem-solving skills.
The app gives you real-time feedback just like a teacher to push you towards better learning. It also motivates you by special achievement and reward system. That helps you be a consistent and clever learner.
Moreover, on completion of all the levers, you get an e-certificate issued by Google. That helps you in your professional career as well.
Google Opinion Rewards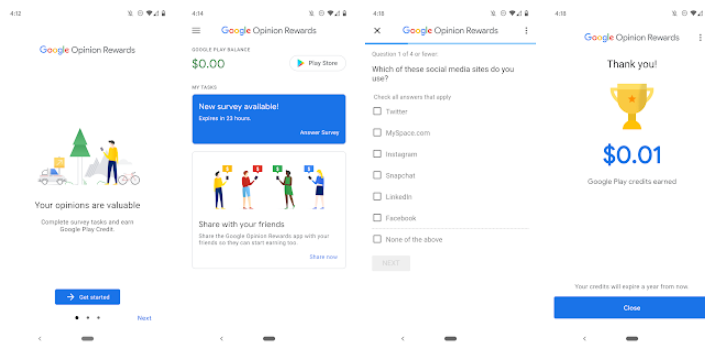 Google Opinion Rewards allows you to earn by completing small tasks and surveys. You need to complete certain tasks and surveys. For each survey, you can earn up to 1$. The amount you get is in the form of Google Play Credits. You can use these credits for buying apps, movies, games, books, etc. from the Google Play Store. Install the app on your smartphone and earn $ now.
Google Fit: Activity Tracking
This App is Google's contribution to keeping you physically fit. Google has collaborated with the World Health Organization (WHO) and the American Heart Association (AMA) to help users to stay healthy and fit with this App. The App allows you to track and monitor your workout activity from your mobile phone and watch. The app claims to give measure your heart rate as well.
As you continue with your exercise, the App gives you certain points for certain levels of exercise. The chances of heart disease decrease as you exercise daily and complete the weekly levels set by AMA and WHO shown in the App.
Socratic by Google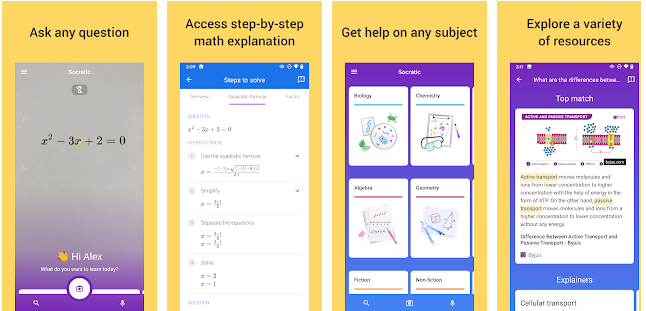 Socratic is a Google AI-Powered educational App that helps you in solving your school and university study problems. The App supports almost all subjects from your high school. If you need any help in your study, you can scan the question, and the App will provide you with the solution. It is a wonderful use of the latest technology like AI by Google.
The App also consists of various step-by-step solution videos for many subjects. It also supports the voice ask feature. Imagine you ask your science problem to the App, and in return, the App will provide you with the complete solution.
Socratic has partnered with many teachers and industry experts to provide the best solution to its users. The experts provide wonderful audio and visual explanations for each subject. Thus, it becomes a complete substitute for tuition classes by providing wonderful study materials and solutions for various subjects.
Google Find My Device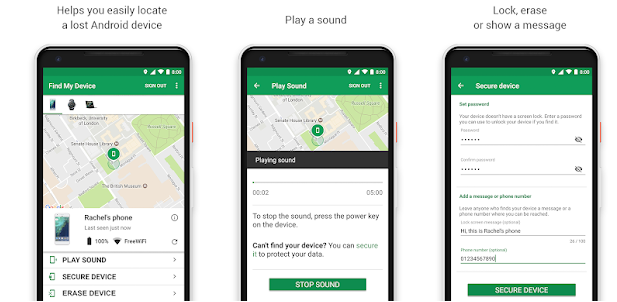 Google Find My Device is App from Google that helps you locate your lost android device. You can locate your android phone, watch, tablet using this App. If your current location is not visible, the App will show you your last known location. It will play sound at the highest volume to locate your lost phone. The App also uses indoor maps to locate your device at places like airports, malls, or other buildings.
Install this app now if you think you should have a backup so you can locate your device in case it gets lost.
Files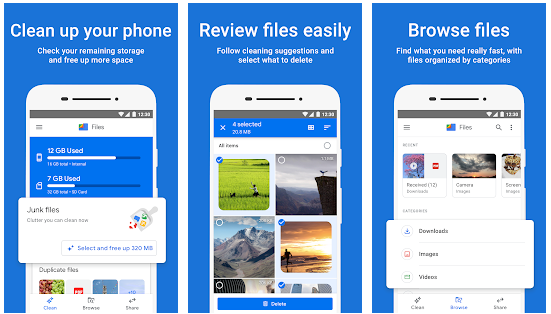 'Files' is one of the coolest File Managers available on Android. Earlier Google had launched a File Manager – Files Go – for smartphones having less than 1GB of RAM. As a result of File Go's popularity, Google launched a new File Manager for all types of users. Files give users more control over file management. Users get cleaning recommendations to free up the space. The files are organized in a very good manner that makes File Finding Tasks easy and faster. Files by Google offers offline file transfer with a speed up to 480 Mbps. Files' offline sharing is secured with WPA2 encryption.
Crowdsource
Crowdsource is an App by which Google improves its AI and similar technology. The App has various fun questions which you need to answer. In return, you get various perks. You get different badges, recognition in different communities, a chance to connect with other contributors at meetups, online hangout invites to connect with experts, etc.
Questions asked on the platform are very easy and fun. Which includes wide ranges like image label verification, translation, image capture, audio verification, chart understanding, handwriting recognition, and many more.
Frequently Asked Questions (FAQs)
What all apps are recommended by DiGiTAL BiRYANi to use?
We do not recommend any specific app to use. Every user's requirement is different. We request our readers to get the best out of what we serve. If any of the above apps match your requirements, you can surely try them out to make your Digital Journey more pleasant and productive.
Are these apps free to install?
Yes. These apps are free to install.
Conclusion
Google has changed the Internet immensely. In each and every sector on the Internet, Google has amazingly well-developed products. These are some of the best and lesser-known mobile apps from Google that we feel are worth knowing about. Hence, we have compiled this list and shared it with you. Please share your valuable feedback with us. You can drop a comment or contact us to share your feedback.
If you want us to publish an article about a specific topic, do let us know. We will try our best to incorporate it into our Content Planning.