In this blog, we're going to discuss How to Search Messages in Instagram Chat for Keywords. Instagram which started as a Photo Sharing App a decade back has now evolved into one of the best Social Networking platforms available on the Internet. Over the period of time, people have showered immense love on Instagram and made the App their daily go-to place to greet and meet their friends.
Instagram Direct Message services are one of the highest used massage services in the world and have recently launched an amazing feature to search messages in the Instagram chat. As there's a workaround for Downloading Instagram Videos and Images, prior to this feature, there were some workarounds available to search messages in the Instagram chat.
Now, there's no need for workarounds as there's an official way to search for specific messages on Instagram by searching through a conversation. This feature enables you to quickly search across Instagram chats including old chats and group chats. Let's see the detailed steps to learn how to search Instagram messages for keywords in Instagram Chat for keywords.
How to Search Messages in Instagram Chat for Keywords – Detailed Guide
Update your Instagram app to the latest version from the play store or app store.
Select the Messanger icon at the top-right corner of the Home Page.
Open the chat – individual or group – in which you want to search for a specific message based on the keyword.
Tap the individual's or person's name on the top.
Click on "Search in conversation" to search text in Instagram chat.
You need to type the keyword for which you want to search and tap on the search button.
You will see all the chat messages containing your search term in reverse chronological order.
Tap a search result to view the specific message within the chat conversation. The search term will also be highlighted.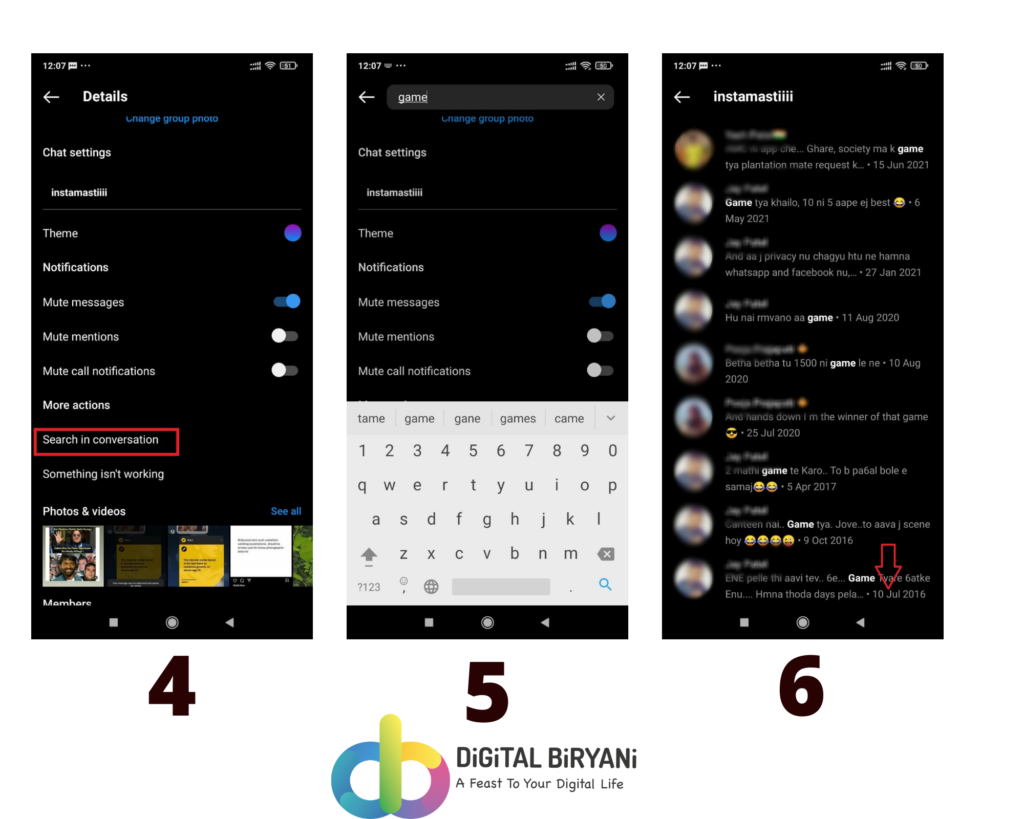 So, the next time when someone asks you how to search chats in Instagram, this detailed guide will help you.
Frequently Asked Questions (FAQs)
Can I search the messages based on the date?
No, there's no such option to search messages in Instagram chat based on the dates.
Can I use this functionality on the Instagram Web version?
No. This feature is yet not available for the web version. It is only available for Mobile Apps.
Can I use this feature for Group Chats?
Yes. This feature is applicable for Group Chats and Individual Chats.
Conclusion
Learning how to search messages in Instagram chat for keywords will definitely enhance your experience on Instagram. Do try this amazing feature to explore your old chats to relive those memories again. Share your valuable feedback with us and help us serve you better.