In the age of social media dominance, Instagram has firmly established itself as one of the most popular platforms for sharing photos, videos, and stories. While Instagram's mobile app offers a seamless experience for posting stories on the go, many users find themselves yearning for the convenience of using Instagram from their PC or laptop.
Whether you're a social media manager, content creator, or simply someone who prefers the larger screen and enhanced editing capabilities of a computer, you'll already be knowing about Instagram's Web Version. Though Instagram has emerged as a mobile platform, there are millions of users active on Instagram Web as well.
If you're an active Instagram Web user who has been using Instagram actively from their PC or Laptop, you must be aware that Instagram does not allow its users to post stories from the PC or Laptop. But, we are delighted to inform you that posting an Instagram story from your PC or laptop is indeed possible. 
In this comprehensive guide, we will walk you through the step-by-step process, unveiling the secrets behind this sought-after skill.
Imagine effortlessly editing your photos and videos on a larger screen, incorporating professional design elements, and seamlessly sharing your stories with the world—all from the comfort of your computer. Now, let's discuss converting this imagination into reality with this detailed guide to learning How To Post An Instagram Story From PC or Laptop.
How To Post An Instagram Story From PC (Step-by-Step Guide)
In this detailed guide, we'll share the trick to post Instagram Stories from PC. So, if you don't know how to post ig story from PC, this blog is going to be a real value-adding for you.
As there is no direct way to post an Instagram Story from a PC, we will use a web-browser trick to implement this. Let's dive into one of the best Instagram Tricks to speed up your Instagram game.
Log in to your Instagram Account using the correct credentials.
Now, right-click on the page and select the "Inspect" option.
Inspect option will redirect you to the Developer options of the Google Chrome browser. There you need to select the Mobile Device option as shown in the below image.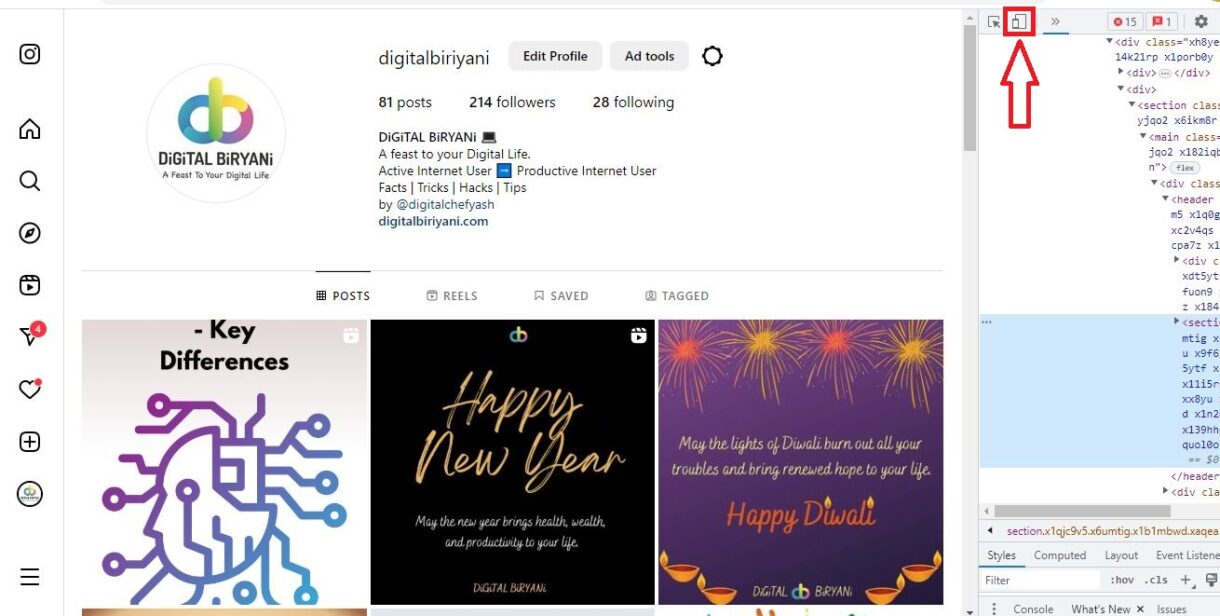 You'll be able to see the screen in the mobile interface. Select any of the mobile devices from the given options.
If you don't see the content and text, try changing the mobile model.
Reload the web page.
Now, you'll see the Instagram Home Page just like your mobile screen. Select the + sign near the Your Story option in the top left corner.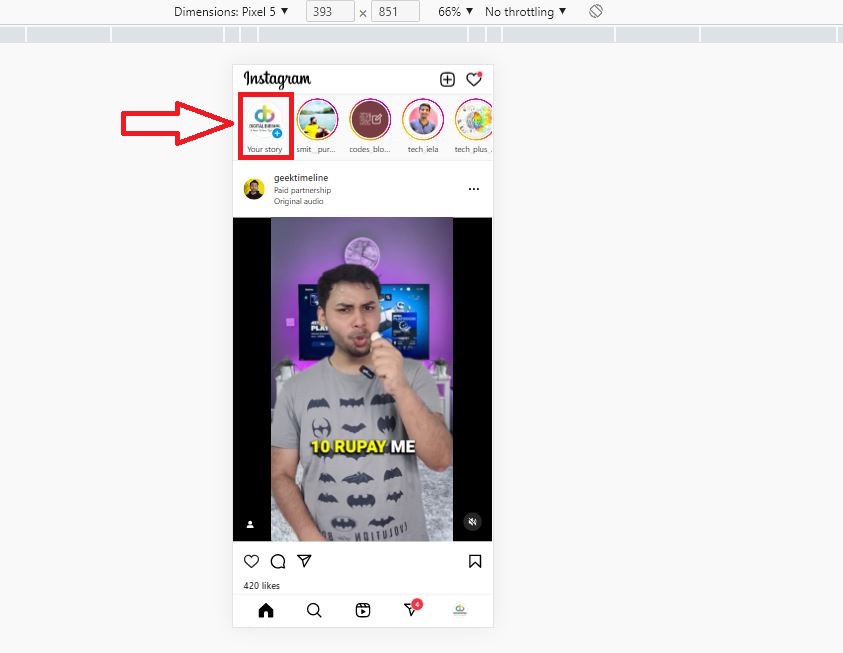 You'll have the option to upload any images from your PC on Instagram Story. Select any content from your files.
Edit the story as you want, and click on the Add to your story option from the bottom center of the screen.
This will publish the Instagram Story from PC.
This detailed guide will let you know how to post an Instagram Story from PC or laptop without using third-party apps.
Frequently Asked Questions (FAQs)
Can I post an Instagram story from my PC or laptop without using third-party tools?
While Instagram's web interface primarily focuses on browsing and engaging with content, it does not offer a direct feature to post stories from a PC or laptop. However, there are alternative methods that we discussed in this blog that lets you post an Instagram Story from PC.
Can I access all the features available in the Instagram mobile app when posting stories from my PC or laptop?
While using the method mentioned in the above blog, the majority of the Instagram mobile features are accessible from a PC or laptop.
Conclusion
That's how you can learn how to post an Instagram Story From PC or Laptop without using any third-party tools. Try this amazing Instagrap Trick and share your valuable feedback with us.