Virtual Credit Cards are the new trend in the fintech industry. So, it is important for us to know what are virtual credit cards and how they exactly work.
Credit cards have been the most effective payment method for many years, and they are still one of the best ways of spending. However, increased security breaches, hassle in maintaining credit cards, increased online shopping, and many other reasons have demanded some advancement in conventional Credit Cards. And that advanced version of conventional credit cards reached the end-user can be named a Virtual Credit Card.
What are Virtual Credit Cards?
Virtual Credit Cards are Credit Cards without physical cards. It is basically an electronic version of your Credit Card and can be accessed through the net banking facility of the bank / the issuer of the card.
Virtual credit cards are temporary 16-digit numbers that are associated with a physical or main card. It also has a CVV and an expiry date attached to it. These details allow users to shop in-store and online or authorize others to do so. These numbers are temporarily generated on the client's request for a specific transaction. Once the transaction is over, the card becomes of no worth.
For Virtual Credit Cards, the charges are routed to the original credit card number. However, vice versa is not possible. The virtual number cannot be traced back to the original card, and it will not work after the purchase.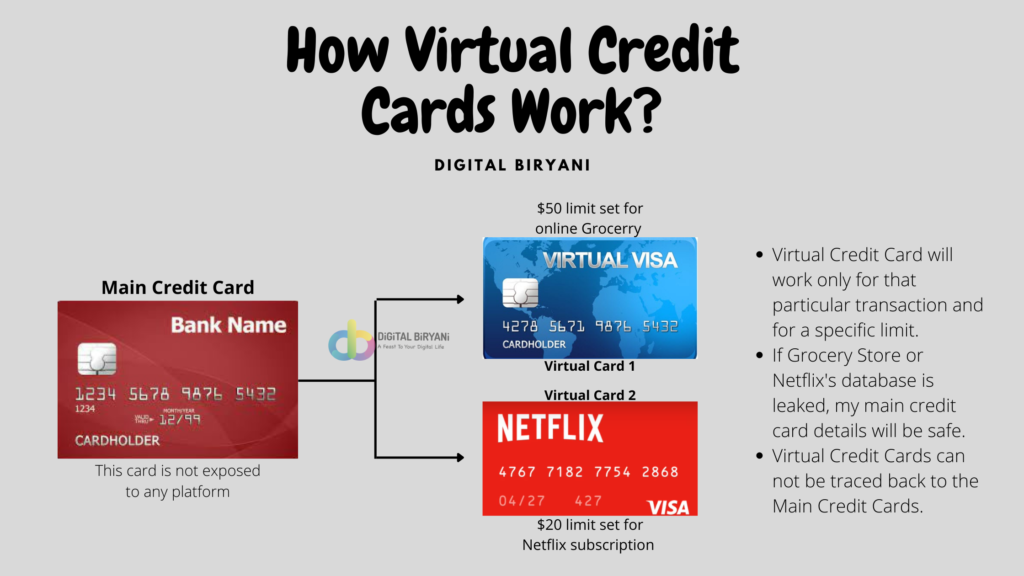 How Virtual Credit Cards are issued?
Virtual Credit Cards are generally issued by the same issuer that has issued the main Credit Card. In some cases, they might be issued by third-party Virtual Credit Card generator platforms.
First, you need to decide from whom you should issue the Virtual Credit Cards. The banks are the safer options, but there are many Virtual Credit Card Generators that offer great cards. Check everything about the company, before selecting the Virtual Credit Card issuer.
Once you select the Virtual Credit Card provider, you should submit all the required details to them. These details may include some important personal information as well as your original Credit Card details. After following all the steps and completing the process, you will get your Virtual Card issued to you.
How to use Virtual Credit Cards?
Once you have the details of your Virtual Credit Card, you can use them for online payments or payments through telephone exchanges that don't require cash or cheque. You need to use the 16-digit card numbers from your Virtual Credit Card, along with the Security Pin (CVV) and the expiry date of the Virtual Card.
The payment will be made from your main credit card without exposing the details via your Virtual Credit Card. Once the transaction is completed, your Virtual Card will be of no use.
How can I add more money to my virtual card?
You can decide the money you want to allocate to the Virtual Cards while getting them issued. The source should be your bank account or the main credit card form where you want to originate your Virtual Credit Card. The funds are transferred online into your virtual cards.
When the balance is low on your virtual credit card, you can reload it with more funds by an electronic transfer from the source. No cash withdrawal is required for loading money into virtual cards.
Is a Virtual Credit Card Different From a Digital Wallet?
Yes. A digital wallet and virtual cards seem to have the same working style to some extent. But with some notable differences, they are not exactly the same. Digital wallets such as Paytm, Apple Pay, PhonePe, Google Pay, etc store a digital version of your physical credit or debit card, with the exact card numbers. Whereas Virtual Cards nowhere store your original card details, ensuring that your actual card number is never actually exposed to a merchant.
Moreover, digital wallets are not accepted everywhere. Digital wallets can only be used at participating retailers, whether online or in-store, while virtual cards can be used for any online purchase that accepts credit cards. In India, these Digital Wallets Apps generally support UPI payments, but Virtual Credit Cards may or may not support UPI. In some cases, it can be used, as after recent changes UPI can support Credit Cards.
Are virtual cards one-time use only?
The majority of the time, Virtual Credit Cards are for one-time use only. Once they have been generated, they may expire after a specific amount of time if they are not used.
When the Virtual Card is used for the transaction, any remaining balance is credited back to your originating source. The cards are nearly impossible to clone. In some cases, virtual numbers can be generated to be used in a series of transactions before being closed.
Benefits of using Virtual Credit Cards
No need to carry Physical Cards.
Virtual Credit Cards are a more secure option compared to conventional Credit Cards as no one store your actual credit card details while paying from Virtual Credit Cards.
You can set the limit for Virtual Credit Cards transactions, which helps you control your spending habits.
As the transaction limit is set on Virtual Credit Cards, if at all it is compromised, you will not lose much amount.
The best option for Subscription-based services, as they won't cheat you by renewing the services, since the card details you provided them have already expired after the transaction.
You can easily restrict what can be purchased from the Virtual Credit Cards.
It can be canceled by yourself at any time. So, if the virtual credit card data is lost, you can easily cancel them at any time to prevent unauthorized access.
Disadvantages of Virtual Credit Cards
Virtual Credit Cards are designed for online transactions mainly. You'll have a tough time at stores and vendors who require physical cards.
In an online transaction, when you require a refund after some time, the seller won't be able to refund, as the Virtual Credit Card that you used during the payment might have expired and is of no use at the time of the refund process.
During the reservations like rental cars or rental rooms, the rental party will need to match the payment details used for the reservation. But, the Virtual Credit Card might have been closed by that time.
Conclusion
That's what you should be knowing about Virtual Credit Cards, and how they are important in this digital world. Drop your feedback below about this blog, or share your views directly.
We're happy to have an esteemed reader like you on our platform. Have a great digital journey ahead 🙂