Google Photos is one of the highest used Photo Storage Apps. Google has announced in November 2020 that Google Photos has more than 4 trillion photos, and the platform receives 28 billion photos and videos every week. In the same blog, Google announced something that triggered everyone to search for Google Photos Alternatives. In this blog, we'll discuss a few options that are very good alternatives to google photos.
What is the need for Google Photos Alternatives?
On the same blog, Google announced the discontinuation of the free unlimited storage facility for Google Photos which prompted users to seek out Google Photos Alternatives.
According to Google's new policy, any new photos or videos uploaded on Google Photos from 1st June 2021 will count towards the 15 GB of free storage that comes with every Google Account. Currently, 15 GB of free storage that comes with every Google Account is shared among various services of Google like Gmail, Google Drive, etc. From 1st June 2021, Google Photos will also be included in sharing storage space.
Google is promoting its paid Google One membership to get additional storage space for Google Photos or Google Drive. So, if the storage capacity of 15 GB is full and you still want to continue with Google Photos to store new photos and videos, you will be compulsorily required to buy additional space via Google One membership.
A consequence of Google's decision may necessitate you to find alternatives to google photos.
Which are the Best Google Photos Alternatives?
Unless you plan to pay Google for photo storage space, there are plenty of options you can choose from. Here we've listed down a few really useful platforms for the same purpose. It may serve your purpose free of cost or very little cost compared to Google.
Free Subscription: 5GB
Paid Subscription (Microsoft Office 365): Starts from $59.99/year
Microsoft, being one of the prominent players in the segment, is a trustworthy brand. It happens to be one of the most secure and trustworthy brands in the industry. It provides 5GB of free cloud storage. After that, Microsoft OneDrive plans start from 24$/year for 100 GB of storage. There are other plans as well, based on the storage capacity, that can be seen on their official website. Microsoft Office 365 users don't need to pay extra costs for storage space up to 1 TB. Moreover, Microsoft also offers family plans to allow multiple users in the same plan.
Microsoft has this amazing Personal Vault feature. It is a boon for Security Dirven people. Microsoft Vault is like a Sub Folder which is end-to-end encrypted. Vault provides extra security to important documents. Documents in the Vault are accessible to users only, even Microsoft employees cannot access them. If you have a premium plan, you can store unlimited files in the vault. For free users, the limit is set to 5 files.
It can be one of the finest Google Photos Alternatives as it has a great syncing facility. Along with photo storage, Microsoft Office 365 provides free access to a bunch of great software available in Microsoft Office. It is compatible with almost every OS, including Microsoft and Mac.
Yearly Subscription: Starts from $47.88/year for 500GB
Lifetime Subscription: Starts from $175 for 500GB
As far as cloud-based storage goes, pCloud is the most secure choice. The platform offers 256-bit encryption for every file it stores. It offers various lifetime plans, which means you just need to pay once and enjoy benefits for a lifetime without paying a penny.
pCloud offers many cool features like file versioning, remote upload, data recovery, online document previewer, etc. Users can auto-upload all photos on pCloud. It also has a feature to sync various devices with pCloud.
TeraBox – Cloud Drive, Extra Storage Space & Backup
Free Subscription: 1TB (1024GB)
TeraBox is the highest free storage space provider platform. It provides 1TB of free cloud storage space without charging anything. Nooooo, it is not a typo. You read it right!!!! It does provide free 1TB storage space along with some cool features. TeraBox supports multi-device sync that includes iOS, Android, Windows, Android, Mac OS, Linux, etc. It supports file sharing with permissions and passcodes. Along with that, it has cool features like Intelligent Album, which automatically categorizes uploaded photos. It also provides multiple privacy protection to enhance security.
Free Subscription: 2GB
Paid Subscription: Starts from $9.99/month for 2TB
DropBox has been in the market for one and a half decades. Hundreds of millions of people have used the services provided by DropBox. It is a full-proof Cloud Storage Space provider. It offers a free subscription of up to 2GB. Paid plans for DropBox start from $9.99/month for 2TB of storage space.
DropBox has a robust and trustworthy encryption system that secures stored documents and photos. It also serves a 180-day file recovery system that makes it special among its competitors. You can sync your device with DropBox to automatically upload photos and files to the cloud.
Free Subscription: 5GB (non-prime members), Unlimited (prime members)
Paid Subscription: $20/year for 100GB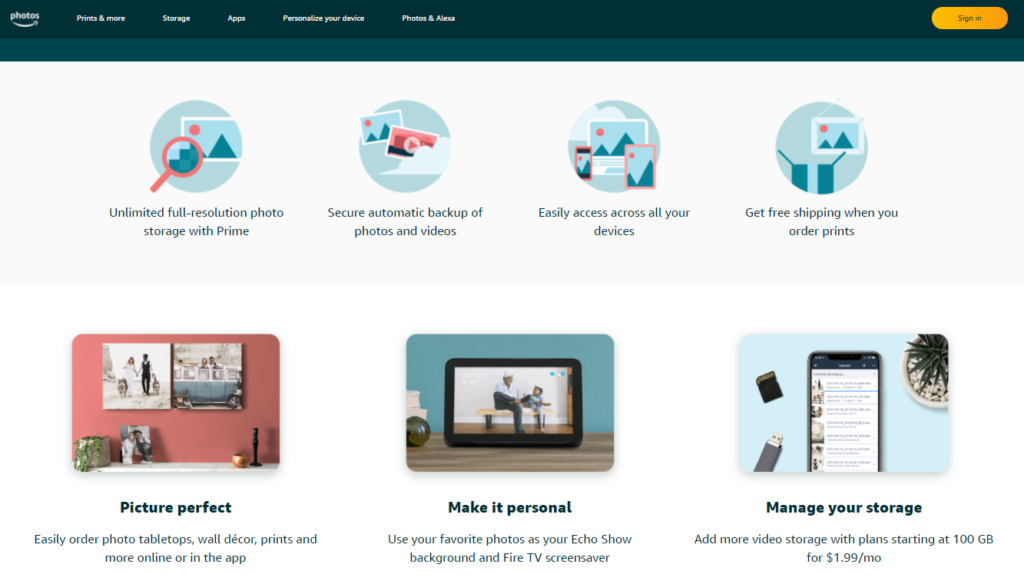 Amazon offers cloud service as Amazon Photos. It offers 5GB of free storage space if you have an amazon account. If you're a Prime user, this service is completely free for you. Amazon Prime users can store unlimited photographs without any cost, whereas the limit for videos is set to 5GB. Users can add 100GB of space at a cost of $20/year. This cost is better than Google Photos ($24/year for 100GB).
It has some cool features similar to Google Photos. Facial Recognition, Smart Tagging based on metadata readings, etc make it one step ahead of others if you're looking for Google Photos Alternatives.
It is supported on various platforms like Android, iOS, Mac, Windows, etc.
Free Subscription: 5GB
Paid Subscription: Starts from $52.12/year for 5TB
iDrive is a good option as Google Photos Alternatives. It offers 5GB of free storage space. After that, premium plans start from $52.12/year for 5TB storage space. If you need larger space, specifically in TBs, iDrive is a sure shot option you can select. iDrive has very good Apps available on iOS, Android, and Windows. iDrive does not provide end-to-end encryption but overall based on user reviews it is a safe and secure platform for cloud storage.
Free Subscription: Up to 1000 images
Flickr Pro Subscription: Starts from $5.99/month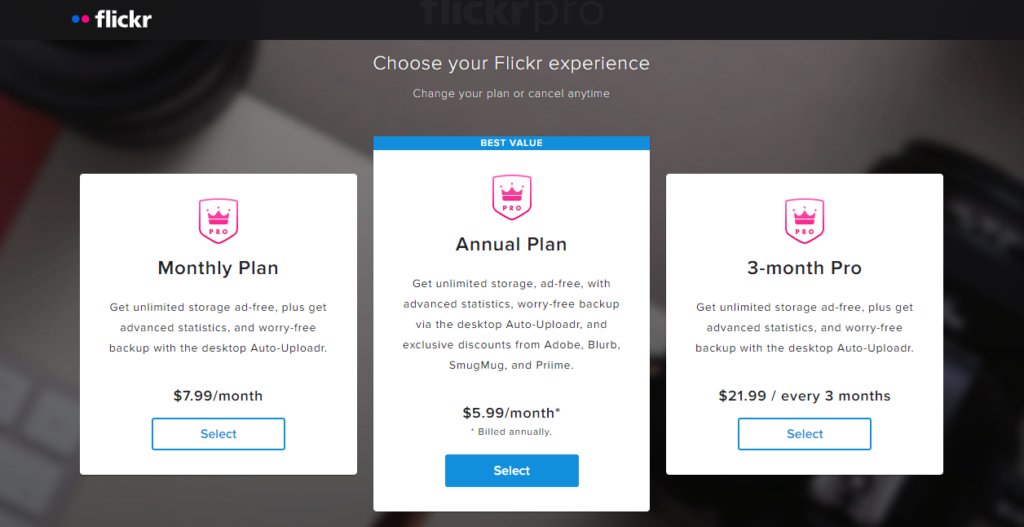 Flickr has been providing quality services since 2004. It is one of the underrated and trusted cloud storage platforms available out there. Flickr allows you to store up to 1000 images for free. After that, you're required to upgrade to Flickr Pro. Its easy-to-use UI makes it unique and special from its competitors. Pro subscription price starts from $6/month if paid annually. Flickr has this great community to share photos, and videos and build an audience.
Free Subscription: 50GB
JioCloud – Free Cloud Storage App is a great initiative by Jio to provide cloud storage space to the users. It provides 50GB of free storage space. Users can access various features from the array of features like Auto Backup, Contacts Backup, Easy sharing, Shared Albums, Access From Anywhere, Simple File Organization, etc. Users can increase the storage space through the Refer and Earn feature.
Free Subscription: 20GB (2GB max file size)
Paid Subscription: Starts from 30₹ / month for upto 2TB (10GB max file size)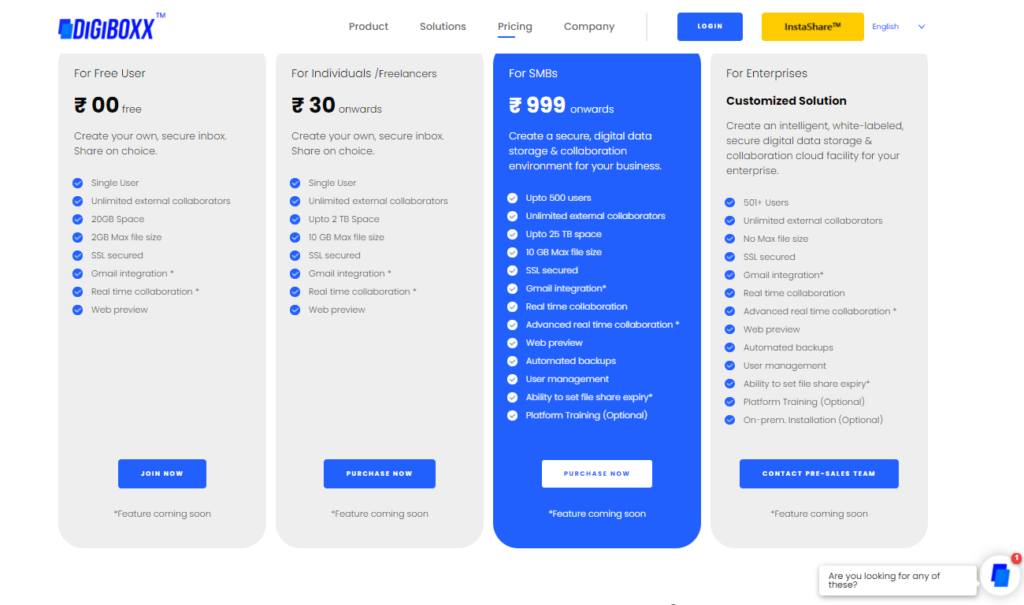 Digi Boxx is an Indian cloud storage platform. It is a great tool with some cool features that secure its place in Google Photos Alternatives. For Indian users, cost-wise, this is a very cheap option. Its paid version starts from 30₹ / month for up to 2TB of storage space. It supports features like end-to-end encryptions, external collaborations, and Gmail integration.
Free Subscription: 100GB (total 500GB referral bonus 5GB/friend)
Paid Subscription: Starts from 189₹ /month for 500GB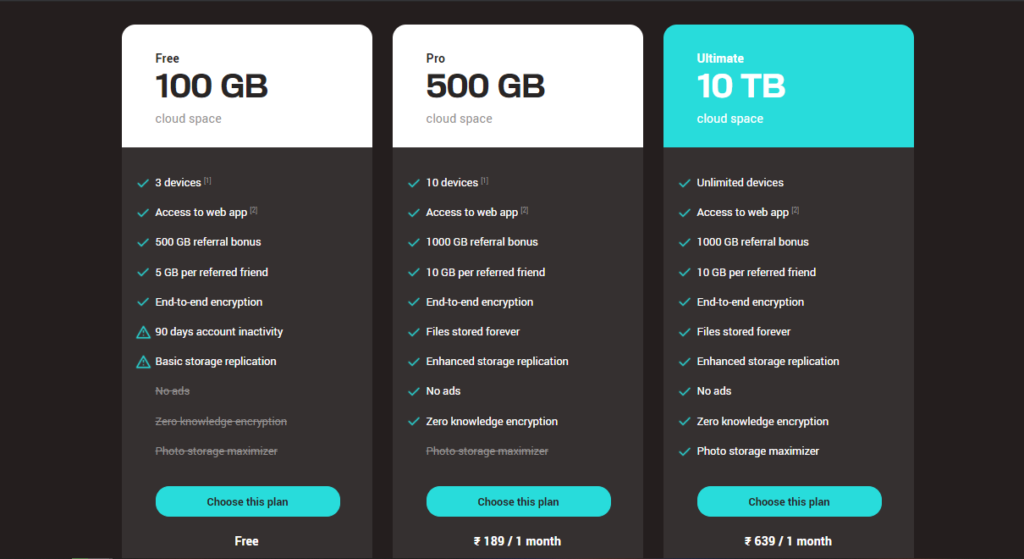 Degoo is an Indian product that works like Google Photos Alternatives to store photos on the cloud. It is a cloud-based storage space provider platform with various options available. Its free plan allows you to store 100GB worth of documents. You can increase the free storage space by referring to your friends. The platform allows you to earn a total of 500GB of referral bonus for 5GB/friend. Premium plans start from 189₹ /month for 500GB.
Frequently Asked Questions (FAQs)
Will Google Photos Stop working after 1st June, 2021?
No, Google Photos will continue working as it is. From 1st June 2021, due to a change in its policy, Google Photos will not provide free unlimited storage space. From 1st June 2021, any new photo/video uploaded will be stored under the 15GB of free storage space of the Google Account.
I have more than 15GB of photos and videos available on Google Photos. From 1st June 2021, what will happen to them?
You can upload as many photos and videos as you want before 1st June 2021. They won't be considered in the 15GB limit. Any photos or videos uploaded from 1st June 2021 will be part of the 15GB data limit.
Are these Google Photos Alternatives mentioned here in any specific order?
No, the list of Google Photos Alternatives mentioned here is not in any specific order.
Also Read:
Conclusion
These Google Photos Alternatives are some of the best platforms that provide a very good cloud-based storage facility. You can choose whatever platform suits you best based on your requirements from the above list, which is not listed in any particular order. Please feel free to reach out to us, we would be happy to assist you to solve your issues. Readers like you are a real backbone of our platform, please feel free to share your feedback with us or drop a comment below.