In this stressful world, who doesn't enjoy doing harmless pranks with friends and family members? Mobile Phones are an essential part of our lives. Making a prank on someone's phone will undoubtedly make them restless. If you can get someone's Android Mobile Phone for a couple of minutes, by applying this trick you can make their mobile phone experience scary with extremely low speed. So next time you want to take revenge with your friend or cousin, use your privilege of being DiGiTAL BiRYANi's reader to prank their mobile phones by slowing them down like a tortoise.
The trick we're discussing in this blog is completely harmless and reversible. It is just for a fun purpose. In reality, it is just a change of settings from Android Developer Options. So, to know this trick first you need to use Android Developer Options. Go to the Settings and check for Developer Options. If that option is not available, you need to enable Android Developer Option.
How To Turn On Developer Options on Android Mobile Phone?
Developer Option is a setting configuration on Android devices where you can configure system behavior to help you track and troubleshoot your application. On Android 4.1 and lower, Android Developer Option is available by default. However, for Android 4.2 and higher versions, we need to enable Android Developer Options.
Follow these simple steps to turn on the Android Developer Option on your Android device.
Open your Android Phone and Go to Settings.
Scroll Down to About Phone.
Go to Build Number.
Tap on the Build Number option for 7 times.
You may have to tap in your PIN for verification.
Activating the developer options will result in a message saying, You are now a developer.
Based on the brand and Android version, steps may vary as in some brands Build Number is in the Software Information, in some brands, it is directly under About Phone. Ultimately you need to locate the Build Number on your Android Device to tap on 7 times to turn on Developer Options.
Steps To Slow Down Mobile Phone Speed To Prank
Now as you know how to enable Developer Options on Android devices, let's move ahead to prank your friends with this amazing trick to Slow Down the Mobile Phone Speed.
Open the Android Mobile phone and Go to Settings.
Navigate to Developer Options.
Scroll down and go to Window animation acale, Transition animation scale, and Animator duration scale and set them at 10X.
Consequently, animation speed will slow down and you'll feel as if there is a problem with your phone and it's speed has been significantly reduced.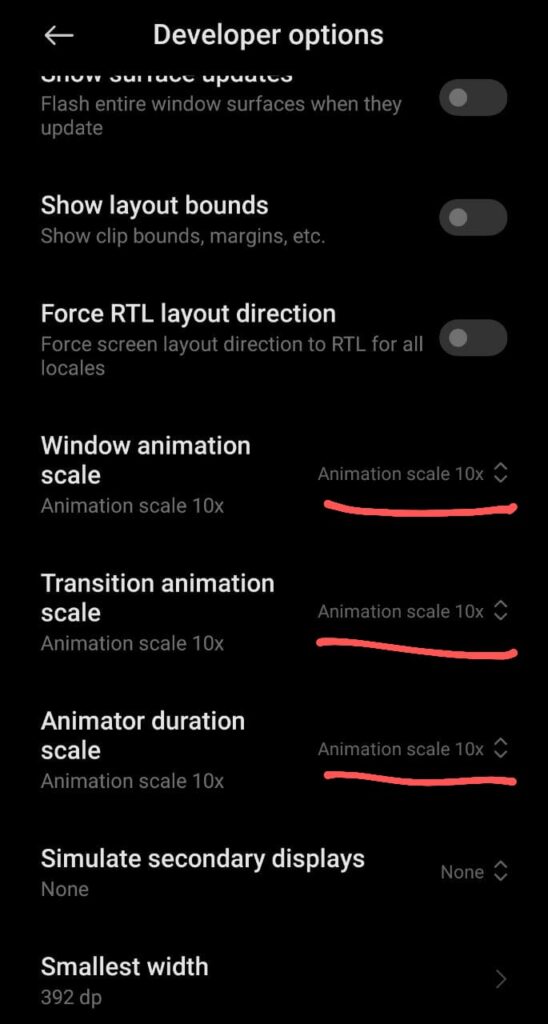 By changing this setting to 0.5X, animation speed will become faster, giving the impression that mobile is working quickly.
Frequently Asked Questions (FAQs)
What can we do to reverse the trick and make device it normal again?
This trick was to prank your friends' phones by slowing down the phone speed. To make it as it is, follow the same process, but set speed as 1X instead of 10X in all three settings mentioned above.
What is Android Developer Option?
The Android Developer Option is an advanced settings configuration option available on the device. It lets you change various settings like enabling debugging over USB, capturing a bug report, enabling visual feedback for taps, flashing window surfaces while they update, using the GPU for 2D graphics rendering, and many more.
Conclusion
As we know Digital Productivity is the sole aim of DiGiTAL BiRYANi. It is important to have healthy fun in your digital journey to be productive. That helps us to stay digitally productive and motivated. We shared this blog with the same intention. You learn something new on this wonderful platform, apply the trick in your life, and have some healthy fun. Try this with your friends, and share your feedback with us. Do you want any specific blog from us? Share your Blog topic suggestions with us now.