There would hardly be a techie who is not into movies-related stuff. Techies love movies, and this fact can't be changed. So, there's no need to ask the question, do you love movies or not? Because, we know our readers, and they always love watching movies.
The 2 or 3 hours spent in a movie theatre are always refreshing and exciting. But for that quality of 2-3 hours, sometimes we need to waste our precious time and efforts in a queue at movie ticket booking counters. With ever-growing technology, this time and effort can be saved with the best apps for booking movie tickets online in India.
Booking Movie Tickets online has its own list of benefits. Let's discuss in and out about online movie ticket booking process. The advantages these apps for booking movie tickets offer to the end users, and a few disadvantages of these movie ticket booking apps.
Advantages of Booking Movie Tickets Online
It is easy to get an idea of various shows at all the theatres from a single platform.
You can check the availability of tickets along with their price.
The best part of booking movie tickets online is that you can select your preferred seats.
You can save a lot of time and effort.
Online Movie Ticket Bookings offer you flexibility in planning your day instead of spending time in a queue.
You can eliminate the process of standing in a long queue at movie ticket booking counters.
Online Movie Ticket Booking Platforms are open 24/7 for booking movie tickets.
You don't need to reach early to the movie theatre worrying about ticket availability.
Above all, booking movie tickets online sometimes helps you to save a good amount of money with offers, rewards, and cashbacks.
Disadvantages of Online Movie Tickets Booking
You need to pay Internet Handling Charges / Online Booking Fare and Taxes while booking movie tickets online.
There's a limit on booking the number of tickets. This may differ on different platforms. Yet. you may face issues while group booking.
You need to pay Cancellation Charge in some cases, whereas sometimes it is optional.
List of Best Apps for Booking Movie Tickets Online
As it is clearly visible that booking movie tickets online has more advantages. So why not sail this journey of technological advancement, and change the practice of standing in a movie ticket booking counter queue by using these best apps for booking movie tickets online?
BookMyShow
BookMyShow is by far the best online movie ticket booking app available in India. BookMyShow, aka BMS, is the highest used app to book movie tickets online in India. Along with movie tickets, it also offers booking of events, dramas, musical events, sports events, etc.
You can reserve the ticket for a few minutes. If you want to avoid high internet fees, you can reserve your favorite seat from the app, and do the offline booking in the defined time period. BookMyShow app allows you to watch the trailer of the film, along with important details like cast, crew, and reviews.
BookMyShow is one of the most prominent and the most reliable online movie ticket booking platform in India. It serves from the metros to the smallest towns. The service is available in approx 650 Indian cities and a few other countries like West Indies, Sri Lanka, UAE, Singapore, and Indonesia.
Pros of BookMyShow App
Very Reliable and User-Friendly platform.
Covers almost every theatre.
Secure and Safe platform.
Many cashback and discount offers are available.
Along with movie tickets, booking for other events such as Sports, Plays, Drama, Standup Comedy Shows, etc. are also available.
They don't take additional Cancellation Charges.
Cons of BookMyShow App
Comparatively high additional booking fees need to be paid.
Poor Cancellation Support
Paytm Movies
Paytm – an online payment app – is a fin-tech leader platform that has brought a digital revolution in India, and helped India reach 1st in digital payments. The same Paytm platform now offers online movie booking services as well. And this service from Paytm has been accepted and praised by the users.
Paytm's online movie booking service is smooth and seamless. Just like BookMyShow, almost every cinema is listed on the Paytm app for online bookings. The app also offers Free Cancellation by charging a few bucks while booking. The best part of this app for booking movie tickets online is that it offers a wide range of cashback offers.
I, personally, choose Paytm over BookMyShow and other platforms for online movie ticket booking due to the credit card offers and other cashback rewards. It is one of the best apps for booking movie tickets online in India.
Pros of Paytm Movies App
Best in terms of offers and rewards.
Supports almost all movie theatres.
Provides you M-Ticket.
Easy to pay through Paytm App.
Cons of Paytm Movies App
Cancellation Charges (It is optional, but by default, it is charged. You need to remove it manually. If missed, you will be charged extra.)
Internet Handling Charges are also high.
Amazon
Amazon is the place where you can do almost everything, right? Amazon also supports movie ticket bookings. Did you know that? So, let me clear it first. Amazon does not have its own platform for online movie ticket bookings. But, it provides you with a platform to book movie tickets from BookMyShow.
You need to search for Movie Ticket Booking in the search bar of the Amazon App. It will redirect you to the online movie booking platform. Its movie ticket platform is powered by BookMyShow. But the best part is that you can enjoy various offers and cashback from Amazon Pay if you book movie tickets online through Amazon. The cashback is usually paid in the Amazon Pay Wallet.
Pros of Amazon Movie Ticket Booking Platform
Powered by the reliable online movie ticket booking platform – BookMyShow.
Good Cashbacks and Offers.
Various Payment Options.
Cons of Amazon Movie Ticket Booking Platform
No direct tie-up with cinema groups.
High Online Booking Charges just like BookMyShow.
PVR Cinemas App
PVR is considered the best and the most premium cinema chain in India. It has many screens all over the country and offers a great movie-watching experience to users. PVR, aka Priya Village Roadshow, has its own online platform that allows users to book movie tickets online. This mobile application lets you book movie tickets for any PVR Cinemas across the country.
The best part about this app is that it also allows group booking/bulk booking for schools, offices, etc. This feature is generally not available in online movie ticket booking apps. Along with that it also allows you to book snacks, drinks, and food directly from the App.
The PVR App has tied up with India's one of the leading cab providers, OLA, to allow users to book cabs for their movie shows. The app also sends you to live traffic updates from your location to the movie theatre. You can cancel the movie ticket up to 20 minutes before the movie show time.
Pros of PVR Cinemas App
Bulk Ticket Booking facility.
User-Friendly application.
Friendly Cancellation Policy.
Food Order through the App.
Book a cab for a movie directly from the App along with Live traffic updates.
Cons of PVR Cinemas App
You can only book for PVR Cinemas through this App.
Justickets
A great experience is made for movie fans in India through Justickets by allowing them to seamlessly book tickets for the latest releases across different cities in the country. The Justickets app is very well developed and fully featured which makes your online movie ticket booking experience smooth.
The good part is that the App also supports movies in Hollywood, Tamil, Telugu, Hindi, Malayalam genres, and other regional languages. Many times users get exciting offers and rewards on Justickets on various payment options and cashback. It is one of the quickest and the best apps for booking movie tickets online in India.
Pros of Justickets
Multiple payment options.
Offers and Cashbacks.
Quick to use.
Cons of Justickets
INOX Cinemas App
India's one of the largest and the most popular cinema brand, INOX, has its own online system for movie booking. INOX has a mobile app that allows users to book movie tickets online in India. The app has a very smooth and user-friendly UI. Users can book movie tickets online through the INOX app with safe and secured mobile payment options.
Also, you can send INOX E-Gift cards to your loved ones, family, and friends through INOX platforms. Using INOX's exclusive online platforms, you can do group bookings for your students, staff, or near ones. The app also allows users to book snacks, and beverages directly from the App.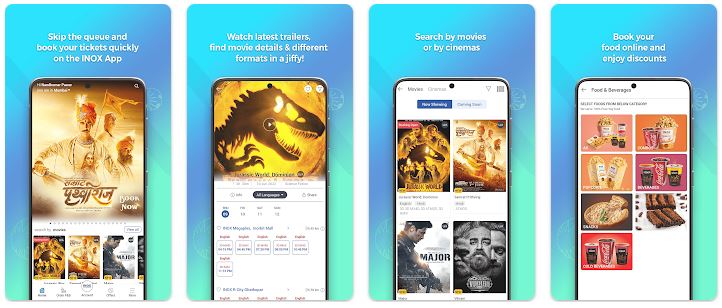 Pros of INOX Cinema App
Bulk Ticket Bookings.
User-Friendly Platform
INOX E-Gift cards and other offers.
Easily order snacks and drinks from the App.
Cons of INOX Cinema App
You can only book for INOX Cinemas using this App.
TicketNew
TicketNew is another great platform for booking movie tickets online in India. The platform has tie-up with many major cinema brands in the country. It is a very good platform but the name is yet to reach the common people. Unfortunately, people in India only know 2 generic platforms for Online Movie Ticket Bookings – Paytm Movies and BookMyShow.
TicketNew is similar to that category. The platform supports around 400 theatres across Asia including India, Oman, Dubai, Maldives, Nepal, and Singapore. It is available in around 80 cities in India.
Pros of TicketNew App
User Friendly and light Interface
Privacy-Centric App.
Stores less amount of personal data.
Cons of TicketNew App
Very less offers and rewards options.
Cinepolis India
Cinepolis India is another great cinema chain that promotes online ticket booking through its own app. On the Cinepolis App, you can easily check trailers of the latest movies, show timings & notifications of upcoming movies. After that, you can easily book your tickets on the go.
It takes just three easy steps to locate a cinema near you, search for the movie that's playing, and purchase tickets without standing in long lines. So, if you're a regular Cinepolis visitor, the Cinepolis App must be on your mobile phone for hassle-free movie ticket booking.
Pros of Cinepolis Cinema App
Check the trailer of the movie before booking.
Easy-to-use 3-step online movie booking.
Cons of Cinepolis Cinema App
Only applicable for Cinepolis Cinema
Poor reviews from iOS App users
Frequently Asked Questions (FAQs)
 What exactly is M-Ticket?
M-Ticket is generally in the form of an Image or PDF. It possesses QR Code on it. The QR-Code is scanned at the multiplex entrance to check the authenticity of the ticket. It is as same as the physical hard copy of the ticket.
Do screenshots are allowed instead of PDF files?
Yes, as long as all the details are properly visible, screenshots are allowed and accepted at almost every multiplex.
Conclusion
That's how you can choose the perfect app from the list of best apps for booking movie tickets online in India. Analyze everything before choosing the best app for booking movie tickets online that offers everything from the best offers to a seamless booking experience. Save your hard-earned money on online movie ticket booking with these best apps for booking movie tickets online. Share your valuable feedback with us to help us serve you better 🙂