Google Chrome has been extremely popular among users for its continuous updates and latest features. In one such recent update, Google Chrome might shortly introduce a new feature for selected users. Initially, Google Chrome will test this feature for a few selected users in the United States on Chrome Canary. The Google Reader users have hope again. This new feature has a lot of features similar to the one they used before.
The Latest Feature Google Is Experimenting On Chrome
Coming to the point about the latest feature by Google Chrome, they are intending to include a Follow button to follow websites on the browser. Users can get the latest updates from the websites they've followed directly in the Following section on Google Chrome's new page tab. This will help website owners to build a personal connection with their audience.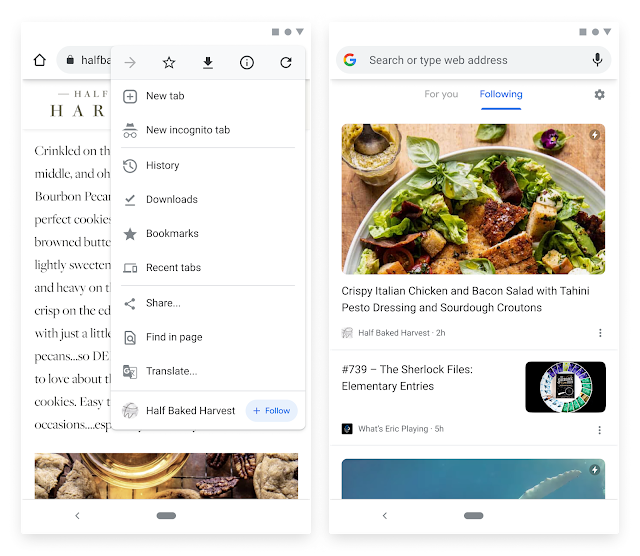 Google's View on The Chrome's Experimental 'Follow' Button Feature
An official blog post by the company outlined the plan. Janice Wong, Product Manager for Google Chrome, mentioned in the latest blog post that their goal is to allow people to follow the websites they care about, from the large publishers to small neighborhood blogs.
This feature will be based on the RSS (Really Simple Syndication). RSS will be used to collect and display the latest updated content from the websites. That's why the company has requested publishers to keep the RSS feed updated on the website. Updated RSS feed will help the users to get the latest updates through the latest feature of Google Chrome.
Follow Button is likely to be available for testing purposes only for selected users. The company is planning to do this experiment on Google Chrome Canary. Google Chrome Canary is a version of Google Chrome that is largely used by developers to test their tools and websites.
Nevertheless, this feature initially will only be an experimental feature. Only based on the test results, the company may plan to make it available to all users in future stable versions.
Janice concluded the blog with the statement
We will provide more guidance to web publishers as we learn and evaluate whether this feature will graduate from an experiment to a broader rollout in Chrome.
Conclusion | Highlights
Google is testing a 'Follow' Button feature on Chrome Canary.
This will be based on the RSS.
During the testing period, it will be available for selected users on Chrome Canary.
Also Read
Frequently Asked Questions (FAQs)
Can every Google Chrome user get this Follow Button?
Initially, During the testing period, it will be available for selected users for Google Chrome Canary in the United States of America.
When will this Follow Button be available for all the Google Chrome Users?
There is no such announcement made from Google regarding this. Based on the experience and results during the testing period, a decision might be taken to enable this feature for everyone in future Stable Releases.
Would it be possible for me to be a part of this testing process and get a Follow Button?
There has not been any process to request a Google Chrome to be a part of this testing process. As mentioned, it will be enabled for selected users on Google Chrome Canary in the USA.
At, DiGiTAL BiRYANi, we're determined to share the latest technology updates, tips, tricks, hacks to keep you updated. We need your feedback to help our Digital Community to boost their productivity. Please feel free to drop a comment below or share your feedback with us. We'll get back to you within 48 hours.