The most entertaining movie watched alone is boring, while the most boring movie seen with friends is fantastic. We all miss those school and college days when we used to book a full row in the theatre and not a couple of seats. Those friends are in different cities, and sometimes in different countries. The pain of not watching the latest Marvel movie with your childhood buddy is real. But don't worry. Being an esteemed reader of DiGiTAL BiRYANi, you'll no longer suffer the pain. In this blog, we're going to discuss various platforms that will let you watch the best movies and Netflix shows together online. You'll no longer waste your precious time searching How To Watch Netflix / Movies Together With Friends Online. Just ask your buddy to be ready with the bowl of popcorn.
Fill your loneliness with the feeling of some togetherness with these platforms.
How To Watch Netflix and Movies Together with Friends Online? – List of Platforms
There are a few platforms that let you enjoy the movies and OTT content with your friends and loved ones online. You chill on your couch with a coke and a tub of popcorn and watch a movie with your friends.
Teleparty is a short and sweet Google Chrome Extension. The original Netflix Party is now rebranded as Teleparty. Earlier only Netflix was supported. Now they also support other platforms like Disney Plus, Amazon Prime, HBO Max, and Zulu. Teleparty (Netflix Party) is among the most popular platforms for watching movies and Netflix together. During the pandemic, it kept friends and family in touch. You can watch shows and movies available on Netflix, prime, and other platforms online together with your friends and loved ones.
Let's see how it works. A few steps and you can enjoy your favorite movie with your loved ones.
Download and Install

Teleparty Chrome Extension

.
Pin the Teleparty extension on your Chrome Address Bar. You should see a 'TP' icon on the Chrome Extension if it's pinned.
Open Netflix, Prime, Zulu, Disney Plus, or HBO Max on Google Chrome and start the movie or show you want to enjoy together with your long-distant buddy.
Click on the 'TP' icon on the Google Chrome Address Bar.
After that, click on the Start Party.
You'll get a party URL, share the URL with your friends and enjoy the party.
One cool thing about the Teleparty is that you can chat with your friends while enjoying a movie. There's a chat room that supports texts, images, emojis, and much more.
Supported Platforms
Netflix
Disney+
HBO Max
Amazon Prime
Hulu
It is an amazing platform for binge-watching with friends. You can enjoy time-less parties hosted on the internet. You need to install the Metastream Google Chrome Extension. After that follow a few simple steps to enjoy movies and shows together with your friends.
Metastream offers a Video Queuing facility for continuous watching. If you're stuck while setup or while ongoing party, there's a detailed info page – Metastream FAQs.
Supported Platforms
Youtube
Netflix
Hulu
Crunchyroll
SoundCloud
Twitch
Reddit
Rave is a mobile platform to watch Netflix and movies together with your long distant friends. It enables you to create a watch party to enjoy with your loved ones. You can chat via text or voice message even while enjoying the party. The Rave platform allows your friends to join from Android, iOS, other devices, and even from VR. You can even listen to music with your friends.
Supported Platforms
Netflix
YouTube
Amazon Prime Video
Disney +, and many more.
TwoSeven is the platform that supports more platforms to host a party compared to other major platforms like Teleparty. TwoSeven is majorly a free platform. However, there's an optional paid plan available. Couple of platforms only supports on Paid Plan. However, majority of the services available with the free plan. It's easy to use platform. Let's discuss detailed steps to setup a party on TwoSeven.
Download and Install

TwoSeven Chrome Extension

on your Google Chrome Browser.
Go to the

TwoSeven website

from your Google Chrome.
Click on the Get Started and complete the Login process.
Click on the Start Watching.
Select the Create Room. There will be two options available. Select the appropriate option.

Allow every participant to use microphone/webcam.
Only admin can control the videos and playback.

Add friend to the room or share the link with them to join the room.
You and your friends can enjoy chat and call while enjoying the party together.
Supported Platforms
YouTube
Netflix
Amazon Prime Video
Hulu(Only for Patron Supporters)
Disney+ (Only for Patron Supporters)
Crunchyroll
Apple TV
HBO Max
Vimeo
Personal Videos
Screenshare(Only for Patron Supporters) and many more.
Scener supports two kinds of parties. Private Party (Room) for upto 10 people, and Public Party (theater) for unlimited participants. In a room everyone can watch movies and show together with video, audio, and chat options. Whereas in a theatre participants can only use text-chat, only upto 10 co-hosts can be on a camera. Scener is a completely free platform. You can host a party without paying a penny.
Scener only works on the Primary Netflix Profile of any account. So, in case of shared account make sure to use the main account while enjoying the party on Scener.
Supported Platfroms
Netflix
Disney+
Amazon Prime Video
Hulu
HBO Max
YouTube
Funimation
Showtime
Vimeo
Alamo
Shudder
Kast is a virtual living room for the people to watch, play, and be together. You can watch movies and videos with friends in a virtual room. Kast also allows video chatting and text-babsed chatting while enjoying a movie together. The platform is available in various fromats like Desktop App (windows and mac), a web browser version, and also mobile apps (Android and iOS) version.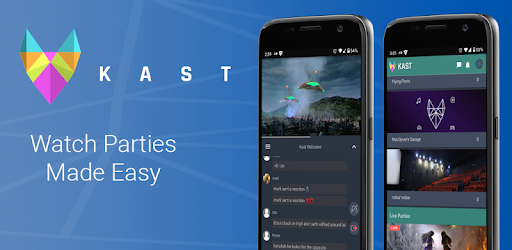 Kast is a free platform to use. However, there's a paid version available that provides you an edge with add-ons like ad-free experience, improved video quality, and much more.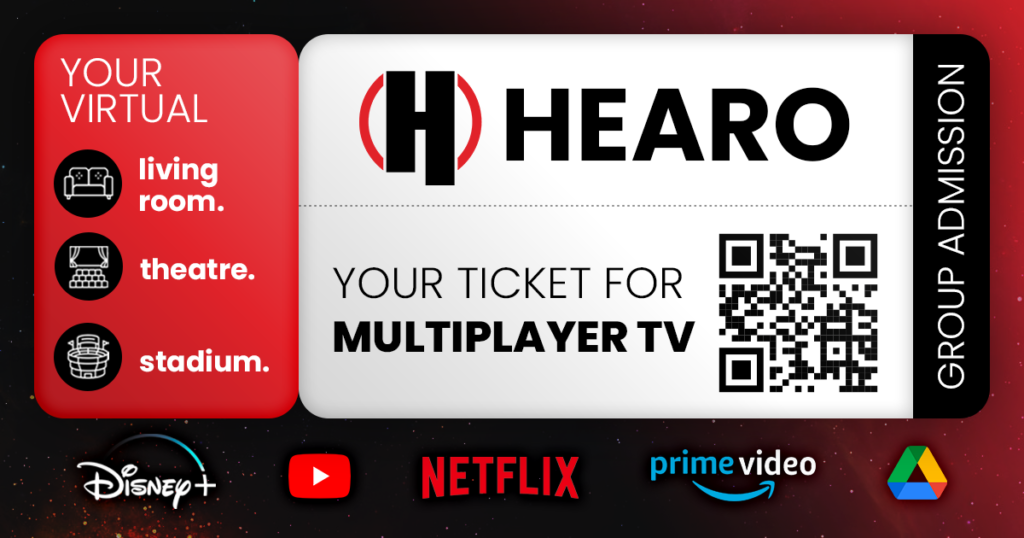 Hearo is your multiplayer TV where you can sit and enjoy your favorite stuffs together with your friends. It allows you to create watch parties for various platforms. It also supports connecting to cable TV providers that enables you to hold parties for a moment to enjoy live scores or events. Windows and Mac App is available for desktop version where as Android and iOS Apps are available for mobile users. Hearo supports voice chats as well, that let you connected with your friends while watching movies together.
Supported Platforms
Netflix
Disney+
Hulu
HBO Max
Crunchyroll
Amazon Prime Video
Paramount Plus
ESPN and many more.
Watch2Gether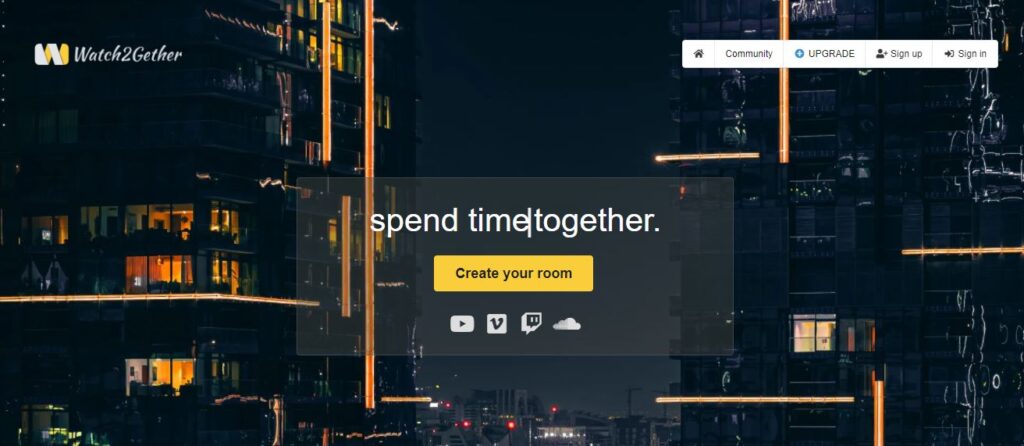 Watch2Gether has its own video player that lets users watch content from platforms like YouTube, Dailymotion, Vimeo, and Soundcloud. The platform directly do not allow other streaming sources on it. However, other streaming sources like Netflix, Amazon Prime, Disney+, and others can be used via W2gSync. It is a beta platform that allows you to paste a URL directly into a special room. Download and install Watch2Gether Chrome Extension to use W2gSync feature.
Supported Platforms
YouTube
Dailymotion
Vimeo
Soundcloud
Netflix, Prime, Disney+, and other platforms are supported on beta version W2gSync.
Frequently Asked Questions (FAQs)
Do these platforms require separate accounts to watch movies?
Some of these platforms require separate streaming source accounts. However, it may work on shared accounts as well. You can try and check on your own to use as per your convenience.
Are these platforms officially supported by Netflix?
No. Netflix does not support any of these platforms officially.
Conclusion
These are the platforms that reduces the physical distance of people and provide them the love, warmth, and company they want. These type of short and sweet movie dates give immense strength in Long distance relationships. We also wish that our esteemed readers also spend a quality time with their long distant friends and families.
We request you to send us a short feedback about this blog. Your feedback is very valuable for us to serve you the better content. If you want us to write a blog of your choice, we're just a ping away. Send us your favorite Blog topics, we would try our best to incorporate it into our Content Planning Part.