Financial technology (FinTech) refers to companies that use technology to improve financial services' use and delivery. It enables business owners, consumers, and organizations to manage their financial processes better. The development of finance apps is facilitating fintech services to be more accessible to people.
Fintech users are forecasted to reach more than 7 billion, with total revenue expected to cross $294.5 billion globally by 2027. Consequently, many companies are investing in FinTech development services to position themselves in this vertical. Additionally, finance apps are replacing the conventional methods of carrying out financial operations and providing numerous business opportunities.
From enhanced security to easy accessibility, finance applications are revolutionizing the fintech industry in many ways. It is opening new opportunities for growth and development in the fintech industry. Moreover, fintech app development companies are extending their solutions and establishing strategic partnerships with payment gateways to simplify transactions between parties.
How Finance Apps are Reshaping the FinTech Industry
Financial tools and knowledge were previously limited to specific groups of people. However, finance apps have made them accessible to common people, combining the power of financial services with technology. Additionally, they are projected to generate many innovative revenue opportunities for the fintech industry.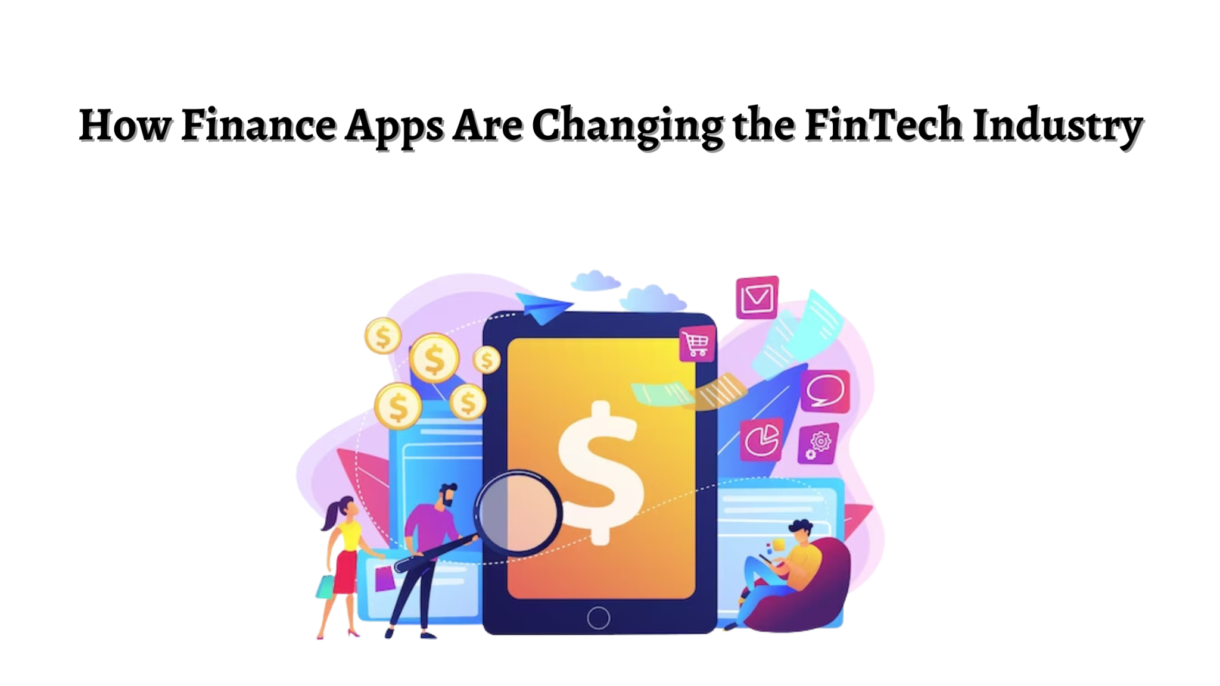 Billing and Payment Systems Made Easy
Introducing digital payments and billing applications in the FinTech industry has transformed the traditional payment method into cashless transactions. Earlier, credit card companies, major banks, and huge financial giants used to dominate the finance sector. However, this shift to digital payments has provided users with high convenience and accessibility.
FinTech app development companies use various security methods and robust technologies to ensure authenticity and better user engagement, such as blockchain, third-party authentication, biometric logins, etc.
Paypal, Payfirma, and Wepay are some popular examples of digital payment mobile apps.
Digital Banking Opportunities
FinTech apps enable digital processing of banking activities, financial services, and transaction methods. It offers "banking as a service" applications to serve customers with online banking operations.
Finance apps manage many banking services, such as payments, tax calculation, managing business assets, personal banking cabinets, and more. Technologies like AI, biometrics, voice & face recognition, and online banking enhance security and customer engagement.
Not only it caters to customers unsatisfied with traditional banking methods, but it is also cost-effective as it follows the branchless concept in banking. Therefore, many business aspirants are exploring the online banking field and creating their own digital banking apps.
Personal Finance Management Applications
People look for speed and convenience in applications to manage their personal finance. Finance apps provide swift updates of transaction records and payments, making it easy for people to track their expenditures.
With several personal finance and money management application options in the market, managing your finances is quite effortless. You get real-time data updates from banks and categorize your spending, including groceries, subscription amounts, bill payments, debt payoffs, and dining out. This insight into personal finances enables people to review their funds and make more informed decisions.
Insurance Fintech Applications
The number of insurance claims is increasing worldwide, which, in turn, is leading to a surge in the insurance market size. Insurtech market growth was recorded at $5.45 billion in 2022 and is growing at a compound annual growth rate (CAGR) of 52.7% from 2023 to 2030.
Insurance fintech applications integrate many features, such as claims management, payment processing, smart contracts, risk minimization, fraud detection, etc. Moreover, the data and analytics allow you to analyze customer patterns to offer personalized insurance options and dynamic prices.
For instance, if someone is looking for home loans, insurance fintech applications evaluate property types to suggest suitable loan & payment strategies. As a result, these applications provide customers with the best insurance policies.
Payments Via Cryptocurrency
The cryptocurrency market size was recorded at $4.67 billion in 2022, which is growing at a CAGR of 12.5% from 2023 to 2030. The FinTech app development company seeks new revenue generation opportunities as the cryptocurrency market grows.
Cryptocurrencies are helping finance apps in easy trading, making profits, and paying. Crypto coins act as an alternative currency for trading. Several fintech apps are using cryptocurrency for carrying out transactions.
Cryptocurrency adoption has become widespread as industry giants like Mastercard, Tesla, Amazon, and PayPal have implemented them in payment systems. With cryptocurrency finance apps, you can expand your customer base and provide them with lower transaction costs & greater transparency.
Top FinTech App Development Trends in 2023
Technologies like artificial intelligence, blockchain, cloud computing, and big data are at the core of the development of finance apps. As more innovative digital technologies come into play, you must be updated with emerging fintech app development trends to add a competitive edge to your finance app.
Blockchain
The market for fintech blockchain is expected to reach $43.1 billion by 2030 globally, growing at a CAGR of 53.6%. Blockchain enables decentralized & secure fintech applications by eliminating third parties (such as banks) in finance activities. With smart contracts, you can provide secure payment gateways, better financial management, and automated payment systems.
Artificial Intelligence
Integrating AI technology into your fintech apps can reduce costs and save time. AI-powered fintech apps increase the accuracy of your application process and enhance efficiency. Additionally, it allows you to create personalized loan offers, making your finance apps more user-friendly and engaging.
AI Chatbot Banking
AI-powered chatbots can act as a helping hand for the support team and reduce their workload and enhance efficiency. It also ensures timely responses to the users and helps you to keep them satisfied with your services with enhanced user experience. Besides, AI chatbots can perform many functions like 24/7 customer support, solving consumer issues, getting user feedback, and more.
Biometric Authentication
Providing a secure authentication system is essential for your fintech applications in building trust with your customers. Biometric authentication in fintech applications is a growing trend that increases user security and privacy in your app. You cannot always rely on passwords/pins for the security of your application. Therefore, Biometric authentication can add more security to your application besides voice, face, and fingerprint recognition, making it more secure.
Robotic Process Automation (RPA)
Robotic Process Automation (RPA) adds an advantage to your application to further increase the accuracy of your application using verified data and inputs. It can also help in increasing the efficiency of multiple processing in your system and financial reporting. Furthermore, risk assessment and financial statement auditing can prevent risks in your fintech applications.
P2P Loans
Time-consuming loan processes can overwhelm users, leading to unsatisfied customers. Therefore, P2P loan is a profitable trend in fintech applications in streamlining loan applications, money transfers, and investments. It makes the transaction process to be on your tips, increasing customer loyalty and business revenue.
Voice Command Integration
Do you know almost 71% of consumers' preferred search mode is voice command? Therefore, Virtual assistants like Siri and Alexa are in high demand by millions of smartphone users across the globe.
You can also leverage this lucrative opportunity by integrating voice command search in your fintech app. This can further enhance the user engagement of your fintech app and provide a conversational experience for their convenience.
However, voice command integration can increase the development cost and time. Although, it will be a valuable feature to implement in providing profitable results in the long run.
Frequently Asked Questions (FAQs)
What are the top features to integrate into a fintech app?
Here are some of the standard features to integrate into your fintech app.
View payment history and billing information.
Account authentication and verification.
Rewards and loyalty program.
Push notifications, emails, and alert messages.
Investment features and personalized recommendations.
Suitable monetization model.
How much does it cost to build a fintech app?
Many factors affect the fintech app development cost, such as app category and niche, price of blockchain development platform, and fintech app development company's charges. The total estimation of building a fintech app can be anywhere between $60,000 and $100,000.
What are the most successful fintech apps?
Many factors affect the fintech app development cost, such as app category and niche, price of blockchain development platform, and fintech app development company's charges. The total estimation of building a fintech app can be anywhere between $60,000 and $100,000.
What are the most successful fintech apps?
Different types of fintech apps exist, including digital banking, investment, crypto, and personal finance. Some of the widely used fintech apps are Chime, CoinBase, Mint, Finch, Goodbudget, and more.
Conclusion
The financial revolution through these fintech apps is going to be game-changing for the FinTech Industry. The ever-evolving technology is going to play a crucial role in this revolution.
This blog is written by our Guest Writer – Mosche Amara. He is a Blockchain app developer at SparxIT, specializing in providing cutting-edge FinTech development services. In his 5+ years of career, he has worked on many dynamic blockchain, fintech, and NFT projects. He loves to learn about new technologies and share his knowledge with everyone.