A car is the most loved companion in anyone's life. Having an own car is a dream for every person. Living this dream is pure bliss. When you drive your car, you need some cool car gadgets to fill your journey with comfort and happiness. We've curated a list of the best car gadgets in India that are absolute bliss to your car journey. Check them out to have a Car Experience like never before.
List of the Best Car Gadgets in India
These are the cool car gadgets – The Best Accessories for a Car in India. These cool car gadgets will make your car driving experience more comfortable and safe.
The Car Bluetooth Device converts your old FM Radio system into the latest Bluetooth Enabled Voice Assistant supported system. The device works pretty well if your car has FM support. The device connects with the car wirelessly using FM and to your mobile phone via Bluetooth, which will enable everything – from Music to Hands-Free Calls. It also offers a Fast Charging facility.
All you need is a Car Power Outlet (Cigarette Lighter Port) (12-24V) and a Car Stereo that supports FM. Priced at ₹689, this device works perfectly fine with iPhone, iPod, Android, Blackberry, Windows Phones, Tablets, MP3 Players & more Bluetooth-enabled devices.
A wonderful car requires a stylish interior. The car interior light makes your car driving experience at night really beautiful. The wire and the lights are flexible and water-resistant. You can add them to any part of your car interior, it will offer you the best and most amazing results.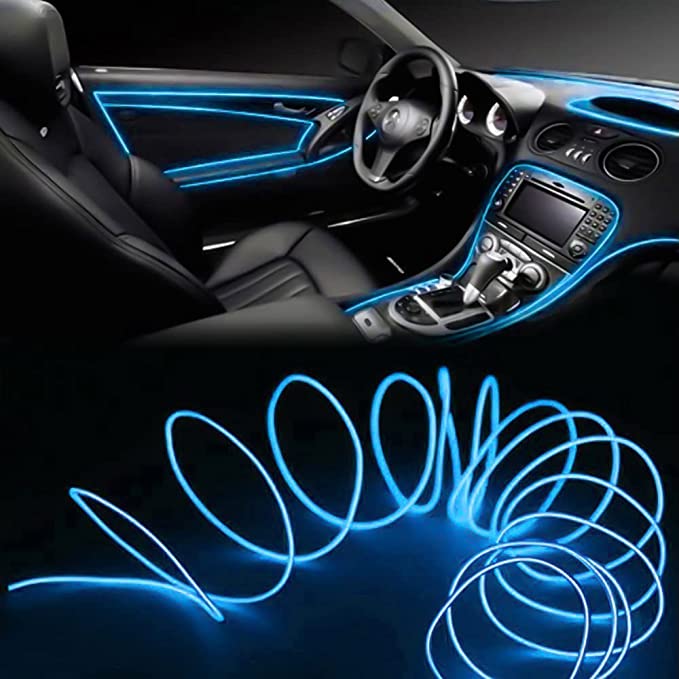 There is no doubt that a portable car vacuum cleaner is a really cool car gadget that every car needs in its arsenal. 120W high-power motor suction is perfect to suck any type of dry or wet dirt from your car. Food, Hairs, Mud Dirt, Dust, etc. are very common garbage problems faced by every car owner. The compact and portable car vacuum cleaner is a solution to that problem. You can even consider gifting this wonderful gadget to the car owner on their birthdays or any other occasion. This is one of the best car gadgets that solve real problems faced by car owners.
The Car Head Up Display shows the speed (MPH / Km/h), Driving Time, Altitude, and Distance Calculate, and Display. It auto-identify the time zone and shows the accurate local time based on the GPS. It also has an Overspeed Alarm & Fatigue Driving Alarm to ensure your safety in long-distance driving. The device comes with a rotatable holder & strong sticker stand, that can fix the device to your car console or windshield, preventing it from skidding.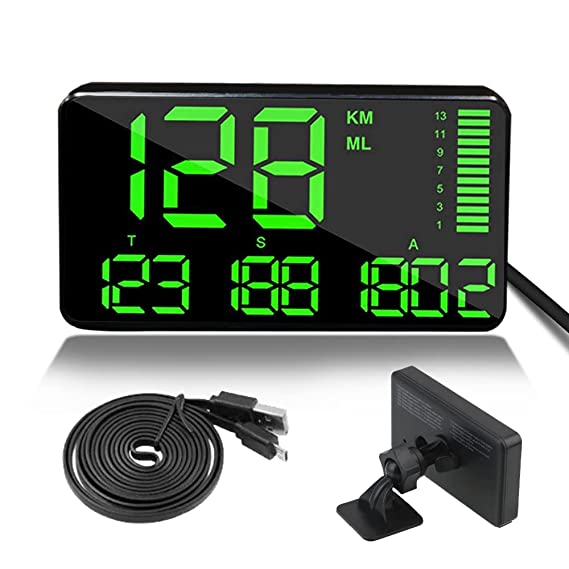 The perfectly working, portable car tyre pump is a really cool car gadget that any car owner must have. The Portable Tyre Inflator will save you a lot of time and effort while driving in an unknown place. It can inflate a standard mid-sized car tyre from 0-35 psi in 2 minutes, it has a max pressure of 120 psi. The long charging cable is sufficient to fill the air in all 4 tyres while keeping it connected to the Car Power Outlet (Cigarette Lighter Port).
Priced at ₹1,345, this is one of the best car gadgets in India that can even work to fill the air in 2-wheelers, cycles, gaming balls, life rings, kayaking equipment, etc.
A car getting stolen by thieves is the worst nightmare any car owner can get. This Anti Theft Wheel Lock Clamp will offer additional security to the cars. It makes a vehicle completely immobilize so that a wheel cannot rotate or turn. The gadget is built of strong and premium material that offers complete safety. The soft-coated clamps will not scratch or damage the car wheels. It is an easy-to-install gadget.
Mobile phones are the most important gadgets in our life. A person can not even think of being without a mobile phone or a mobile battery dead. The Car Mobile Charger with Fast Charging Capabilities offers 36W Fast Charging Capabilities with Type-C and USB ports as an output. This a must-have gadget from the list of the best car gadgets to have a productive life.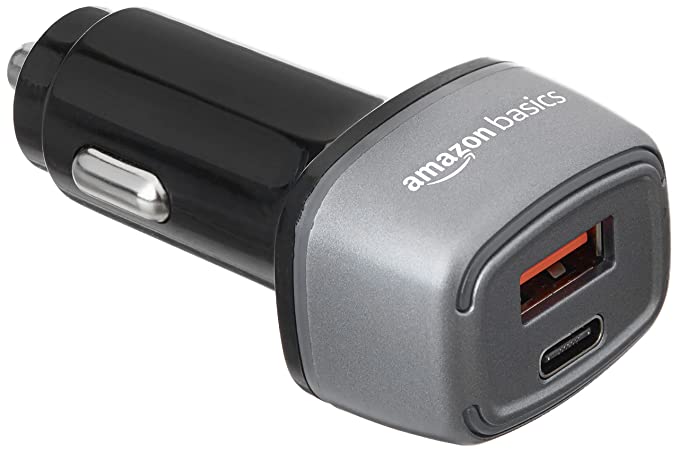 The magnetic mobile holder for the car is the mobile holder you were looking for for a long. The normal mobile holder only lasts for a few months, whereas this magnetic mobile holder will definitely last for a few years, at least. A small button-sized mobile holder looks stylish on the car's dashboard. It works as a single-touch operation to remove or put the mobile back on the mobile holder.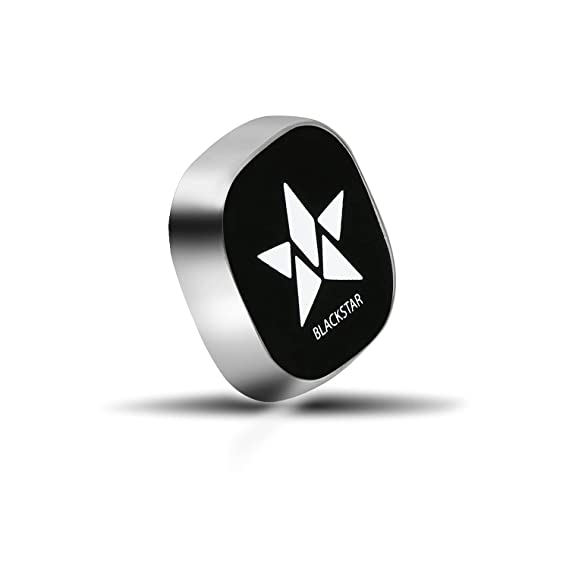 An amazing gadget for cars that will help you to locate your car if it gets towed away or stolen. The wireless GPS Tracker comes with a 10000 mAH battery, that lasts around 12 to 40 days. The highly accurate GPS Tracker will locate the exact location of the car. All the data can be tracked via a mobile app. If the car goes out of the safe zone, it will notify the owner about the situation. This is one of the best car gadgets that you should have if you're concerned about your car.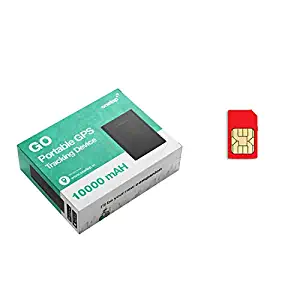 Fuel Transfer is usually done the traditional way using the mouth, which is actually a hazardous trick. This Fuel Transfer Kit will work for you to transfer fuel from one car to other. The pump works only when the target container is lower than the source container. It is suitable for various vehicles without anti-theft filter nets, such as brush cutters, lawn Mowers, hedge trimmers, etc.
The rotatable car fan offers extra chilled airflow when used with your car's AC. It is made of high-quality ABS plastic, hence it is non-toxic and harmless. There are 2 fan speeds available, the strong speed comes with the power of 15W and the weak speed comes with the power of 8W. It is easy to fit most of 12V powered vehicles, cars, SUVs, rv, pickup-truck, etc.
The Car Dash Camera is specifically designed for the hot summers of India. It works for the temperature range from -25°C to 85°C. The camera is a Full HD 1080p camera that offers pretty decent recording support. It also supports a Wide Angle of 140° enough to cover 4-6 lanes simultaneously. The camera has Super Night Vision with WDR technology. This affordable Car Dash Camera is one of the best car gadgets available.
For long car journeys, you badly need some sort of power/electricity to charge your laptops and other devices. The Car Power Inverter is perfect for your need. It is a Premium 200W car power inverter with 4 USB ports and 2 AC outlets. It shows the voltage of the battery when connected with the cigarette lighter plug and shows the Current of the USB Ports when you charge your electric devices. This cool car gadget has a built-in on/off switch to control it for safe use. It has a noise-control and heat-control feature for comfortable and safe use.
There are a variety of car gadgets available for the front section of the car, whereas the back side is totally ignored. This Smartphone Holder is for the back seat people, who can use this product by setting it up to the car back seat headrest. It supports multi-angle rotation to adjust for the best viewing angle.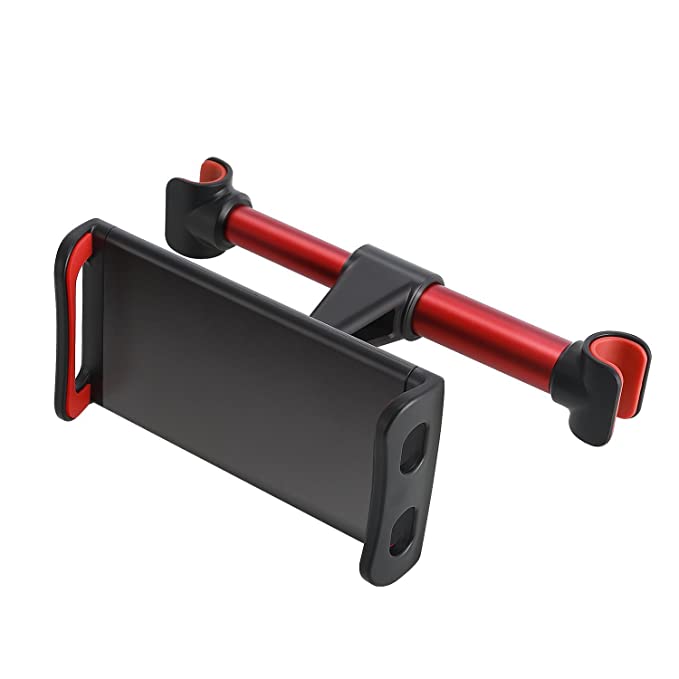 The Portable Car Air Purifier keeps the air of your car clean and pure. It possesses HEPA Filters that are the most trusted and widely used for air purification. It is the best choice for those who want to travel with the whole family in a car, and someone is having a cough, cold, sneezing, or allergy. It is one of the best car gadgets available that take care of our health.
Conclusion
These are some of the best car gadgets in India that take care of the car owner's comfort, safety, and experience. Try out any of these best gadgets for cars in your own car and share your valuable feedback with us.
We, at DiGiTAL BiRYANi, would like to inform our esteemed readers that, some of the links in this blog are affiliate links. We may earn a little commission from those links. However, you don't need to pay anything extra. For further information check this page.