In the digital age, content creation has evolved beyond just text and visuals. The power of voice, an element that adds depth, authenticity, and engagement to your projects, is now at your fingertips, thanks to AI voice generator tools. These ingenious tools have taken the world of content creation by storm, enabling creators, businesses, and storytellers to breathe life into their work with realistic, AI-generated voices.
Whether you're a content creator looking to narrate your videos, a business owner seeking to enhance your customer interactions, or simply someone with a creative vision, AI voice generator tools offer a universe of possibilities. In this blog, we'll dive into the realm of the best free AI voice generator tools available today, exploring their features, benefits, and how they can revolutionize your content creation journey.
Get ready to discover the exciting world of AI-powered voices that can make your content stand out in the crowded digital landscape. Let's embark on a journey to uncover the top free AI voice generator tools that will transform the way you communicate with your audience and bring your ideas to life.
List of the Best Free AI Voice Generator Tools in 2023
These are the best free AI Voice Generator Tools available online.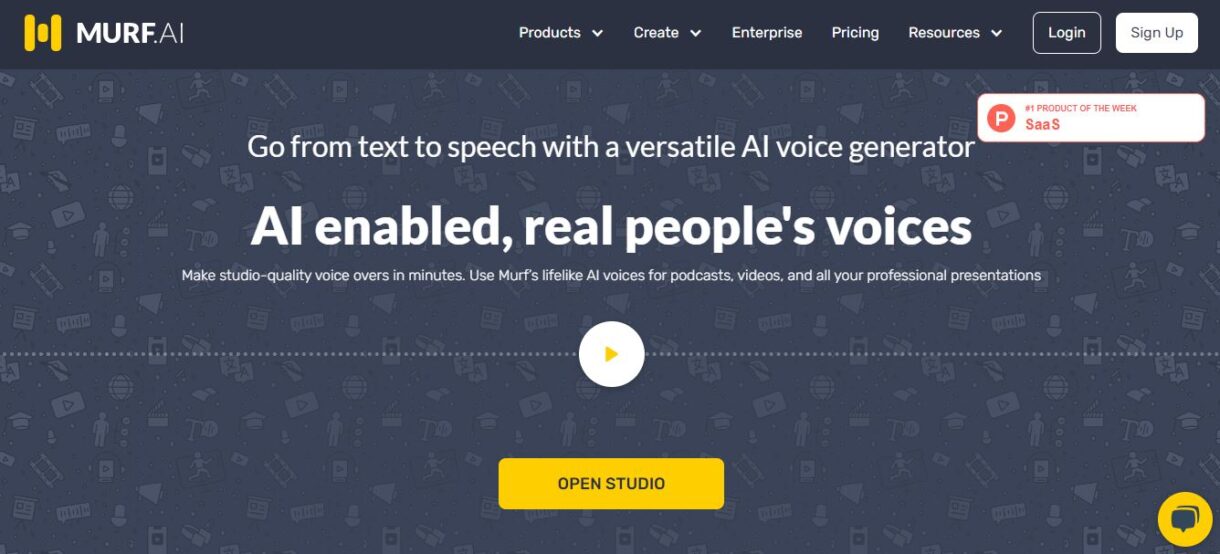 The Murf AI is one of the best free AI Voice Generator Tools available that allows you to generate voice from text as well as by morphing your own voice.
There are 120+ preset voices available for text-to-speech features. These voices are available in 20 various languages.
Once you finalized the voice, use the simple editor to highlight words, alter the pitch, speed up the pace, and perform other tweaks to get it sounding just right.
You can upload your voice and use this platform as a voice changer platform to change your voice using various edits.
The best part about Murf AI is that you can upload your voice or the voice you like to clone in the future.
You can add voiceovers to audio and videos and export them for further use and collaboration.
The platform is free for limited usage after that you need to pay platform fees.
It is one of the finest AI Voice Generator Tools that exceptionally specializes in the art of transforming text into speech using Artificial Intelligence (AI).
The tool lets you convert text-to-speech in various formats, such as genre selection, pauses, accent selection, and more.
Listnr has the ability to provide you with a fully customizable audio player embed that you can seamlessly integrate as an audio version of your content into your blog. This integration not only enhances accessibility for your audience but also adds a dynamic and engaging dimension to your content.
You can create, manage, and publish your daily podcasts through this personalized tool.
Listnr supports 900+ voices in 142 different languages. You can get your audio in different formats like MP3 or WVA.
It is the perfect tool for podcasters, bloggers, freelancers, etc. It has a Free Forever plan with limited usage. For unlimited usage, you need to buy paid plans.
WellSaid Labs is truly a masterpiece AI Voice Generator tool that is used by thousands of companies to create engaging content.
The web-based AI Voice Generator platform uses Generative AI technology to create voiceovers.
WellSaid Labs presents a wide array of readily available AI voices for lightning-fast voiceover generation, setting itself apart by delivering some of the most lifelike AI voices, often compared to the realism of human recordings.
There are 50+ AI voices available in different speaking styles, genders, and accents in real time.
You can start WellSaid Labs with a Free Trial, and you'll definitely tempted to purchase its premium plan with such a wide variety of features.
If you're looking for the best free AI Voice Generator that focuses on your personal voice imitation, FakeYou is the perfect AI Voice Generator Tool for you.
Given sufficient samples, FakeYou can produce a synthetic rendition of the user's voice.
With advancements in technology, you need to be more careful about Data Privacy and Cyber Security. FakeYou places a significant emphasis on robust data privacy measures to guarantee the security of user voice data.
FakeYou is the perfect tool for those who are looking to create a personal voice assistant in their own voice.
Lovo AI is an all-rounder AI Voice Generator tool that lets you generate voice from texts as well as supports voice cloning features.
Lovo.ai shines with its exceptional voice cloning feature, enabling users to craft a one-of-a-kind AI voice that mirrors their own speech patterns and nuances. The platform offers a real quality to the users.
Lovo.ai is versatile, finding relevance in diverse areas like e-learning, audiobook production, and the creation of multimedia content.
LOVO presents a slightly steeper learning curve compared to others. Its editing interface features a comprehensive timeline with multiple layers and a toolbox panel. While this setup is familiar to audio editing veterans, beginners might initially find it a bit complex.
LOVO offers 20 minutes of voice generation 1GB of storage for Free, along with 14 days of all the pro features. After that you need to purchase the premium plan.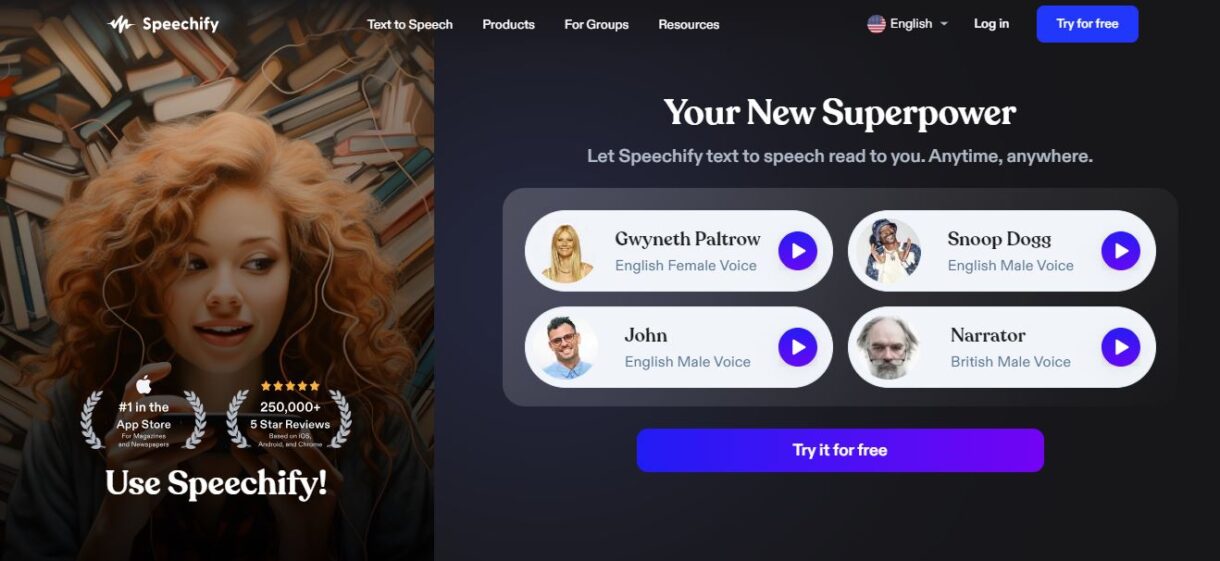 Speechify effortlessly transforms text from various formats into lifelike speech. It operates online, making it compatible with PDFs, emails, documents, and articles, providing an audio alternative to reading. 
The platform allows users to customize their reading speed and choose from a vast library of over 200 natural-sounding voices.
The best part about Specchify is that it can convert scanned and printed texts into audio files. This makes it one of the best free AI Voice Generator Tools on the Internet.
Speechify is dedicated to aiding individuals with dyslexia, ADHD, low vision, and similar reading challenges, establishing itself as an exceptionally inclusive and user-friendly tool.
Thanks to the latest Artificial Intelligence technology, Speechify has the most clear voice output among the best free AI Voice Generator tools.
Speechify seamlessly integrates with iOS, Android, and Chrome, enabling users to easily listen to text on their preferred devices.
Synthesys is a professional AI Voice Generator Tool that is extremely easy to use with a simple and clean UI.
The platform is valuable for crafting website product explainer videos, hosting webinars, and even creating fundamental content for YouTube and other platforms.
You can leverage next-gen text-to-speech AI voiceovers in more than 140 languages with Synthesys AI Studio.
It generates realistic human-like voices. The Free Trial support limited usage and functionality.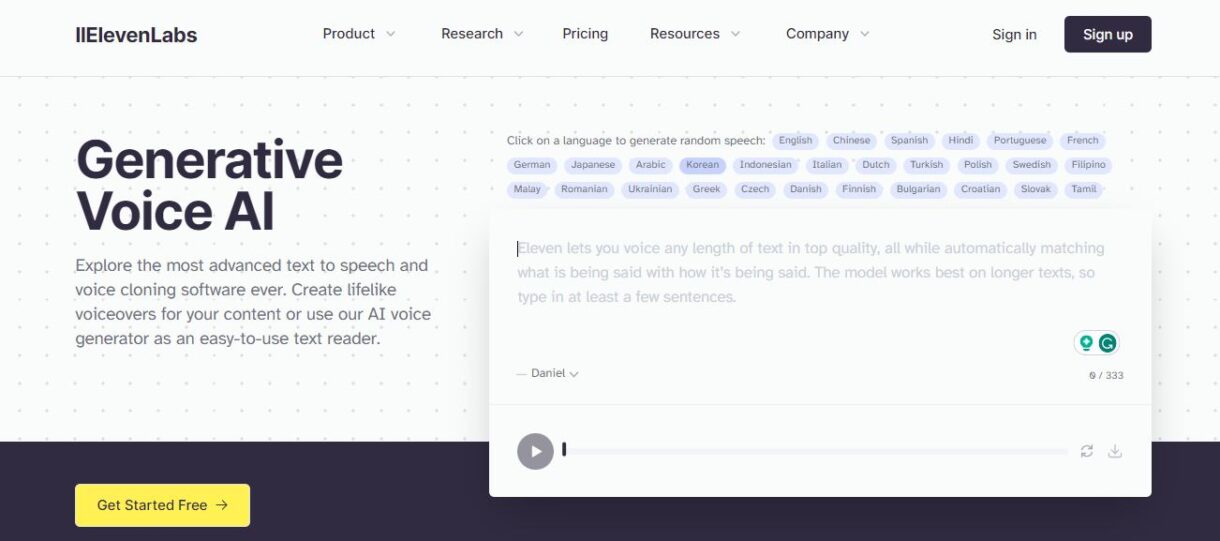 ElevenLabs is another feature-rich AI Voice Generator platform that offers various options to create AI-generated voices.
The platform supports speech synthesis, which lets you convert any text into speech. The output is similar to a human voice which gives a realistic experience.
Numerous options are available for refining the output, such as adjusting the stability slider to the right, which enhances the expressiveness of the voice.
Another feature, VoiceLab, allows you to replicate a voice using a sample recording. This means you can clone your own voice or that of anyone you have a sample of, even a celebrity, as long as it's at least a minute long, although longer recordings are preferred for better results.
You can use ElevenLabs for free forever, with some limitations. For premium features, you need to purchase plans starting from  $5/mo.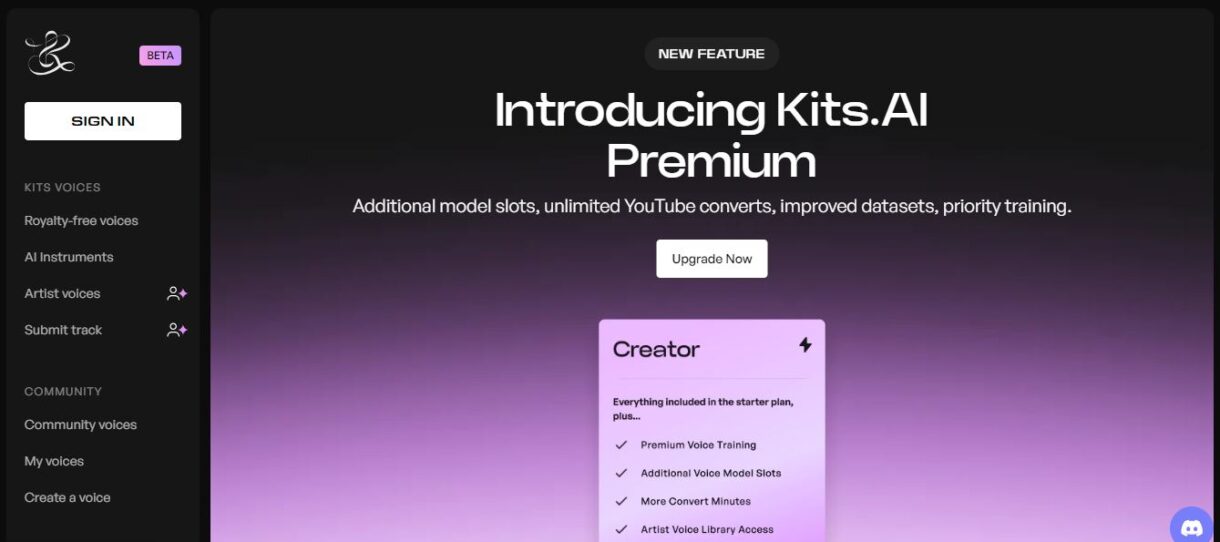 KITS AI is an AI Voice Toolkit that completely transforms your voice using Artificial Intelligence (AI).
You can even transform your voice using an ever-growing library of commercial use and officially licensed artist voices on the KITS AI.
This is the pioneering AI voice platform that collaborates directly with artists to formally release their voice models, putting creators in control. It's an ideal choice for commercial applications.
The generic royalty-free AI voices are perfect for small-scale creators and commercials.
Frequently Asked Questions (FAQs)
What are AI voice generator tools?
AI voice generator tools are software applications that utilize artificial intelligence and machine learning to convert text into human-like spoken audio. These tools enable users to create lifelike voiceovers without the need for human voice actors.
Are these AI voice generator tools really free?
Yes, many AI voice generator tools offer free versions with limited functionality. However, some may have premium or paid plans that unlock additional features and capabilities.
What types of audio files can I generate with these tools?
Most AI voice generators can produce various types of audio files, including MP3, WAV, and more. The format options may vary depending on the specific tool you choose.
Can I customize the voice of the AI-generated audio?
Yes, many AI voice generators allow you to choose from a range of voices and accents. Some may also offer the ability to adjust the pitch, speed, and tone of the generated voice.
Is there a limit to the length of text I can convert into speech?
The limitations on text length can vary between different AI voice generator tools. Some may have restrictions on the length of text in their free versions, while premium plans may offer more flexibility.
Are these tools easy to use for beginners?
The user-friendliness of AI voice generator tools can vary. Some tools are designed to be intuitive and beginner-friendly, while others may have a steeper learning curve, particularly for advanced customization.
Can I use AI voice generators for commercial purposes?
It depends on the terms of service of the specific tool you are using. Some free AI voice generators may have restrictions on commercial use in their free plans, while others offer commercial licenses as part of their premium offerings.
Are the AI-generated voices indistinguishable from human voices?
While AI-generated voices have improved significantly in recent years, they may not always be indistinguishable from human voices. The quality can vary depending on the tool and the complexity of the text.
Conclusion
The world of free AI voice generator tools is evolving rapidly, opening up exciting possibilities for content creators, businesses, and individuals alike. These tools have revolutionized the way we approach audio content creation, making it more accessible and efficient than ever before.